Top Atlanta Attractions Offer Unexpected Event Venues
Published April 12, 2022
Last Updated April 28, 2022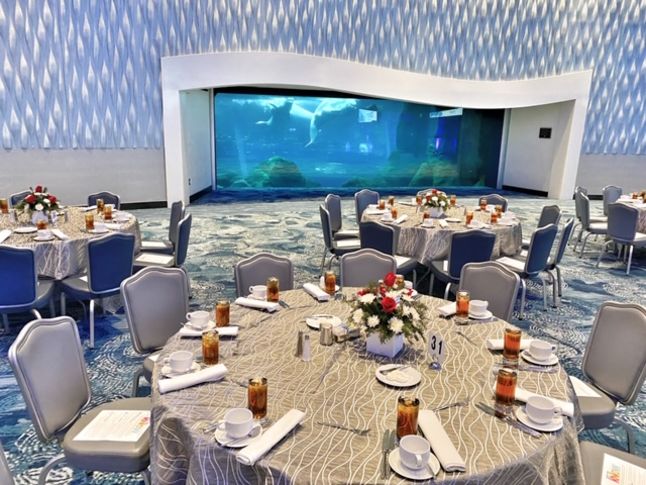 Consider an Atlanta-only experience for your next meeting at one of our top attractions. Our dedicated Atlanta Convention & Visitors Bureau team has gathered these unique tips and ideas that will elevate your special event and make a lasting impression on your attendees.
Many of these top Atlanta attractions with unique meeting offerings are within walking distance of major Downtown hotels and Georgia World Congress Center. If you're looking for little-known experiences and secrets to make your meeting even better, then this list is for you.
Chick-fil-A College Football Hall of Fame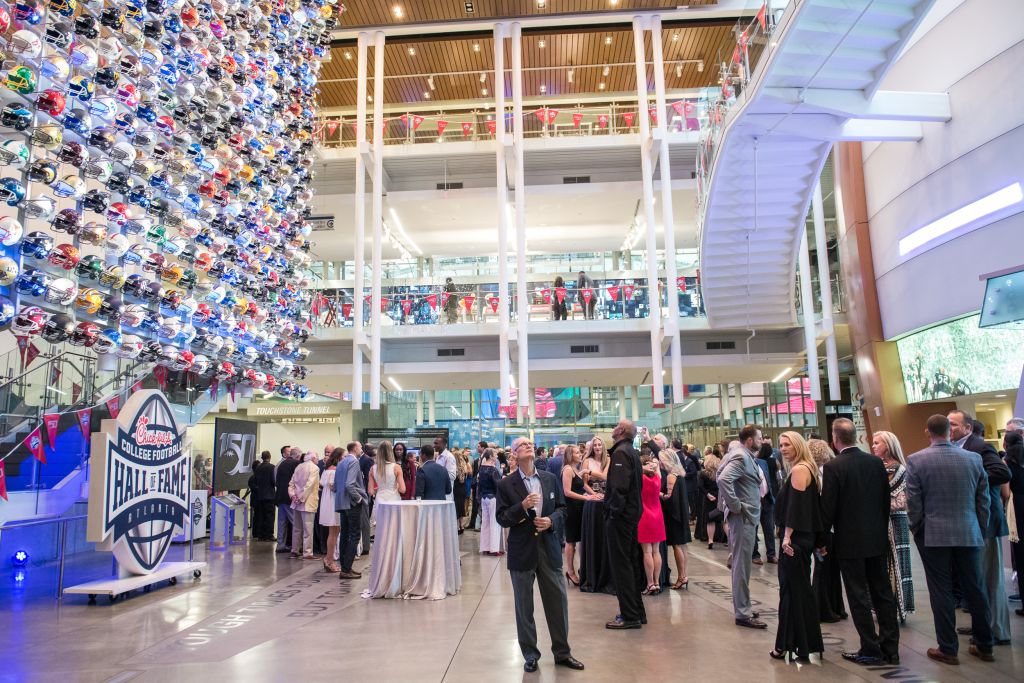 The exciting sounds of a drum line on the 45-yard indoor playing field will electrify your attendees as they experience this shrine to college football. Chick-fil-A College Football Hall of Fame, located Downtown, offers many other insider experiences. Consider inviting one of many college football legends and hall of famers to either speak or appear for photo opportunities. For an even more festive atmosphere, cheerleaders might fit the bill with plenty of spirited entertainment for your guests. With more than 50,000 square feet of unique meeting space that includes interactive exhibitions, legendary college football memorabilia, a third-floor rotunda overlooking Centennial Olympic Park and the Quad with a three-story helmet wall, the hall definitely brings the wow factor.
World of Coca-Cola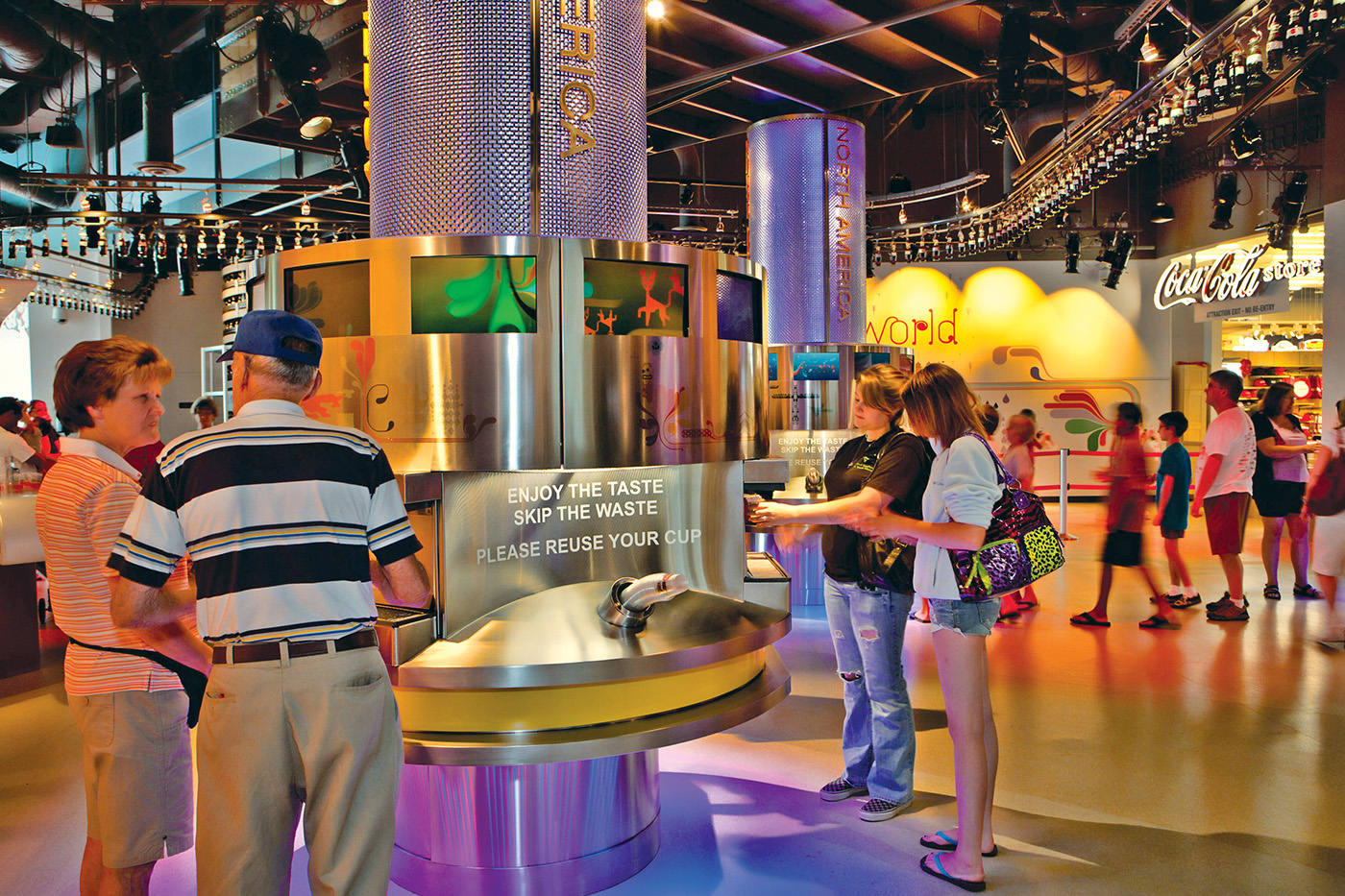 The World of Coca-Cola Taste It! room opens up myriad possibilities to make your event unforgettable. Attendees can delve into an immersive tasting experience of crafted specialty cocktails infused with Coca-Cola beverages from around the world. The golden sparkling Inca Kola from Peru might entice, but don't forget to try one of the most popular beverages: the distinctive Beverly from Italy. Design your Instagrammable moments with the Coca-Cola Polar Bear. The two-story Hub provides an impressive view of Pemberton Place in downtown Atlanta for a seated dinner or reception.
Georgia Aquarium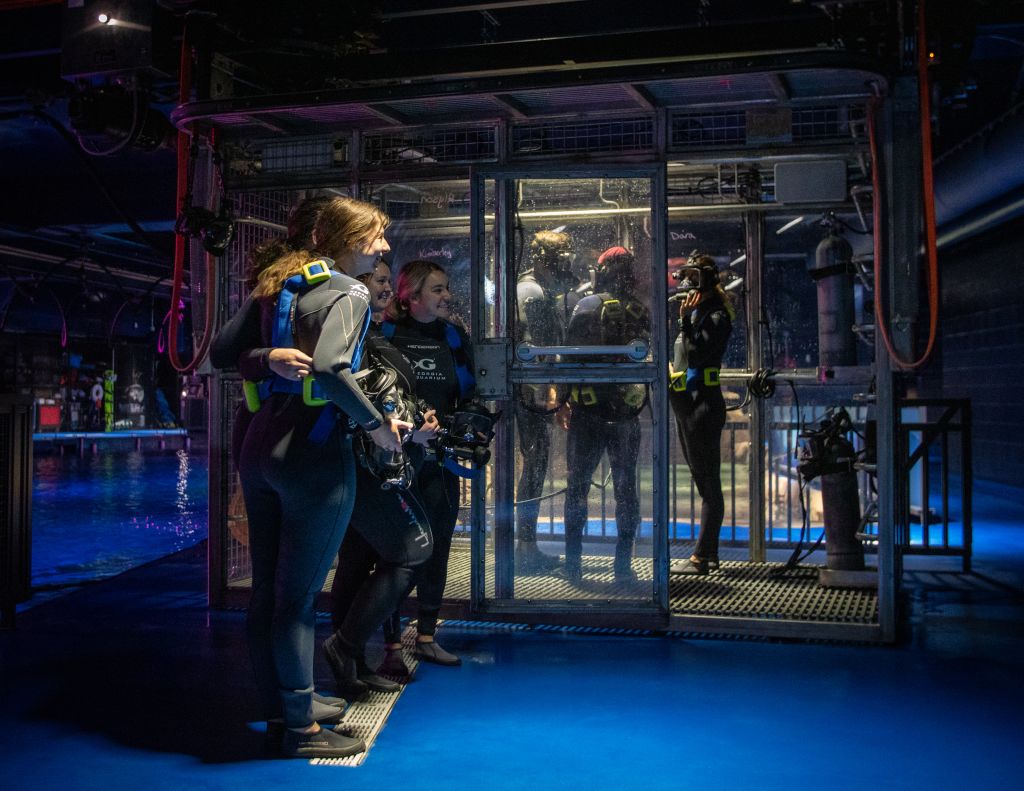 It's not every day that your attendees meet face-to-face with sharks, and that's quite literally what they can do during Georgia Aquarium's Cage Dive. The largest aquarium in the Western Hemisphere, located Downtown, offers this immersive interaction in the "Sharks! Predators of the Deep" gallery. Guests can don a wet suit and be lowered into the shark habitat via a safe cage that brings them very close to some of the world's most misunderstood creatures. Georgia Aquarium will gladly incorporate other animal engagement experiences such as the Beluga and Harbor Seal Encounter, scuba diving in the Ocean Voyager gallery, a private dolphin show or a private behind-the-scenes tour.
Even more, Oceans Ballroom opens out over two mesmerizing private windows of the Cold Water Quest and Ocean Voyager galleries. VIP dinners can be executed in select galleries with captivating views of the impressive ocean life. Wolfgang Puck Catering ensures a gourmet experience.
Fox Theatre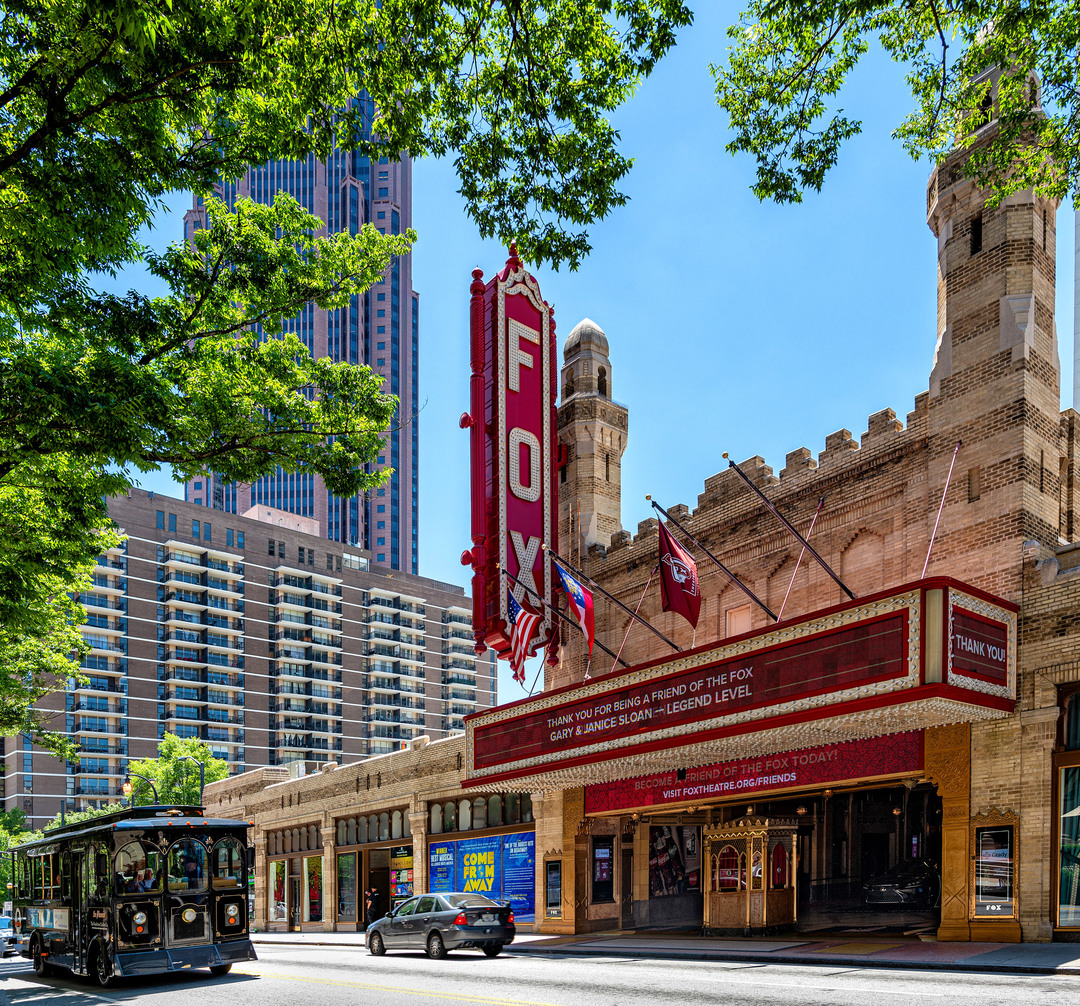 This historic movie palace already dazzles, thanks to its resemblance to its opulent ancient Egyptian and Moorish design. To add even more sparkle to your event, treat your guests to a reception at the exclusive Marquee Club, a private rooftop space overlooking energetic Peachtree Street in Midtown Atlanta. Consider staging your event directly on the stage complete with a night sky of twinkling stars and drifting clouds, an exclusive Fox Theatre tradition. Or, what about some spirits and spirits? Treat your attendees to cocktails and a walking ghost tour of the historic theater.
Delta Flight Museum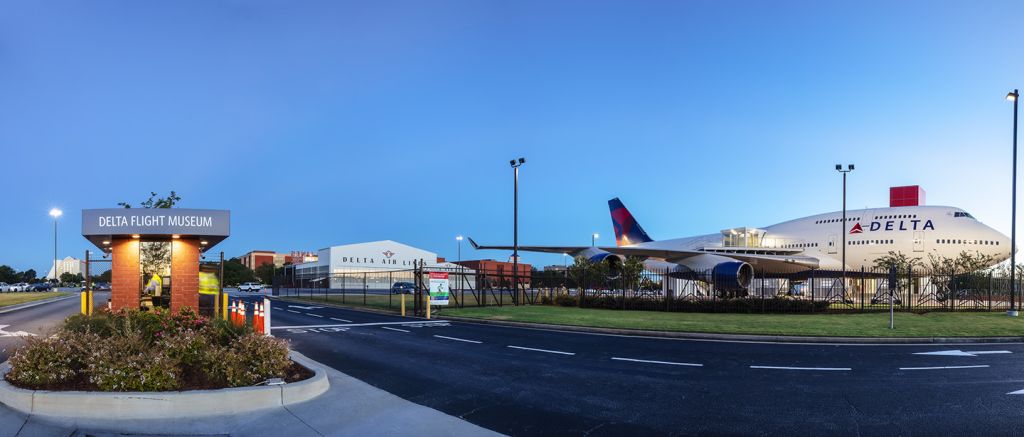 Your event will soar at Delta Flight Museum, located near Hartsfield-Jackson Atlanta International Airport and inside two historic airplane hangars on the site of Delta Air Lines World Headquarters. Incorporate the 737flight simulator into your event. It's the only simulator open to the public in the U.S., and it is so lifelike that attendees will think they really are in the air. Attendees can hop on the first-ever produced Boeing 747-400, view historic propeller-driven aircraft dating back to the 1920s and see the Boeing 767 Spirit of Delta. Intimate receptions or a seated dinner held inside the hangar will truly take flight, thanks to an exclusive catering list of Atlanta's best.
Mercedes-Benz Stadium
Sure, the large, state-of-the-art-stadium located Downtown has hosted many large-scale events including Super Bowl LIII, but there are so many more opportunities for you to host smaller, intimate events at Mercedes-Benz Stadium. The clubs – AMG Lounge & Truist Club, Mercedes-Benz & 360 Clubs, Harrah's Cherokee Casino Clubs – allow exclusive access to awe-inspiring on-field patio areas, lounge seating and, of course, good food. Molly B's Cookhouse, the Southern-inspired chophouse inside the stadium, offers an intimate experience complete with a panoramic view of the field. Your attendees can walk out on the field and feel like a player during group tours of the stadium, which also hit the locker room and other key areas.
Porsche Experience Center Atlanta
Give your guests a high-speed thrill ride they will never forget at Porsche Experience Center Atlanta, near Hartsfield-Jackson Atlanta International Airport. Book an exhilarating 90-mile-an-hour test drive around the track and watch attendees take a spin in their dream car. These can't-miss memorable experiences have a two- or four- hour program that gives attendees the opportunity to experience the Porsche 911 and 718 on 1.6 miles of skill-focused, purpose-built track. Demonstration laps are available, with guests riding in the passenger seats with a Porsche driving instructor at the wheel. A simulator lab virtual experiences can also be booked. Restaurant 356 offers views of all the test track action and contemporary cuisine to fuel your hyper-charged event.

Zoo Atlanta
Imagine hosting your meeting overlooking a beautiful African savanna where giraffes, zebras and African elephants wander. Zoo Atlanta provides that exact backdrop for your attendees, thanks to the stunning Savanna Hall and its two sweeping terraces overlooking the habitat. Attendees can also meet Zoo Atlanta residents with Ambassador Animal add-ons. Keeper talks are available for attendees to learn more about the creatures who live at this outdoor oasis in Grant Park.
National Center for Civil & Human Rights
Enlighten your attendees during a private cocktail hour in one of Atlanta's most profound museums, located Downtown at Pemberton Place. National Center for Civil and Human Rights hosts inspiring spaces for creating conversation and stimulating thought around civil and global human rights. Interactive galleries that span from Martin Luther King Jr.'s personal papers to the civil rights movement and global human rights will leave your attendees with lasting impressions. Wolfgang Puck Catering serves as the exclusive in-house caterer, which means your dining experience, whether it's a cocktail hour, buffet or sit-down dinner, will be impeccable.
Curious about more venue offerings? How about Unique Atlanta Venues with a Nod to History? Atlanta is home to an exciting array of venues, one of which could be the perfect backdrop for your upcoming event. Use our helpful venue catalog to build your list of favorites.
Discover More
Get to know Atlanta, and discover the best things to do around the city.