Shopping: Only in the ATL
In the undisputed shopping capital of the Southeast, there are plenty of options, from exclusive international brands, to unique, high-quality finds made right here and across the state. Celebrate your visit with a treat or treasure from one of these Only-in-the-ATL hip stops.
Atlanta Made
From hand-crafted high end furniture to artwork, jewelry, and more, the work of Atlanta's talented artisans and craftsmen is on display—and for sale—here, on Howell Mill Road on the Westside.
The Merchant
This popular shop now has three locations, the original on Howell Mill Road and another at Krog Street Market and Lenox Square. Discover everything from greeting cards, stationery, books, bedding, and one-of-a-kind vintage finds, like a plate featuring the ATL skyline around the rim.
Krog Street Market
Packed with fantastic local restaurants and awesome shops, stop into The Collective and check out their variety of local gourmet foods, jewelry, vintage clothing, and collectibles and pick up a treat to take home. Step into Mama and pick up a gift for a friend from their line of all-natural handmade olive oil soaps, body care products, and soy candles.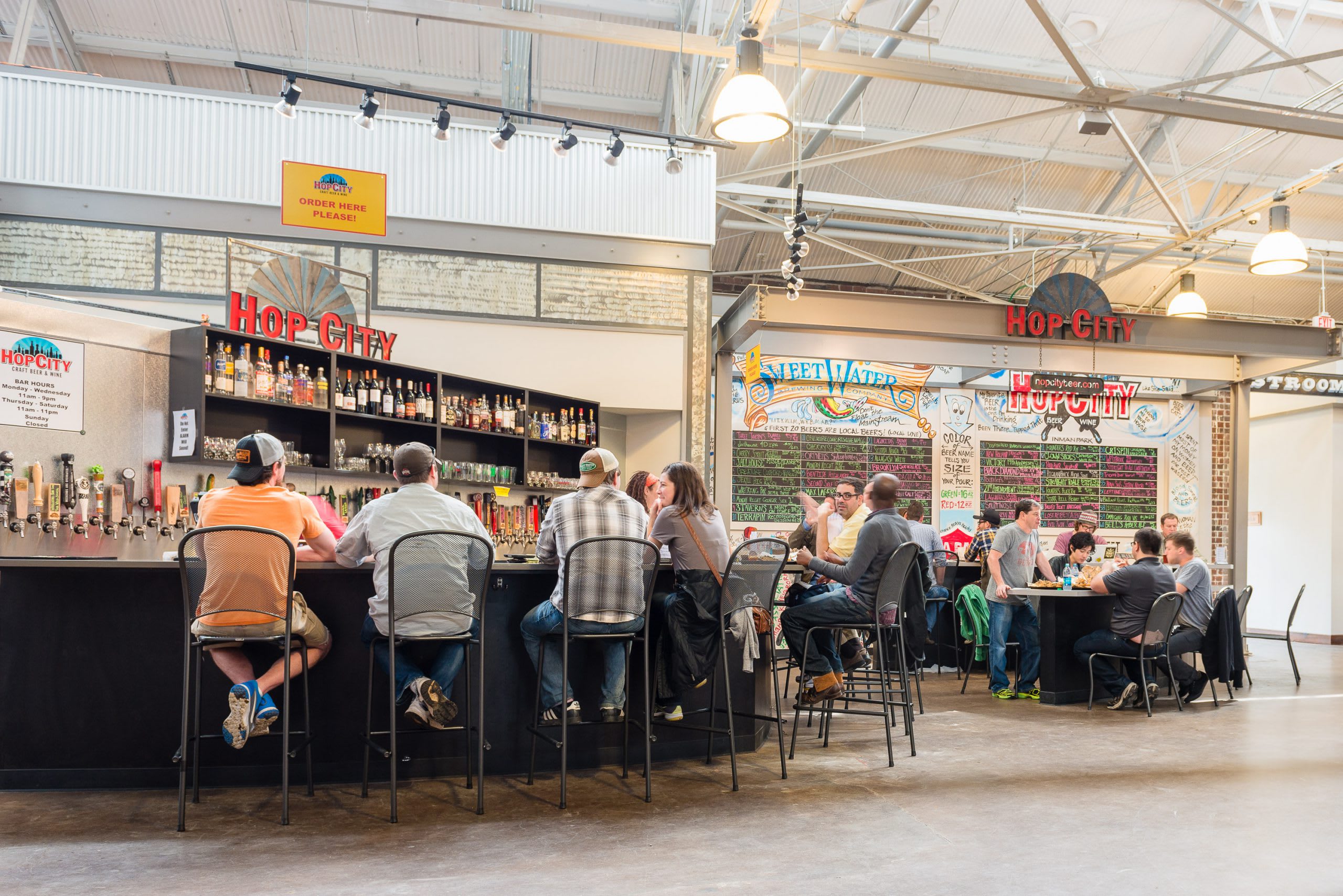 Paris on Ponce
Step into this circa 1919 warehouse with 46,000 square feet full of antiques, furnishings, artwork, jewelries, and oddities and spend the afternoon uncovering new one-of-a-kind finds.
Virginia-Highland
Pamper yourself at Art Bath Soul, an urban bath shop and enrichment lounge that sells barrels of fragrant, colorful bath salts, plus original art by local and featured artists. Pick up a unique painting or print for your digs.
Ponce City Market
Fantastic food and shopping abound here. Citizen Supply is the place to go for Atlanta-logo products, from sweatshirts, T-shirts, and hats to cups, flags, candles, and shot glasses. The Citizen also partners with more than 130 brands that produce handmade, small-batch goods.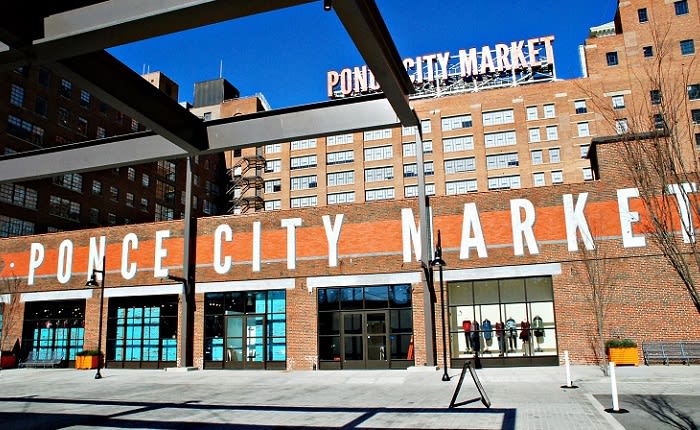 King of Pops
Atlanta has fallen in love with the deliciousness found under the King of Pops' signature rainbow umbrella. What started out with a used pushcart and a lot of well wishes has become an Atlanta icon. Cool off with a strawberry lemonade, orange cream, or caramel latte on a stick. You can even pick up a pup-pop for your furry best friend. Just look for the signature rainbow umbrella and cart around town.
Atlanta Spirit Whiskey
Sample Georgia's first-ever Double Gold Whiskey Atlanta Spirit Whiskey and pick up a bottle to take home. Don't miss the distillery tour to see how these University of Georgia grads perfected their process of making spirit whiskey, bourbon, rye, single malts, and brandy. Don't forget to pick up a bottle or two to take home.
Arden's Garden
Atlanta's own fresh juice manufacturer makes varieties of more than 20 fruit and vegetable juices and smoothies. Pick up a bottle at Whole Foods, Publix, Kroger, or at a local coffee shop or health food or Arden's Garden store. Detox and cleansing juices are also available.
The Battery Atlanta
Located just outside the gates to Atlanta Braves baseball stadium, The Battery Atlanta is packed with shops and restaurants, and the perfect spot for before, after, and in between games. Georgia-based companies offer stationery, greeting cards, and all manner of fun collectibles.
Braves Clubhouse Store
The Braves Clubhouse Store @ CNN Center is the premier destination for Braves fans, with the largest selection of Braves T-shirts, caps, jerseys, jackets, fleece, game-used merchandise, collectibles, novelties, and many items exclusive to the Braves Clubhouse Store.
Criminal Records
Slide into Criminal Records for a true retro records shop experience. Come for Free Comic Book Day, or for their enviable selection of offbeat, rare vinyl, cds, comic books, and DVDs. This Atlanta landmark is also now officially "Hollywood cool" after being featured in the hit movie "Baby Driver."
Junkman's Daughter
Voted one of the 25 Best Independent stores in America, Junkman's Daughter is the ATL's Alternative Superstore, crammed full of far-out fashions, groovy accessories, unusual gifts, cool collectibles, retro knick-knacks, toys and books, and housewares from around the world. Climb the 20-foot red high-heeled staircase and check out the amazing shoe department. Want to win that Halloween contest this year? Junkman's has the most irreverent and original wigs, masks, and costumes in town. Come spend a few hours and wander through the neighborhood.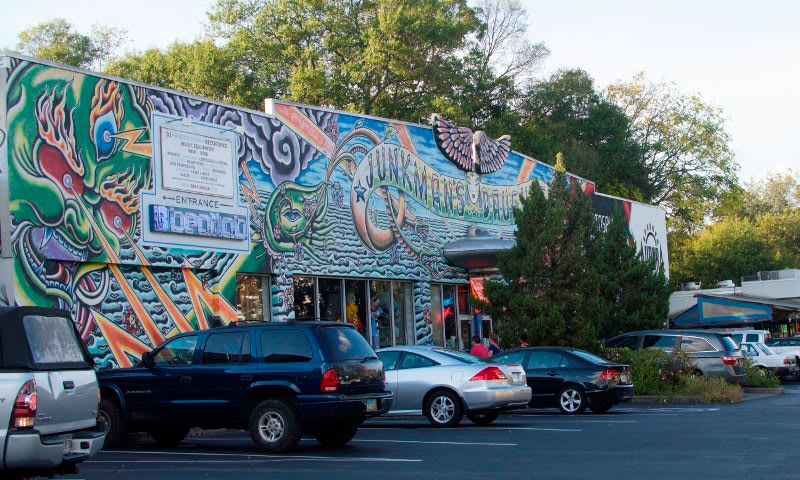 For more souvenirs that say ATL, check here.
Discover More
Get to know Atlanta, and discover the best things to do around the city.