The Best Date Night Restaurants in Atlanta
Published January 27, 2023
Last Updated February 8, 2023
Looking for the perfect date night restaurant? Need a special restaurant to celebrate a birthday or anniversary? From Tuscan-inspired dishes in Buckhead to signature steaks in Midtown to stunning views of the Atlanta skyline Downtown, bring on the romance and enjoy an intimate dining experience at some of the best date night restaurants in Atlanta.
Buckhead
Anis Cafe & Bistro
The South of France defines romance, and Anis Cafe & Bistro in Buckhead delivers it. Owner Arnaud Michel charms guests with recipes from his youth in Montpelier, France. The converted house transports you back to Provence with such delicacies as escargot au pastis and poulet roti, while you dine in the warm yellows of the sun-drenched atmosphere of the South of France.
Where: 2974 Grandview Ave. NE
Aria
Set in a converted house in Buckhead, Aria is the perfect place for a memorable evening. With its white linens and simple, yet sophisticated, traditional American dishes, it's a slam dunk for a romantic night out. Chef and owner Gerry Klaskala and pastry chef Kathryn King are known far and wide for their eclectic gourmet fare, and the restaurant continuously tops the charts as one of Atlanta's best. Aria is also touted for its phenomenal dessert selection, so don't overlook the sweet stuff during your romantic evening.
Where: 490 East Paces Ferry Road NE
Canoe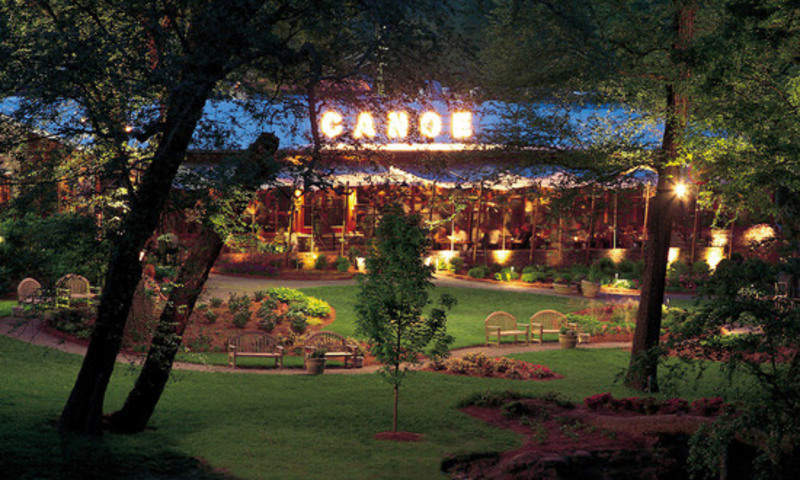 Located on the banks of the Chattahoochee River, Canoe offers a romantic setting with natural, yet manicured, lawns and a tranquil waterfront. Inside, settle into overstuffed booths or tables and enjoy an inspired decor that features an exposed kitchen and a ceiling that resembles the inside of a canoe. Located in Vinings, Canoe is one of the area's most acclaimed restaurants, and you can feast on such delicious treats as crisp Rhode Island calamari, grilled Bay of Fundy salmon, maple-marinated duck breast and garam masala rubbed lamb sirloin.
Where: 4199 Paces Ferry Road SE
Kyma
Kyma is a contemporary seafood tavern that is true to its Mediterranean (especially Greek) origins. Romance is always in the air as the white marble columns, whitewashed walls and dazzling constellation display on the deep blue ceiling take you away to the Greek islands. Kyma is part of the esteemed Buckhead Life Group, so you know the food and service will be outstanding. Kyma offers a variety of fish and seafood and specializes in the Greek technique of wood grilling with olive oil, lemon and oregano.
Where: 3085 Piedmont Road NE
Le Bilboquet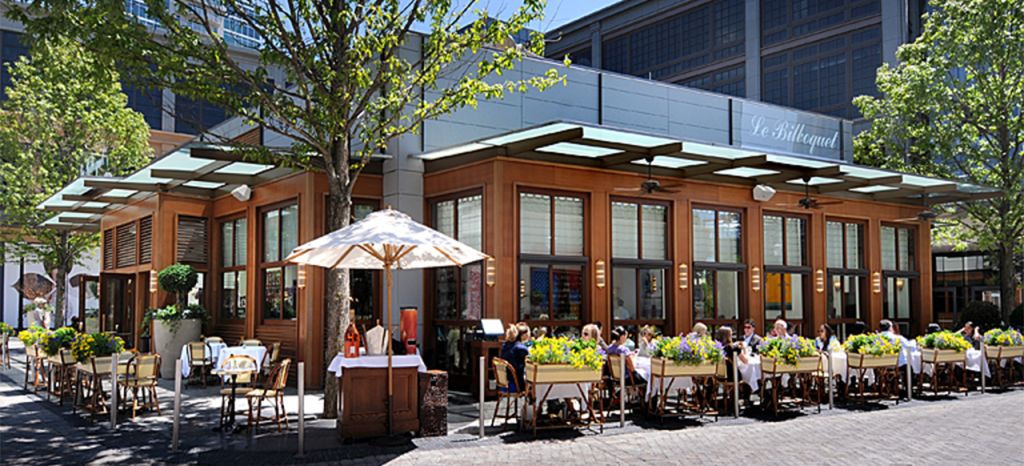 Le Bilboquet is located at Buckhead Village and offers a vibrant atmosphere reminiscent of a Parisian cafe. With lots of natural light, blue velvet banquettes, a two-color terrazzo floor and pewter bar, the restaurant offers classics such as crab and avocado salad, lemon veal scallopini and steamed mussels.
Where: 3027 Bolling Way NE
St. Cecilia
St. Cecilia is well named because a dining experience in this Buckhead restaurant is, indeed, heavenly. Renowned chef-owner Ford Fry serves coastal European food in a dramatic three-story room with multicolored woods, white-tiled columns and a 20-seat marble bar that is perfect for a pre-dinner tête-à-tête. St. Cecilia is the complete package: Outstanding food, beautiful décor and the aromatic aromas from the kitchen make it a favorite for lovers.
Where: 3455 Peachtree Road NE
Explore even more great restaurants in Buckhead Atlanta.
Eastside
Agave
Agave is an Inman Park neighborhood favorite. The eclectic Southwestern fare made with only the freshest ingredients is spectacular, and the atmosphere is just as inviting. If it is date night you are interested in, ask to be seated in the side room or in the loft, where only a few tables make for a more intimate meal. On a chilly night, you may be able to enjoy a fireside dinner.
Where: 242 Boulevard SE
Gunshow
Found near the Beltline on Glenwood Avenue, Kevin Gillespie's Gunshow restaurant presents a bold, eccentric and interactive take on food. Communal tables, roving dim-sum style carts and eclectic style all contribute to a unique dining experience. Although the menu varies day to day, you are sure to taste a creative dish — anything from Waygu with caviar to duck presse and sweet potato.
Where: 924 Garrett St
Kevin Rathbun Steak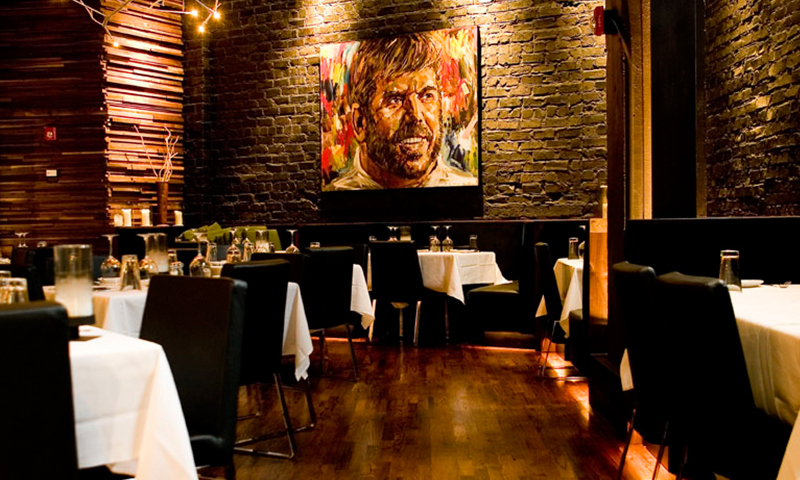 One of Atlanta's top steak houses, Kevin Rathbun Steak is perfect for a special night out. What was once an old cotton warehouse in the Inman Park area became one of the best steak houses in the city. The rich atmosphere and warm tones of the restaurant lend to an intimate experience. And the chef-driven menu features prime steaks along with seafood and some creative appetizers and sides.
Where: 154 Krog St. NE
Sotto Sotto
Sotto Sotto, located in the Old Fourth Ward, has been a dining tradition for more than 15 years. Chef-owner Riccardo Ullio serves simple, regional food in an intimate dining room reminiscent of a seaside Roman villa. If the weather is nice, ask for a table on the outdoor patio. With such a romantic setting, you will definitely feel like re-enacting the "Lady and the Tramp" classic pasta scene.
Where: 313 North Highland Ave. NE
TWO Urban Licks
Consistently rated highly as the restaurant to impress someone, TWO Urban Licks lives up to the hype. In addition to the lovely view of the Atlanta skyline, the rotating rotisseries are quite impressive, too. Add to that, the 26-foot wine-on-tap barrel wall and TWO Urban Licks provides a dining experience unlike any other. Cozy up to your date and sip on an expert cocktail. Salmon chips are a terrific way to start your meal. Scallops, fish and steak – you really can't go wrong with anything on the menu here.
Where: 820 Ralph McGill Blvd. NE
Wisteria
Who says Southern food can't be elegant? Not Wisteria. Located in the historic Inman Park neighborhood, you will find Wisteria housed in a historical brick building with exposed ductwork, giving it a sophisticated yet trendy vibe at the same time. Unless you are a wine aficionado, let your server select a wine, as the wine "book" is quite extensive. Can't miss dishes like coastal shrimp & grits or iron-skillet fried chicken are typical of the Wisteria style. Dessert lovers should save room for bread pudding with bourbon sauce.
Where: 471 North Highland Ave. NE
Midtown
Ecco
Since being named a "Best New Restaurant in America" by Esquire magazine in 2006, Ecco has become one of Atlanta's most recognized and renowned restaurants. The modern European menu features meat boards, house-made pastas, wood-fired pizzas and mouth-watering desserts. Ecco's over-sized bar, open-air patio and beautiful main dining room are unique yet comforting, making it your new favorite intown dining spot for any occasion.
Where: 40 7th St. NE
Empire State South
Enjoy authentic Southern cuisine with a modern approach at Empire State South. This community restaurant boasts a classy interior, and you can play bocce ball on the patio. Indulge in the four-course tasting menu from 5 until 9 p.m. with snacks available at the bar and patio until 10 p.m.
Where: 999 Peachtree St. NE
Lure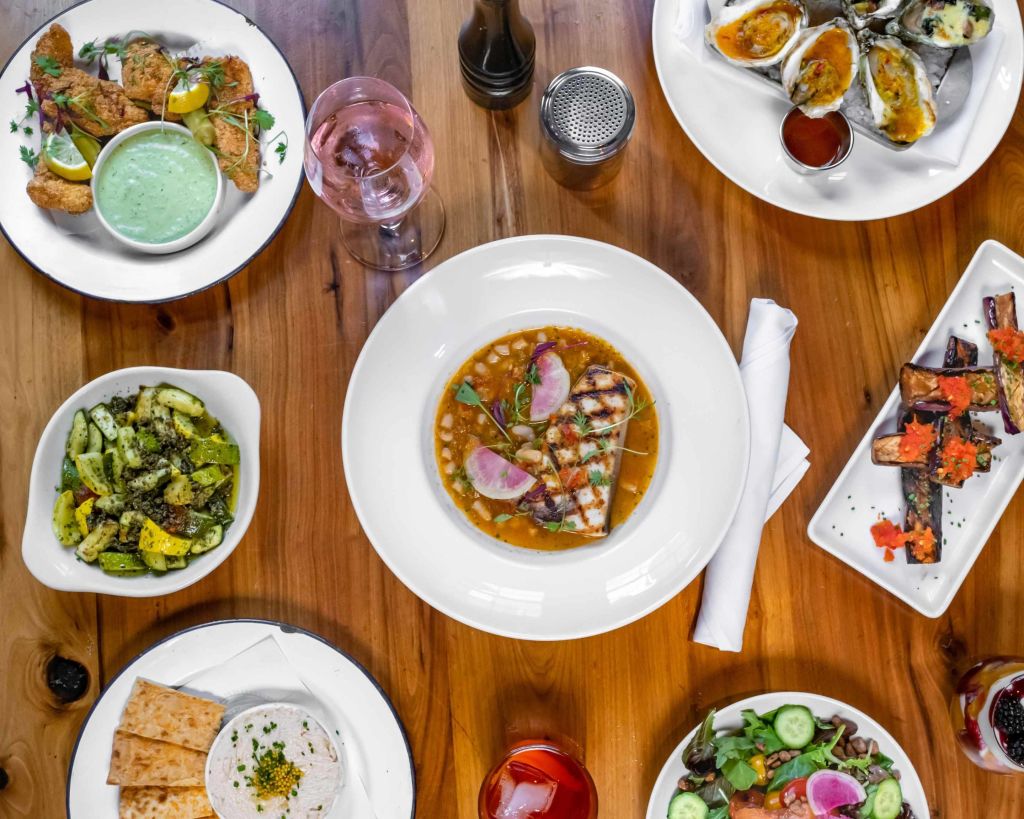 Inspired by iconic American and coastal traditions, Lure showcases fresh seafood in the heart of Midtown on Crescent Avenue. Enjoy the modern, urban farmhouse setting and stylish bungalow vibes while you appreciate the charbroiled oysters and sip on a glass of white wine. Be sure to save room for the Caramel Creme Brulee Tart with white chocolate crunch and passion fruit mousse.
Where: 1106 Crescent Ave. NE
Nan Thai Fine Dining
This 16-time, four-diamond award-winning restaurant is an experience unlike any other. Nan Thai Fine Dining is a classic Thai restaurant with a modern twist. In a Zen-like atmosphere you can enjoy comfort dishes such as Gai Siam or Kra Pow Hoi. Or try a Chef Nan's signature specials, such as Pla Kapong Sahm Rod and Kung Yak Pad Thai.
Where: 1350 Spring St. NW
STK Atlanta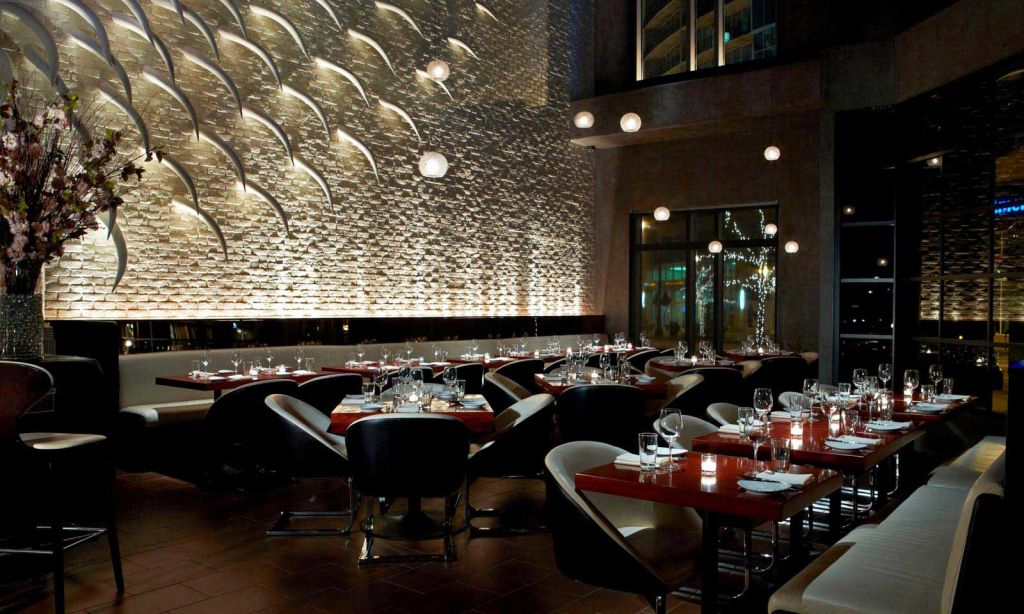 STK is the epitome of sexiness when it comes to Atlanta restaurants. The swanky atmosphere is perfect for a romantic birthday dinner. Sip a colorful cocktail as you nuzzle up to your sweetie in the comfy booths. Indulge in a crispy calamari starter or a jumbo crab cake. Then be sure to order one of the signature steaks.
Where: 1075 Peachtree St. NE
The Oceanaire Seafood Room
If The Oceanaire's deep list of delicious wines doesn't convince you to visit, the fresh seafood that's flown in daily from around the world surely will. Oceanaire's staff will guide you through the long list of menu offerings and help you select the perfect wine to pair with your meal. Find out for yourself why Oceanaire was voted one of the best seafood restaurants in the country.
Where: 1100 Peachtree St. NE
Explore more restaurants in Midtown Atlanta.
Westside
Bacchanalia
Long heralded as Atlanta's favorite five-star restaurant, Bacchanalia features contemporary American cuisine using the freshest possible ingredients. Headed by chef Anne Quatrano, the Westside eatery is a favorite for special occasions and romantic meals. The four-course prix fixe menu includes an appetizer course, entrée course, cheese course and dessert course that is sure to awaken your taste buds.
Where: 1460 Ellsworth Industrial Blvd. NW
Cooks & Soldiers
Located in Atlanta's thriving West Midtown neighborhood, Cooks & Soldiers is an upscale, critically acclaimed, Basque-inspired tapas restaurant. Named after the popular Tamborrada festival in Spain, this restaurant pulls inspiration and creative thoughts from the rich culinary history of Northern Spain, Southern France and Basque country. Traditional pintxos and large, shareable dishes cooked on a wood fire asador grill will leave you wanting more.
Where: 691 14th St. NW
Marcel
Located in Westside Provisions District, Marcel is a throwback American steak house inspired by French counterparts that offer 100% Black Angus, USDA Prime and Natural Prime meats. The custom china pieces and statement chandeliers provide a classic dining experience. Don't forget to peruse the wine library and cigar list.
Where: 1170 Howell Mill Road
Palo Santo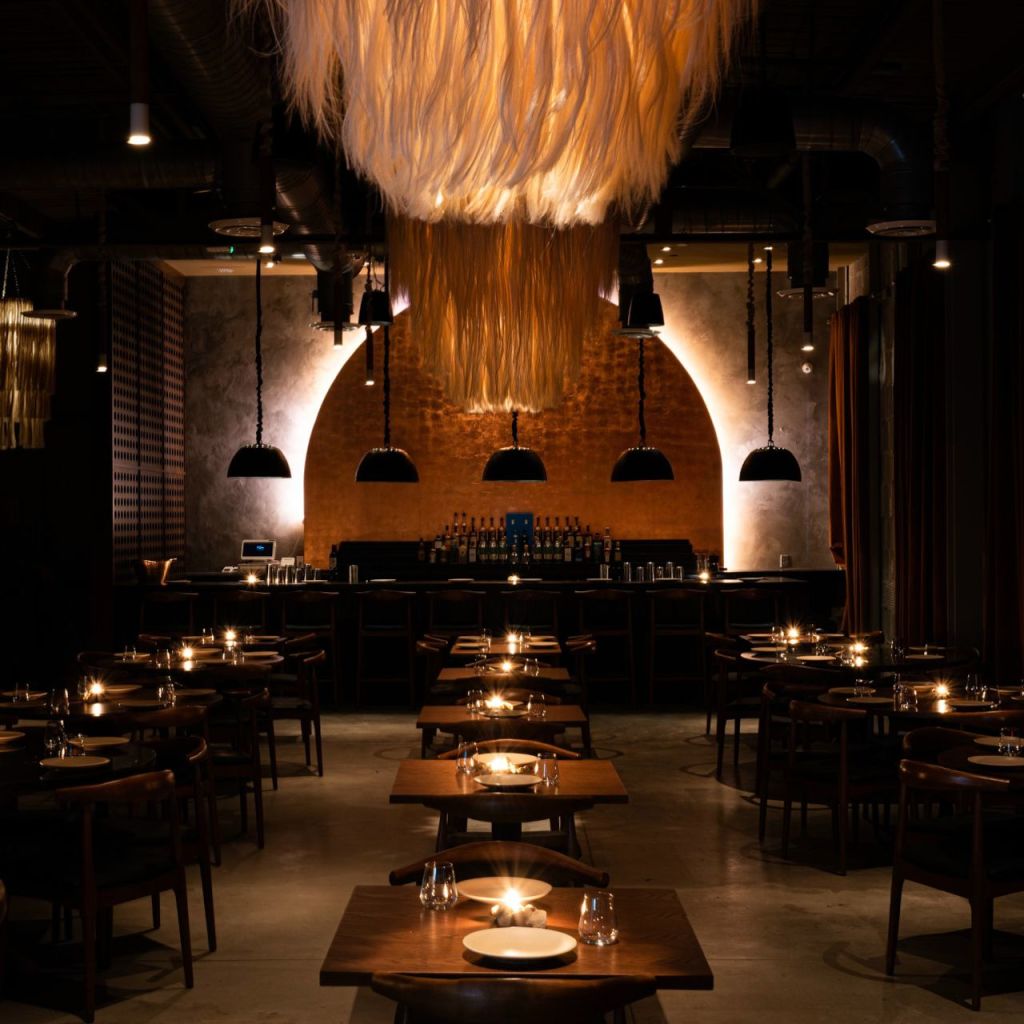 Palo Santo brings a new and elevated dining experience that will surely excite your taste buds. Not only does the cuisine taste as good as it looks, the intimate and trendy atmosphere transports you to the Mexican club scene. After enjoying modern Mexican cuisine, head up the vibrantly lit stairs to the rooftop for uniquely crafted cocktails and stunning views. Your Instagram feed will be pleased.
Where: 955 West Marietta St. NW
Sushi Hayakawa
Named a 2018 "Best Chef: Southeast" semifinalist by The James Beard Foundation, Atsushi Hayakawa from Sushi Hayakawa is creating an intimate and unique dining experience in West Midtown Atlanta. Traditional sushiya reflects some of the finest sushi shops in Japan, offering a wide variety of fish selections from sourced markets all over the globe.
Where: 1055 Howell Mill Road
The Optimist
Lobster rolls, gumbo and wood-fired oysters – oh my! Tucked away in an old house on the Westside, The Optimist brings seaside dishes to landlocked Atlantans. From smoked fish chowder and hickory roasted fish to classic hush puppies and crab soup, the dishes will surely transport you straight to a sustainable, coastal fish camp.
Where: 914 Howell Mill Road
Downtown
Alma Cocina
Introducing Atlanta to a refreshing approach on contemporary Mexican cuisine, Alma Cocina presents you with inventive dishes. Traditional influences and Latin American flavors feel familiar and unique at the same time. Enjoy the roasted chicken mole plate while you sip on one of the unique tequila selections or a Latin-influenced cocktail.
Where: 191 Peachtree St. NE
Cuts Steakhouse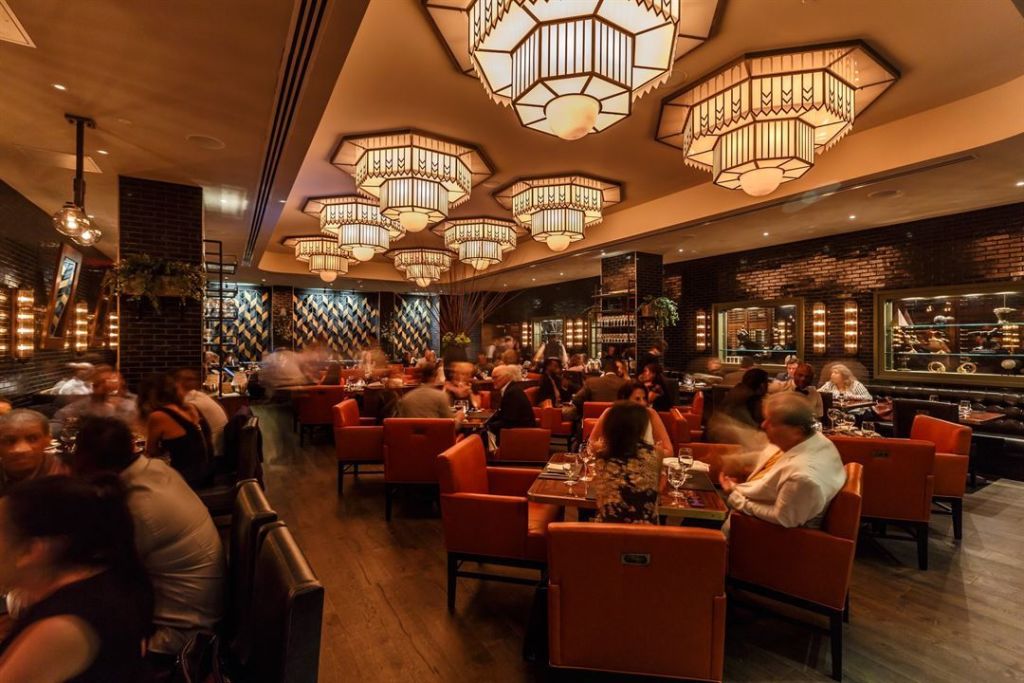 Serving succulent steaks and a wide range of Southern classics, Cuts Steakhouse provides a fine dining experience for date night. Try the shrimp & grits or a fried lobster tail to complement your steak. There is an excellent selection of wines and cocktails.
Where: 60 Andrew Young International Blvd. NE
McCormick & Schmick's Seafood & Steaks
Steps away from the Chick-fil-A College Football Hall of Fame and Georgia Aquarium, McCormick & Schmick is conveniently located and uniquely designed to create a welcoming and relaxed atmosphere in the heart of downtown Atlanta. Menus are printed daily so you can always count on fresh fish, steaks, poultry, pastas and salads that are seasonally inspired from local produce. Stop by any day of the week for dinner or Monday through Saturday for lunch.
Where: 190 Marietta St.
Ruth's Chris Steak House
Ruth's Chris Steak House is an icon and staple of the Atlanta downtown dining scene, creating perfect steaks and providing warm hospitality. You can enjoy a classic New York strip or splurge on a well-marbled tomahawk ribeye. All this is coupled with sweeping views of Centennial Olympic Park and the Atlanta skyline.
Where: 267 Marietta St. at the Embassy Suites
Sun Dial Restaurant, Bar & View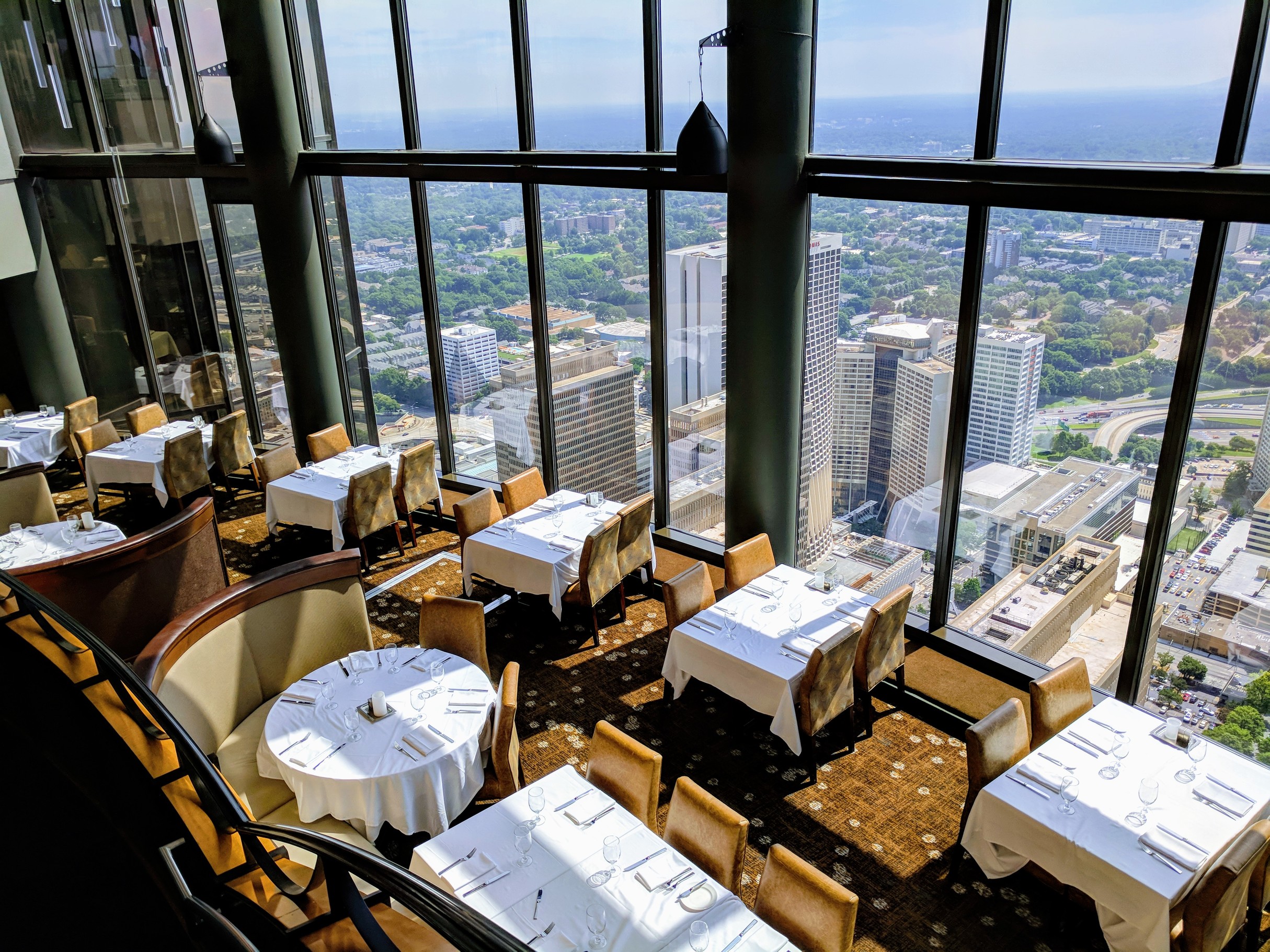 Start your romantic evening off with seafood chowder before crunching into a classic Caesar salad at Sun Dial. Entree choices include BBQ pork tomahawk, a 16-ounce New York strip steak and Colorado rack of lamb. Finish with a lemon cream cake or double-decker strawberry shortcake. It will be hours before you come back down to earth, both literally (because you'll be dining at the top of the Westin Peachtree Plaza) and figuratively.
Where: 210 Peachtree St. NW
White Oak Kitchen & Cocktails
Featuring chef-inspired cuisine with fresh ingredients from local regions, White Oak Kitchen & Cocktails blends Southern tang with New American flair. Did we mention drinks? This restaurant is known for more than delicious dishes. Locally inspired and crafted cocktails will lift you up.
Where: 270 Peachtree St.
Explore even more great restaurants in Downtown Atlanta.
Boasting intimate atmospheres, elegant décor and some of the most incredible cuisine, romantic restaurants in Atlanta offer the perfect setting for a special night out with your loved one. And keep the romance going with these fun date night ideas.
Discover More
Get to know Atlanta, and discover the best things to do around the city.