13 Iconic Restaurants in Atlanta
Published March 23, 2023
Atlanta is a foodie city. We have world-famous chefs who offer a variety of culinary delights — everything from Asian fusion to barbecue. We also have our longstanding iconic restaurants. Over the decades, these restaurants have been the sites where weddings, proposals, graduations and family reunions took place, as well as just gathering places for friends to enjoy a great meal. Here are some of Atlanta's most iconic restaurants. Looking for even more? Check out these 25 restaurants not to miss in Atlanta.
1. Bones
Bones, a classic Buckhead Atlanta restaurant since 1979, is known for its legendary steak, seafood and service. From romantic dinners to business lunches and everything in between, patrons will enjoy a true fine dining experience at Bones. The restaurant is frequently found on various lists of best steak houses in the country. Bones is open for dinner; check website for dress code.
Where: 3130 Piedmont Road NE, Buckhead
2. Busy Bee Cafe
Sure the Busy Bee Cafe has been around since 1947 and has some of the best fried chicken in the area. Its daily meat-and-three plates and Southern specialties are a favorite of locals as well as notables such as Dr. Martin Luther King Jr. and Oprah Winfrey. And now has become internationally recognized as the James Beard Foundation named it an American Classic that has "timeless appeal and showcases regional dishes." The cafe, which was started by Lucy Jackson, is still experiencing the impact of COVID and is now only offering take out/pick up, curbside service and free delivery.
Where: 810 Martin Luther King Jr. Drive SW, Downtown
3. Colonnade Restaurant
Atlantans have been dining at the Colonnade Restaurant, located on Cheshire Bridge Road, for decades. And, if they don't dine in, they carry out some of their favorite foods, such as fried chicken, rutabagas, salmon croquettes and sweet potato souffle. The portions are large and so is the hospitality.
Where: 1879 Cheshire Bridge Road NE, Midtown
4. Majestic Diner
Located in the Poncey-Highland area on Ponce de Leon Avenue, the Majestic Diner has been serving "food that pleases" since 1929. The diner was open 24 hours, making it a big late-night hit. For now, guests will have to make do with Majestic's very "pleasing" breakfast and lunch menu as the diner closes at 2:30 p.m. each day. You'll find everything from burgers and sandwiches to omelets, pancakes and waffles.
Where: 1031 Ponce de Leon Ave. NE, Eastside
5. Manuel's Tavern
Manuel's Tavern is as much a political and literati hangout as it is a place to dine. The de facto meeting spot for journalists, politicians (mostly left-leaning), neighborhood folks and the literary crowd, Manuel's is the place to have a beer, talk politics and watch a Braves game. President Carter, whose Carter Center is around the block, used to be a frequent visitor. President Obama visited in 2016.
Where: 602 North Highland Ave., Eastside
6. Mary Mac's Tea Room
One of the oldest restaurants in Atlanta, Mary Mac's Tea Room remains incredibly popular. For more than 70 years Mary Mac's has set the standard for Southern cooking in Atlanta. It is the last of the 16 tea rooms that once dotted intown Atlanta. Not surprisingly, you will find a varied crowd at Mary Mac's, everyone from politicians and students to churchgoers and sports figures. On your first visit you get a complimentary cup of pot likker. Guests start lining up early for Mary Mac's comfort food, which includes items like fried chicken, sweet tea, fried green tomatoes and delicious peach cobbler. Mary Mac's menu items are so popular that the restaurant even produced its own cookbook.
Where: 224 Ponce de Leon Ave., Midtown
7. Nikolai's Roof
Located in the Hilton Atlanta, Nikolai's Roof was one of the first restaurants to introduce sophisticated European dining to the city. When it opened in 1965, Atlantans, for perhaps the first time, experienced such exotic items as piroshki, borscht and foie gras. Nikolai's Roof also boasts more than 900 wines. After a long COVID closing Nikolai's Roof is open again from Tuesday through Saturday. Once again it's serving its famous seared foie gras, duck breast, and caviar. The vodka flights are worth a try.
Where: 255 Courtland St., Downtown
8. Paschal's
Paschal's is known as much for its place in civil rights history as its food. James and Robert Paschal opened a 30-seat luncheonette in 1947, despite not having a stove. The food was cooked at Robert's home and then taxied to the restaurant each morning. During the 1960s the brothers became active in the civil rights movement, and leaders such as Dr. Martin Luther King Jr. and his key strategists as well as the city's white leadership would meet at Paschal's to solve the problems of the day. Paschal's signature, and most popular, dish is the fried chicken, but make sure to save room for dessert. The peach cobbler is some of the best in Atlanta..
Where: 180 Northside Drive, Downtown
9. Bacchanalia
Bacchanalia has a well-earned reputation as one of the city's most celebrated restaurants — and for good reason. Opened in 1993, it features contemporary American cuisine from owners/chefs Anne Quatrano and Clifford Harrison, with many of the organic ingredients sourced from the owners' farm. The four-course, prix fixe menu changes slightly each evening but some of the selections might include: crab fritter, lamb, cheese selection and pineapple upside down cake.
Where: 1460 Ellsworth Industrial Blvd., Westside
10. Polaris
Polaris, located in the Hyatt Regency Atlanta, Downtown, opened its doors in 1967. Atlantans and visitors alike were excited about having a meal in a rotating restaurant. Today, the sentiment remains. The Polaris offers a variety of handcrafted cocktails that celebrate the Golden Age of spirits and libations. It is the only restaurant in Atlanta with its own bee garden where more than 60,000 honeybees buzz about in hives kept under the roof of the Polaris. The honey is used daily in drinks and dishes. The rooftop garden also grows tomatoes, beans, herbs, flowers and other produce. Try the crispy Dr. Joe duck leg & cassoulet, sous vide wild boar and sweet potato gnocchi, and the Southern pecan tart.
Where: 265 Peachtree St., Downtown
11. Silver Skillet
The Silver Skillet has long been a favorite of Atlantans for a hearty breakfast and an old-fashioned "meat and three." Other must tries include their chicken fried steak and lemon icebox pie. But it is also a favorite of Hollywood. Its vintage decor has made it a top filming location for many TV shows and movies. The Silver Skillet can be seen in "Traveling Man," "Remember the Titans" and "I'll Fly Away," plus many more movies, TV shows and music videos. It has been featured on the Food Channel's "Diners Drive-Ins and Dives" and "The Chew."
Where: 200 Fourteenth St., Eastside
12. Sun Dial Restaurant, Bar and View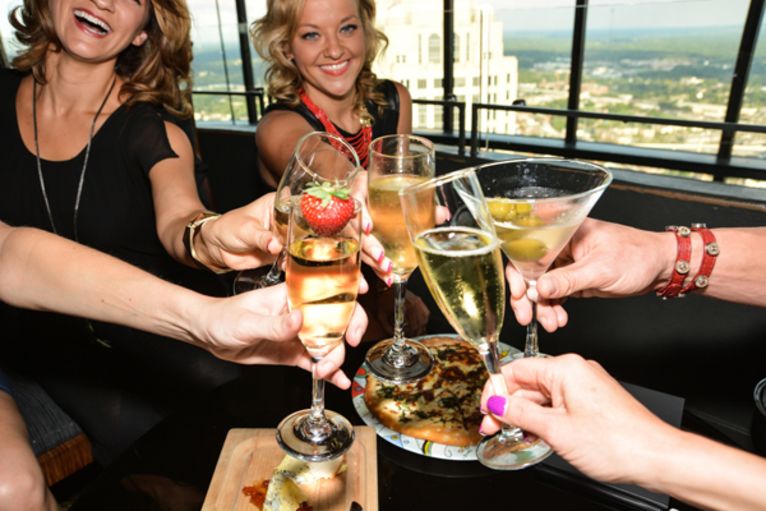 Perched atop the Westin Peachtree Plaza, the Sun Dial Restaurant, Bar and View serves seasonal, contemporary American cuisine for brunch as well as lunch and dinner. Enjoy a fine dining experience at Sun Dial with a menu that makes the most of the city's local, farm-to-table ingredients, while taking in some of the most breathtaking views of the city. You will also find an exquisite dessert and drink menu. The restaurant features such favorites as she crab soup, Iberico pork tenderloin and smoked pork belly. Currently Bar & View bar is closed and the restaurant is not rotating.
Where: 210 Peachtree St., Downtown
13. The Varsity
"What'll ya have?" is the language at the world's largest drive-in restaurant. The Varsity, located across from Georgia Tech in Midtown, has been serving stadium staples since 1928 with its hot dogs (naked dogs), fried pies and onion rings. The restaurant can accommodate 600 cars and more than 800 people. During Georgia Tech Yellow Jackets home football games, more than 30,000 people grab a bite at The Varsity. The restaurant was also a pivotal locale in the movie "We are Marshall," starring Matthew McConaughey and Matthew Fox.
Where: 61 North Ave., Midtown
What kind of food suits your mood? From bakeries to brunch to barbecue, Atlanta's dining scene is superb.
Discover More
Get to know Atlanta, and discover the best things to do around the city.