Atlanta's Favorite Black-Owned Restaurants
Whether it's just like mom used to make, a new take on tradition or whipped up by a celebrity chef, Atlanta is home to many Black-owned restaurants. Here are some of our favorites.
Traditional Black-Owned Restaurants in Atlanta
Busy Bee Cafe
This is perhaps Atlanta's best known "meat and three." It was launched in 1947 by Lucy Jackson, when restaurants were still segregated. The restaurant regularly makes the lists for "best fried chicken." Other favorites are baked mac and cheese, and banana pudding.
The Busy Bee is one of six 2022 recipients of the James Beard Foundation's American Classics award. The foundation said this about the Busy Bee: "When Lucy Jackson opened the Busy Bee Café on what was then called Hunter Street in 1947, it was one of only two streets in the city of Atlanta open to Black entrepreneurs after the race riots pushed the community from downtown Atlanta. Martin Luther King Jr. and other civil rights icons frequented Busy Bee to enjoy a hearty meal of fried chicken, ham hocks, catfish, collard greens, macaroni cheese, cornbread and other soulful dishes. Today, the cafe is owned by the Gates family with Tracy Gates at the helm. Tracy has worked hard to revive the restaurant to Jackson's standard of providing excellent service and consistent food preparation. It remains a community gathering spot, as well as a tourist destination, where locals, regional and international celebrities, and a bastion of comforting soul food for generations past and present come to roost."
The Beautiful
For down-home deliciousness, head over to Cascade Road. The food is nationally known. There's are Cornish hens, oxtails and rice, and, on Fridays, fried pies. Be sure to try the specialty beverage, Tea-monade.
Daddy D'z BBQ Joynt
This well-known barbecue joint on Memorial Drive is where you'll find everyone from state troopers to musicians. Among the specialties are the ribs, Brunswick Stew and mozzarella cheese sticks.
Mangos Caribbean Restaurant
It's a great place on Auburn Avenue to have a fantastic meal that won't break the bank. Try the saltfish, oxtails and curry goat.
Twisted Soul Cookhouse & Pours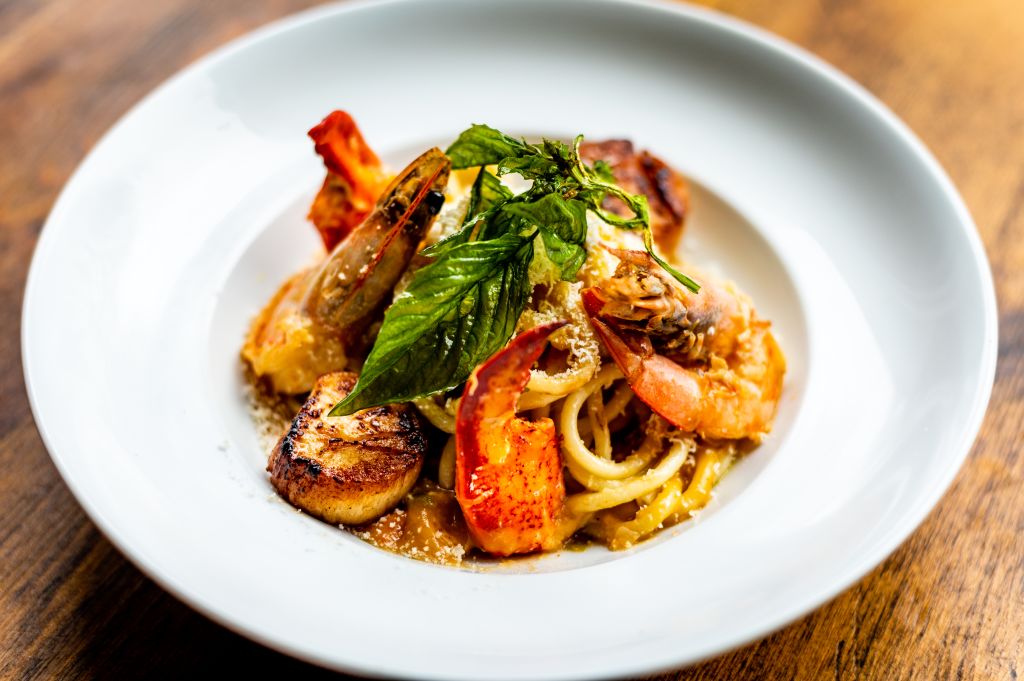 Chef Deborah VanTrece serves up a menu based on soul food principles with a modern twist. Located in West Midtown, the restaurant's specialties are Grandma Lueticia's Full Works Burger and Southern-marinated fried chicken. Brunch favorites include sweet tea BBQ brisket pimento cheese melt and hoisin-glazed oxtails.
Q-Time
Opened in 1993 in the historic West End by Fred and Christine Crenshaw, the restaurant has been serving up delectable, distinctive soul food ever since. Located on Ralph David Abernathy Boulevard, Q-Time highlights are pork chops, fried whiting and turnip greens.
Atlanta Restaurants Owned By Black Celebrities
Old Lady Gang
This Southern-style eatery is owned by singer and "Real Housewives of Atlanta" star Kandi Burruss-Tucker and her husband. The "Old Lady Gang" is Burruss, her mother, Joyce Jones, and aunts Bertha Jones and Nora Wilcox. The restaurant features favorites such as deep fried whipped deviled eggs, Mama Joyce's BBQ rib tips and Kandi's honey-glazed blackened salmon. Locations in Castleberry Hill, East Point and inside State Farm Arena.
Fellaship
The intimate lounge and restaurant is owned by the NFL's Cam Newton. Fellaship, located Downtown, is the place to indulge in fine dining, cigar smoking and socializing. Among the specialties are Ponzu-glazed Scottish salmon, truffle fries, and deep dish mac & cheese.
Chicken + Beer
Atlanta native Cris "Ludacris" Bridges opened one of the most popular restaurants at Hartsfield-Jackson Atlanta International Airport. It's the perfect place for a hot bite, cold drink and Southern hospitality. Try the chicken + corn chowder, fried catfish sandwich and, of course, Luda's chicken + waffles. Enjoy beer flights from such brewers as New Realm, Monday Night Brewing and Scofflaw Brewing Co.
Escobar (ESCO) Restaurant & Tapas
Rapper 2 Chainz opened the Castleberry Hill restaurant and a second location on the Southside in Morrow, Ga. Tapas include crispy calamari, Buffalo chicken sliders and salmon chips.
Atlanta Restaurants Owned by Black Celebrity Chefs
9 Mile Station
Kelvin and Mandy Slater opened their restaurant on the roof at Ponce City Market, and people have flocked there ever since. Brunch items include a sticky bun that serves four, pastrami Benedict and brisket hash. Dinner might begin with pork belly sliders then move onto sesame crusted tuna.
Rock Steady
Inspired by his cultural roots and his interest in travel and cooking, Haitian American entrepreneur Jacob Thomas created Rock Steady with restaurateur Joe Russo to celebrate the vibrant cuisines of the West Indies. Diners can enjoy main courses such as Haitian grilled chicken, fried goat and oxtail fiore. Private dining is available.
Paschal's
Located near Mercedes-Benz Stadium Paschal's is an iconic local restaurant where civil rights leaders and business elites would meet during the civil rights struggle to discuss how to end segregation. It still serves some of the best fried chicken in town.
Tom, Dick & Hank
Hank Johnson owns the barbecue restaurant with two locations, one in College Park, the other Downtown. Johnson has been on national cooking shows. Try the smoked wings, chicken sausage or brisket.
Vegan or Vegetarian Restaurants
Bar Vegan
A restaurant and bar offering from the founder of Slutty Vegan, Pinky Cole and partners. This Ponce City Market staple serves up popular vegan based meals imagined as bar food and great vibes. Try a cheesesteak combo or a jerk chicken quesadilla accompanied by beautiful and memorable craft cocktails. This trendy bar is a great location for celebrating… whatever you can come up with.
Local Green Atlanta
Local Green Atlanta was started by Zachary "Big Zak" Wallace, a legend in the music scene who has written chart-topping hits for some of the biggest names in the music business. Wallace also realized that the African American community's diet was filled with high fats, empty calories and sky-high sodium levels. He started to make a difference with his Local Green Atlanta food truck and has since opened Local Green Atlanta in Vine City. His plant-based cuisine features dishes such as "monsta" shrimp burger, three-stack cauliflower taco, salmon Philly quesadilla and a double vegan cheeseburger. Oprah said the dishes are among her health food favorites.
Slutty Vegan
You'll have to stand in line to get in, but as locals and food critics across the country will tell you, it's worth it. The original is located near Atlanta University Center, but founder Pinky Cole has expanded and now runs her restaurant in five Georgia locations and is soon to open in New York and Alabama. Slutty Vegan is famous for its plant-based foods, especially burgers and slutty sauce. Cole serves such dishes as One-Night Stand and Fussy Hussy, and she has teamed up with Beyond Meat to introduce a non-GMO, no-soy option.
Soul Vegetarian
One of the largest chains of vegan restaurants in the world operates under the auspices of the Hebrew Israelite Community of Jerusalem. Located in the Poncey-Highland neighborhood and the West End, Soul Vegetarian offers a kalebone sandwich, tofu sandwich and a Jerusalem rice dish.
Plant Based Pizzeria
Marisa Acoff and Paul Howard opened the city's first vegan pizzeria, Plant Based Pizzeria. The carry-out-only eatery, with locations on Barnett Street and on Roswell Road, quickly caught the attention of neighborhood residents as well as celebrities. All pizzas are served on a gluten-free crust. Among the specialties are the Hawaiian Pizza, Mexican Pizza and Alfredo Pizza. In addition there are calzones, flatbreads and burgers.
Healthful Essence
The West End restaurant features Caribbean-style vegan cuisine with such items as un-chicken patty and un-fish cakes. At Healthful Essence, you'll dine on food prepared by Princess Dixon (known as Mama Princess), who has been serving her Caribbean vegan and vegetarian dishes for more than 25 years. She is assisted by Kwadwo Kephera.
Tassili's Raw Reality
This fast, casual restaurant located in the West End features a variety of internationally inspired vegan dishes. Tassili Ma'at's dishes cater to a variety of people from flexitarian to vegetarian to vegan, transitional clients to raw experts. Tassili is recognized for having the best kale in Atlanta, if not the world. On the menu are sweet coconut corn, punany wrap, Afrikan carob cake and Popolicious herbal popcorn.
Vegan Dream Doughnuts
These pillows of dough are as delicious as they are beautiful. Try the cherry mango cinnamon rolls or the vanilla almond glazed doughnuts. Located in the historic West End, the shop also offers organic fruit cinnamon rolls and smoothies. The doughnuts come minus any gluten, sugar, milk or eggs and are sweetened with agave and coconut crystals.
Sweet Treats
Sublime Doughnuts
With a goal in presenting "flavors and textures from around the world on a doughnut canvas," Kamal Grant launched Sublime Doughnuts in 2008. Now Sublime sells donuts 24 hours a day at two Atlanta locations (Georgia Tech and North Druid Hills) with menu offerings that include Dulce de Leche, Sweet Potato Cake and Chocolate Banana Fritter.
Not As Famous Cookie Co.
This cookie shop in Smyrna creates gourmet cookies from the finest ingredients based on recipes from the founder's father. Not As Famous Cookie Co. offers a variety of cookie flavors (plus vegan and gluten-free options) that can be picked up, delivered or shipped directly to your home. Find the cookie shop on wheels at local Atlanta festivals and events. Choose from flavors like Butter Pecan, Classic Chocolate Chip or southern favorite Red Velvet White Chocolate Chip.
Sweet-Stack Creamery
Serving innovative and inspired flavors and combinations, Sweet-Stack Creamery is a dessert bar that creates one-of-a-kind ice cream and cookie or doughnut sandwiches from flavors such as Black Panther, Dirty Bird and Amber Rose. These flavors are available on their own or may be sandwiched between cookies or doughnuts and rolled in a variety of toppings. Vegan options are available.
See more of Atlanta's tasty restaurant options here.
Discover More
Get to know Atlanta, and discover the best things to do around the city.