Unforgettable, Off-the-Beaten-Path Venues for Meeting Planners
Published May 9, 2022
Last Updated May 26, 2022
Atlanta has many non-traditional venues that double as perfect spaces to host a memorable event. These off-the-beaten-path and unique Atlanta venues will certainly impress your attendees. From Atlanta neighborhood event venues to historic homes, unique bars, balconies and even a tea house and grocery store, this list is for those meeting planners searching for unexpected meeting places in Atlanta.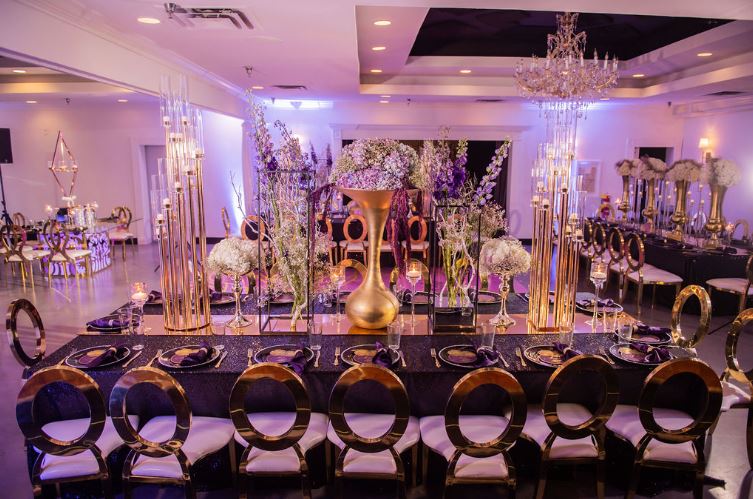 Besharat Gallery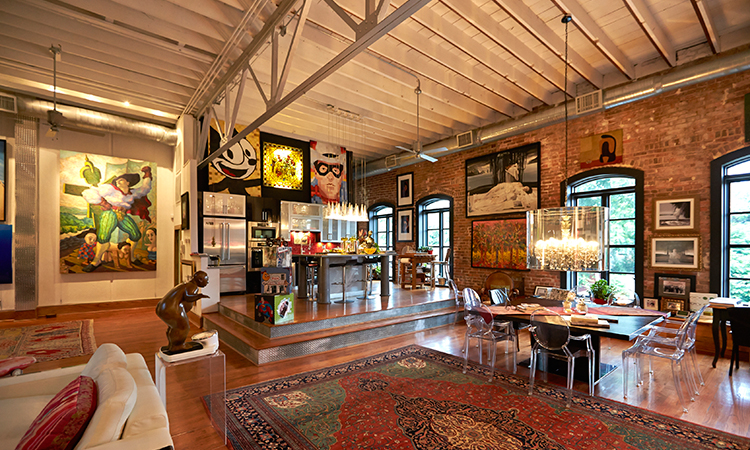 Located in the Castleberry Hill art district, Besharat Gallery offers a sophisticated vibe in a multilevel, turn-of-the-century space. The gallery sets the stage with sculptures, stunning photography and paintings from around the world, as well as a permanent collection of works by National Geographic photographer Steve McCurry. Plan a sophisticated event for up to 300 in four gallery spaces, each with its own character. Incorporate the outdoor sculpture garden with access to a private garden area with a patio and greenhouse.
Knock Music House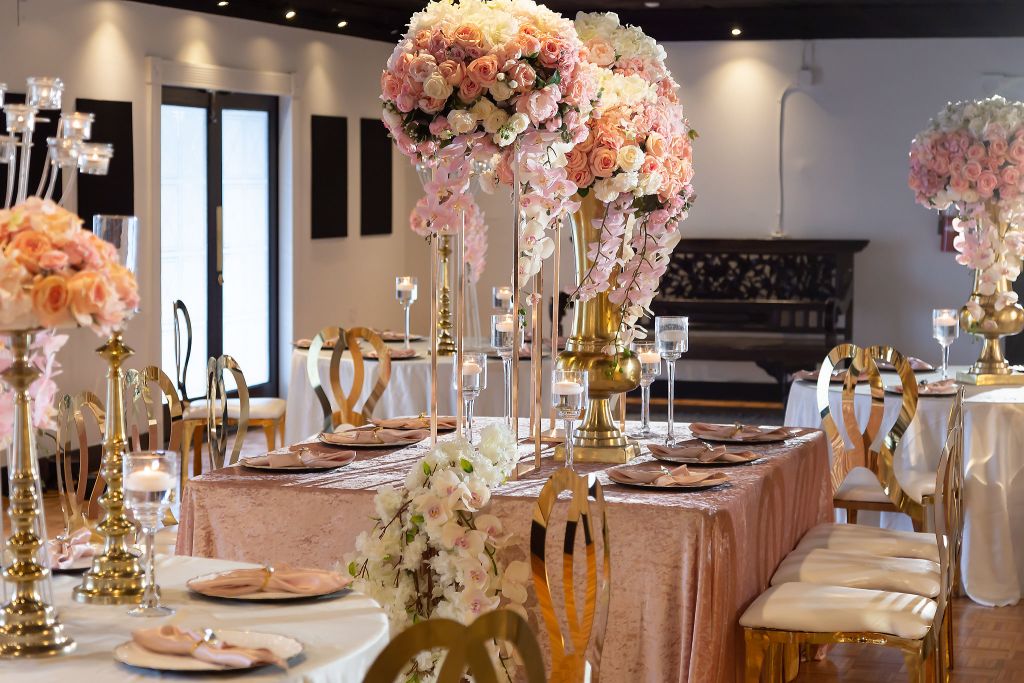 Give your attendees a VIP rock star experience, without the tabloids. With full-service event planning capabilities, Knock Music House takes care of all the details needed to throw an awe-inspiring party, right down to the red carpet. Choose from multiple locations in the Atlanta area, including one in Lenox Park which can host events for 150 to 500 people. Find a second location in Virginia Highland (maximum capacity 125) with a third coming soon.
Callanwolde Fine Arts Center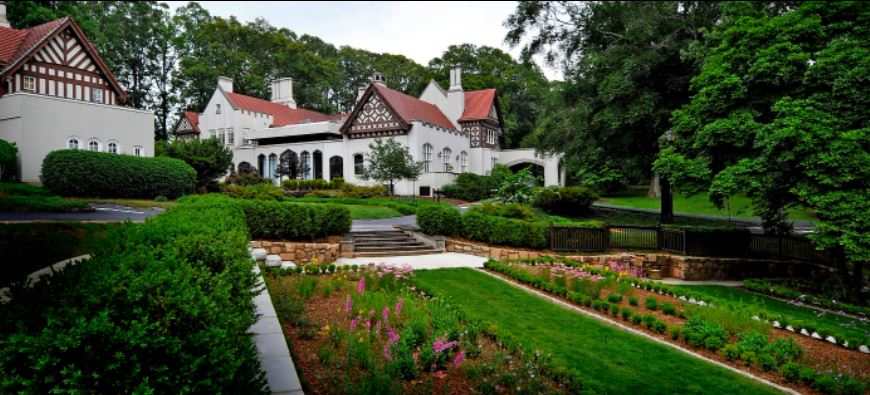 This historic 12.5-acre estate was originally built for the Charles Howard Candler family. Charles Howard was the son of Asa Candler who founded The Coca-Cola Company. Channel early 1900s glamour inside the 27,000-square-foot Callanwolde Fine Arts Center, complete with a grand staircase framed by a solid limestone archway that opens out into the great hall. Outside, imagine your event framed by a fountain, terraces, formal gardens and beautiful green lawns.
JoJo's Beloved Cocktail Lounge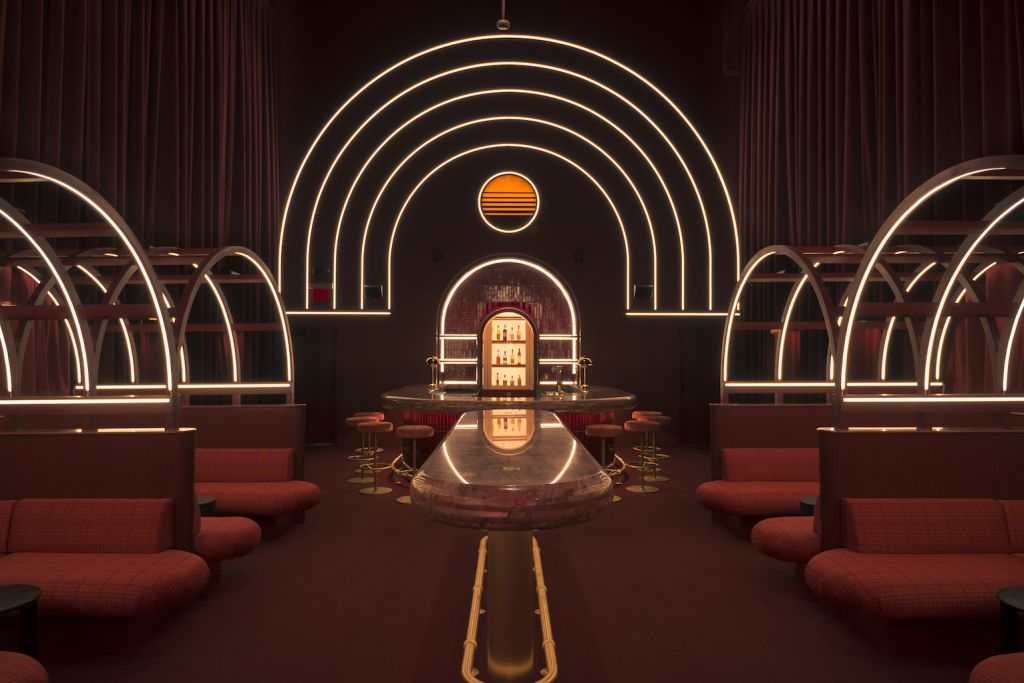 Guide your attendees straight into a secret lounge at Colony Square in Midtown. JoJo's Beloved Cocktail Lounge is one-of-a-kind with a slightly romantic vibe. Parties of up to 80 can mingle in the space, gazing up at the cathedral-height ceilings as they groove to a throwback, all-vinyl soundtrack.
Whole Foods Midtown
Hear us out: This is no ordinary grocery store. This multilevel, 70,000-square-foot flagship store offers more than meets the eye. Whole Foods Market in Midtown houses groceries, quick-serve restaurants, a coffee shop and the 14th Street Bar rooftop space. A private outdoor balcony with seating for 28 overlooks 14th and West Peachtree streets. Inside, 111 attendees can have comfortable seating while a screened, heated porch is perfect for cooler weather.
Millennium Gate Museum
Many visitors and locals see Millennium Gate Museum's classically-styled, towering arch in Atlantic Station when they drive by, but few know what it's all about. Visualize your after-hours event inside the arch where attendees can wander around the 12,000-square-foot museum depicting Georgia's history. Dinners and receptions are available as are daytime workshops or lectures. Outside, the terrace featuring a green lawn overlooking a sparkling lake adds ambiance to the stunning structure. As the sun goes down, enjoy an event at dusk as the city lights up.
The Gathering Spot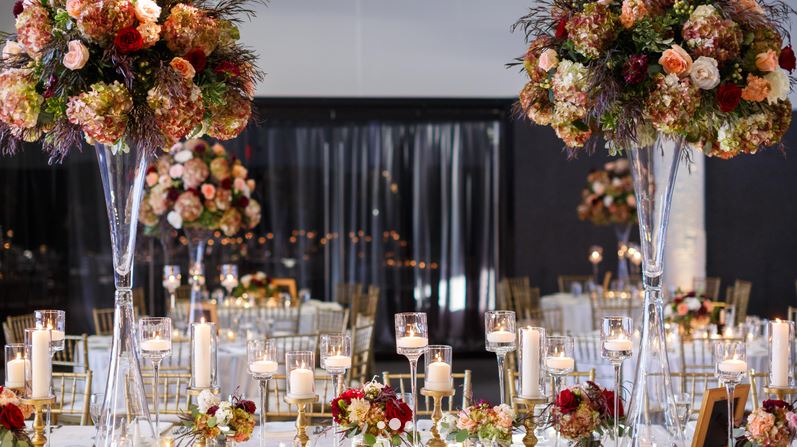 Need a spot to get those creative juices flowing? Inspired by its membership of entrepreneurs, filmmakers and music industry executives, The Gathering Spot inspires conversation and ideas in creative spaces. Located in what was once the Southern Railway North Avenue Yards, this fully equipped event space on the Westside features seating for up to 200, plus a 220-inch video screen and built-in bar. Plan an intimate dinner, a cocktail reception or even a brand launch to make your mark in the community.
SCAD Ivy Hall
In a city full of new growth and shiny skyscrapers, take in this 1883 red brick mansion, originally constructed for one of Atlanta's prominent founding families and a fine example of high Victorian architecture. Savannah College of Art & Design's Atlanta campus manages Ivy Hall, located in Midtown. A beautiful 1,836-square-foot garden accommodates up to 120 for a reception, and inside the remarkable home guests can gather on either the first or second floor for dinners or receptions.
Piedmont Park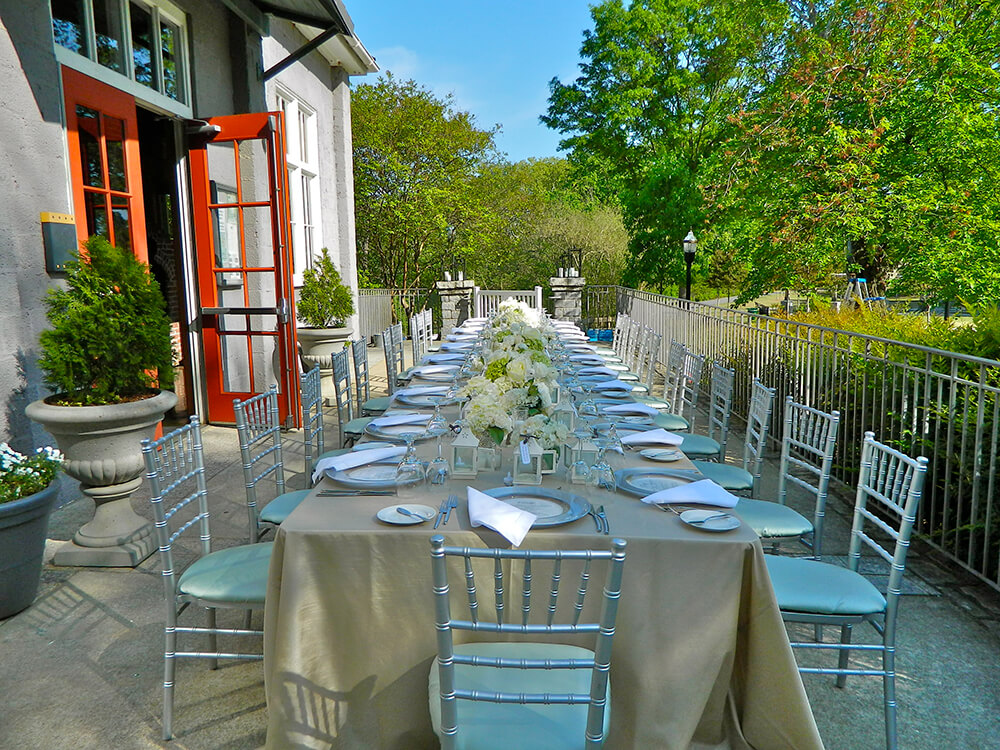 Plan the perfect day or evening event in Atlanta's centerpiece park in Midtown, surrounded by old growth trees and city views. Consider planning a reception around tranquil Lake Clara Meer or at Greystone, Dockside or Magnolia Hall. Piedmont Park has been a site for many popular movies filmed in the area, ensuring that your event will be picture perfect.
44th & Third Bookseller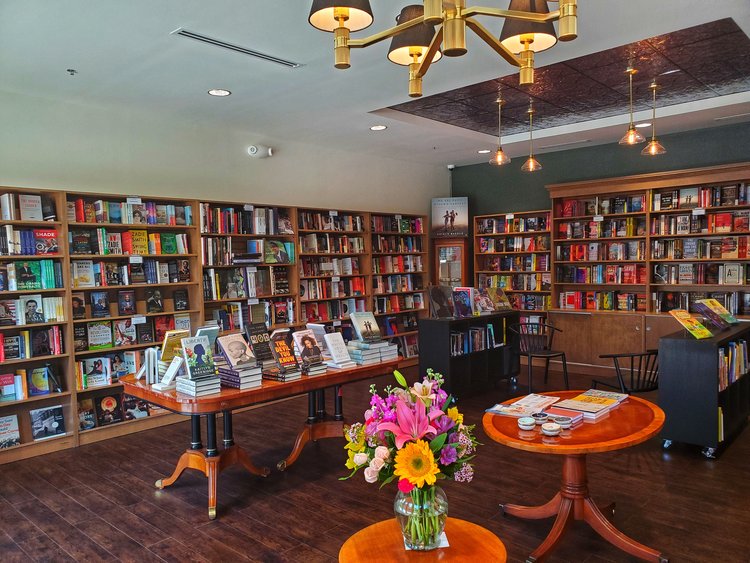 This family-owned bookshop in Atlanta's historic West End neighborhood offers up a comfortable, intimate experience. Book your small gathering at 44th & Third amid a variety of titles that give a voice to the rich Black history of the surrounding neighborhood. Your meeting or event will be carefully curated, just like the hand-picked novels and volumes written by authors from the African Diaspora.
Apt 4B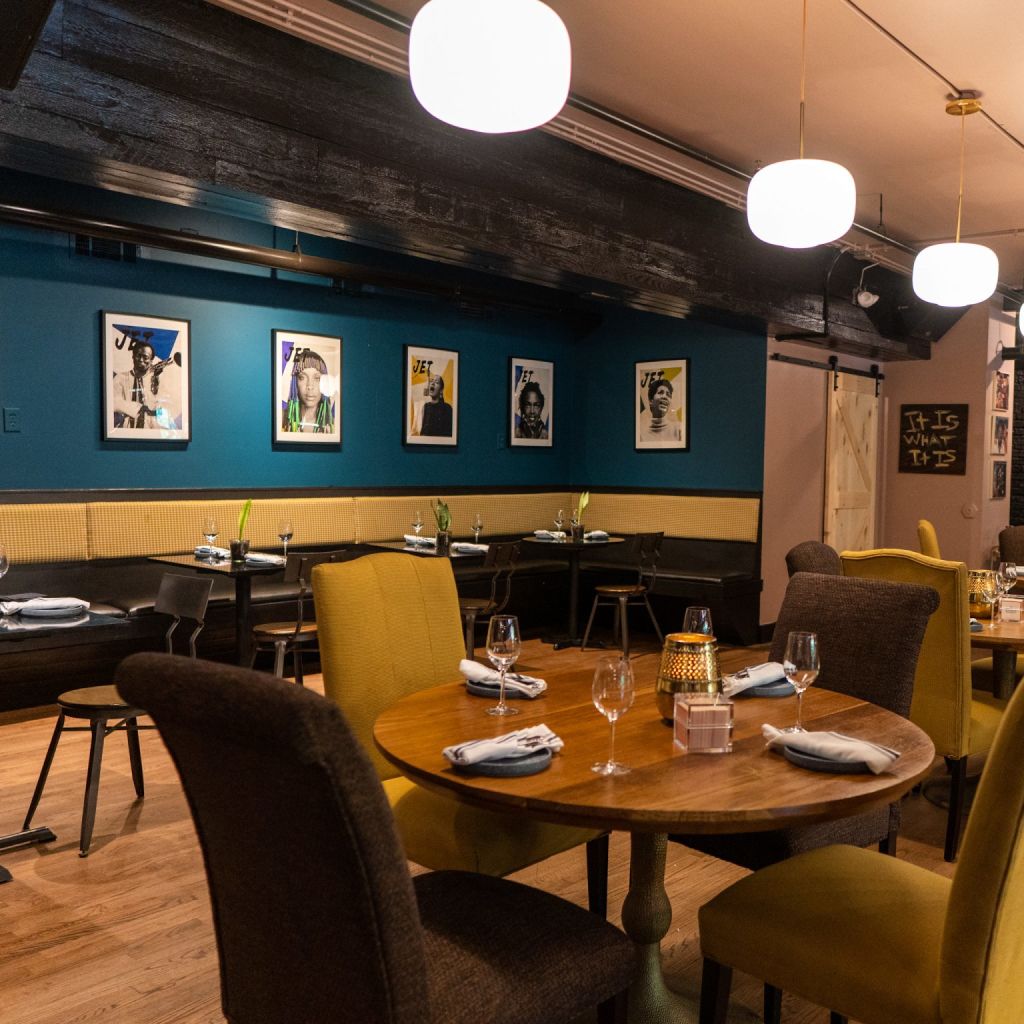 If you're looking for cool, funky digs for your next gathering, drop in at Apt 4B in Buckhead. Inside, you'll find modern Caribbean food and the largest vinyl collection in Atlanta that, together, make up a modern venue hinting at the best of then and now. Settle in for a reception or dinner offering inventive dishes and kicky cocktails, then pour over the collection of 10,000 vintage vinyl records to set the mood for your party.
Just Add Honey Tea Company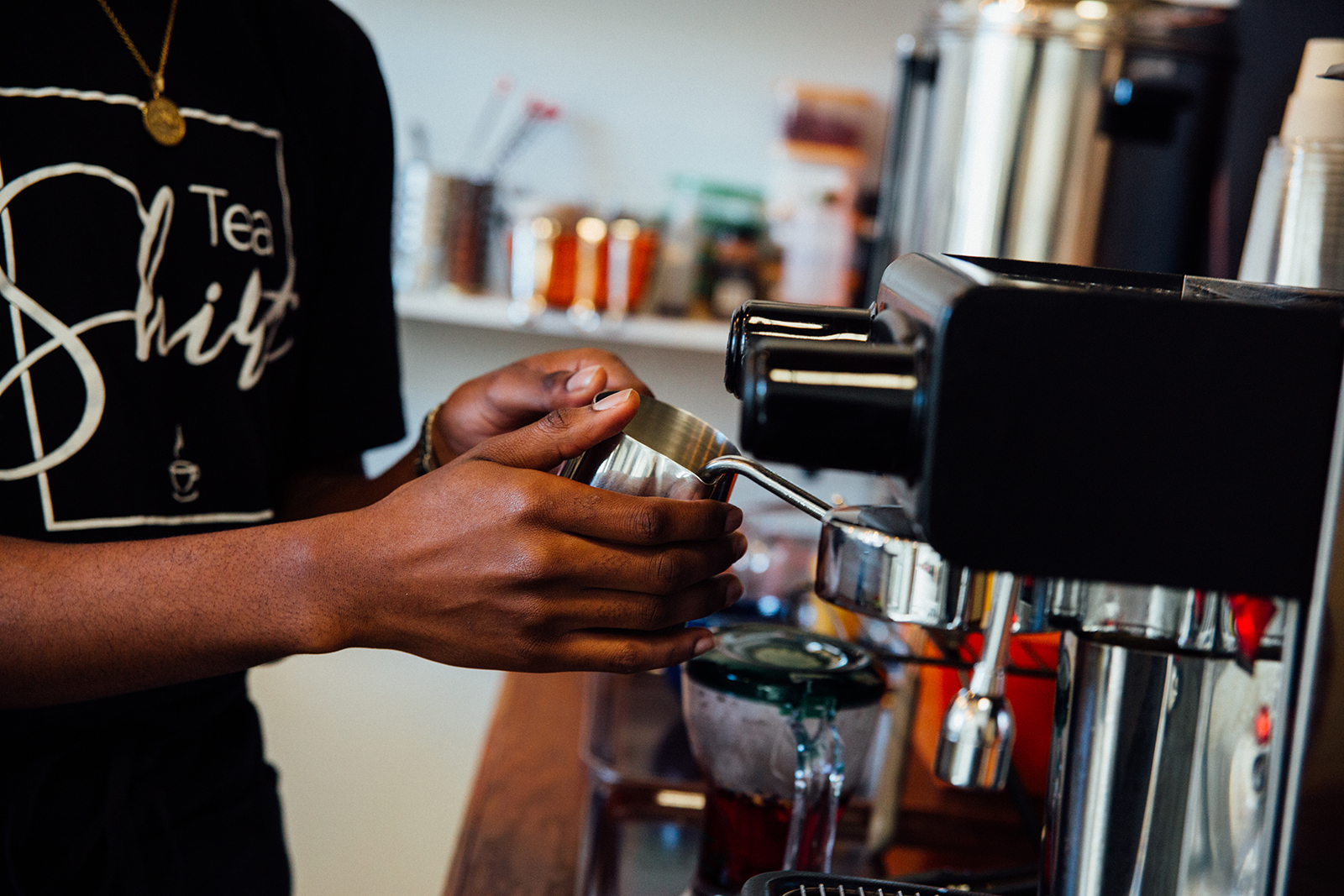 You might just need to host a parTEA for your attendees. An upbeat, relaxing tea experience can be yours at Just Add Honey Tea Company. Husband and wife team Jermail and Brandi Shelton offer afternoon teas and other creative tea experiences. Located just off of the Eastside Atlanta BeltLine, the tea shop offers loose leaf teas featuring flavors from all over the world in one of the comfortable tea rooms customized to to fit your needs.
Southface Institute
Give back to nature while planning your event in a sustainable environment. Southface Institute is a nonprofit organization specializing in creating a regenerative economy that gives back more than it uses. Book a full or half-day rental in the sustainably built event facility. Plenty of natural light streams in through the meeting rooms, and a separate door opens out onto the inviting gardens, complete with native and drought-tolerant plants, mature trees and an organic urban garden. As a bonus, proceeds support the nonprofit's mission-based programs.
Still wanting to see more of what Atlanta's venues have to offer? There are a variety of venue options and one of these could be the perfect spot to inspire your group. To help with your planning, peruse and build your list with our venue catalog. More options include Unique Atlanta Venues with a Nod to History and venues at top Atlanta attractions.
Discover More
Get to know Atlanta, and discover the best things to do around the city.