Local Atlanta Food Halls With Innovative Event Space
Give your attendees a truly local experience at Atlanta's food halls where locals go to pick up a quick bite or experience something new. The city has several chef-driven food halls situated in Atlanta's unique neighborhoods, and each has its own variety of cuisines, flexible meeting space and price points. Consider organizing transportation to these food halls and allowing your attendees to customize their dining experience among the locals.
Atlanta food halls span the globe. It's not just burgers and hot dogs, although you will find some truly delicious offerings mixed with international morsels representing just about any area of the world. Many eclectic, out-of-the-ordinary event spaces are available with catering from one of the many chef-owned food vendors, perfect for a memorable place to gather.
Krog Street Market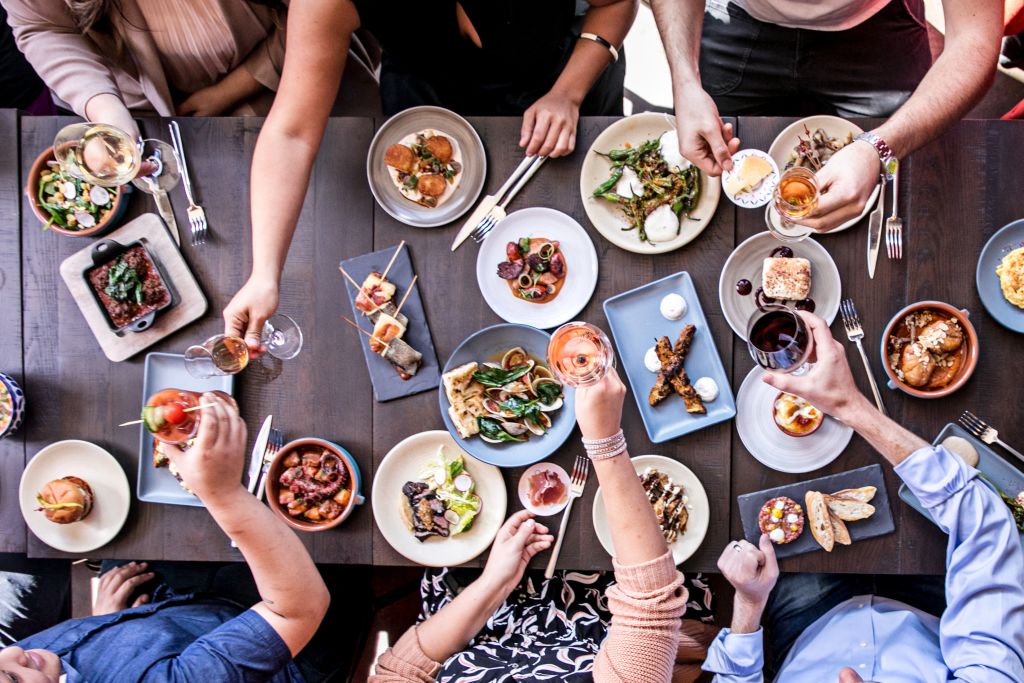 Located in the former Atlanta Stove Works off the Eastside Atlanta BeltLine Trail, the Krog Street Market area has been used in multiple film productions due to its warehouse vibe. Discover food stalls staffed by award-winning chefs serving up cuisine ranging from Indian street food to smoky barbecue, savory Szechuan dumplings and flaky, handmade pastries. Attendees can spend hours experiencing this food hall heaven named "One of the World's Best Food Halls" by Travel + Leisure magazine.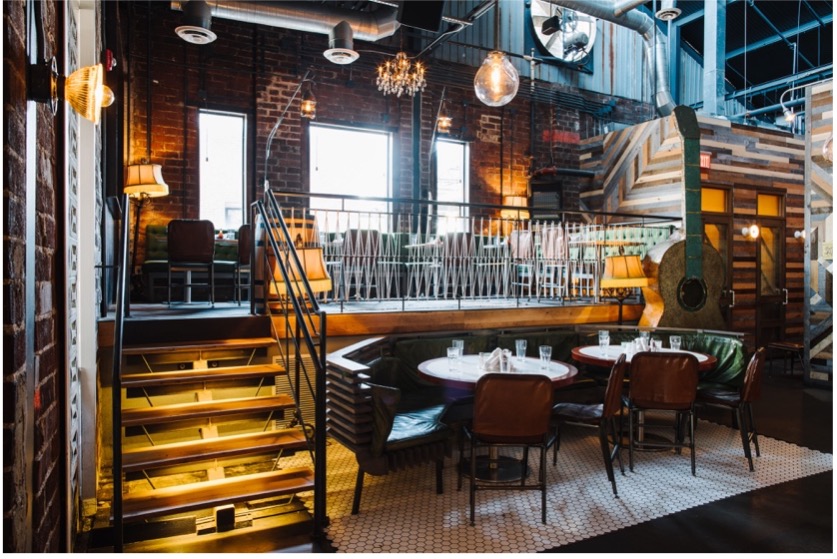 Several full-service restaurants inside Krog Street Market have amazing options for your attendees. Superica, serving an intriguing Tex-Mex menu, has a private dining room for up to 22 guests, 15 on the stage and a fun, semi-private patio space. Book a lively private meal or host a happy hour on the covered patio at Bar Mercado, serving an eclectic Latin American menu of freshly shaken margaritas, empanadas and tapas. Ticonderoga Club, a local's place for solid cocktails and grateful dining, also has event options.
Coming soon: A new brewery at Stove Works in the Krog Street District will host events when open, and SPX Alley, also in the Krog District, will soon introduce The James Room, Pour Taproom and Guac y Margys, all with flexible event space.
Ponce City Market
The food hall at Ponce City Market is a showcase of Atlanta's top chefs, giving guests the opportunity to taste global cuisine ranging from biltong to Iranian street food, Latin-inspired sandwiches and bold vegan creations. Located directly on the Eastside Atlanta BeltLine Trail, the shopping, dining and entertainment mecca is a former Sears, Roebuck & Co. building and offers several event options.
Inside the market: Set aside some time for your attendees to relish a unique meal or midday snack at the food hall with seating indoors and outdoors. For something more private, tropical vibes emanate from Atrium, a full-service restaurant with parlor cocktails and exquisite bites. At Bellina Alimentari, set up a cooking class or a chef's tasting dinner at this spot inspired by cafes of Northern Italy. Bar Vegan offers two private areas accommodating up to 80 people, plus a custom menu design. At City Winery, guests can indulge in wine made on-site in the tasting room, restaurant, music venue and patio.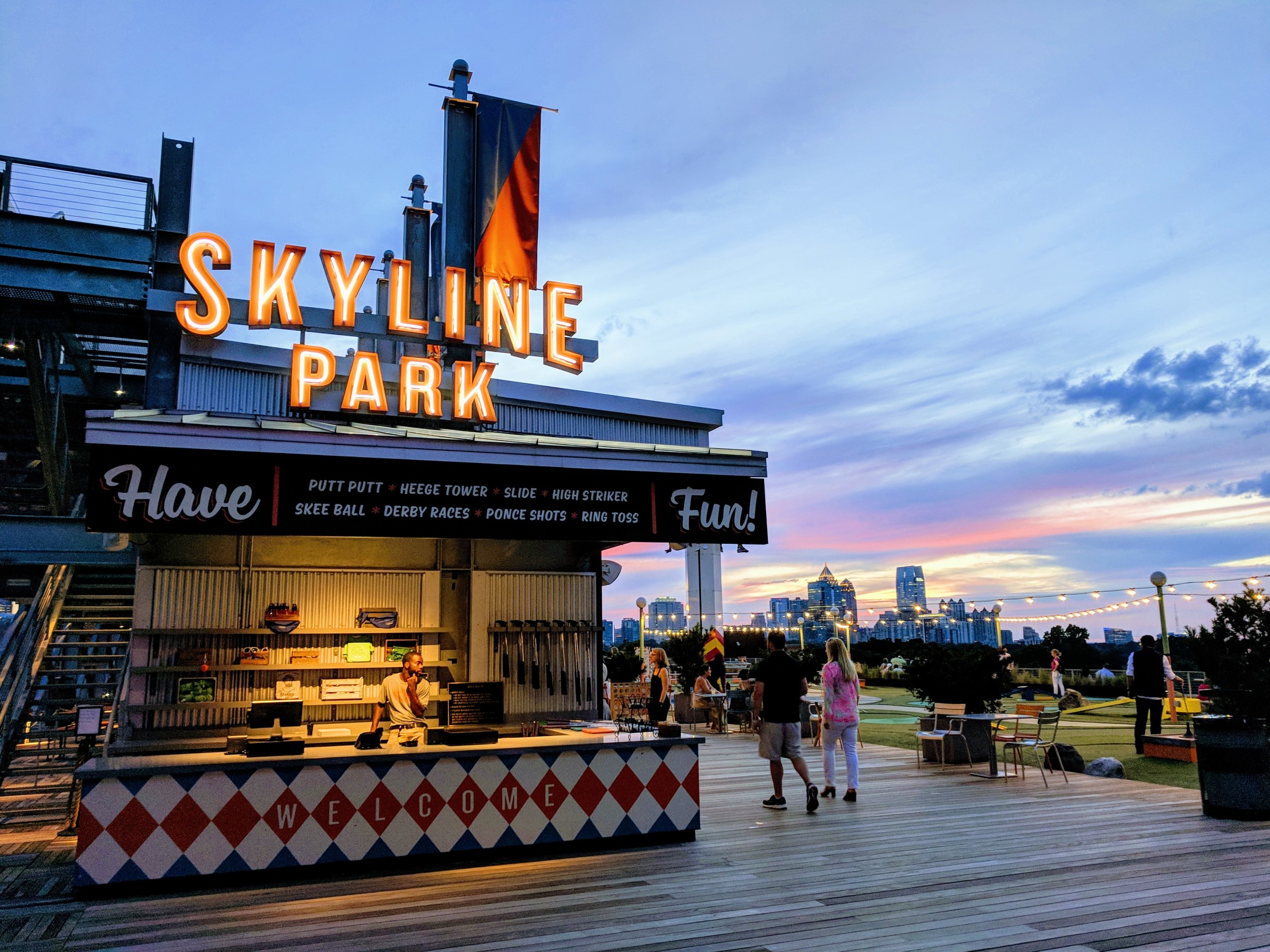 On the roof: The ROOF at Ponce City Market has can't-miss views and multiple event options. Give your guests a retro carnival-style evening at Skyline Park with an 18-hole mini-golf course, a three-story slide and 23,000 square feet of outdoor space. If you're in the mood for vintage parlor games, RFD Social can deliver with a prohibition-style feel. 9 Mile Station rooftop bar and kitchen provides shareable food and craft beers.
Politan Row at Colony Square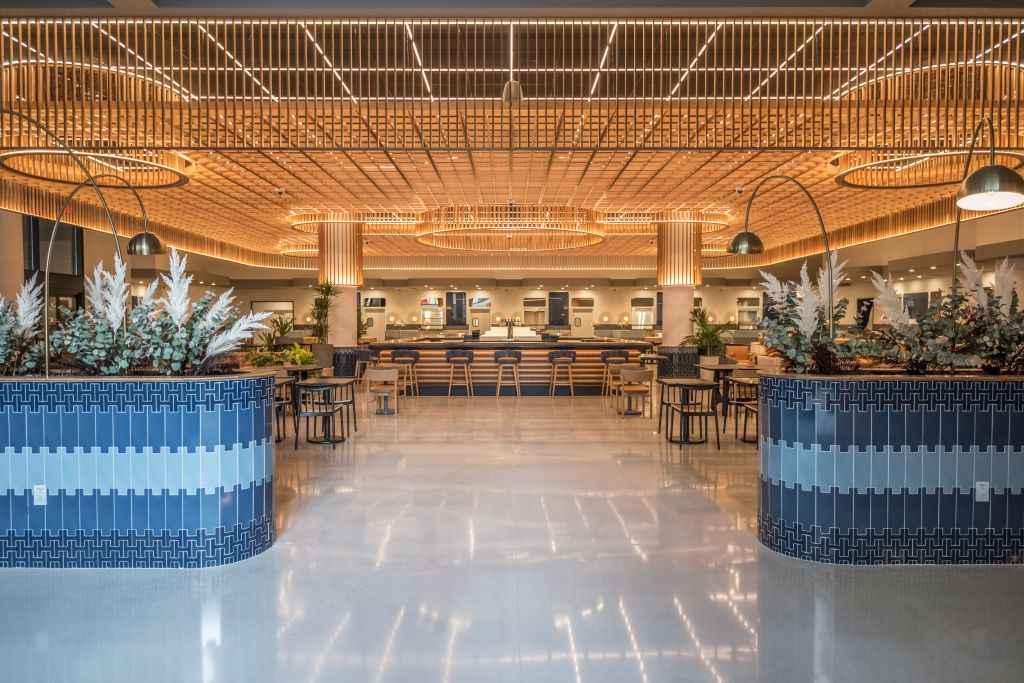 Located in Midtown at Colony Square, this new 20,000-square-foot food hall offers an attached private events space and speakeasy lounge in addition to 11 chef-driven food stalls. The Blue Room at Politan Row is an impressive, private space adjacent to the food hall, offering a top-tier private bar, photo booth, projector, validated parking and an independent sound system, perfect for DJs. One of the best features of the Blue Room is the diversity of catering options, thanks to the food hall partners, which represent a variety of food ranging from tandoori pizza and wings to Creole-Mexican street tacos.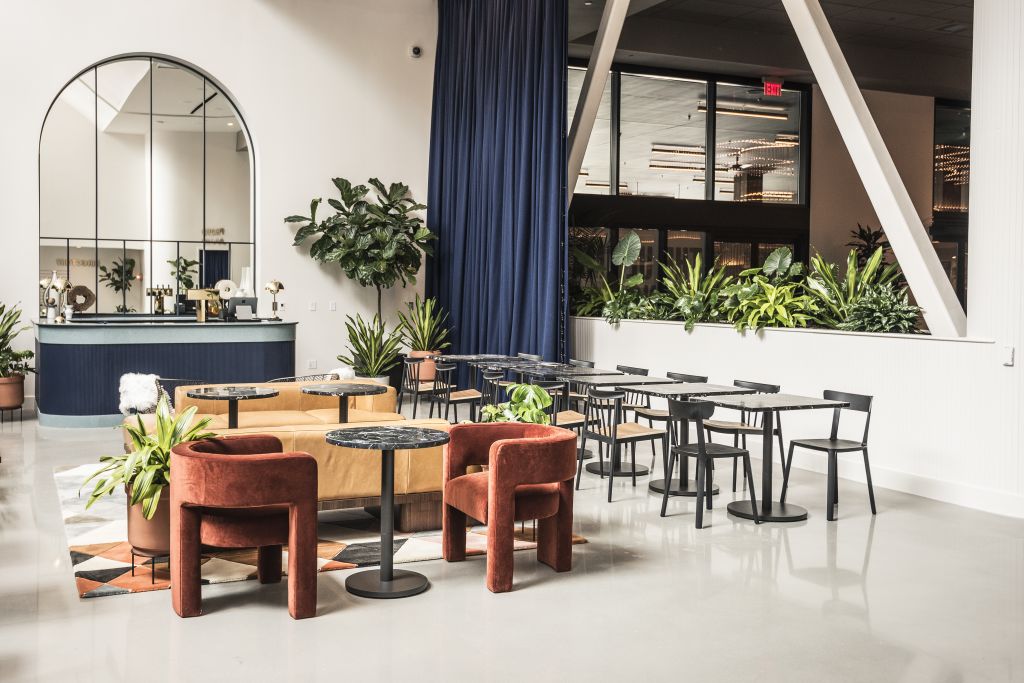 Have your attendees sneak away to a one-of-a-kind, secret space at JoJo's Beloved Cocktail Lounge. The slightly romantic ambiance and cathedral-height ceilings provide space for up to 80 guests. For an even grander scale, give your attendees exclusive use of the eclectic food hall with private access to all 11 vendors, Bar Politan, the patio and the events stage, perfect for up to 500.
Chattahoochee Food Works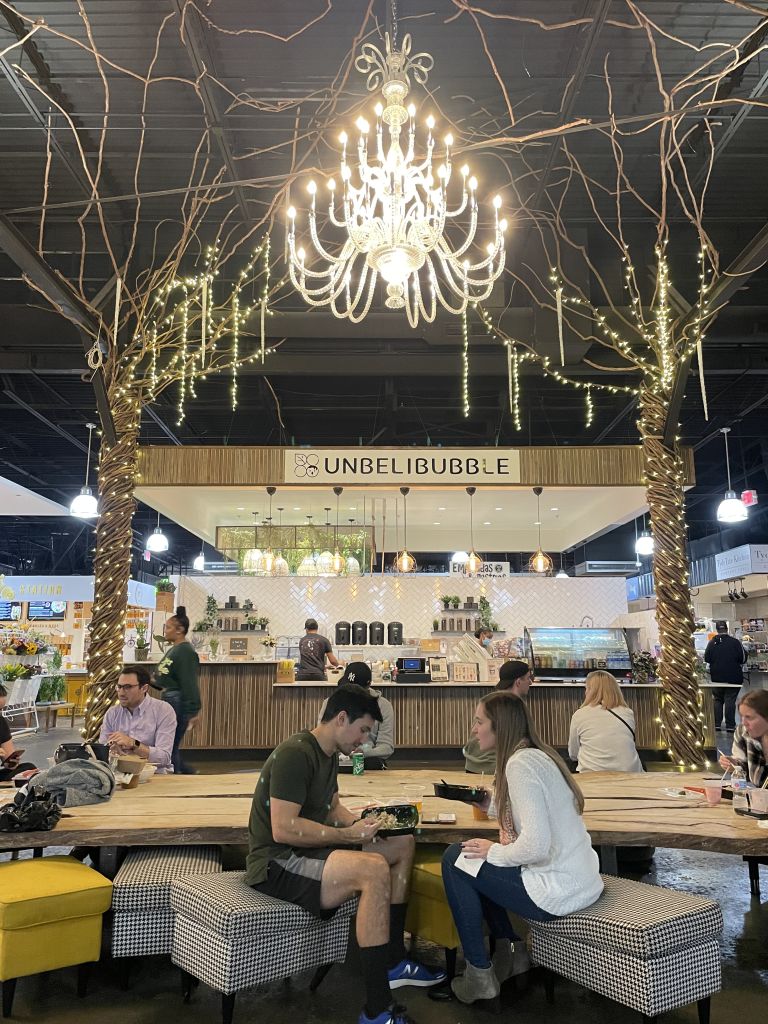 "Bizarre Foods" host and James Beard Award-winning chef Andrew Zimmern and Robert Montwaid collaborated to open this 22,000-square-foot test kitchen and hall, located on Atlanta's Westside. From South African street food to bubble tea, Thai comfort food, vegan hibachi cuisine and crunchy tacos, the offerings span the globe. Chattahoochee Food Works can accommodate up to 1,000 guests who can gather at the Center Bar and Patio for a private rental. Many food vendors can accommodate off-site catering as well, in case you want to bring the world experience to your private space.
Municipal Market
Step into the Municipal Market to discover a smorgasbord of culinary offerings ranging from Philly cheesesteaks to soul food, Jamaican cuisine, savory South African pies, authentic Mexican tacos, smoothies and cold-pressed juices. Known to some locals as the Curb Market, this is the oldest market in Atlanta. The 1,000-square-foot food hall has seating available for up to 70 with reserved space available during market hours or after hours. Rent the entire market after hours with added amenities such as free parking, savory selections from the eateries, live music, bartender service and much more. Capacity for the market after hours is 1,100 maximum.
Lee + White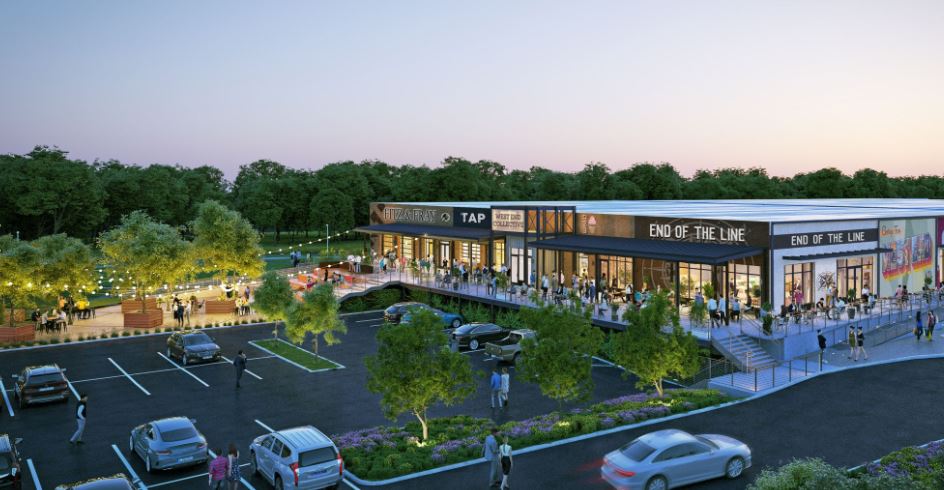 Stir up local flavors at one of the city's cutting-edge breweries or even at Georgia's first kombucha taproom, all located in the 23-acre development of Lee + White. Found on the Atlanta BeltLine Westside Trail in the West End neighborhood, the redevelopment makes up 11 buildings of what used to be called "Warehouse Row," so expect an industrial feel. Several tenants offer private event space or you may rent out the whole area for a giant party.
ASW Distillery's whiskey tasting room is adorned with barrel tables, a bar and Scrabble board wall while the barrel room surrounds guests with stacked whiskey barrels. Impress your attendees with whiskey bottles sporting custom labels, a spirited take-home souvenir.
Monday Night Brewing Garage offers the Chandelier Room; the Courtyard with 4,500 square feet of green space and beer garden tables; the Hop Hut Bar and the VIP Bar featuring up to 22 unique beers.
Best End Brewing Co.'s entire space can be rented for up to 1,300, or your attendees may gather for a more intimate feel in the Flamingo Room and Taproom. Outside, set the mood at the Graffiki Tiki Bar or BeltLine Patio.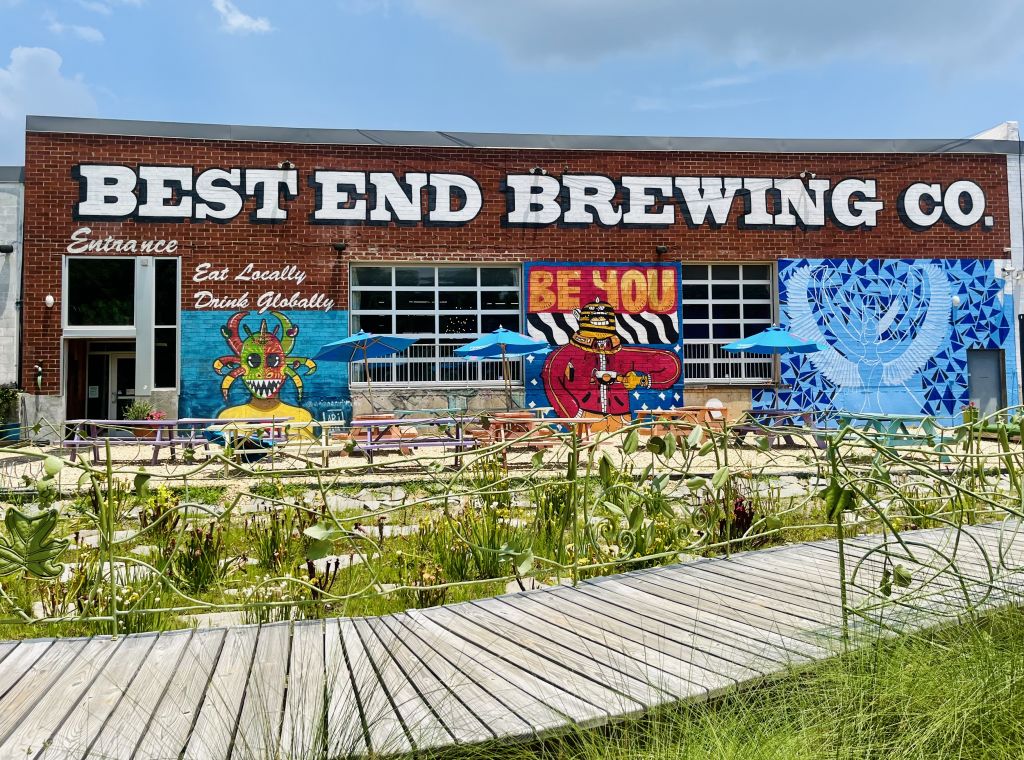 At Wild Heaven West End Brewery and Gardens, attendees can sample local beers inspired by the tradition of Europe out in the brewery's beer garden, or indoors with many options for receptions and more.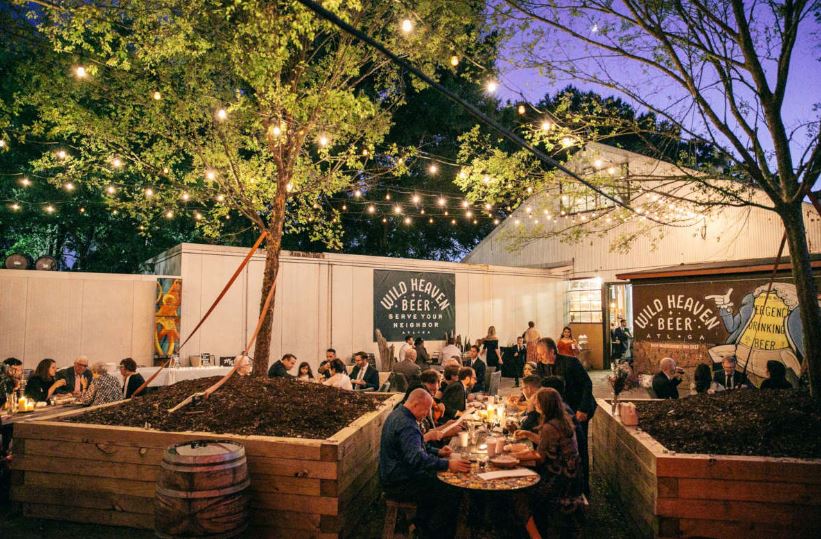 Need a corporate wellness function? Cultured South, Georgia's first kombucha taproom, offers space in the taproom with kombucha on tap and in cans, plus a curated grazing table with house-made vegan cheeses. Add a classic car rental, floral designs or customized take-away gifts for the ultimate unique event.
Coming soon: A 13-stall traditional food hall soon will be added to Lee + White, adding more to this development's authentic urban experience.
Still wanting to see more of what Atlanta's venues have to offer? There are a variety of venue options and one of these could be the perfect spot to inspire your group. To help with your planning, peruse and build your list with our venue catalog.
Discover More
Get to know Atlanta, and discover the best things to do around the city.