Dónde Ver la Copa Mundial de la FIFA 2022 en Atlanta
Ya sea que eres un fanático del fútbol de tiempo completo o un fanático empedernido sólo cada cuatro años durante la Copa Mundial de la FIFA, hemos encontrado los mejores lugares para ver los partidos de la Copa Mundial de la FIFA 2022 en Atlanta. Estos bares y restaurantes son conocidos por atraer a los fanáticos del fútbol más apasionados en Atlanta y organizar las mejores fiestas para ver los partidos mientras le hechas porras a tu equipo favorito.
Brewhouse Cafe
Situado en Little Five Points, Brewhouse Cafe fue fundado en 1997, lo que lo convierte en el bar de fútbol más antiguo de la ciudad. De propiedad y gestión local, Brewhouse Cafe es conocido por su patio al aire libre y su comida típica de un pub. Con 25 televisores de pantalla grande, cualquier asiento es perfecto para ver a tu equipo favorito jugar.
Der Biergarten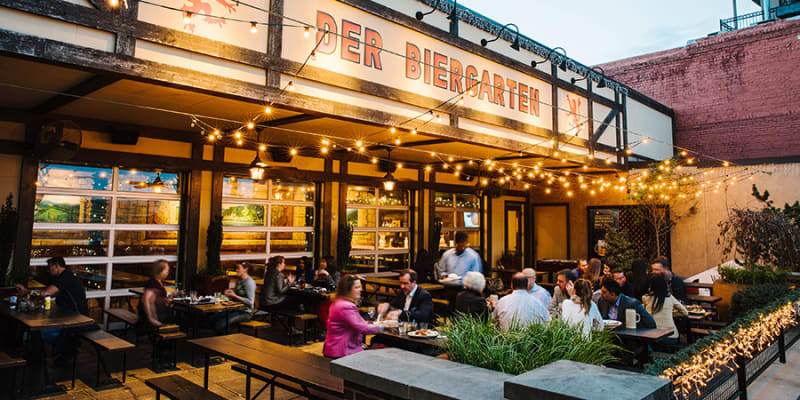 Una auténtica experiencia alemana en el corazón de la ciudad, Der Biergarten ofrece auténtica comida alemana y cerveza en un ambiente festivo. Ve el partido de fútbol mientras disfrutas de un bratwurst, un strudel o un pretzel. Con más de 7,000 pies cuadrados de espacio interior y exterior, Der Biergarten está bien equipado para ser anfitrión.
The Elder Tree Public House
Una joya oculta en el Este de Atlanta, The Elder Tree Public House es una taberna elegante y contemporánea que sirve cerveza europea y comida irlandesa clásica. Pide uno de los platos más valorados de Elder Tree, el Cumberland Pie, mientras disfrutas del fútbol en la pantalla grande. Conocido por su ambiente de "familia y fútbol", The Elder Tree Public House es un gran lugar para ver tu próximo partido de fútbol.
El Tesoro
Su nombre lo dice todo. El Tesoro es el lugar rústico y dinámico perfecto para ver el partido de fútbol. Enclavado en Eastside Atlanta, cuenta con un patio exterior de 2,000 pies cuadrados recientemente renovado que se llena de entusiastas aficionados al fútbol. El Tesoro no sólo ofrece cocina mexicana y cócteles, sino también café.
Fado Irish Pub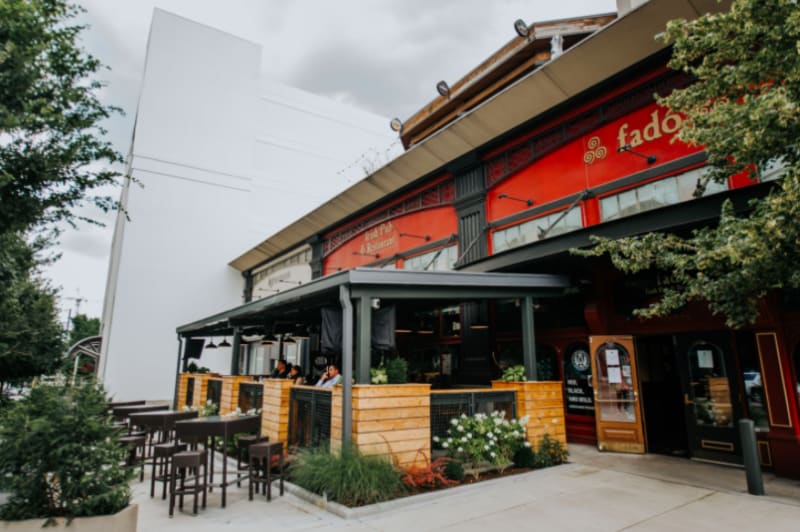 Este pub irlandés, socio oficial del Atlanta United, tiene locales en Midtown y Buckhead. Siguiendo el modelo de la rica cultura irlandesa de pubs, Fado ofrece docenas de cervezas internacionales y locales, una versión única de la comida tradicional irlandesa del pub y, por supuesto, fútbol. Elige Fado para echarle porras a su equipo de fútbol favorito mientras disfruta de un Guinness superior y del sándwich de cordero cocinado a fuego lento.
Georgia Beer Garden
Este establecimiento de propiedad LGBTQ atrae a los aficionados más entusiasmados en los días de partido. Con más de 20 grifos de cerveza local, el Georgia Beer Garden es el lugar ideal para ver el partido. Acércate con un amigo para disfrutar del patio trasero más grande de Downtown y de la música que te mueve mientras le echas porras a tu equipo favorito con otros fanáticos.
Hampton + Hudson
Para una experiencia de pub elevada, visita Hampton + Hudson en Inman Park. Este es un pub oficial del equipo Atlanta United que ofrece comida contemporánea americana y vino de barril. Vendrás a ver el partido de fútbol, pero te vas a querer quedar por los populares Hampton Hot Chicken Sliders y el ambiente rústico y elegante.
Meehan's Public House
Meehan's Public House es el lugar perfecto para disfrutar del fútbol con cerveza bien fría y uno de los populares sándwiches o hamburguesas de Meehan's. Meehan's es un lugar ideal para los visitantes o residentes que exploran Downtown Atlanta. Meehan's está a tan solo unos pasos de algunos de los principales destinos turísticos de Atlanta: Georgia Aquarium, World of Coca-Cola y Mercedes-Benz Stadium.
Midway Pub
Conocido por su gran selección de cervezas y su patio al aire libre, este local en East Atlanta es la sede de Footie Mob, uno de los clubes de fans más grande del Atlanta United. Los aficionados al fútbol se reúnen aquí todo el año para ver lo mejor del fútbol internacional. ¿No has conseguido entradas para el partido del Atlanta United? Ven aquí para vivir de cerca la explosión del fútbol de Atlanta con otros aficionados.
Park Tavern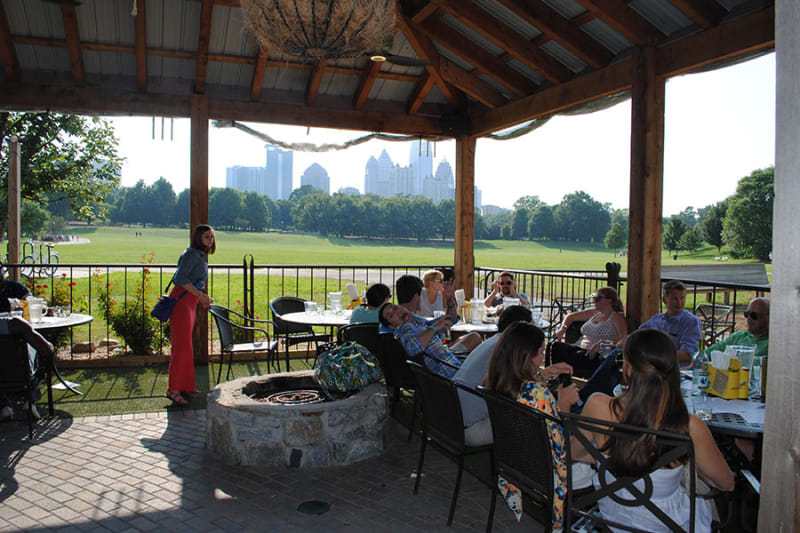 Tu y tu cachorro pueden echarle porras a tu equipo de fútbol en el restaurante para perros de Piedmont Park, Park Tavern. Votado como el mejor patio de Atlanta, Park Tavern ofrece un ambiente de bar eléctrico en una antigua casa de piedra. También hay asientos al aire libre con vistas a Piedmont Park. ¿No puedes decidir qué comer mientras ves el partido? Park Tavern ofrece opciones tanto de tierra como de mar, desde hamburguesas hasta sushi, lo cual te hace más fácil pasar un buen rato y comer bien.
La Gran Final con Atlanta United FS y Coca-Cola
El equipo de fútbol local de Atlanta, el Atlanta United FS, junto con Coca-Cola, organizará una fiesta para ver la final de la Copa Mundial de la FIFA 2022 en el Coca-Cola Roxy Theater. Las entradas son gratuitas y están disponibles para todas las edades, pero hay que reservarlas en línea antes del evento. Consiga sus entradas en línea a través del sitio web del Atlanta United y aparte su lugar para la gran celebración.
Ya sea que tu país de origen participe en la Copa Mundial o no, este es un momento increíble para gozar ver a algunos de los mejores jugadores de fútbol de todo el mundo.
Como vibrante ciudad fútbolística, no es de extrañar que Atlanta haya sido seleccionada como sede de la Copa Mundial de la FIFA 2026 y estamos muy emocionados de recibir al mundo muy pronto.
Discover More
Get to know Atlanta, and discover the best things to do around the city.