Atlanta Attractions Open on Thanksgiving Day
Published October 25, 2022
Last Updated November 9, 2022
The long-range weather forecast for Thanksgiving Day in Atlanta looks perfect for getting out of the house. Luckily, several of the city's most popular attractions are open on Turkey Day.
Garden Lights, Holiday Nights
Garden Lights, Holiday Nights is the annual light show at Atlanta Botanical Garden. New at this year's show is an installation of illuminated large metal sculptures of birds flocking to the recently renovated Anne Cox Chambers Garden. The ethereal sculptures by French artist Cedric Le Borgne include birds perched among the hardwoods, ranging up to 10-feet wide and 16-feet long and glowing under warm white lights.
Three of the massive sculptures from the current exhibition Origami in the Garden are dramatically lit for the holiday season. The three sculptures are the giant "Hero's Horse" near the Great Lawn, the towering floral bouquet "Scents of Gratitude" in the Skyline Garden pond and the "Ghost Deer" in front of Longleaf restaurant.
Plenty of fan-favorites are back, including Storza Woods' vertical-moving curtain of light "Nature's Wonders" with a new soundtrack; the Flower Walk's "Glowing Grove" of trees programmed to change colors; and "Ice Goddess" and the "Orchestral Orbs," two crowd pleasers from the show's earliest days. Nov. 12 — Jan. 14, 2023.
Georgia Aquarium
Georgia Aquarium. Got family visiting for Thanksgiving? Before (or after) the turkey, visit the largest aquarium in the United States. Book a close encounter or just stroll the galleries. In Cold Water Quest say hello to beluga whales, African penguins and bat stars. We don't need to tell you what you'll find on Dolphin Coast. Head into the Ocean Voyager gallery to see whale sharks and manta rays. Speaking of sharks, don't miss SHARKS! Predators of the Deep. In the River Scout gallery, look for the Eastern River Cooter. It's a turtle, BTW.
Something you may not know: Georgia Aquarium is KultureCity's 2022 Sensory Inclusive Venue of the Year. KultureCity is the nation's leading nonprofit organization working toward sensory accessibility and acceptance for those with invisible disabilities. Georgia Aquarium staff are trained by leading medical professionals on how to help guests with a sensory overload situation.
Stone Mountain Christmas
Stone Mountain Christmas. Wrap up your Thanksgiving Day by looking forward to December with a visit to Stone Mountain Christmas. The Christmas Light Show includes favorite holiday songs brought to life with videos, special effects and a fireworks finale. Look up so as no to miss Santa flying in his sleigh each night during the Enchanted Tree Lighting Ceremony. More holiday moments include a visit with Santa, a journey through the Musical Frosted Forest, carolers and a Christmas parade. Nov. 12 — Jan. 1, 2023.
ATL Ice Skating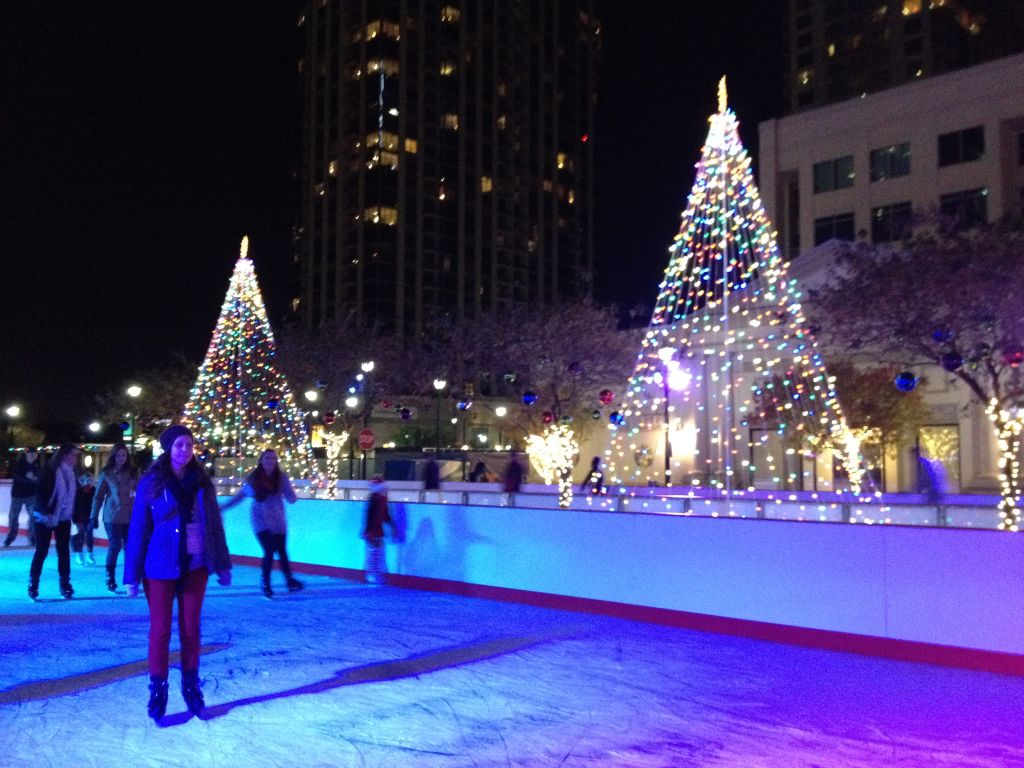 Skate the Station, an outdoor ice skating rink at Atlantic Station, is open on Thanksgiving Day. General admission is $16 and includes skate rentals. Just north of the city, Avalon on Ice also is open on Thanksgiving Day. General admission is $18 per person including skates; children age 9 and younger, $14 including skates.
Hikes or an Artsy Stroll
If you could use a little Thanksgiving Day exercise, see our Guide to Hiking and Backpacking in Atlanta. Here's another idea: Atlanta is known for its jaw-dropping street art. Armed with this handy street art map, you can plan your own artsy stroll through the A.
For even more things to do in Atlanta anytime, check our calendar of events.
Discover More
Get to know Atlanta, and discover the best things to do around the city.