Atlanta Restaurants Open on Thanksgiving for Dine-in and Take-out
Sit back and enjoy Thanksgiving – and let one of Atlanta's favorite restaurants do the cooking. That will help you save up energy for shopping on Black Friday.
5Church
5Church in Midtown gives you a choice of dining in or taking out on Thanksgiving Day. The dine-in buffet will feature a carving station with a choice of roast turkey with gravy; salt-crusted prime rib with veal jus and horseradish cream; or marinated grilled salmon with caper-filled cream fraiche. Side dishes include whipped Yukon gold potatoes, roasted Brussels sprouts, cornbread and cranberry dressing, French green beans and more. For dessert, choose from blackberry cobbler or an ice cream sundae.
The 5Church takeout menu is similar, offering the turkey or the prime rib plus a ferro and rice salad, the sprouts, dressing and green beans. Takeout dessert is blackberry cobbler. Book a reservation or place an order.
Four Seasons
The mezzanine level of Four Seasons Hotel Atlanta will feature 10 culinary stations. Thanksgiving brunch is from 10 a.m. to 3 p.m., with the last seating at 2 p.m. Advance reservations encouraged.
If you are going for brunch, you can choose traditional breakfast items such as French toast, waffles and omelets. Also on the menu are croissants, danishes and muffins plus applewood smoked bacon, sausage and roasted potatoes, bagels, and fruits and berries.
Lunch starters include roasted butternut squash and apple soup; tapas of burrata crostini and deviled eggs; a salad station; and a charcuterie spread. Savory choices include a seafood selection of caviar, sushi, ceviche, salmon poke, pinot grigio-poached shrimp, snow crabs, oysters on the half shell, and peel-and-eat crawfish. A risotto station features a parmesan cheese wheel plus a variety of accompaniments like bacon, mushrooms, shrimp and chicken. A carving station offers roasted turkey with dressing, gravy and relish; roast beef; roasted duck; and Scottish salmon. Trimmings include mashed potatoes, roasted vegetables, Brussels sprouts and quinoa.
Pie choices are sweet potato, pumpkin, apple and pumpkin, and pumpkin whoopie. More dessert options are apple cider trifle, chai panna cotta, caramel pecan cheesecake, red velvet cupcake, bread pudding, creme brulee, chocolate mousse and pumpkin roll cake.
On more option at Four Seasons is the three-course fete at Bar Margo. This prix fixe dinner offers a first course of squash and apple soup; main course of roasted turkey with dressing, gravy and relish plus a choice of mashed potatoes, macaroni and cheese or green bean casserole. Dessert is a trio of miniature pumpkin pie, chocolate mousse and bread pudding. This fete is available for dinner service beginning at 5 p.m. Advance reservations are necessary.
One last option is an intimate gathering inside a private event space. Culinarians will design a custom menu and dedicated servers will ensure an effortless feast.
Hampton + Hudson
Dine-In: The community bar and grill, Hampton + Hudson, will open at 6 p.m. on Thanksgiving Day and offer a limited menu until 11 p.m. Choices include burgers, mac and cheese, wings, fries and a Thanksgiving plate special. For $25, the plate includes sliced turkey with gravy, stuffing, mashed potatoes, cranberry sauce, green bean casserole, a roll and pumpkin pie cheesecake. Items can also be ordered individually as sides, and the restaurant will offer drink specials and play the evening's football games on all TVs.
Take home: For customers planning to eat at home, the restaurant is accepting pre-orders until noon on Nov. 22. Thanksgiving meals to go include sliced turkey with gravy, stuffing, mashed potatoes, cranberry sauce, green bean casserole, rolls and pumpkin pie cheesecake Price is $50 for two or $100 for four. A la carte sides are available.
Le Bilboquet
Le Bilboquet will be open from noon to 8 p.m. on Thanksgiving Day. You may enjoy the three-course prix fixe menu at the restaurant or at home. Menu highlights include Wagyu beef tartare plus butternut squash and mushroom velouté for starters. Pan-seared tuna loin is served with barbecue sauce, orange segments, diced tomatoes, black olives and micro cilantro. Traditional roasted turkey comes with homemade stuffing, cranberry sauce, mashed potatoes, sauteed Brussels sprouts, butternut squash, celeriac confit and gravy. For dessert, there will be almond pear tart and caramel ice cream. The price is $85 per adult; $25 for a kid's menu.
STK Atlanta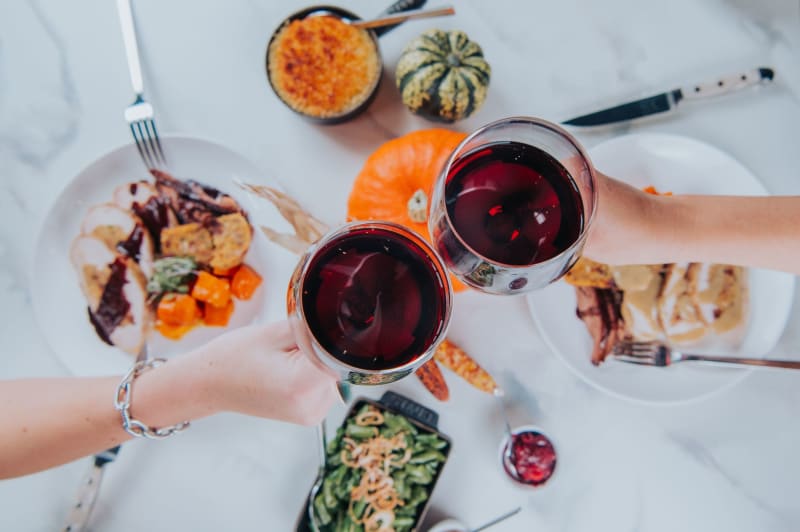 Beginning on Nov. 25 and continuing through Nov. 28, you are invited to indulge in Thanksgiving specials at STK Atlanta or take it to go. STK will serve a roasted free-range turkey with all the trimmings, including cornbread sage stuffing, shallot and thyme confit thighs, sautéed green beans, maple baked sweet potato, Yukon gold mashed potatoes, classic gravy and cranberry-orange chutney for $59 per person. Children 12 and younger can enjoy these offerings for $29. For dessert, STK offers a slice of spiced pumpkin pie candied with ginger cream and crunchy caramel honeycomb for $12 per slice. If you prefer to relax at home, order a takeout dinner for two for $119, which includes a slice of pie. Pre-orders begin on Nov. 15 and must be picked up on Thanksgiving Day during select times. Thanksgiving Day hours are 11 a.m. to 10 p.m. with a live DJ starting at noon.
Tiny Lou's
Tiny Lou's offers a Thanksgiving meal for four to six people, to be picked up Nov. 24 between noon and 7 p.m. Choose your time when you check out.
Here's what's on the menu: Herbs de Provence-infused turkey with turkey jus and cranberry gastrique; Duchess sweet potato with savory croutons and fine herbs; roasted Brussels sprouts with bacon lardon and mustard yuzu vinaigrette; pomme puree, roasted butternut squash and fingerling potato hash, garden lettuces with seasonal vegetables and creme fraiche vinaigrette; house-made pumpkin pie; one quart of turkey gravy and one quart of cranberry gastrique.
Drawbar
Drawbar at the Bellyard, West Midtown Atlanta, invites you take advantage of its Thanksgiving to-go offerings. Each meal consists of a harvest salad; dinner rolls; a choice of one protein; two or four sides; and dessert. Options include Thanksgiving dinner for two, priced at $100; and dinner for four, priced at $200. Orders will be available for scheduled pick up from Drawbar from 10 a.m. to 2 p.m. on Thanksgiving Day. All orders must be placed online by Nov. 20.
Hobnob
Hobnob's three-course Thanksgiving dinner costs $39 plus tax and gratuity. First course choices include curried pumpkin soup, cranberry-pecan chutney, baby kale salad, honey crisp apple, butternut squash, goat cheese toasted pecans, pickled onion, red wine vinaigrette pimento cheese, toasted sourdough, bread and butter pickles.
Second course choice are roasted turkey breast, sausage-leek stuffing, whipped potatoes, collard greens, orange cranberry sauce, bourbon gravy; apple cider and mustard-glazed ham, brown butter sweet potatoes, crispy Brussels sprouts; 12-hour porter-braised short ribs, three cheese grits, garlickly green beans; horseradish cream-seared Atlantic salmon, quinoa, cauliflower, carrot, pickled Fresno chiles, chimichurri .
Third course choices are pumpkin or pecan pie and chocolate layer cake. Extra sides, served family style, are whipped potatoes, brown butter sweet potatoes, three-cheese grits, garlickly green beans and collard greens.
Ray's
Ray's at Killer Creek, Ray's on the River and Ray's in the City offer Thanksgiving dinner available for curbside pickup on Nov. 24 from1:30 to 5 p.m. Orders must be placed by Nov. 22. Here's what's cooking:
Starters: Peel and eat shrimp – atomic horseradish sauce. Creamy spinach and artichoke dip/baked pita chips with flaky salt.
Soup and salad: Seasonal butternut squash bisque, baby gem Caesar, farmers market fall mixed greens with apple cider vinaigrette.
Main course: Savory herb-roasted turkey breast with house-made gravy, cranberry sauce. Pepper-crusted CAB New York roast with mushroom ragu; Farro Island oven-glazed honey salmon with AAA Farms local honey.
Accompaniments: Classic baked macaroni and cheese, crispy roasted Brussels sprouts with apple cider gastrique, Southern-style cornbread stuffing, sweet potato soufflé with local spiced pecans and marshmallows, traditional green bean casserole with haricot verts, crispy onions.
Dessert: Old-fashioned apple and cinnamon cobbler, homemade pumpkin pie with fresh whipped cream, bourbon pecan pie with scratch-made caramel sauce.
South Main Kitchen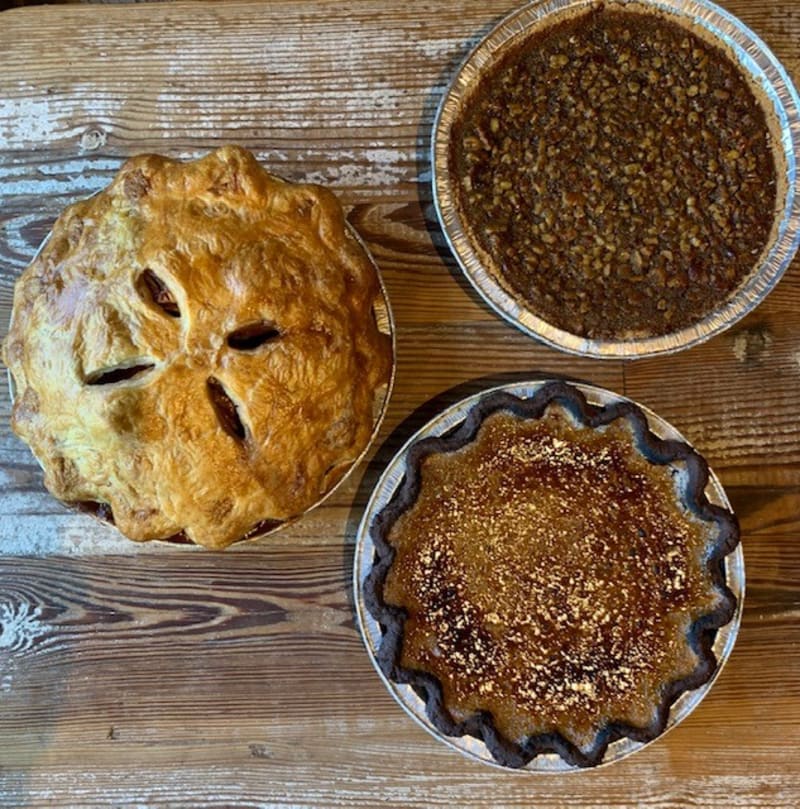 Pie anyone? You can pre-order a variety of fresh, homemade pies from South Main Kitchen's pastry chef Elise Vitale. Choose apple pie for $30, chocolate pumpkin brûlée for $25 or bourbon steen's pecan pie for $25. Better yet, pre-order all three for $70.
Atlas + The Garden Room
Atlas at St. Regis is offering a $145 per person Thanksgiving dine-in, three-course feast including choices like choices like oysters Rockefeller, turkey with truffle mousse, pumpkin risotto and pumpkin pie. You will be given turkey, stuffing, gravy and bread in order to make a "leftovers" sandwich the next day, recipe card included. There will also be three levels of wine pairings available, pricing varies by level. The Garden Room will be open with a la carte options and a family-style turkey available to order for the table. Both Atlas and The Garden Room open at 4 p.m. Call 404-600-6471 or make online reservations.
Whimsy Cookie Co.
Vinings Jubilee's Whimsy Cookie Co. is offering custom-decorated Thanksgiving cookies, dressed up like pumpkins, leaves, turkeys and more. A four-day noticed is needed for Thanksgiving pre-orders. Pick up before noon on Nov. 24.
Paces & Vine
Paces & Vine will feature a traditional family-style Thanksgiving dinner, including turkey, mashed potatoes, croissants, fall salad, pumpkin pie and more, from noon to 6 p.m. The cost is $65 per adult, $25 per kid ages 6-12 and $55 for to-go orders.
The Chastain
The Chastain will serve a special Thanksgiving prix fixe menu along with its regular dinner service. Limited reservations are available. On the menu: butternut squash soup or roasted beet and endive salad to start things off, followed by crown roast turkey breast with wild mushroom dressing, celery root potatoes, black truffle gravy and cranberry preserve. For dessert, the choice is pumpkin cheesecake or apple pie. The price is $75 per person.
Check with your favorite Atlanta restaurant to see if Thanksgiving is on the menu. Find more things to do on Thanksgiving in Atlanta. And check here for things to do on Thanksgiving weekend in Atlanta.
Discover More
Get to know Atlanta, and discover the best things to do around the city.