Most Affordable and Family-Friendly Group Dining Options in Atlanta
With the Georgia World Congress Center being the nation's third largest convention center, Atlanta restaurateurs are accustomed to accommodating large groups. It's no surprise that the convention center attracts a myriad of youth groups to Atlanta. The city's lively and varied restaurant scene is full of kid-friendly (and group friendly) places to eat. Check our list below to find a place for your group of hungry kids to dine.
Big Kahuna
Set up to handle large groups, Big Kahuna is located close to the Georgia World Congress Center, Mercedes-Benz Stadium and Centennial Olympic Park as well as several popular Downtown hotels. The menu features a variety of hamburgers, tacos, wings and finger food. Prices range from around $12 for a salad to $16 for two tacos or a burger.
Where: 303 Peachtree Center Ave.
Bowlero
Located at Atlantic Station, Bowlero offers bowling and arcade plus food. The staff is happy to arrange group events that include, perhaps, black light bowling along with plenty to eat. Menu options include burgers, wings, fries, pizza, chicken sandwiches and pretzel dippers.
Where: Atlantic Station, 261 Nineteenth St. NW
Dos Bocas
Located in the heart of downtown Atlanta near Centennial Olympic Park and World of Coca-Cola, Dos Bocas is home to a semi-private dining room that can handle as many as 20 people. The entire restaurant can be reserved for up to 350 people. Offering a taste of Texas and a taste of Louisiana, Dos Bocas' menu choices range from po' boys ($18) to tacos ($16). Cajun fried catfish and the burrito de birria both are priced at $18.
Where: 275 Baker St. NW
Chattahoochee Food Works at The Works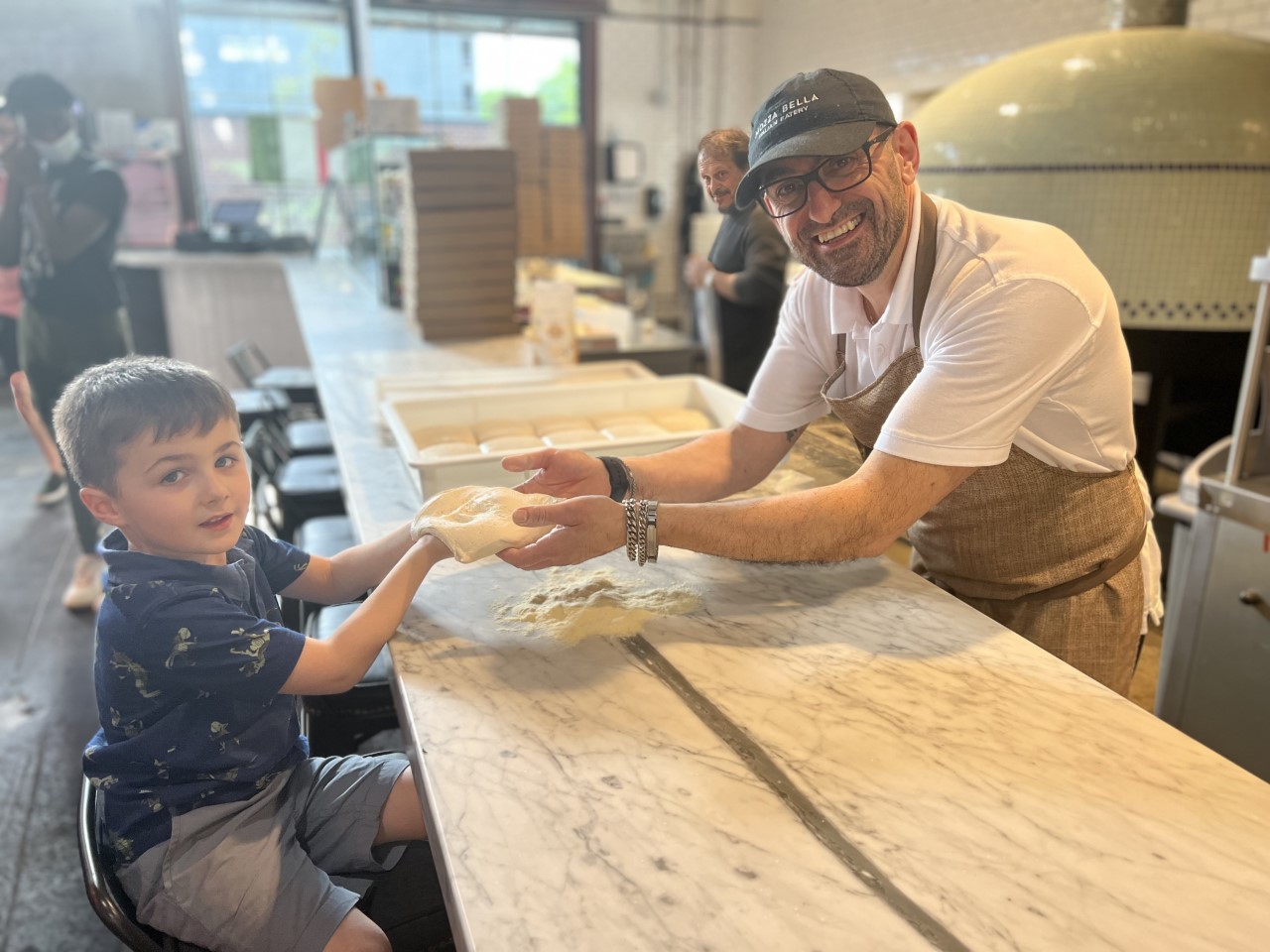 One of Atlanta's newest food halls located in the Upper Westside along Chattahoochee Avenue was co-founded by celebrity chef Andrew Zimmern. Chattahoochee Food Works is home to restaurants including Mozza Bella Italian Eatery, Delilah's Everyday Soul, Hippie Hibachi, Cubanos ATL and Philly G Steaks plus plenty more. Members of your group can spread out and pick whatever they prefer.
Where: 1235 Chattahoochee Ave. NW
Chick-fil-A
One of Atlanta's most popular attractions is the Chick-fil-A College Football Hall of Fame. It's no surprise then that there is a Chick-fil-A located at the Hall of Fame. On the menu are perennial favorites such as the original chicken sandwich and the seasonal peach milkshake. Let your group chow down before or after touring the College Football Hall of Fame. They can choose their favorite college team at check-in and thus ensure they won't miss a thing pertaining to that team. There is another Chick-fil-A right downtown at The Hub inside Peachtree Center. Your group can get the same original chicken sandwich and other standard Chick-fil-A menu choices plus there is room for your group to circulate and stretch their legs inside Peachtree Center. Find one more Downtown Chick-fil-A at CNN Center.
Where: At the Chick-fil-A College Football Hall of Fame, 250 Marietta St. NW; inside The Hub at Peachtree Center, 225 Peachtree St. NE; and inside CNN Center at 190 Marietta St. NW.
Gus's World Famous Fried Chicken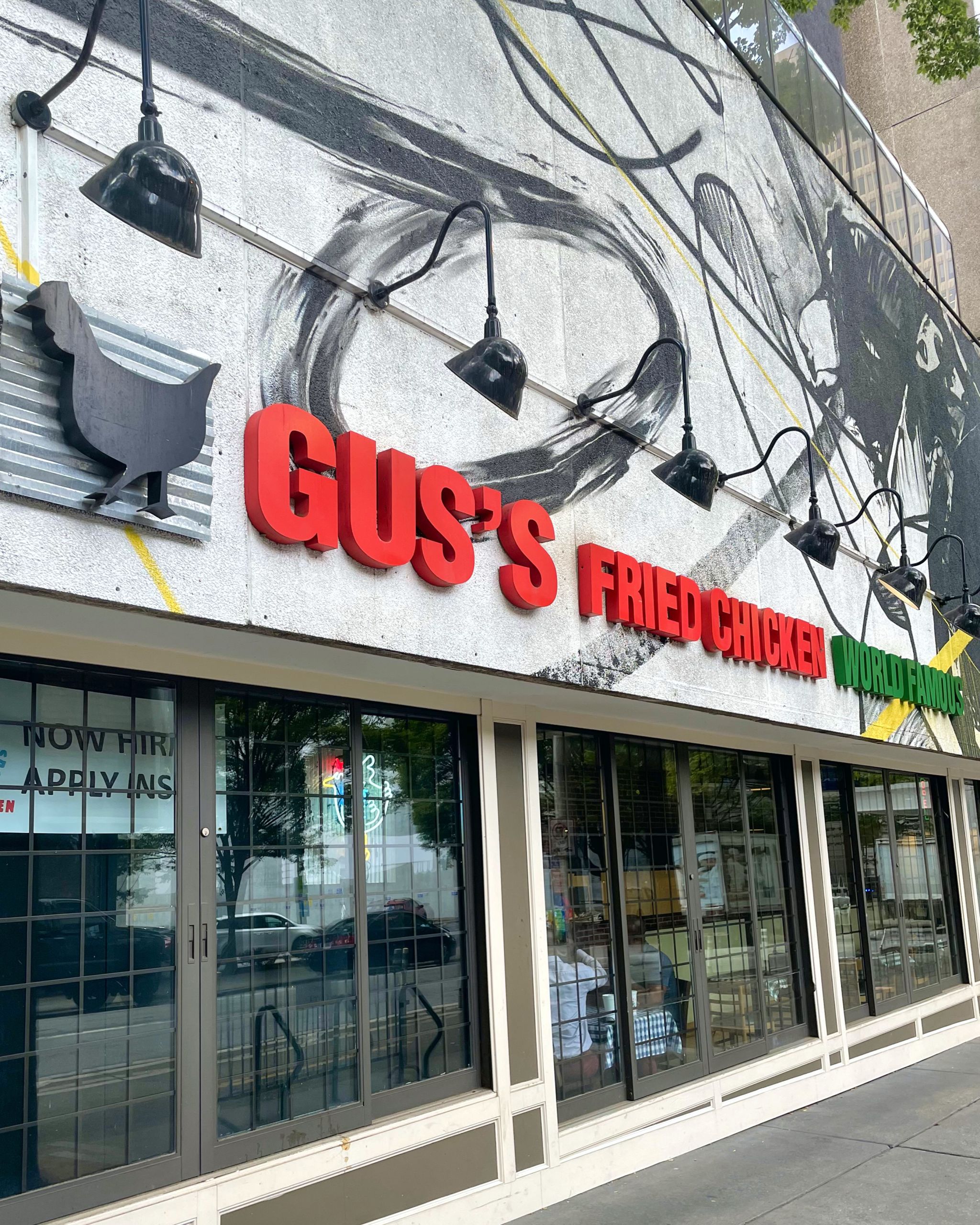 Gus's World Famous Fried Chicken serves fresh, never-frozen, natural, hormone-free chicken and fries it up in peanut oil. Gus's location at the Mall inside Peachtree Center means that kids can eat then walk around the mall and, perhaps, do a little shopping. They can get chicken by the piece or a plate that comes with baked beans, slaw and bread. Kids 12 and younger can get a main dish such as grilled cheese, hot dog or chicken, all of which come with fries or mac & cheese plus a drink.
Where: 231 Peachtree St. NE
Hard Rock Cafe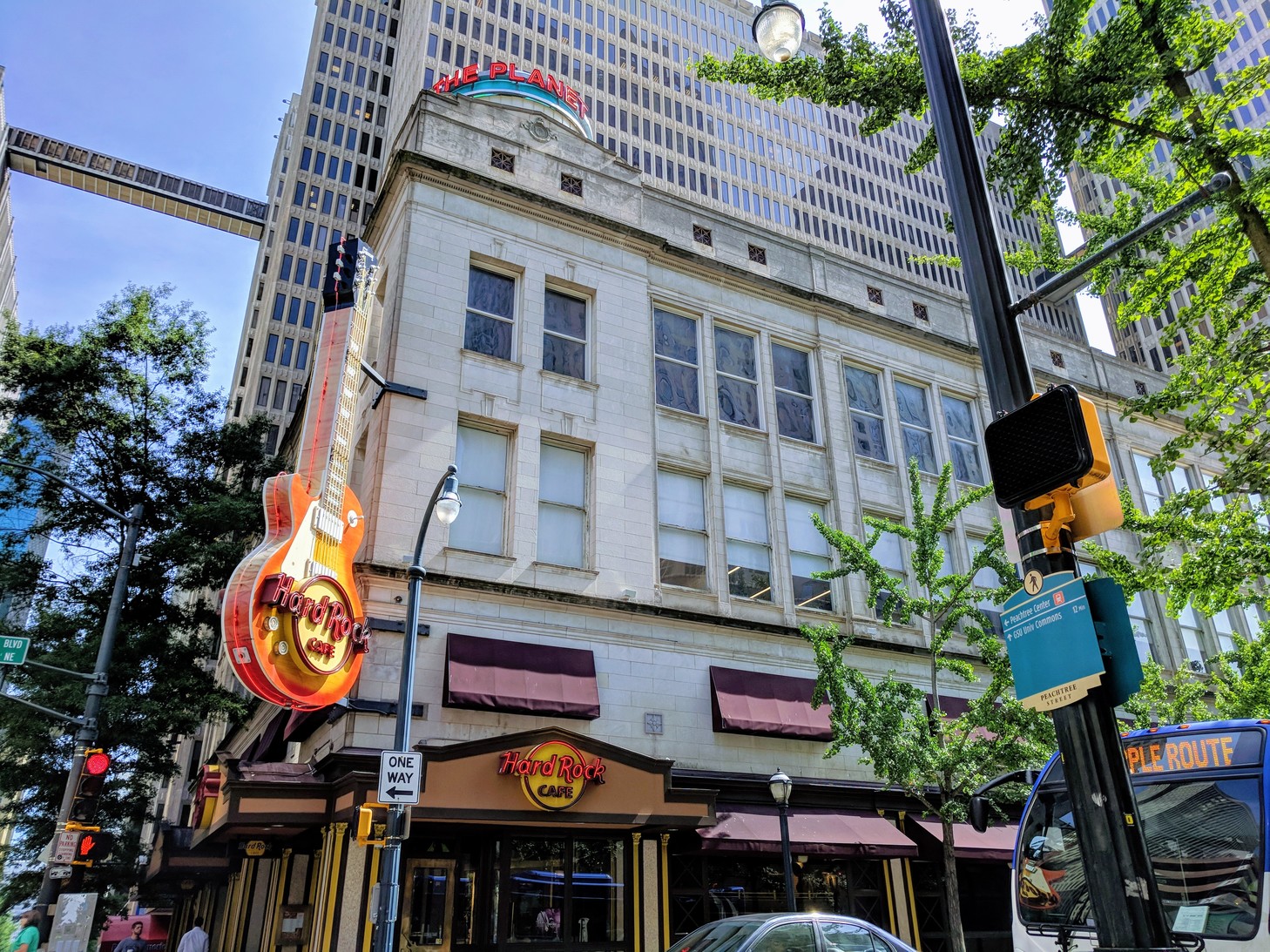 Find Hard Rock Cafe right on Peachtree Street next to Peachtree Center. When it comes to groups, Hard Rock Cafe promises to work with any idea your group suggests in the way of themes. Burgers are a staple, and there also are sandwiches, salads and bowls. Oh, and the atmosphere is so much fun.
Where: 215 Peachtree St. NE
Hsu's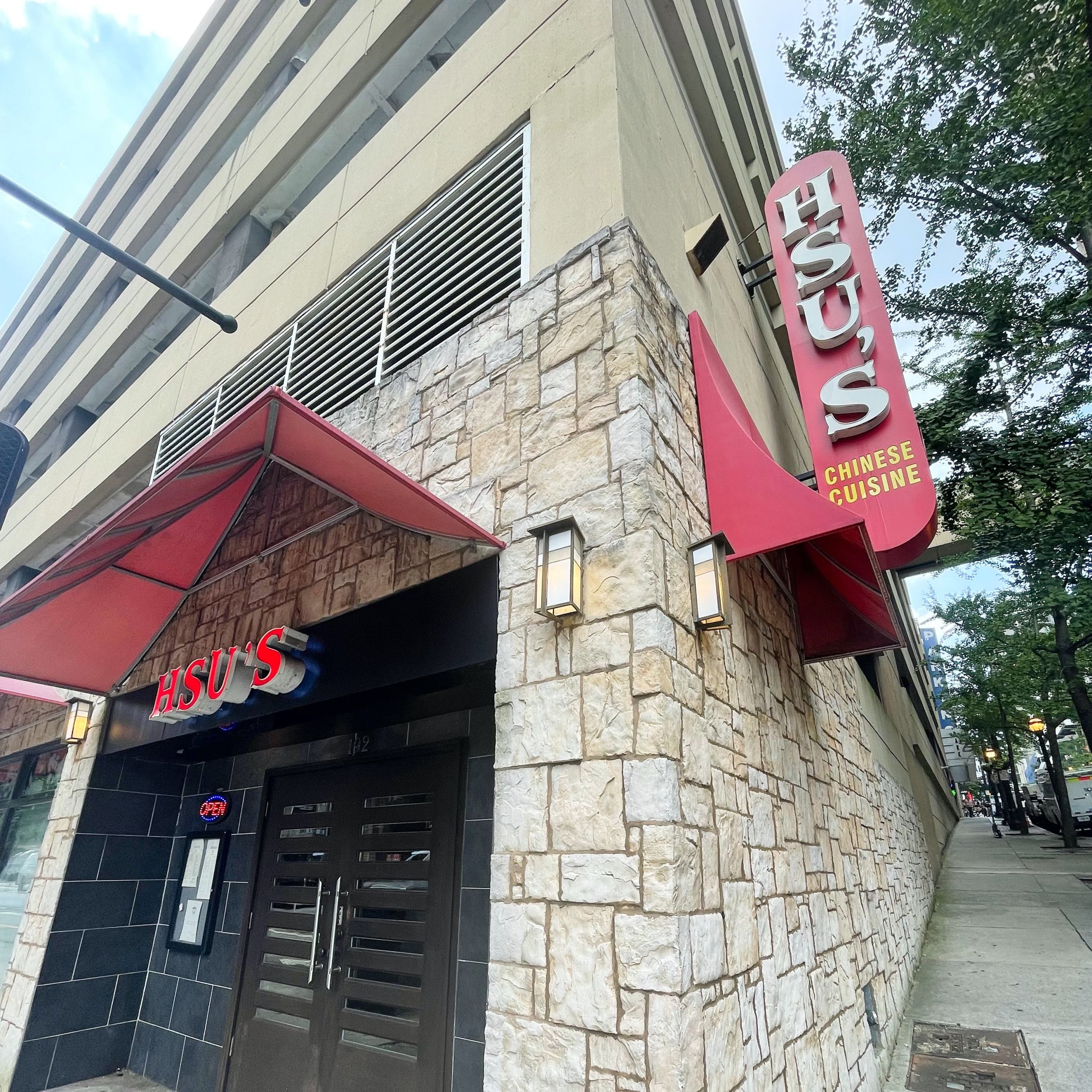 Happy to accommodate groups ranging in size from 6 to 65, Hsu's lunch offerings include spring rolls (two for $6.95), dumplings (4 for $7.95), soups ($3.95) and, of course, entrees, which are priced at $15 for spicy basil chicken and spicy basil beef, to name but two. Dinner choices, a bit pricier, include appetizers (fried chicken dumplings, beef satay), soups (wonton, hot and sour), and entrees (curry chicken, pork medallion).
Where: 182 Peachtree Center Ave., inside Peachtree Center
Jimmy Buffet's Margaritaville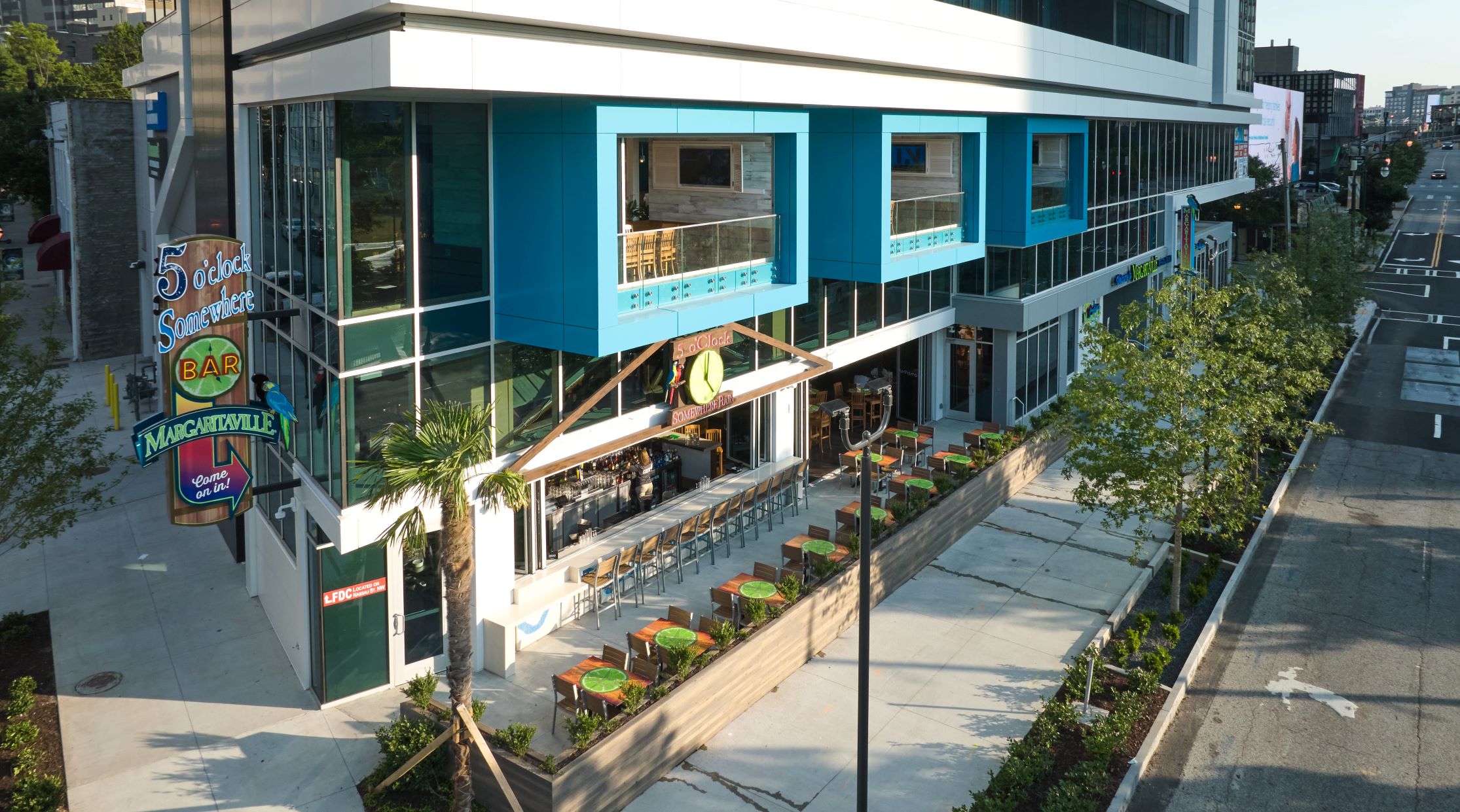 The new Wyndham Margaritaville Centennial Park is open. As with other Jimmy Buffet Margaritaville locations, the Atlanta restaurant welcomes groups. Menu options include, natch, Burgers in Paradise, ($15 range); a variety of sandwiches ($15 range) and salads ($14 to $17).
Where: 155 Centennial Olympic Park Drive
Krog Street Market
Krog Street Market is one of Atlanta's popular food halls located just a mile east of Downtown on the Atlanta BeltLine's Eastside Trail. Restaurant choices include Fred's Meat & Bread, Gu's Dumplings, Jai Ho Indian Kitchen and Bar, and Soul Food & Culture, to name just a few. Members of your group can spread out and order from various choices.
Where: 99 Krog St. NE
Mary Mac's Tea Room
If it's Southern cooking your group craves, look no further than Mary Mac's, an Atlanta institution since 1945. Entrees range from chicken livers ($12.99) to cube steak ($15.25) and four pieces of fried chicken ($16.99). Dining rooms for groups can handle from 20 to 200 people. Whatever you decide, be sure to order cinnamon rolls.
Where: 224 Ponce de Leon Ave. NE
Max's Coal Oven Pizzeria
Max's Coal Oven Pizzeria is available for private buyouts for large parties and offers pizza-making classes as part of your event. Max's menu includes appetizers such as chicken wings ($15) and garlic flatbread ($5). Kids can build their own pizza at a starting price of $12 plus $2 for each add-on. Plus there are specialty pies and salads.
Where: 300 Marietta St. NW
Mellow Mushroom
Mellow Mushroom, founded in Atlanta, has several locations, including the Downtown location on West Peachtree Street. A private room can handle 14 people while the upstairs dining room is suitable for 60 people. Mellow Mushroom is known for its pizza, but there's plenty more: salads, calzones, hoagies, sandwiches and burgers. There are vegan options and gluten-free pizza choices, too.
Where: 400 West Peachtree St.
No Mas! Cantina
Serving Mexican food in Atlanta's Castleberry Hill district, No Mas' Cantina is set up to handle groups. Large party menu options include, among other items, parrillada buffet (steak and chicken fajitas, camarones brochette and costillas); street taco buffet; and fajita buffet.
Where: 180 Walker St. SW
Politan Row at Colony Square
Politan Row at Colony Square food hall offers 11 different food options plus space for a private event. It is located in the heart of Midtown, just across the street from Woodruff Arts Center, home of the Alliance Theatre, the Atlanta Symphony Orchestra and the High Museum of Art. Politan Row is one of Atlanta's newer food halls. It joins the growing list of these popular spots.
Where: 1197 Peachtree St. NE
Ponce City Market
The Central Food Hall in Ponce City Market, the fully renovated former Sears & Roebuck building located just off the Atlanta BeltLine's Eastside Trail in the Old Fourth Ward, is where to find Pizza Jeans, H&F Burger, Vietvana (pho noodle house), Ton Ton ramen and yakitori, and Hop's Chicken – just for starters. Members of your group can wander around and pick their favorite then meet others in the group at a communal table.
Where: 675 Ponce de Leon Ave. NE
The Varsity
Varsity hats? Check. Car hops? Check. A restaurant with its own vocabulary? Check. Largest fast-food drive-in restaurant in the world? Check. Been around since 1928? Check. As they like to say at The Varsity, "When you serve 30,000 people in one day, you learn a thing or two about large groups." On the menu: hot dogs, chili dogs, burgers, chicken, fries and fried pies. (About the vocabulary: Order a naked dog walking and you'll get a plain hot dog to go.)
Where: 61 North Ave.
Waffle House
The Waffle House was founded in Atlanta so there are locations everywhere including three that are Downtown. All of them offer standard Waffle House meals such as all-day breakfast, burgers, sandwiches, and steak, ham or chicken dinners.
Where: 135 Andrew Young International Blvd. , 12 Courtland St. and 300 Marietta St.
North of Atlanta
Andretti Indoor Karting and Games
Andretti Indoor Karting and Games can feed your group, and it can entertain them. The event planners at Andretti will customize a package for your specific needs. Entertainment can be reserved for your group with front-of-the-line access to activities, and the staff will customize a menu. The 4,000-square-foot Grand Room easily handles large groups. VIP suites are available for smaller groups. Menu choices include several types of burgers, sandwiches, salads, pizzas, calzones plus entrees.
Where: 1255 Roswell Road, Marietta, Ga.
For a full list of dining options in Atlanta, please visit our dining guide. And, check our list of the Best Restaurants on Peachtree Street. Word to the wise: Call ahead to confirm hours. Also check with OpenTable to confirm availability.
Discover More
Get to know Atlanta, and discover the best things to do around the city.