Warm up at the Best Restaurants for Cozy Winter Dining in Atlanta
Get fired up for winter with roaring fireplaces, steamy cocktails and even an après ski dining experience. These dining picks will send up warming winter vibes to transport you far away from the daily grind.
Biltong Bar
As the first bar of its kind, Biltong Bar has become a Ponce City Market gem with unique South African street food. You can expect to fall in love with the traditional South African beef jerky snack, Biltong. Guests can expect a first-rate cocktail experience with themed beverages during holidays that'll be sure to impress Instagram followers.
Where: Ponce City Market, 675 Ponce De Leon Ave. NE
Blue Ridge Grill
Southern cuisine is served in this sophisticated Buckhead restaurant. Locally sourced ingredients are used to create seasonal dishes and menu favorites such as the grilled Georgia trout, fried lobster B.L.T. sandwich or the prime bone-in ribeye. Snag a seat near the fireplace and sip from the expansive wine list with more than 400 varieties of old and new-world wines.
Where: 1261 West Paces Ferry Road NW
Bread + Butterfly
Embark on a whimsical adventure at this popular cafe located in the heart of Inman Park. From early morning to late night, you can enjoy European-inspired decor with the perfect pastries, a seasonal breakfast or lunch or a bistro-style dinner.
Where: 290 Elizabeth St. NE
Canoe
Secluded along the serene banks of the Chattahoochee River, Canoe is the perfect escape from the hustle and bustle of the city. This acclaimed restaurant offers a flavorful dining experience to partner with its serene aesthetics and cozy atmosphere.
Where: 4199 Paces Ferry Road SE
The Chastain
Situated next to Chastain Park in Buckhead, this New American restaurant serves dishes like Blue Ridge rainbow trout and a mean signature cheeseburger. An outdoor firepit on the stone patio invites guests to sit with one of many sparkling wines on the restaurant's curated list. Check for seasonal goodies to add holiday spirit, perhaps the mocha cheesecake, apple doughnuts or Rosca de Reyes for Three Kings Day.
Where: 4320 Powers Ferry Road NW
Forza Storico
What better way to warm up to winter than with traditional Italian comfort dishes? Guests head to Westside Provisions District to dine on typical Roman dishes such as cacio e pepe. Enjoy a cozy meal on the outside patio with plenty of heaters or stay inside in an intimate space. Explore the Italian wine list filled with unique labels or choose an Italian beer to sip with an antipasti platter layered with prosciutto, schiacciata salame, salame di napoli and more seasonal flavors.
Where: 1198 Howell Mill Road
The Garden Room
The lush setting of The Garden Room located at The St. Regis Atlanta shows off plenty of windows to let the sunlight — or limelight — shine through. Beautiful greenhouse plants and trees grow between comfortably ornate couches and bistro tables. For an enchanted evening, settle among twinkling lights to nibble on 100-layer potatoes and soft burrata. Gather around the fireplace and order something more upscale like the miso-glazed pork ribs and Market's Best oysters. Try tantalizing cocktails such as Bend and Snap, Send Noods and Let's Get Serious with Pinhook bourbon, Averna Amaro, orange and Aztec chocolate bitters. Make a plan early — reservations sell out.
Where: 88 West Paces Ferry Road NW
The James Room
The James Room might be one of Atlanta's best-kept secrets. It was founded to satisfy society's need for social interaction and connection with positive energy. When 5 o'clock hits, this lounge hidden behind the cafe's bookshelf doors comes to life. Dim lights and stylish couches made for lounging give the perfect cozy vibe to go with hand-crafted cocktails and savory light bites.
Where: 661 Auburn Ave. NE
Marcel
Linger over the throwback American steak house menu next to the beautiful wood-burning fireplace on Marcel's covered, heated patio. Explore the menu with options like the eight-ounce New York Strip Marcel reserve cut and a bone-in filet monsieur. Throwback cocktails hand-mixed with bourbon, blended rums or gin make a perfect accompaniment to the patio-only cigar program. Baked Alaska, of course, is what you need for dessert.
Where: 1170 Howell Mill Road
Mary Mac's Tea Room
Known as "Atlanta's Dining Room," Mary Mac's Tea Room serves made-from-scratch classic Southern food to every table. The nod to history in each dining room will bring added warmth to your meal. What better way to cozy up than with classic Southern dining that feels like home?
Where: 224 Ponce De Leon Ave. NE
Nick's Westside
Nick's is a popular neighborhood spot in West Midtown serving brisket sliders, truffle pappardelle and the Valdosta burger topped with pimento cheese, bacon jam and crispy shallots. Gather near the fireplace to feel the warmth of a comfortable, inventive meal and a local beer or cocktail. Chef Nick Leahy takes care to highlight Georgia's producers and sustainably sourced local produce.
Where: 956 Brady Ave. NW
Saints + Council
As a restaurant that lives up to its name, you can expect your culinary desires to be fulfilled. Delicious comfort food allows you to take your time and eat while soaking in the warm surroundings either outside or inside. Stay a while and bask in the warmth of the outdoor firepit, then head for a stroll just a couple of steps away at Colony Square.
Where: 1221 Peachtree St. NE
South City Kitchen Buckhead
Sophisticated Southern cuisine is dished out in an ever-evolving menu of local favorites. Guests can enjoy the coziness of the contemporary interiors or hang on the heated outdoor patio to keep an eye on bustling Peachtree Street. Outdoor firepits beckon with lounge seating, perfect for a drink before or after a meal. Local hits on the menu include fried green tomatoes with goat cheese and the satisfying Springer Mountain Farms fried chicken with collard greens and mashed red bliss potatoes.
Where: Midtown — 1144 Crescent Ave. NE; Buckhead — 3350 Peachtree Road NE
Three Arches at Hyatt Centric in Buckhead
With a culturally diverse menu partnered with vibrant yet comforting surroundings, Three Arches makes the perfect spot for warm and cozy dining. You can enjoy a delicious drink by the patio firepits or stay inside and take on the globally inspired menu. Offering authentic pan-Mediterranean dining, you can expect to want to try everything on the menu.
Where: 3301 Lenox Parkway
Tre Vele
With several areas including a dining room, patio and rooftop terrace, the warm and welcoming Tre Vele, brought to you by the team behind Mission + Market, serves modern nods to Italian dishes and plenty of homemade pasta. Indulge in the innovative Squid Ink Risotto or a grilled Branzino fillet. Head to the rooftop terrace for cocktails and gather around the firepit to toast the season. You can even enjoy the cafe and market open until 10 p.m.
Where: 6017 Sandy Springs Circle
TWO Urban Licks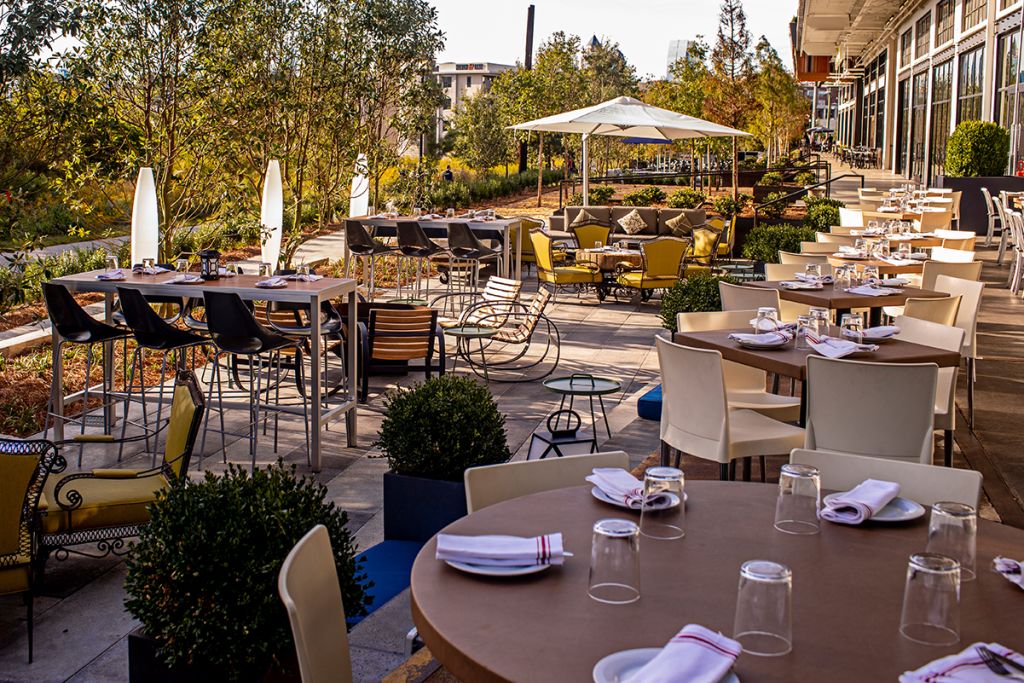 Fiery American cooking sets the stage for warming vibes, complemented by rotating rotisseries and a 26-foot wine-on-tap barrel wall. Savor pimento cheese stuffed chicharron and smoked salmon chips on the patio overlooking the Atlanta BeltLine Eastside Trail or amp up your meal with the wood-grilled cab NY strip or delicious diver scallops. Firepits heat up the scene at night when the music plays and cocktails are poured.
Where: 820 Ralph McGill Blvd. NE
Varuni Napoli
Varuni Napoli offers authentic Neapolitan dishes like artisanal white pizzas and fresh cannoli inside or on the heated patio. With locations in both Midtown and at Krog Street Market, there are so many options for enjoying mouthwatering bites. You can bring the comfort of warm pizza home with the at-home Margherita pizza kits available for pre-order exclusively at the Midtown location.
Where: Midtown — 1540 Monroe Drive NE; Krog Street Market — 99 Krog St. NE
Yebo Beach Haus
South African flavors meld with New American cuisine at this upbeat Buckhead eatery. Each year, Yebo transforms into Yebo Ski Haus right after Thanksgiving. Guests will enter into a pop-up ski lodge featuring a comfort food-focused menu and a flickering firepit. Guests can dip into fondue at the table and sip wintery cocktails and hot chocolate at this après ski haus, December to February.
Where: 56 E Andrews Drive NW
Go-To Places for Latin Flavors
Cafecito Mexican Coffee Shop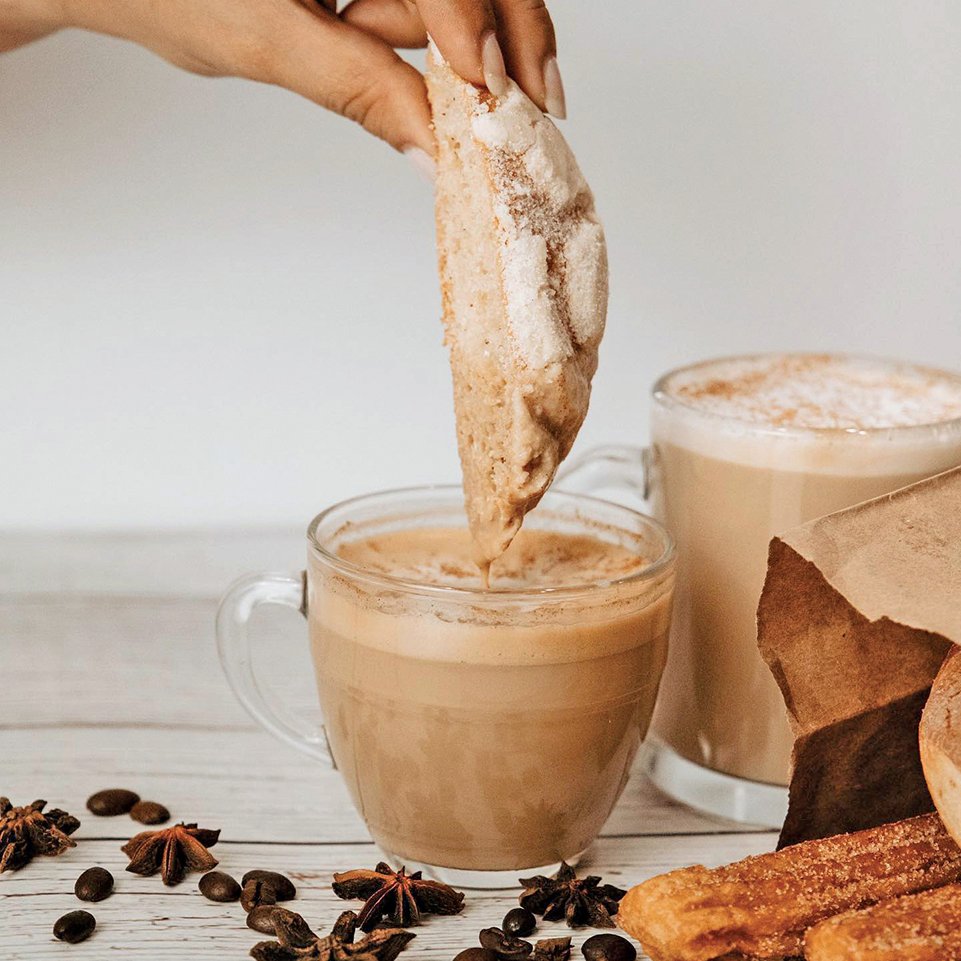 For fun coffee drinks, find Cafecito Mexican Coffee Shop in Tucker. Warm up with one of the popular lattes infused with horchata (sweet drink made of rice) or cajeta (sweetened caramelized goat's milk). It's a whole new experience. Get a churro or a concha (Mexican pastry) and take it to the next level by dipping it in your hot drink.
Where: 1292 Sylvan Road SW
Casi Cielo
Energize yourself with a traditional café de olla at the Mexican restaurant Casi Cielo. Seasoned with cinnamon, cloves and anise and sweetened with brown sugar, this authentic Mexican coffee is served in a clay mug, intended to add flavor to the drink. Enjoy it with a basket of pan dulce, Mexican pastries. If caffeine is not your thing, Casi Cielo serves a popular Mexican hot chocolate during brunch.
Where: 6125 Roswell Road
Cubanos ATL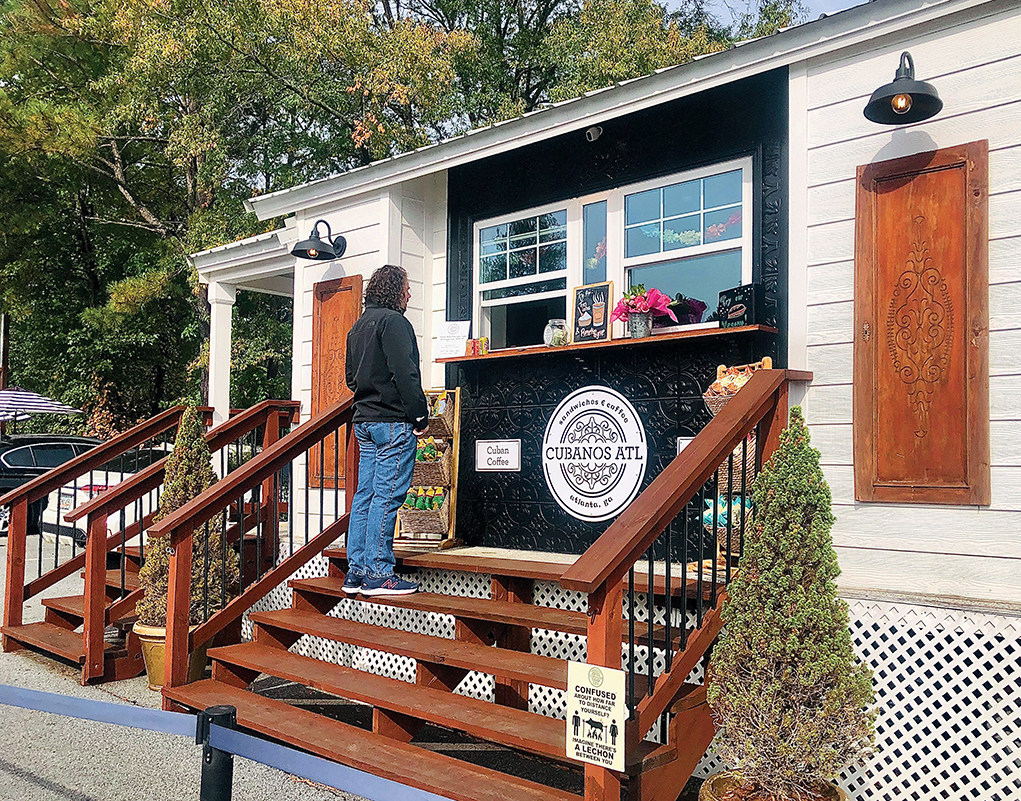 At any time of the day, come back to life with a colada, the famous Cuban coffee made of espresso and sugar. At Cubanos ATL, with locations in Sandy Springs, inside Chattahoochee Food Works and beyond, you can enjoy authentic Cuban sandwiches and Cuban coffee.
Where: Chattahoochee Food Works — 1235 Chattahoochee Ave. NW; Sandy Springs — 6450 Roswell Road
El Tesoro
Known as the neighborhood treasure, El Tesoro makes enjoying the warmth and flavor of Latin America easy. Enjoy an abundance of menu items including tacos, mulitas, tamales and more. Discover what makes these margaritas some of the best in Atlanta or take it easy and stay warm with a cup of cafe' olla.
Where: 1374 Arkwright Place SE
La Casona
Give your palate a trip to South America with a sancocho, which is generally made on the Caribbean coast of Colombia. La Casona on Buford Highway offers this hearty soup made with a base of broth, meat and vegetables including potatoes, yucca and corn. Served with rice and avocado on the side, this soup is warm and satisfying to the soul.
Where: 3820 Stewart Road
For more great places to eat and drink outside in Atlanta, visit our patio dining guide.
Discover More
Get to know Atlanta, and discover the best things to do around the city.