Warm up at the Best Restaurants for Cozy Winter Dining in Atlanta
Get fired up for winter with roaring fireplaces, steamy cocktails and even an après ski dining experience. These dining picks will send up warming winter vibes to transport you far away from the daily grind.
Yebo Beach Haus
South African flavors meld with New American cuisine at this upbeat Buckhead eatery. Each year, Yebo transforms into Yebo Ski Haus right after Thanksgiving. Guests will enter into a pop-up ski lodge featuring a comfort food-focused menu and a flickering firepit. Guests can dip into fondue at the table and sip wintery cocktails and hot chocolate at this après ski haus, settling into the winter months until March 2022.
www.yebobeachhaus.com
TWO urban licks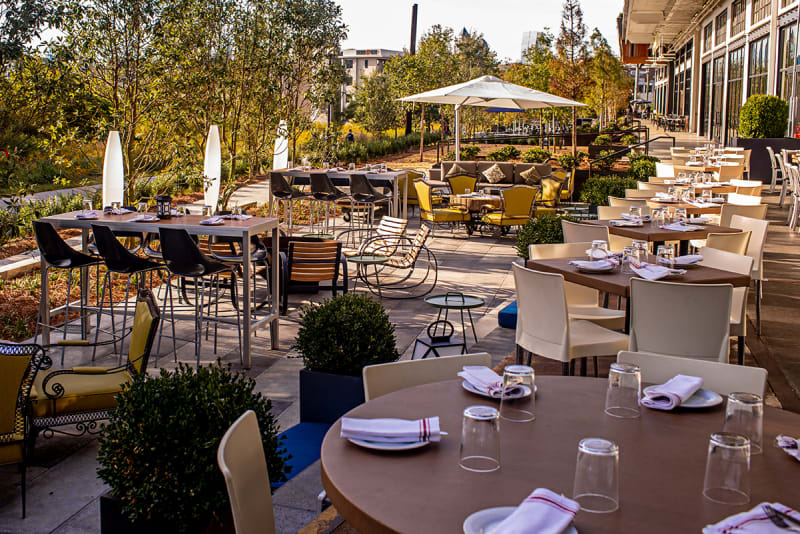 Fiery American cooking sets the stage for warming vibes, complemented by rotating rotisseries and a 26-foot-wine-on-tap barrel wall. Savor pimento cheese hush puppies and smoked salmon chips on the patio overlooking the Atlanta BeltLine Eastside Trail or amp up your meal with the wood-grilled pork chop or swordfish with cashew romesco sauce. Firepits heat up the scene at night when the music plays and cocktails are poured.
www.twourbanlicks.com
Forza Storico
What better way to warm up to winter than with traditional Italian comfort dishes? Guests head to Westside Provisions District to dine on typical Roman dishes such as carbonara, rigatoni and cacio e pepe. The covered outdoor patio is heated to allow al fresco dining all winter long. Explore the Italian wine list filled with unique labels or choose an Italian beer to sip with an antipasti platter layered with prosciutto, provolone-filled peppers and a seasonal frittata.
www.forzastorico.com
The Garden Room
The lush setting of The Garden Room located at The St. Regis Atlanta shows off plenty of windows to let the sunlight – or limelight – shine through. Beautiful greenhouse plants and trees grow between comfortably ornate couches and bistro tables. For an enchanted evening, settle among twinkling lights to nibble on black truffle crispy tuna rice and house-made focaccia. Gather around the fireplace and order something more upscale like the Wagyu striploin and a selection of caviar. Try tantalizing cocktails such as Polar Solstice, Flaming Peacock and Let's Get Serious with Pinhook bourbon, Averna Amaro, orange and Aztec chocolate bitters. Make a plan early to go here – reservations sell out.
www.thegardenroomatlanta.com
Blue Ridge Grill
Southern cuisine is served in this sophisticated Buckhead restaurant. Locally sourced ingredients are used to create seasonal dishes and menu favorites such as the grilled Georgia Trout, fried lobster B.L.T. sandwich or the hickory grilled ribeye. Snag a seat near the fireplace and sip from the expansive wine list with more than 400 varieties of old and new world wines.
www.blueridgegrill.com
Tre Vele
With several settings including a dining room, patio and rooftop terrace, the warm and welcoming Tre Vele, brought to you by the team behind Mission + Market, serves modern nods to Italian dishes and plenty of homemade pasta. Indulge in their innovative strozzapreti with kale pesto or a grilled Branzino fillet. Head to the rooftop terrace for cocktails and gather around the firepit to toast the season. A cafe and market at Tre Vele will open soon at this Sandy Springs restaurant.
www.treveleatl.com
Marcel
Linger over the throwback American steakhouse menu next to the beautiful wood burning fireplace on Marcel's covered, heated patio. Explore the menu with options like the eight-ounce New York Strip Marcel reserve cut and a bone-in Filet Monsieur. Throwback cocktails hand-mixed with bourbon, blended rums or gin make a perfect accompaniment to the patio-only cigar program. Baked Alaska, of course, is what you need for dessert.
www.marcelatl.com
South City Kitchen Buckhead
Sophisticated southern cuisine is dished out in an ever-evolving menu of local favorites. Guests can hang on the heated outdoor patio, secluded just enough for them to keep an eye on bustling Peachtree Street. Outdoor fire pits beckon with lounge seating, perfect for a drink before or after the meal. Local hits on the menu include fried green tomatoes with goat cheese and the satisfying Springer Mountain Farms fried chicken with collard greens and mashed red bliss potatoes.
www.southcitykitchen.com
Nick's Westside
Nick's is a new gathering place in West Midtown serving Nashville hot smoked chicken drumsticks, a meatloaf sandwich and the Valdosta burger topped with pimento cheese, bacon jam and crispy shallots. Gather near the fireplace to feel the warmth of a comfortable, inventive meal and a local beer or cocktail. Chef Nick Leahy takes care to highlight Georgia's producers and sustainably sourced local produce.
www.nickswestsideatl.com
The Chastain
Situated next to Chastain Park in Buckhead, this New American restaurant serves dishes like Georgia mountain trout and a mean signature cheeseburger. An outdoor firepit on the stone patio invites guests to sit with one of many sparkling wines on the restaurant's curated list. Check for seasonal goodies to add holiday spirit such as chocolate babka, cranberry orange bread and Rosca de Reyes for Three Kings Day.
www.thechastainatl.com
Varuni Napoli
For those who might want to stay cozy at home, Varuni Napoli in Midtown offers its at-home Margherita pizza kits. This popular experience was a hit last season and includes one can of Varuni branded tomatoes, fresh basil, buffalo mozzarella, a large carafe of extra virgin olive oil, four balls of dough, flour and Pecorino Romano cheese, along with detailed instructions from chef Luca. In-person, Varuni offers authentic Neapolitan dishes like artisanal white pizzas and fresh cannoli inside or on the heated patio. A second location is found at Krog Street Market.
www.varuni.us
Latin and Central American Restaurants
Atlanta has a fantastic selection of Latin and Central American restaurants to cozy up at this winter. Here are a few that are not to be missed.
Cubanos ATL
At any time of the day, come back to life with a colada, the famous Cuban coffee made of espresso and sugar. With three locations in the city, Cubanos ATL offers you a slice of the beautiful island in Atlanta.
www.cubanosatl.com
Xelapan Restaurant and Cafe
Some say it is Salvadoran, others attribute it to Ecuador, but in any case, you can find a caldo de pata at Xelapan Restaurant and Cafe, an authentic Guatemalan restaurant. This beef heel stew is not only delicious but also healthy with incredible micronutrients. The way the cow's feet are cooked with yucca, cabbage, chayotes and sweet corn, and flavored with lemon and chili powder, brings flavor and warmth this winter.
www.xelapanus.com
Cafecito Mexican Coffee Shop
For fun coffee drinks, find Cafecito Mexican Coffee Shop in Tucker. Warm up with one of the popular lattes infused with horchata (sweet drink made of rice) or cajeta (sweetened caramelized goat's milk). It's a whole new experience. Get a churro or a concha (Mexican pastry) and take it to the next level by dipping it in your hot drink.
@cafecito.coffeeshop
Casi Cielo
Energize yourself with a traditional café de olla at Mexican restaurant Casi Cielo. Seasoned with cinnamon, cloves and anise and sweetened with brown sugar, this authentic Mexican coffee is served in a clay mug, intended to add flavor to the drink. Enjoy it with a basket of pan dulce, Mexican pastries. If caffeine is not your thing, Casi Cielo serves a popular Mexican hot chocolate during brunch.
www.casicieloatl.com
El Tesoro
In many places in Latin America, winter is the time to enjoy a hot and spicy consommé, and El Tesoro makes those wishes come true. Every Thursday, one can gather around the outdoor heaters and enjoy their incomparable consomé de birria (beef). Served over noodles and with a birria taco, it is worth a try for a winter's day in the city.
www.eltesoroatl.com
La Casona
Give your palate a trip to South America with a Sancocho, which is generally made on the Caribbean coast of Colombia. La Casona on Buford Highway offers this hearty soup made with a base of broth, meat and vegetables including potatoes, yucca and corn. Served with rice and avocado on the side, this soup is warm and satisfying to the soul.
la-casona-atlanta.business.site
For more great places to eat and drink outside in Atlanta, visit our patio dining guide.
Discover More
Get to know Atlanta, and discover the best things to do around the city.