Cool Hangouts and Hot Spots in Atlanta
Sometimes a place instantly becomes the "hot spot" while others quietly simmer until enough people discover them and want to be there. Atlanta has lots of hot spots and cool places to hang out. Here are several of our current favorites.
Southeast
Argosy
This gastropub features new American fare (Boss Hogg wood-fired pizza) and a lengthy list of craft beers (Pastoral Resonance wild ale). You'll look cool sitting among the wood and exposed brick at Argosy.
Insider tip: Not on only do they serve late night pizza, but there is a hidden room in the back of the restaurant with a second bar and games.
Where: 470 Flat Shoals Ave. SE
Elsewhere Brewing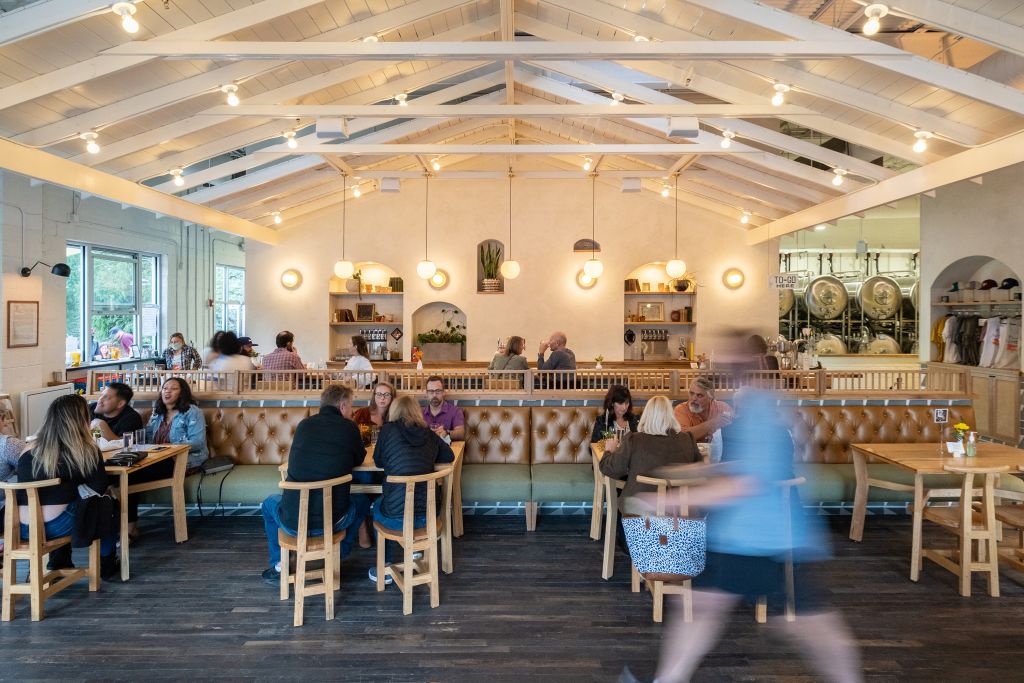 It all started with a love affair – in Italy. (You don't get much cooler than that). One recent event at Elsewhere Brewing was titled "Bingo for Women's Reproductive Rights." Tuesdays are Burger Nights – purchase a burger and get a free pint.
Insider tip: I would highly suggest coming in for the weekday happy hour from 5 to 7 p.m. They offer tasty bologna sliders, discounted martinis, Ruby Red vodka sodas, and a beer and a shot deal.
Where: The Beacon Atlanta, 1039 Grant St. SE
Woods Chapel BBQ
Play shufflepuck, foosball and darts at Woods Chapel BBQ. Dine on brisket or St. Louis ribs. Don't forget the honey butter cornbread.
Insider tip: Barbecue with history in the picturesque Summerhill neighborhood. Game room with shufflepuck, foosball and darts in the back.
Where: 85 Georgia Ave. SE
Northwest
Bold Monk Brewing Co.
Bold Monk Brewing is a restaurant and a brewery plus a bookstore, coffee house and beer garden. As the folks at Bold Monk like to say, "It's a place to be." Bold Monk describes its fare as "sustainable, wholesome cuisine that blurs the lines between Belgian fare, Southern comfort and California fresh."
Insider tip: Dogs are permitted to join you at outdoor tables on the patio.
Where: 1737 Ellsworth Industrial Blvd. NW
Puttshack
Eat, golf and be merry at Puttshack. Shareables include wood-fired octopus and Rendang bao buns. There are several flatbread choices and, of course, salads, sides and sandwiches.
Insider tip: From the creators of Topgolf, you get putt-putt with that same use of tracking technology within the golf balls. The four distinct courses have numerous engaging obstacles and opportunities to win free games and drinks. Previous golf experience here is not an advantage. The entire block in which Puttshack sits is full of phenomenal pastry shops, bars with beer by the ounce, even the first-of-it's-kind immersive rooftop with a pool.
Where: 1115 Howell Mill Road NW
Ormsby's
It's game on at Ormsby's. We're talking backgammon, bocce, darts, pool and shuffleboard. Keep your strength up with boiled peanuts or German pretzels, steak frites or shrimp & grits.
Insider tip: No shortage of great watering holes in the Westside Provisions District. Ormsby's is the least conspicuous but known to stay open the latest with a fun basement floor.
Where: 1170 Howell Mill Road
Topgolf Atlanta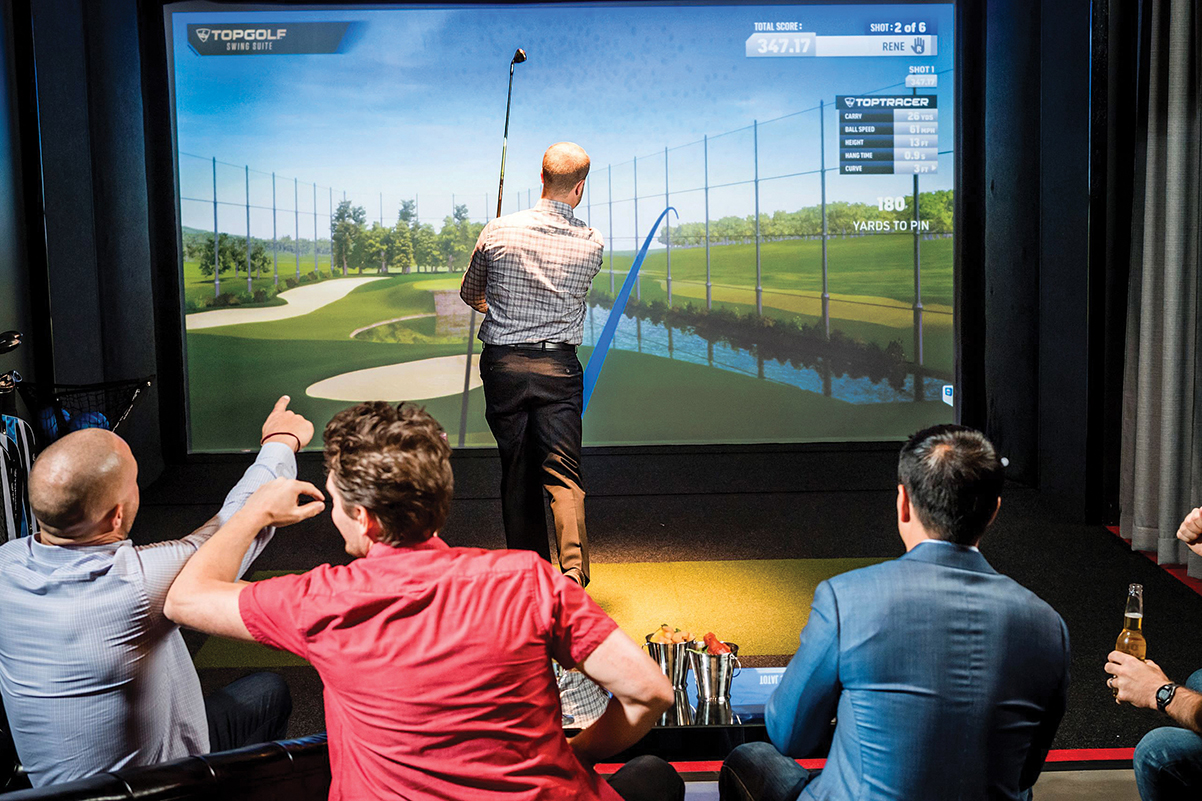 Micro-chipped golf balls and Toptracer technology keep track of your shots. In addition to Topgolf, you can play Angry Birds or Quick 9, to name but two. Refuel with bites, sandwiches, salads, even breakfast.
Insider tip: Tucked in the middle of numerous breweries, you can challenge your friends to different types of games at Topgolf. Or you can also enjoy the late evenings as it transforms more into a lounge setting with upbeat music and open skies.
Where: 1600 Ellsworth Industrial Blvd. NW
Downtown
Fellaship
Fridays at Fellaship bring DJs. Sunday Fundays bring a jazz and juice brunch. Saturdaze feel like a family reunion. After dining on a ponzu-glazed Scottish salmon, kick back with a cigar and a cocktail.
Insider tip No 1: Classic yet modern vibe of beautifully dressed people, many wearing impeccable headpieces and enjoying smokes, well-prepared cocktails and savory bites.
Insider tip No. 2: The most well-dressed cigar bar. Please consider your attire before patronizing this gorgeous cigar bar. Don't say I didn't warn you. Live DJ makes a great environment.
Where: 110 Centennial Olympic Park Drive
Buckhead
Fetch Park
Atlantans love their dogs, which is why high-end dog parks like Fetch Park are so popular. While your dogs meet new critters, you can belly up to the bar for cocktails, beer or wine. Heaven forbid that a human get bored. To assure that doesn't happen, there are TVs and free Wi-Fi. Chew on that.
Insider tip: The humans who run Fetch Park like to say that it's "a bark like no other." Woof woof.
Where: 309 Buckhead Ave. NE (plus 520 Daniel St. SE)
The Painted Pin
The Painted Pin is an upscale boutique bar, bowling and entertainment hot spot in the heart of Buckhead. There are 20 bowling lanes plus bocce courts, shuffleboard and Ping-Pong tables, skee-ball machines, skittles tables, darts, Jenga, ring toss and basketball pop a shots. On the menu are fries, pretzel bites, pork rinds, sliders and a whole lot more.
Insider tip: If you get a strike when the red pin is in the front, you get a complimentary beverage.
Where: 737 Miami Circle NE
Northeast
Fishmonger
And you thought Atlanta wasn't on the coast. Fishmonger thinks otherwise what with its market, cafe and raw bar. You can almost hear the waves crashing.
Insider tip: This quaint seafood market, café and raw bar will transport you to New England. The fish is fresh and exotic. It's also BYOB so walk a block over to Elemental Spirits Co. and grab a delicious bottle of white wine. They also have a chiller to get it at the right temperature in six minutes.
Where: 674 North Highland Ave. NE
Guac y Margys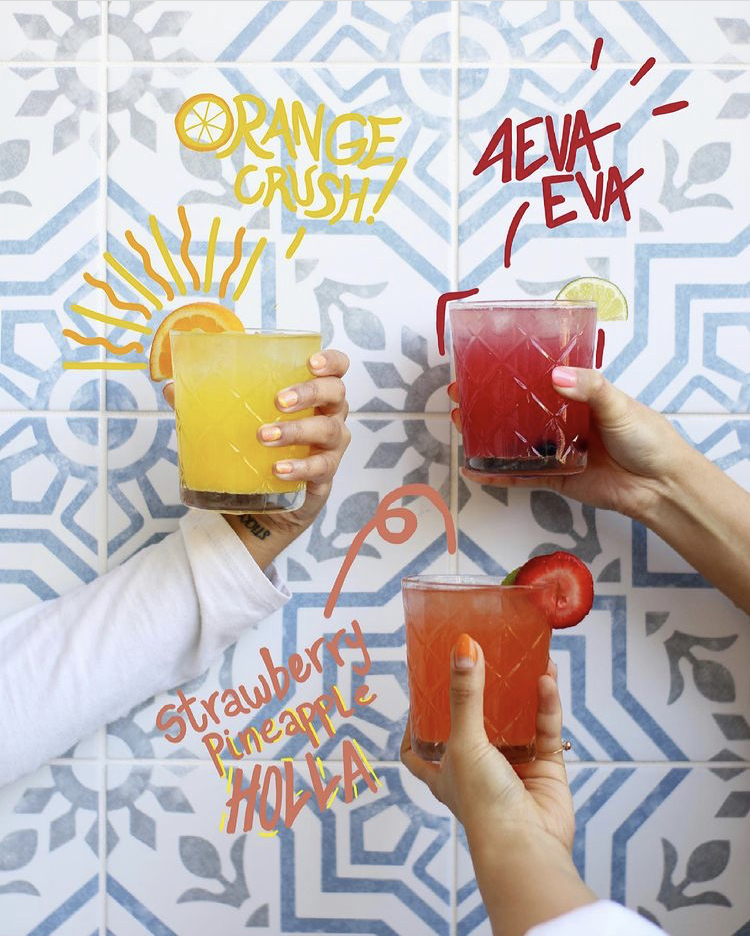 Needless to say, Guac y Margys is known for its guacamole and also is frequently referred to as "Atlanta's Margarita Bar." As if that isn't enough, Guac y Margys is all about tacos. The taco menu changes daily, and you just never know what deliciousness awaits.
Insider tip: If someone asks you to meet them at GYM, leave your yoga mat at home and head to Guac y Margys.
Where: 502 Amsterdam Ave. NE, 661 Auburn Ave. (plus 1115 Howell Mill Road NW)
The James Room
This is your stop for coffee, elevated cocktails, wine and snacks. The James Room describes itself as "a vibe."
Insider tip: I love The James Room because it has an intimate setting making it easy to mingle and make new friends. Go on Tuesdays for live music and Wednesdays for "Slow Jamz" night. During the day I enjoy getting work done in the cozy cafe or on the patio before the speakeasy lounge opens at 5 p.m. behind the bookshelf doors.
Where: 661 Auburn Ave. NE
Ladybird Grove & Mess Hall
Find Ladybird Grove & Mess Hall on the Eastside Trail of the Atlanta BeltLine. If you're eating light, try the BBQ fries. Still hungry? How about a barbecue tray, say, the Nashville Wings that come with one side, white bread, house pickles and barbecue sauce?
Insider tip: Skip the line at the counter and head into the grove to grab drinks and eats at the retrofitted 1976 Airstream bar. It's a great spot to watch live music on the stage.
Where: 684 John Wesley Dobbs Ave. NE
My Sister's Room
Frequently referred to as MSR, My Sister's Room is a popular lesbian/queer bar known for drag shows, burlesque shows, comedy and karoke. It's been around for a quarter of a century, so it must be doing a whole lot of things right.
Insider tip: R & B Thursdays bring the crowds to MSR.
Where: 1104 Crescent Ave. NE
Slabtown Public House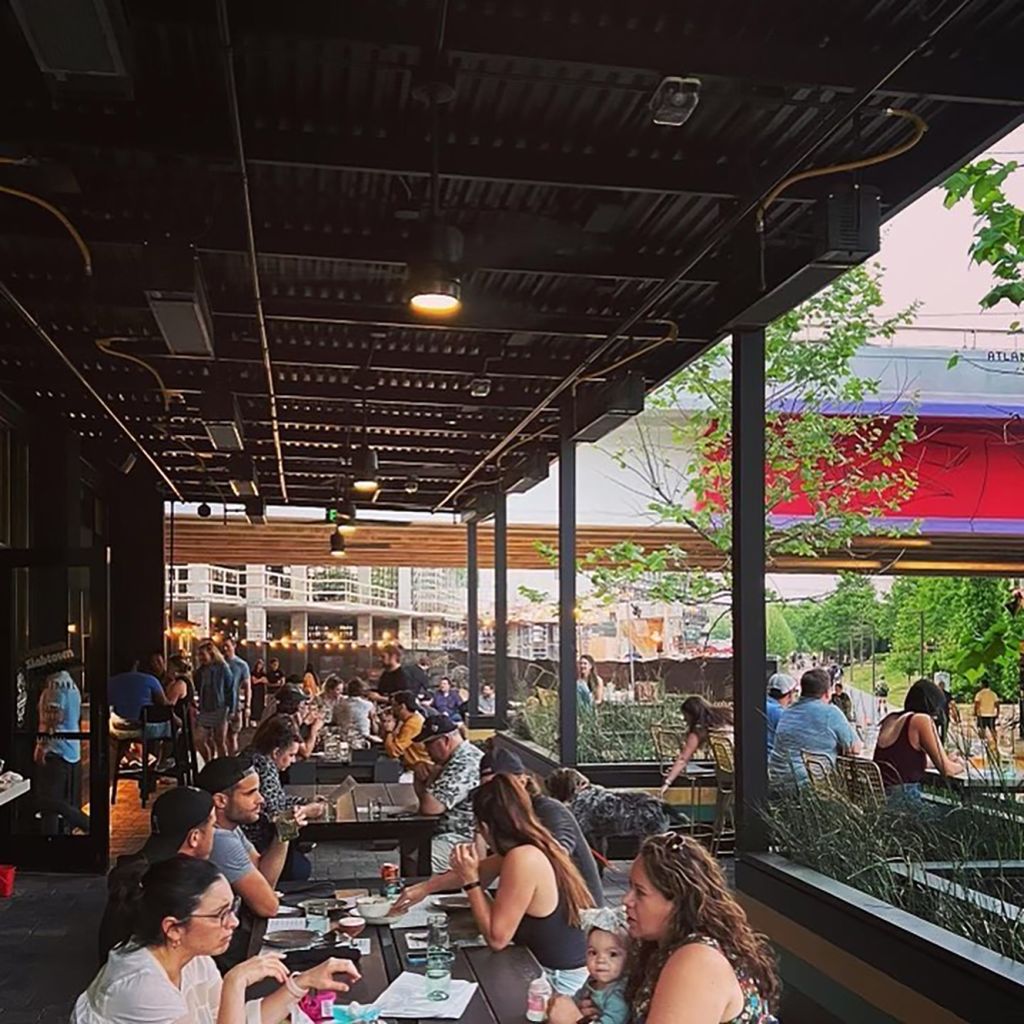 Get hot food and cold drinks on the Atlanta BeltLine Eastside Trail from chef Kevin Gillespie. May we suggest pimento cheese deviled eggs, a hearty Slabtown breakfast or the basic Greek salad?
Insider tip: Order the sheet-pan nachos. Sit outside for optimum Beltline people watching. Try the avocado margarita – amazing.
Where: 670 DeKalb Ave. NE
Slingshot Social Game Club
Play Extreme Duckpin, Superskee or arcade games. Keep up your strength with chili cheese fries, onion rings, burgers, wings, flatbreads or hot dogs.
Where: 1000 Marietta St. NE
Insider tip: They have amped up traditional games. Dare ya.
The Porter Beer Bar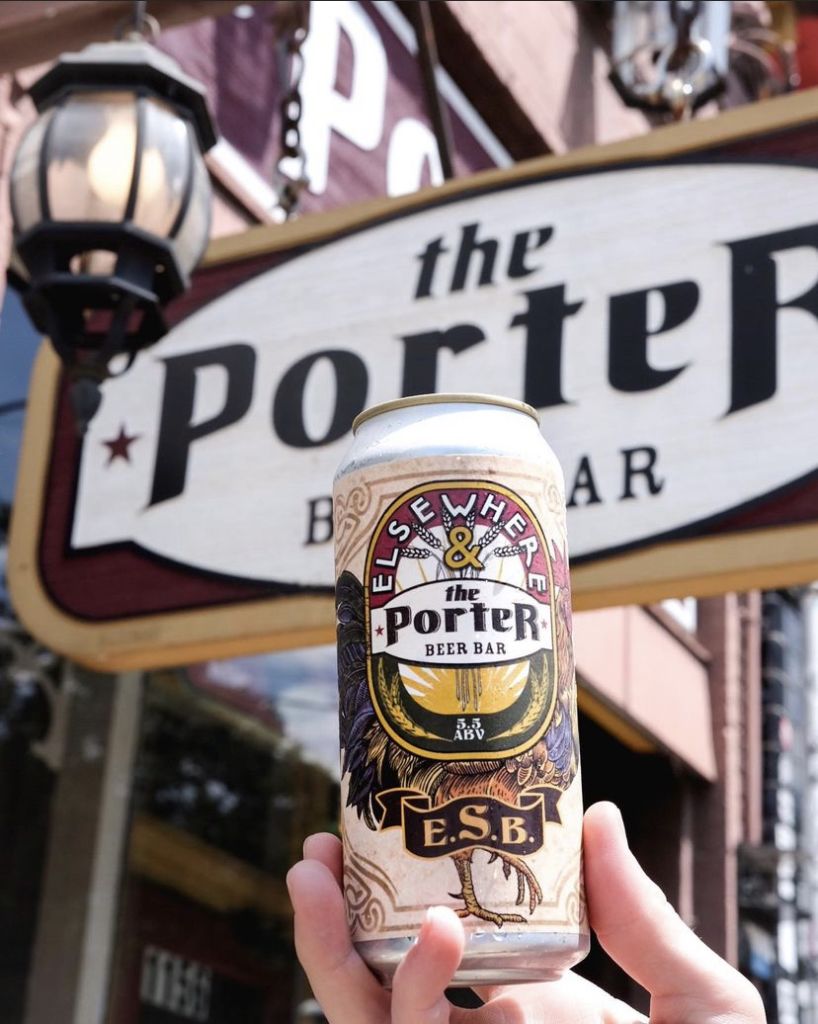 Try Belgian fries (with herb and garlic oil and charred onion mayo) salt and vinegar popcorn or goat cheese fritters. You probably won't be able to stop at just one beer. The list is long and interesting.
Insider tip No. 1: Wander to the back of the Porter and you'll find an authentic Beer Cellar with stained glass and hundreds of bottles of curated vintage beer–a beautiful setting for your next private event.
Insider tip No. 2: That vinegar popcorn is addictive. Will pair well with all of the 100+ beers. Try me. Also has a cellar room in the back for fun large group gatherings. Any reason to see what they store is a good reason.
Where: 1156 Euclid Ave. NE
In addition to these individual places, our team of cool people voted to include The Battery Atlanta, the Atlanta BeltLine and Cabbagetown. The Battery adjoins Truist Park, home of the Atlanta Braves. It's packed with restaurants, shops and games. The Atlanta BeltLine meanders throughout the city. As you walk it, bike it or run it, you can stop and eat or grab a cuppa along the way. Cabbagetown is an historic Atlanta neighborhood known for cozy places to eat and street art.
For more things to do in the A, Chill Out at These Game Bars and Bowling Alleys. Or check our Ultimate Guide to the Best Nightlife Spots in Atlanta.
Discover More
Get to know Atlanta, and discover the best things to do around the city.