What's to Do in Westside Parks & Gardens
The City in a Forest invites you to spend time outside
Home to ATL's newest and largest greenspace, you'll get a breath of fresh air to accompany some breathtaking views.
Westside Park
What will be Atlanta's newest addition and the city's largest greenspace, Westside Park was used as a quarry not too long ago. Now, the quarry has been filled with water and acts as a reservoir holding 2.4 billion gallons of emergency drinking water, and the surrounding land made beautiful for public use.
Meandering trails for pedestrians and cyclists lead up to the grand overlook providing breathtaking panoramic views of the reservoir and the Atlanta skyline. While only the first phase of the park is currently complete, educational facilities and venues for events, weddings and festivals will pop up in the coming years. Phase 1 is projected to be complete in 2021.
Atlanta BeltLine Westside Trail and West End Trail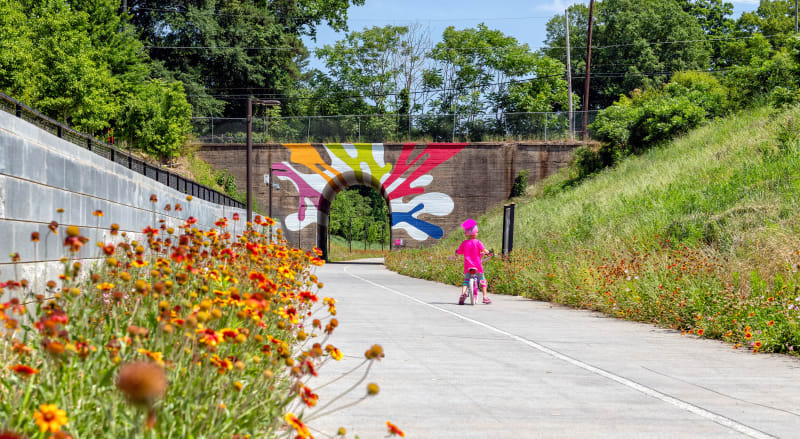 Part of the much larger Atlanta BeltLine, the three-mile Westside Trail and two-mile West End Trail stitch together some of Atlanta's oldest and most historic neighborhoods. As you walk or bike along the trails, check out the cool street art, including the first permanent mural along the BeltLine called "West End Remembers." The very first segment of the Atlanta BeltLine Arboretum was planted on the West End Trail, and it's worth it to see how the native plants have grown to provide food and homes to our birds, bees and butterflies.
Discover More
Get to know Atlanta, and discover the best things to do around the city.