Best Places to Drink and Eat Outside this Fall in Atlanta
By Daniela Cintron and Liesl Merkel
Take advantage of Atlanta's beautiful fall weather in one of our many restaurants serving up patio views. Whether you're looking for a local brunch spot, a late lunch or dinner with lingering cocktails, you'll want to hit this list for the best places to eat outside in Atlanta.
5Church Buckhead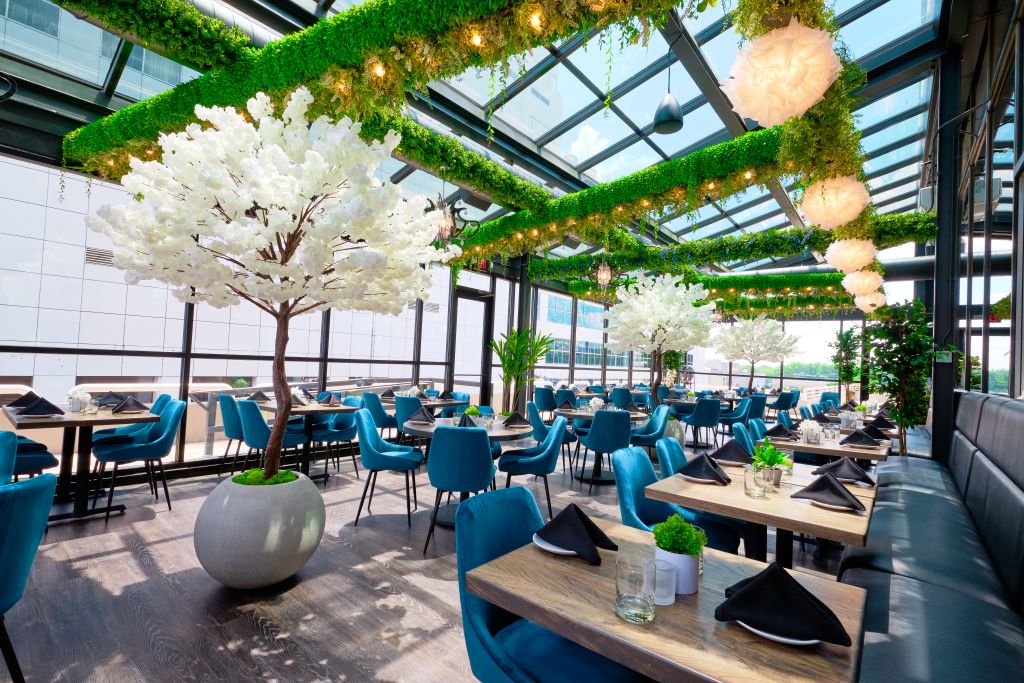 Expect a truly unique dining experience in the stunning sunroom at 5Church Buckhead. While not technically outdoors, the whimsical space offers plenty of sunlight and an incredible three-course chef's tasting menu for dinner, available only in the sunroom. Or, try the regular New American menu for lunch or brunch.
Where: 3379 Peachtree Road NE
Aerial Kitchen & Bar
Step out onto the ninth floor terrace of the Epicurean Atlanta hotel into a lush garden with outdoor lounge seating. Flavors of South America and Mexico are served in dishes, raw bar selections and drinks as guests indulge in scenic city vistas and the open-air bar.
Where: 1117 West Peachtree St. NW
Alma Buckhead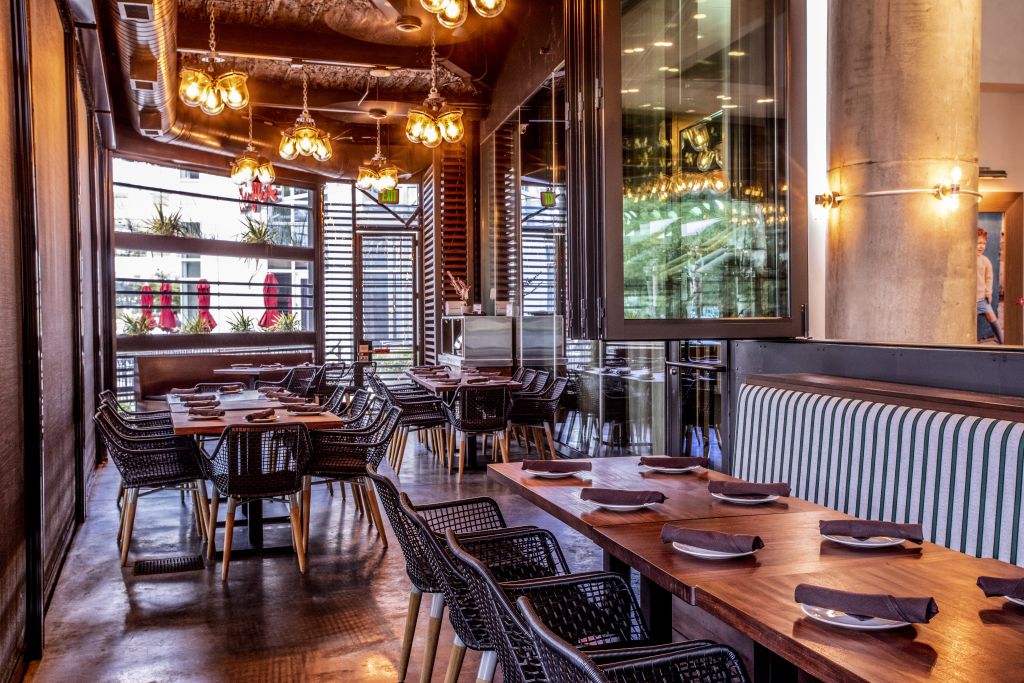 Have the best of both worlds at Alma Buckhead's indoor-outdoor patio. Stay warm inside while enjoying the breeze and the views. The space is perfect for a meeting, a date or a group dinner with your friends, giving you a sense of privacy and fall vibes.
Where: 3280 Peachtree Road NE
Aziza
The patio at Aziza in the Westside area is covered in greenery, the best backdrop for a variety of fresh modern Israeli cuisine. Delve into the seasonal menu highlighting plates such as short ribs, fairy tale eggplant and exquisite desserts. 
Where: 1170 Howell Mill Road NW
Babs Midtown
This local spot in Midtown serves chef-crafted breakfast, lunch and weekend brunch on the dog-friendly covered patio. Settle in with a cup of Babs' freshly brewed coffee or a glass of wine and indulge in the delectable daily specials. 
Where: 814 Juniper St. NE
Bastone
Drop in at one of two patios at Bastone on the Westside and sample dishes from this Naples-inspired mozzarella bar. Try the hand-stretched mozzarella, expertly prepared pastas, Italian wines and craft cocktails.  
Where: 887 Howell Mill Road NW
Boxcar at Hop City West End
Part of the Lee + White development in West End, Boxcar serves a menu of snacks and nibbles, signature sandwiches and main dishes, great for pairing with craft beer. The covered outdoor deck overlooks the Westside Trail of the Atlanta BeltLine. 
Where: 1000 White St. SW
Campagnolo Restaurant + Bar
Drop by Campagnolo Restaurant + Bar for rustic Italian cuisine and a crisp cocktail or glass of wine on the patio in Midtown. Locals know to stop in for a decadent brunch before venturing to nearby Piedmont Park. 
Where: 980 Piedmont Ave. NE
City Winery
Sure, Atlanta's only urban winery hosts a sensational lineup of live acts, but City Winery's patio is a prime location for enjoying wine made right on the premises. This upbeat Ponce City Market spot offers interesting shared plates, larger entrees and steaming pizzas.
Where: 650 North Ave. NE
Ecco Buckhead and Ecco Midtown
On a beautiful fall afternoon in the city, wind down and get cozy at Ecco's patio. The Buckhead location offers a spacious patio with several seasonal heaters and a marble fireplace while the Midtown location has a covered patio with overhead and space heaters to make sure you are comfortably enjoying a good time outside.
Where: 3586 Peachtree Road NE. and 40 Seventh St. NE
Juniper Cafe
This modern Vietnamese cafe and bakery in the Westside neighborhood serves breakfast, lunch and all-day Sunday brunch. Try the Bakery Cafe for morning tea or coffee drinks or the restaurant, which, later in the day, features Vietnamese specialties like pho, banh mis and coconut shaved Ice.
Where: 2260 Marietta Blvd. NW
Kevin Rathbun Steak
Kevin Rathbun Steak has a cozy, outdoor dining area flanked by firepits and a terrific view of the Eastside Atlanta BeltLine Trail. The renowned local chef's restaurant offers not only steaks but also chilled seafood and his famous Yaya's eggplant fries. 
Where: 154 Krog St. NE
La Tavola Trattoria
The timeless neighborhood trattoria serves classic Italian comfort food in the Virginia Highland neighborhood. The cozy back patio at La Tavola is perfect for trying tangy antipasti, classic sauces and creative entrees.
Where: 992 Virginia Ave. NE
Little 5 Corner Tavern
A local hangout in eclectic Little Five Points, the Corner Tavern menu ranges from sandwiches including both a regular and vegan Reuben, specialty burgers with a giant list of build-your-own options and entrees like Guinness beer-battered fish and chips. The large garage door at the tavern opens up to reveal a fabulous open-air dining spot.
Where: 1174 Euclid Ave. NE
Little Sparrow
Located in the Westside Provisions District, this new neighborhood restaurant is inspired by old Brooklyn taverns and European cafés and bistros. Gather on the patio for a flavorsome burger and fries or savor cocktails while watching the busy shopping area come to life. 
Where: 1198 Howell Mill Road
Nina & Rafi
The cheesy, indulgent Detroit-style pizzas served at Nina & Rafi are as inviting as the view on the patio, located on the Atlanta BeltLine's Eastside Trail. Browse the menu, also serving classic round pizzas, Italian fried meatballs and pours from one of the most extensive Amari lists in Atlanta. 
Where: 661 Auburn Ave. NE
Palo Santo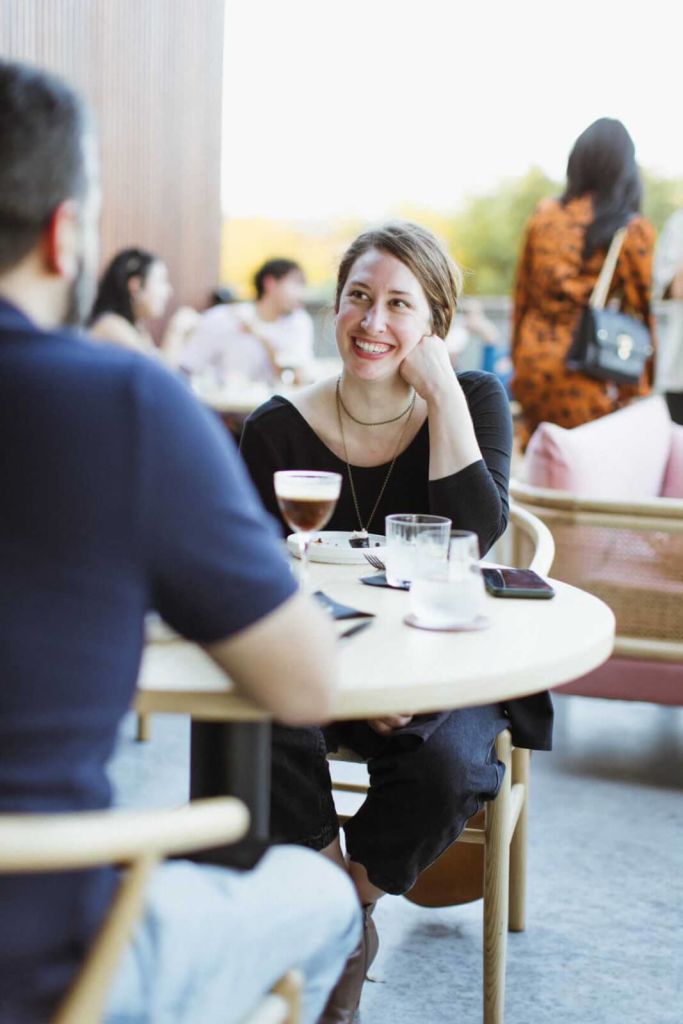 Go up a grand staircase and enjoy the playful brand new rooftop bar overlooking Atlanta's Westside. The sexy decor and intimate ambiance make this rooftop the perfect place for a date, or a night out with friends. A live DJ on the weekends sets the tone, and handcrafted cocktails satiate your thirst.
Where: 955 West Marietta St. NW
ParkGrounds
The neighborhood cafe in Reynoldstown has a lovely pet-friendly patio in the shade, perfect for grabbing coffee and a light breakfast. Later on, stop in for a sandwich and relax with a cocktail or beer among the locals.
Where: 142 Flat Shoals Ave. SE
Rina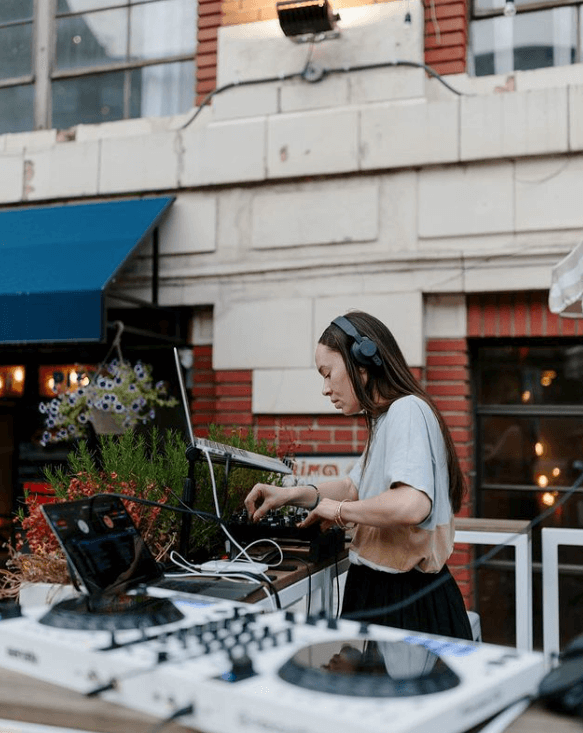 Discover the patio at Rina, channeling Tel Aviv beach vibes with a unique spin on Israeli street food. Located on the Eastside Trail of the Atlanta BeltLine, Rina serves colorful mezze, house-made hummus, sizzling skewers and the intriguing Turkish coffee shake.  
Where: 699 Ponce De Leon Ave. NE
Saints + Council
Stay cozy on the outdoor patio beside crackling firepits in the reimagined Colony Square in Midtown. It's the perfect way to enjoy the season's crisp temperatures.
Where: 1221 Peachtree St. NE.
South City Kitchen Buckhead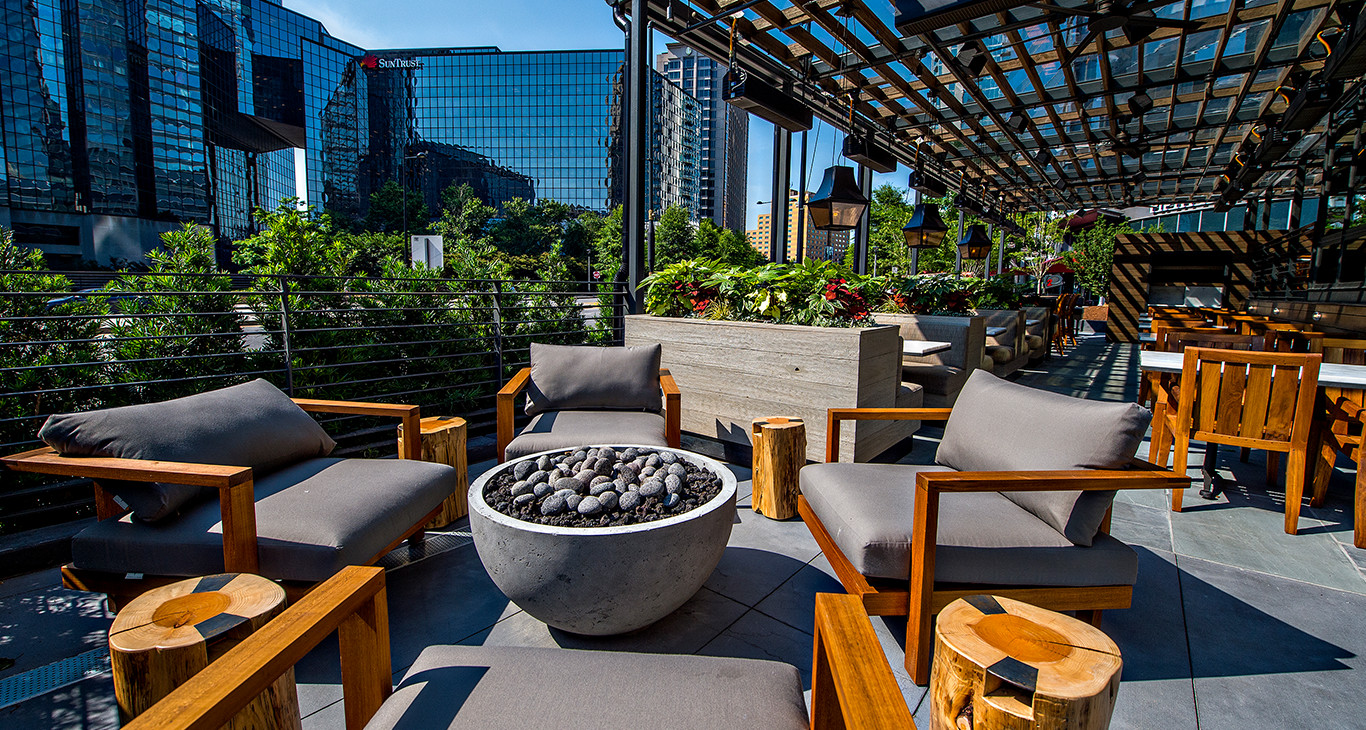 One of our many Buckhead patio restaurants, South City Kitchen is perfect for savoring sophisticated Southern cuisine. Locals take visitors here to discover gems such as fried green tomatoes with goat cheese and signature fried chicken with collard greens.
Where: 1144 Crescent Ave. NE
The Southern Gentleman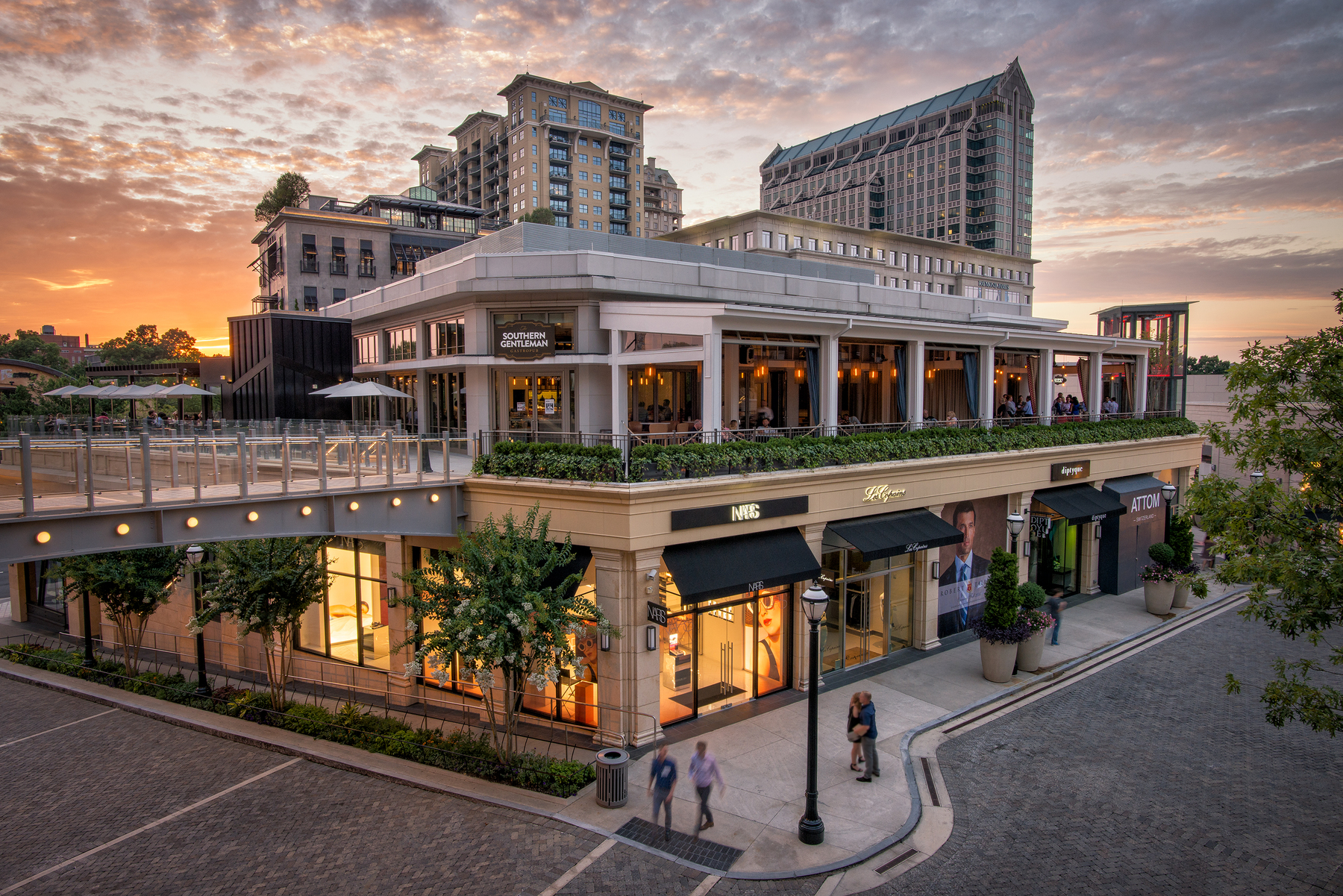 Pick a spot on the second-floor patio at this Southern-inspired gastropub in Buckhead Village. The Southern Gentleman welcomes guests with a bounty of elevated Southern dishes fit for the changing seasons, a swinging happy hour and an extensive whiskey list.
Where: 3035 Peachtree Road NE
Spaceman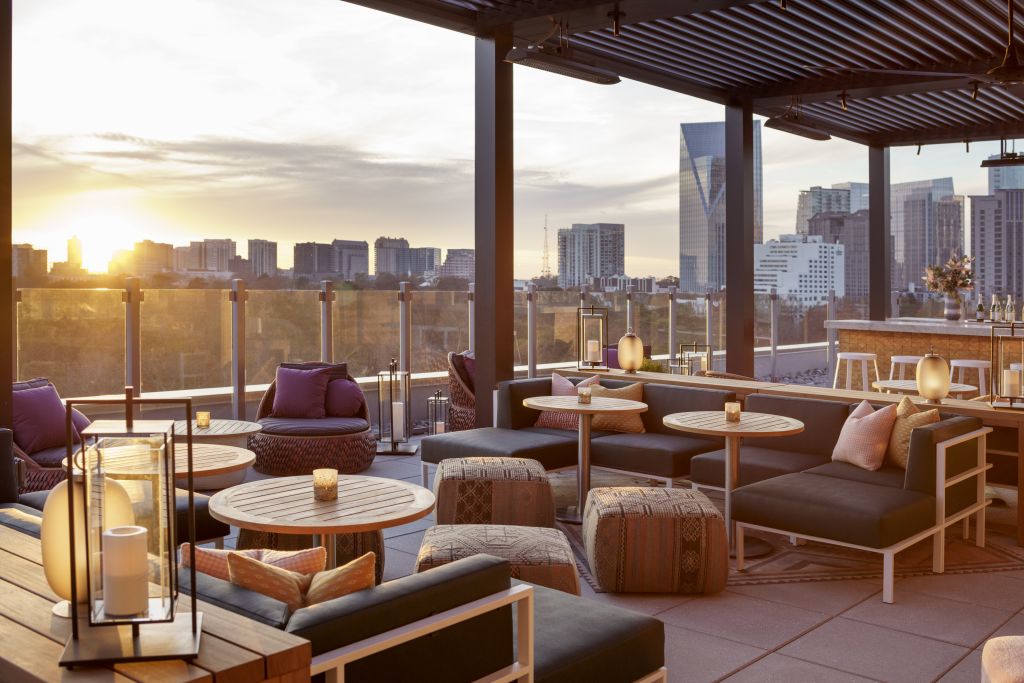 Atlanta's hotels have a reputation for cool, outdoor rooftops, and Spaceman at Hyatt Centric Buckhead is out of this world. The rooftop bar offers stunning views along with craft cocktails and small bites.
Where: 3301 Lenox Parkway
St. Julep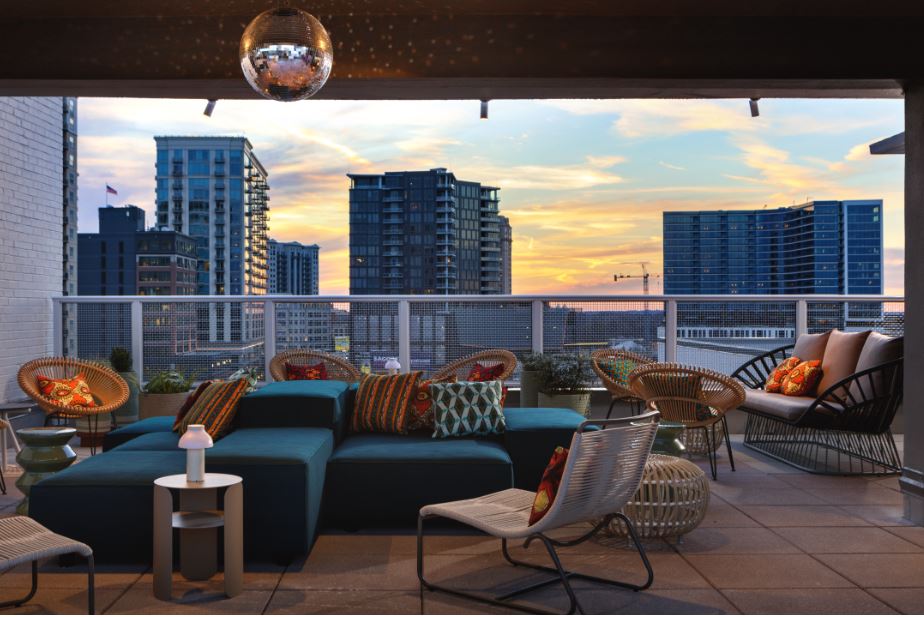 On the Kimpton Sylvan Hotel's rooftop deck, weekend DJs spin and guests munch on lemon pepper ranch popcorn, Szechuan tots, gourmet corn dogs and spiked soft serve while taking in the views. No-fuss cocktails wash down all of those snacks.
Where: 374 East Paces Ferry Road NE
Treehouse Restaurant and Pub
Visit Treehouse for another truly local spot, found in the Peachtree Hills neighborhood of Buckhead. Whether you stop in for a pint and a burger (try the Wicked Pimento with local pimento cheese) or a leisurely brunch, the patio will make you feel like you're hidden in the trees. 
Where: 7 Kings Circle NE
White Oak Kitchen & Cocktails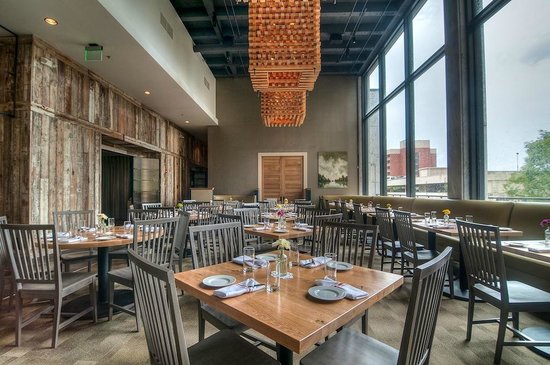 Stop in for lunch or dinner on the patio at White Oak Kitchen & Cocktails. One of many Downtown restaurants with outdoor seating, the friendly spot offers Southern cuisine featuring Georgia shrimp and pimento cheese grits, pork porterhouse and jazzy cocktails.
Where: 270 Peachtree St. NW
Atlanta's Fall weather is perfect. Get out, enjoy the scenery and dine at one of Atlanta's restaurants.
Discover More
Get to know Atlanta, and discover the best things to do around the city.