Best Places to Eat and Drink Outside in Atlanta this Spring
Published March 22, 2022
Last Updated May 4, 2023
Atlanta's beautiful weather makes it easy to enjoy a meal or drink outdoors during springtime. Find a patio or rooftop for a meal or enjoy a drink outdoors in Atlanta.
Ver Azoteas para Comer y Beber al Aire Libre en español. (See in Spanish)
9 Mile Station
Located atop Ponce City Market, 9 Mile Station is a sleek indoor and outdoor restaurant with spectacular views of the city's skyline. Order a classically prepared cocktail, share an order of bacon spinach dip and enjoy the sunset on the patio.
Azotea Cantina
Azotea Cantina is one of the latest additions to Atlantic Station and offers Mexican food, the best of Georgia's local beers and a spacious rooftop patio with incredible views. The energetic vibe will inspire you to dance freely on the spacious deck.
Bar Mercado
Latin American food meet Spanish cuisine at Bar Mercado. This restaurant in Krog Street Market has a fun, eclectic patio with a menu of bold and deep flavors.
Bartaco
Whether you visit the location in West Midtown, Inman Park or Chastain Park, Bartaco offers relaxing and popular patios to enjoy high-end tacos and refreshing drinks.
BeetleCat
Sitting just a block away from the Atlanta BeltLine, BeetleCat features an array of internationally inspired seafood complemented by dishes such as Mexican corn, Korean-style chicken and doughnuts on Sunday.
Bone Garden Cantina
Tucked in the back of an office complex in West Midtown, Bone Garden Cantina offers exquisite California-influenced Mexican dishes and a variety of tequilas. The interior is decorated with Mexican-inspired art celebrating Day of the Dead year-round, but the patio is perfect to enjoy street-style food and mezcal drinks.
Bread and Butterfly
Travel to Paris with a perfectly crafted pastry and a French-inspired breakfast at Bread and Butterfly. In a chic space outdoors, the stylish bistro offers bites for breakfast, brunch and lunch made with fresh locally sourced ingredients.
Drawbar
Excellent drinks, friendly service and a voguish atmosphere describe one of Atlanta's newest lounges. Craft cocktails and a menu of Southern flavors are served at Drawbar, located in Bellyard Hotel in the heart of West Midtown.
El Tesoro
Find authentic Mexican food in the middle of Edgewood's eclectic neighborhood with plenty of laid-back outdoor space. El Tesoro is a rustic and charming space is perfect for everyone, including families. While the kids play tic-tac-toe, parents can order a mezcal cocktail or Mexican beer.
Establishment
The antebellum-inspired decor of Establishment in Midtown pays tribute to Georgia's history featuring reclaimed wood and antique iron. Enjoy live music in their ample outdoor space while sipping a cocktail carefully crafted by experienced in-house mixologists.
Estrella Rooftop
Find fresh-squeezed margaritas, casual food from the Mexican state of Yucatan, Latin beats and one of Atlanta's best skyline views. Estrella sits atop Bazati Atlanta and offers a perfect environment to gather with friends right off the Atlanta BeltLine.
Forza Storico
Forza Storico brings Italian history, culture, tradition and taste to the Westside Provisions District. Sit at their busy patio while sipping their popular smoked Old Fashioned and indulging in an exquisite house made tagliatelle.
Grana
There's nothing like a wood-fired Neapolitan pizza, a meatball flight and a satisfying cannoli. Grana brings Italy to Midtown, offering perfect spaces to dine at their patio or rooftop.
Gypsy Kitchen
From live paella-making on the patio to endless tapas and pitchers of sangria, Gypsy Kitchen offers a fun environment to enjoy a Spanish meal. Located on the second floor in the lively Buckhead Village District, Gypsy Kitchen has one of the most popular patios in the area.
Hotel Clermont
The vibe of the historic Hotel Clermont carries up to the rooftop bar with a chic retro design. The Rooftop sits atop one of Atlanta's beloved landmarks with a stellar skyline view, mismatched vintage chairs and tables and the perfect drink.
Mission + Market
Enjoy a globally influenced, seasonal meal at Mission + Market. Located in Buckhead, the elegant space has a private outdoor patio that sets the tone for a parade of savory dishes.
O-Ku
West Midtown is home to one of the best modern Japanese restaurants in Atlanta. O-Ku offers a fresh and innovative menu sourced with Southern ingredients delights the palate while the views from their rooftop make anyone fall in love with the city.
Park Tavern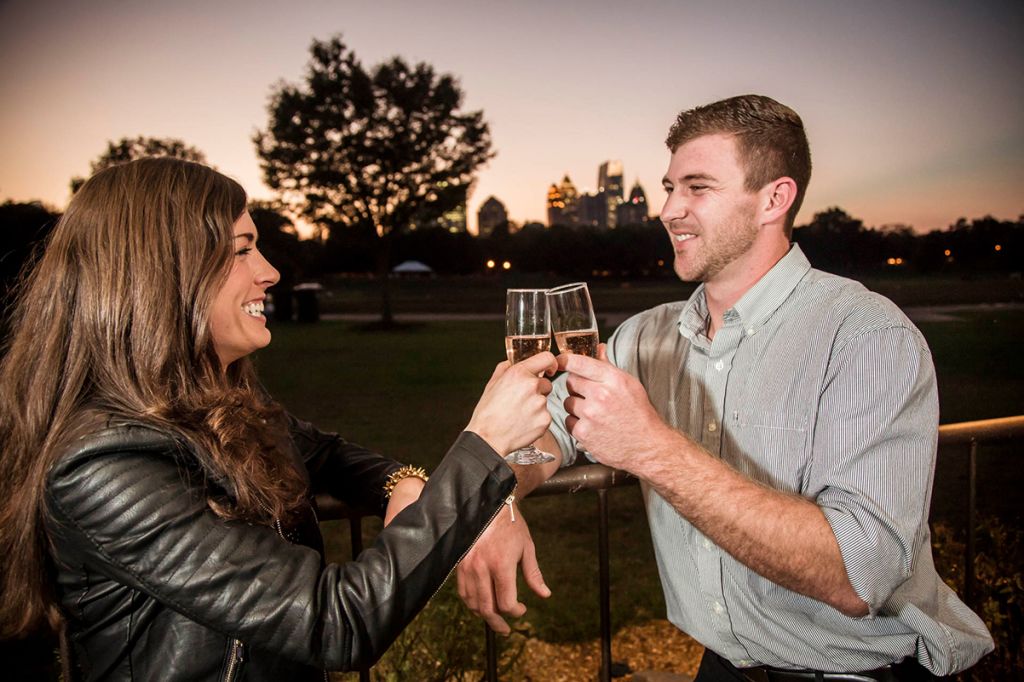 Park Tavern sits right where Piedmont Park meets the Atlanta BeltLine and their spacious patio is perfect for people (and dog) watching. Sit back and enjoy one of their own beers, a diverse menu and live music.
Público Atlanta
Público has one of the trendiest patios in Atlanta serving Latin-Asian-inspired dishes and lovely themed cocktails. Brunch is iconic with pitchers of the signature "Mango to the Moon" pineapple margarita, mimosas and tacos.
South City Kitchen
Whether you're in town for business or looking for a place to enjoy a fun outdoor atmosphere, South City Kitchen is a local favorite. The sophisticated contemporary menu showcases signature dishes in four locations around the city. Don't miss the fried green tomatoes and the Buckhead location's patio is always a vibrant option.
St. Julep
St. Julep sits on the 9th floor atop the beautiful Kimpton Sylvan Hotel in Buckhead, offering breezy cocktails and elevated bar snacks in a modern-chic atmosphere. Perfect for dates, brunch or a gathering, this is the ultimate rooftop for an Instagrammable experience.
The Chastain
This New American bistro in Chastain Park, aptly named The Chastain, serves a light breakfast in the morning, lunch and dinner in the evening. Sit outdoors under the stars for a fresh take on comfort food and the best of Southern cuisine.
The Lawrence
This Midtown restaurant offers contemporary Southern food to enjoy along with their signature house bourbon and uniquely crafted cocktails. The Lawrence is a relaxing oasis with a stylish outdoor space.
The Optimist
The Optimist offers a seaside fish camp experience, serving high-quality sustainable seafood. Tucked in an old ham-aging house in West Midtown, The Optimist offers a beautiful outdoor space to enjoy fresh raw oysters, trout and sea scallops.
TWO Urban Licks
Find fiery American cooking and live music just a few steps away from the Atlanta BeltLine in the heart of Old Fourth Ward. The unique 26-foot wine-on-tap barrel wall at TWO Urban Licks will ensure you will have plenty of options to accompany any signature wood-fired dish.
Zocalo Mexican Kitchen and Cantina
Zocalo offers Mexican food favorites and some of the strongest frozen margaritas in town. With its large outdoor patio overlooking 10th Street, Zocalo is the hot spot for those who want to enjoy Atlanta's great weather, just a few steps from Piedmont Park.
For more great places to eat and drink outside in Atlanta, visit our patio dining guide.
Discover More
Get to know Atlanta, and discover the best things to do around the city.