LGBTQ+ Owned Businesses in Atlanta You Should Know
Published June 10, 2022
Atlanta is one of the most influential cities of the South, celebrating Pride three times throughout the year. Whether you are visiting for National Pride Month in June, Black Gay Pride during Labor Day weekend or the annual Atlanta Pride Festival in October, you'll be interested in the top Atlanta LGBTQ+ owned businesses, restaurants, merchants and attractions. Here are some places you don't want to miss.
Restaurants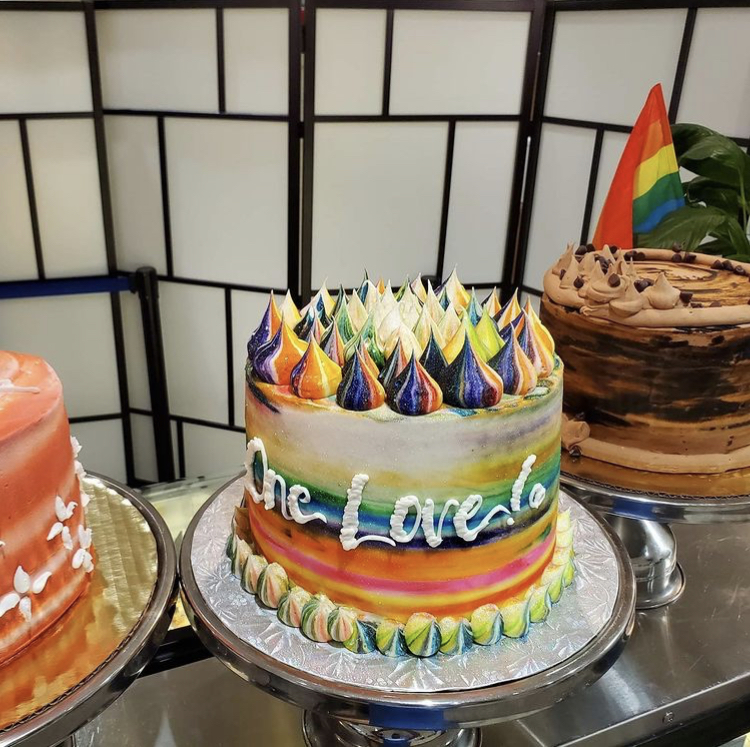 Baker Dude Bakery Cafe
Orran Booher's Black-owned business Baker Dude Baker Cafe boasts fresh French and Italian desserts, crafty cakes and "bou-cakes" along with a healthy lunch menu. Indulge in one of these signature more-than-just-frosting treats: Holy Chocolate Peanut Butter Cake, Funfetti Rainbow cake or The Love Velvet Cake.
Where: 1565 North Decatur Road, 1039 Grant St. SE, 1235 Chattahoochee Ave. NW
Georgia Beer Garden
Sweet Auburn District's classic beer garden pours from more than 20 taps of locally brewed beer. Swing by with a friend to experience Downtown's largest backyard patio.
Where: 420 Edgewood Ave. NE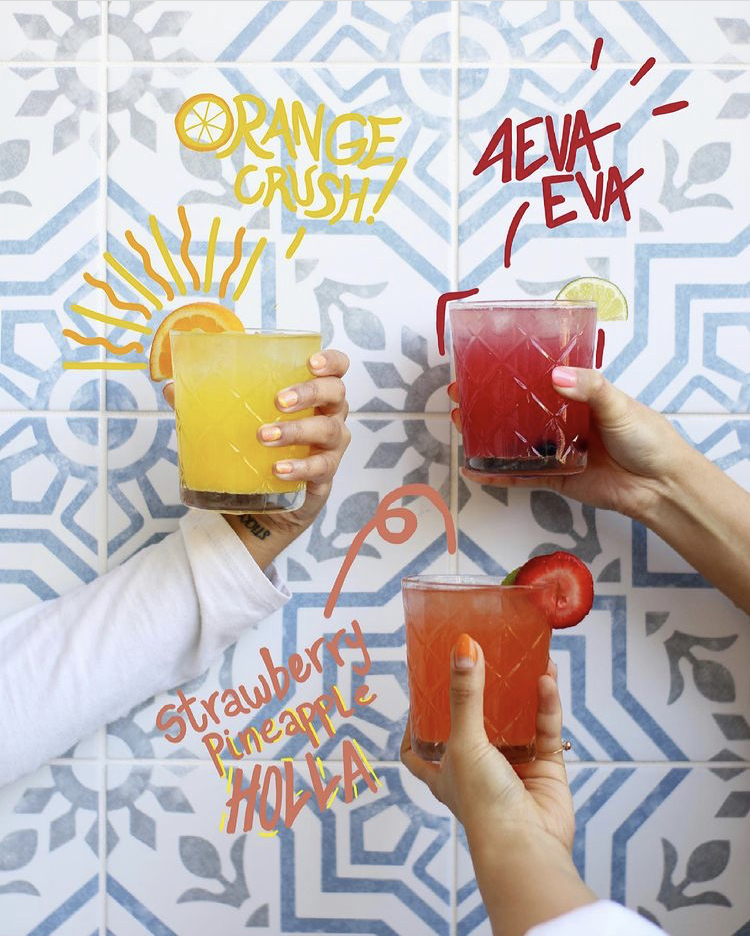 Guac y Margys
Guac y Margys, known for its guacamole, is a go-to spot for a variety of tacos, fresh margaritas (#NoMix) and giving back to the Atlanta community. With three locations, it has been dubbed as "Atlanta's Margarita Bar," creating a buzz around the most-sought-after Strawberry Pineapple Holla! and Forever, Forever Ever refreshers.
Where: 661 Auburn Ave., 502 Amsterdam Ave. NE, 1115 Howell Mill Road NW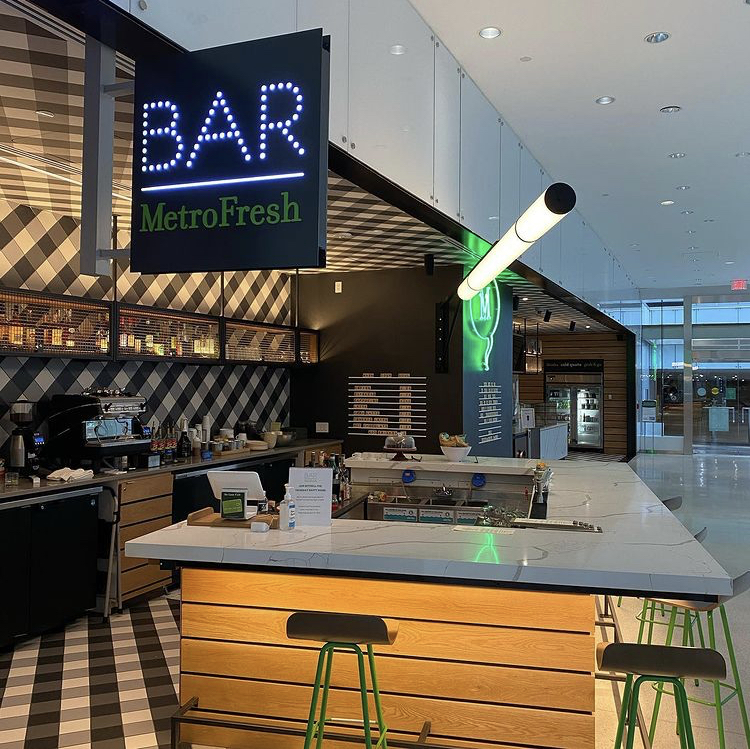 MetroFresh
Mitchell Anderson's Midtown fast-casual cafe has focused on providing the freshest locally sourced food for breakfast, lunch and dinner for more than 16 years. Be on the lookout for occasional music events.
Where: 931 Monroe Drive and 1360 Peachtree St. NE
No Mas! Cantina
All amigos are welcome at No Mas! Cantina where authentic Mexican cuisine is served in one of Atlanta's most historic neighborhoods. Part cafe (ADios Cafe), part Artisan Market, there's plenty of food and shopping to take in before and after your dining experience.
Where: 180 Walker St. SW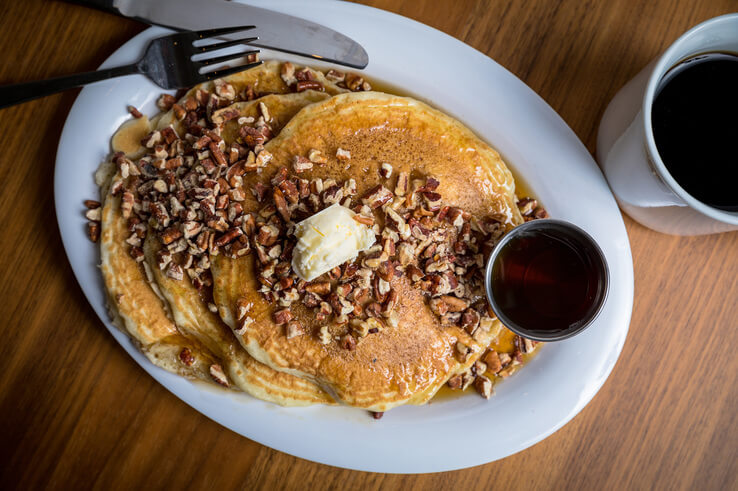 Ria's Bluebird
Because breakfast and lunch specials are served all day at Ria's Bluebird diner, there's no excuse not to meet with friends for brunch any day of the week. Take in the scenery with views of Historic Oakland Cemetery, and try patio dining in the eclectic garden oasis for an all-around local experience.
Where: 421 Memorial Drive SE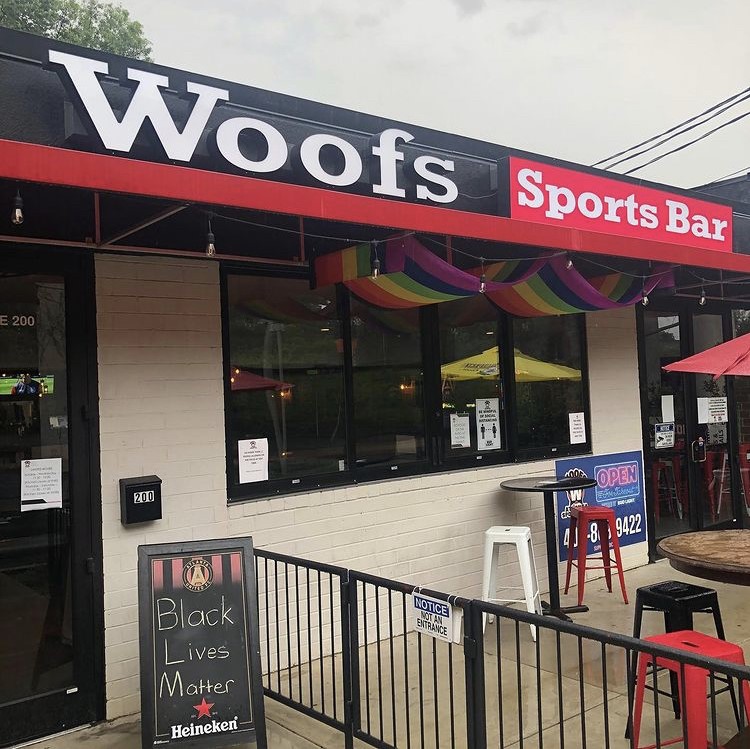 Woof's Atlanta
Woof's Sports Bar has been providing vibes for Atlanta's gay community since 2002. All LGBTQ-friendly patrons are welcome to take part in classic eats on game days and specials on Wing Wednesday, Burger Thursday and daily specials Monday, Wednesday, Thursday and Friday.
Where: 494 Plasters Ave. NE
Bars & Nightclubs
Bulldogs
Midtown Atlanta's popular male gay club, better known as Bulldogs, has come alive in the night time for more than 40 years. Bulldogs is a favorite for Atlanta's Black gay culture with DJs spinning the latest rap and hip-hop sounds, sending everyone to the dance floor. 
Where: 893 Peachtree St. NE
Joystick Gamebar
The LGBTQ+ dynamic duo of Georgia Beer Garden and Joystick Gamebar bring more childhood nostalgia and excitement to Edgewood Avenue. Joystick Gamebar takes fun to another level with retro video, classic arcade and tabletop games. Pinball challenge, anyone? Stay in the social loop for upcoming themed game nights and specials for nerds and sci-fi characters alike.
Where: 427 Edgewood Ave. SE
Mary's East Atlanta
Out magazine named Mary's East Atlanta one of the world's best gay bars. Whether you're looking to sing your heart out to one of 15,000 songs or dance to Alternative DJ sets, you're sure to have a good time. Be on the lookout for weekly drag shows and live performances from Atlanta's top queer talent.
Where: 1287 Glenwood Ave. SE
My Sister's Room
My Sister's Room holds the title for Atlanta's longest-running lesbian bar for more than 20 years. No matter the time of day, this two-story Edgewood bar is a staple for the LGBTQ+ community with its burlesque shows, comedy nights and karaoke showdowns.
Where: 84 Twelfth St. NE
Merchants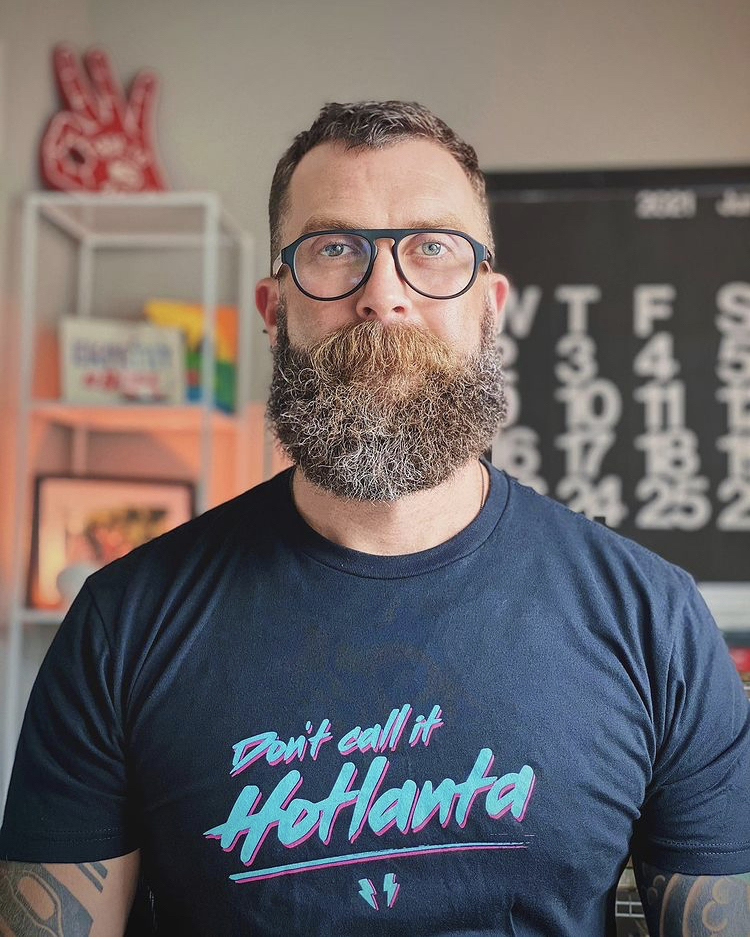 ABETTERBUZZ Brand Goods
A Better Buzz (ABB) encourages its patrons to Live Bold. From graphic tees and sporty tanks to cool headwear and trendy accessories, Buzz Busbee takes pride in producing top-quality merchandise for Atlanta's queer locals and visitors. ABB also collaborates with local artists and brands to further spread awareness of the LGBTQ+ community.
Where: Eastside, East Atlanta, The Beehive
Things to Do, Attractions, Entertainment
7 Stages Theatre
Located in the heart of Little Five Points, 7 Stages is a professional, nonprofit theater company devoted to engaging artists and audiences by focusing on the social, political and spiritual values of contemporary culture. 7 Stages gives primary emphasis to international work and the support and development of new plays, new playwrights and new methods of collaboration.
Where: 1105 Euclid Ave. NE
Horizon Theatre Company
Horizon Theatre Company has been bringing exciting area and world premieres of contemporary plays to Atlanta's audiences under the leadership of co-artistic directors and founders Lisa and Jeff Adler since 1983. Horizon has introduced Atlanta audiences to the works of such well-known contemporary playwrights as Rebecca Gilman, Wendy Wasserstein and David Hare, as well as plays by talented emerging writers.
Where: 1083 Austin Ave. NE
Museum of Design Atlanta (MODA)
Museum of Design Atlanta (MODA) is the only museum in the Southeast devoted exclusively to the study and celebration of all things design, featuring exhibitions highlighting architecture, industrial and product design, interiors and furniture, graphics, fashion and more. MODA examines how design affects our daily lives through engaging exhibitions, educational outreach and special events designed to initiate conversation and community dialogue.
Where: 1315 Peachtree St. NE
Out Front Theatre Company
Since 2016, Out Front Theatre has take pride in artistic storytelling specifically crafted for the LGBTQ+ communities of Atlanta. Talented actors and producers innovatively focus on sharing insightful and inclusive experiences through theater and performing arts. Out Front's most notable programing includes landmark queer pieces like "The Most Fabulous Story Ever Told," "The Rocky Horror Show" and "The Ethel Merman Disco Christmas Spectacular."
Where: 999 Brady Ave. NW
For more things to do and more places to dine in Atlanta, check our calendar of events and our restaurant guide.
Discover More
Get to know Atlanta, and discover the best things to do around the city.