Cool Things To Do in April in Atlanta
Flowers aren't the only thing popping up in Atlanta — so are festivals. All across the city people are feeling festive, celebrating dogwoods, wine, beer and food. Those are not the only cool things to do in April, but they are a start.
'Jesus Christ Superstar' plays Fox Theatre
Get your love beads and tie-dyed shirts and go to the Fox Theatre to see "Jesus Christ Superstar," the Broadway show that rocked the world. The musical, a mesmerizing production with iconic music, runs from April 19 through 23. We promise it'll be groovy.
Music and Fun on Tap at SweetWater 420 Festival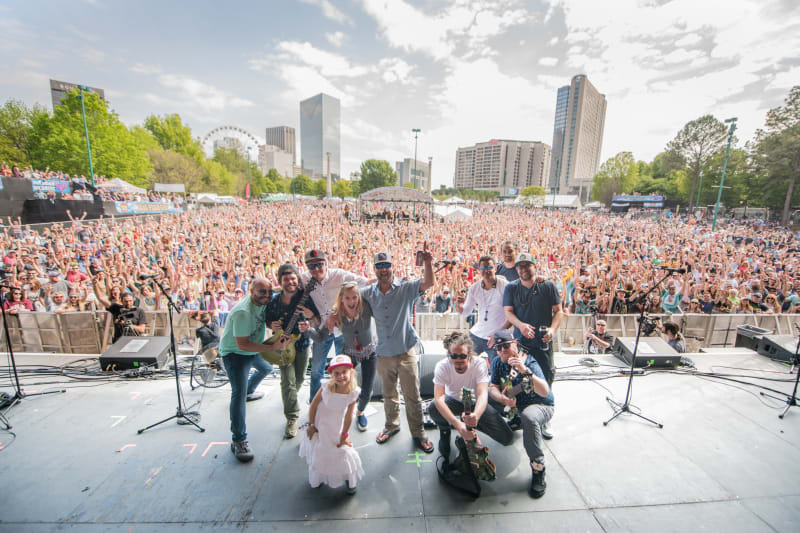 Umphrey's McGee, Gov't Mule and Oysterhead are just a few of the great bands that will rock Centennial Olympic Park during the Sweetwater420 Festival April 29 to May 1 — with a pre-party on April 28. In addition to the music, there will be an artist market, food court and Planet 420 Eco Village that educates attendees on being more eco-friendly in their daily lives.
Meet Henry VIII at Georgia Renaissance Festival
While Queen Elizabeth celebrates her Platinum Jubilee in London, Atlantans can toast King Henry VIII at the Georgia Renaissance Festival. His Highness rules the Village of Newcastle where there are plenty of characters to delight and things to do including an artisan market, games, rides and a fun roster of entertainers. Don't miss the joust. Visit the rowdy and bawdy drinking pubs in the Pub Crawl. Cheer on the acrobatic daredevils. Be amazed by the birds of prey. Of course, there's plenty of food, including turkey legs, Merlin's Magical Cinnamon Almonds and the King's Wienie. The festival, which runs weekends from April 9 through May 30, takes place at 6732 Virlyn B. Smith Road in Fairburn.
Celebrate Atlanta's Dogwoods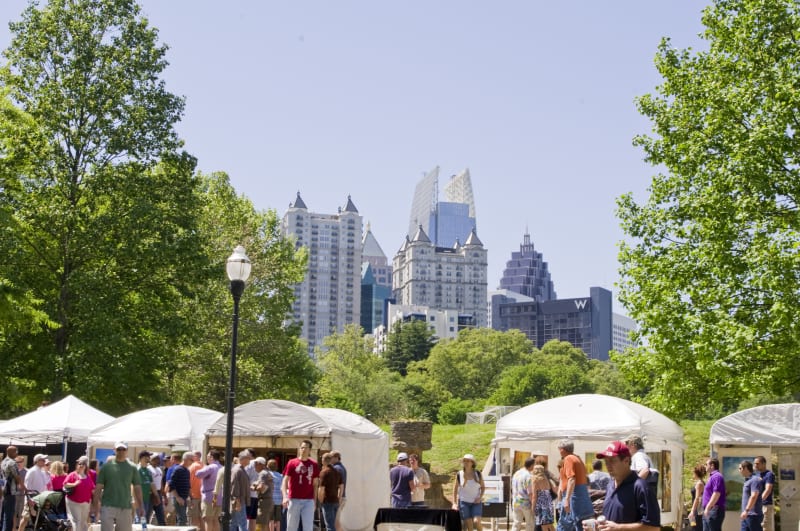 The Atlanta Dogwood Festival graces Piedmont Park April 8 though 10, boasting more than 200 artists from around the country, along with music, food, kids' village and the Atlanta Dogwood Festival Mimosa 5K race. It's always a favorite for fans of art, music, food and spring-time fun. The Dogwood Festival is the third oldest fine arts festival in the country and the longest running in Atlanta.
Favorite Neighborhood Festivals
Two of the city's most historic neighborhoods put on epic festivals every April. The Inman Park Parade is a not-be-be missed event. The Inman Park Festival and Tour of Homes takes place April 23 and 24., featuring music, kids' activities, an artist market, dance festival and the Tour of Homes ($20). The parade, which steps off at 2 pm. April 23, promises wild and quirky groups marching through the neighborhood. Near Inman Park. the Spring Festival on Ponce occurs April 2 and 3. There will be more than 125 displays of fine arts and crafts, a children's area, and food and beverages.
Monster Jammin'
Monster Jam roars into Atlanta April 9 and 10 at the Atlanta Motor Speedway for what is being called the "most action-packed motorsports experience for families in the world." Celebrating its 30th anniversary, Monster Jam brings 12,000-pound monster trucks that go crazy in freestyle, skills and racing competitions.
Nights Alive at the Graveyard
Illumine is Historic Oakland Foundation's annual after-dark arts experience where the cemetery's headstones, mausoleums, flowers, trees and buildings are creatively lit to showcase the cemetery and its grounds. This year, the cemetery shines a light on the historic African American Burial Grounds and the newly restored 1908 Women's Comfort Station. Reservations are recommended.
Shaky Knees Rocks On
One of the city's epic music festivals, Shaky Knees, will rock the city with acts such as Green Day, Billy Idol, Nine Inch Nails and My Morning Jacket. Running from April 29 to May 1, Shaky Knees takes place at Central Park on Merritts Avenue in the Old Fourth Ward.
Oscar Time
The Atlanta Film Festival is one of only two dozen Academy Award- qualifying festivals in the U.S., and last year's winner, "The Dress," is now on the Oscar ballot for Best Live Action Short Film. This year the festival, which runs from April 21 through May 1, received more than 2,135 submissions. It's noteworthy that the festival shows a diverse range of independent films, with special attention paid to women-directed, LGBTQ, Latin American and Black films as well as those from the Southeast.
Dining Al Fresco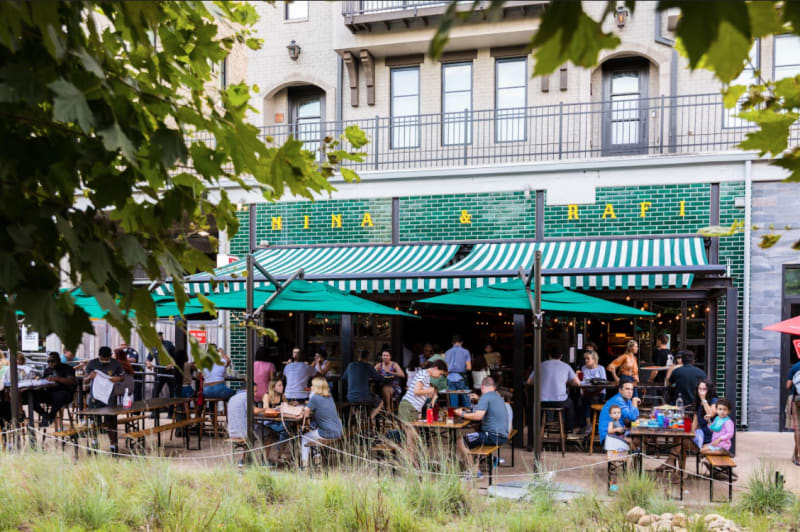 Our favorite restaurants are putting away the outdoor heaters and letting Mother Nature warm diners as they delight in savoring the many varieties of Atlanta's cuisine. Among our favorite patios are newly opened The Usual and Amici in Midtown as well Nina & Rafi in the Old Fourth Ward; Neighbors in Virginia Highland; and Anis Cafe & Bistro in Buckhead. That's just a few of restaurants where you can dine outdoors in Atlanta.
Say 'Cheese'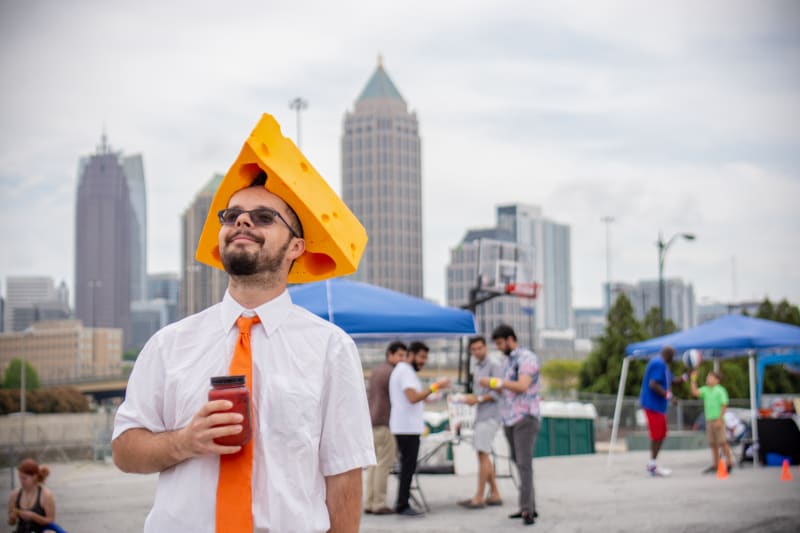 Who doesn't love grilled cheese? No one we know. But who has the best grilled cheese in the ATL? Find out at the Atlanta Grilled Cheese Festival April 30 at Atlantic Station. In addition to grilled cheese sandwiches (as if that's not enough), there will also be an Adult Game Zone and Bloody Mary Garden.
Cheers
The Atlanta Spring Wine Festival is back with more than 50 wines to taste along with beer and cider. There will be live music and DJ Qtip to keep the party going. Spring for some wine from 1 to 5 p.m. April 9 at Historic Fourth Ward Park.
For more things to do in Atlanta, check our calendar of events.
Discover More
Get to know Atlanta, and discover the best things to do around the city.