Cool Things To Do in April in Atlanta
It's a shame that April only has 30 days. There is so much to do that's fun, exciting and cool. So, get out your calendar and prepare to enjoy all that Atlanta has to offer in the awesome month of April.
Sure Sign of Spring in Atlanta: Art and Dogwoods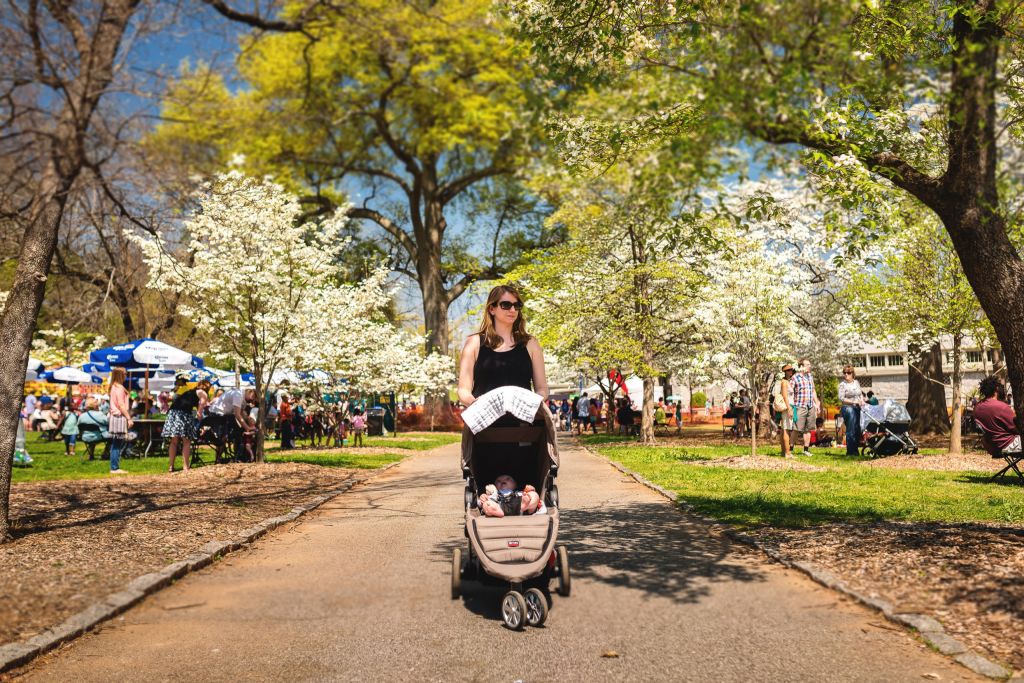 Flowers pop up from the ground sometimes as early as February, just to see if spring has officially sprung. But, really, it's the dogwoods — blooming pink and white dogwoods — that usher spring into our city, and the best way to celebrate is at the Atlanta Dogwood Festival. Now in its 87th year, the festival is one of the city's major events with more than 200 artists from around the country exhibiting their talents in 12 categories including painting, glass, clay, wood and mixed media. In addition, there is food — lots of food — music and a kids' zone. The Atlanta Dogwood Festival runs from April 14 through 16 in Piedmont Park.
Party in Historic Inman Park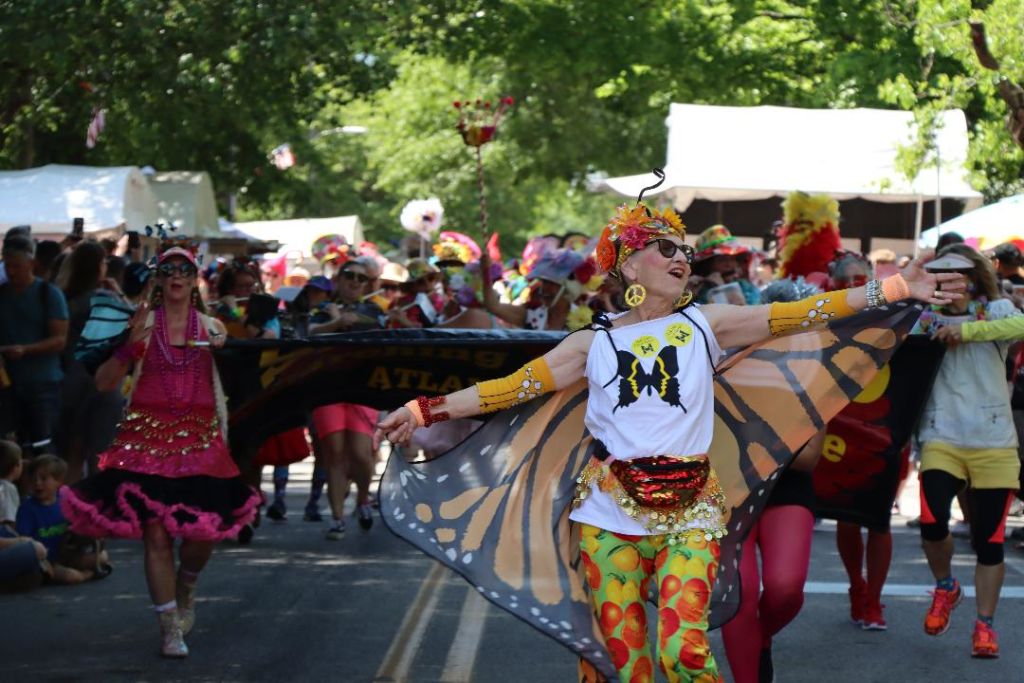 Atlanta has a number of historic neighborhoods, all of them different and wonderful. Inman Park is one of the city's first "suburbs," and the Inman Park Festival, April 28 through 30, showcases not only its history but also its quirkiness. There is a Tour of Homes as well as lots of music and food, but the must-see event is the parade that features a little bit of everything, including the ever-popular Abominable Marching Band.
Lights, Camera, Action
The 47th Atlanta Film Festival takes place April 20 through 30 with dozens of top films, animated, independent and short films, and documentaries being shown from the more than 8,000 submissions from 118 countries. Dubbed by USA Today as one of the top 10 film festivals, there will also be in-person dialogue with filmmakers that provides audiences, artists and industry professionals the chance to network, interact and engage.
Celebrate 404 Day in Piedmont Park
April 4 is 404 Day, the day we celebrate all things Atlanta. Now in its 12th year, this annual event in Piedmont Park runs from 1 until 9 p.m. Count on lots of music and plenty of fun. It's free.
Hear the Monsters ROAR
Monster Jam is back at Atlanta Motor Speedway April 22-23 and it's bigger, badder and louder than ever. The fun begins at the Pit Party where fans can see the massive trucks up close, meet their favorite drivers and crew, get autographs and take the must-do selfie. New activities include the Pit Stop Play Area with inflatable slides, remote control truck course and the only place to get an insider's look at how these 12,000-pound trucks are built to stand up to the competition. But the real heart-pounding fun comes from the trucks that compete and tear up the dirt in intense competitions of speed, skill and nerve.
A Night at the Theater
Regions Bank Broadway in Atlanta will sponsor a two-week Atlanta premiere of "Moulin Rouge! The Musical" at the Fox Theatre. Winner of 10 Tony Awards including Best Musical, "Moulin Rouge" invites you to enter a world of splendor and romance, of eye-popping excess, glitz, grandeur and glory and where Bohemians and aristocrats rub elbows and revel in electrifying enchantment.
Also in Atlanta's theaters are: "Shygirl Parking" at Center Stage Theater; "Enslaved & Insomnium" at Variety Playhouse; "The Boy Who Kissed the Sky" at Alliance Theatre; Douglas Post's "By My Will" at Shakespeare Tavern Playhouse; "Support Group for Men" at Horizon Theatre; and "Tiny Beautiful Things" at Theatrical Outfit.
Hispanic Dance Competition
Casineros Timba Fest is coming to the Hilton Garden Inn Atlanta Midtown April 29 and 30 so get your dancing shoes on and perfect your salsa. This pioneer event is aimed at promoting and expanding the casineros community and embracing other Hispanic and Latino traditions. There will be dance performances, parties, competitions, special performances and workshops. All revenues from the competitors' tickets will be donated to either a foundation or a nonprofit.
Six Flags Over Georgia Introduces New Coaster
Six Flags Over Georgia is open; check the website for specific days. New this year is the Kid Flash Cosmic Coaster, a first-of-its-kind family racing coaster, a twin-tracked roller coaster featuring an innovative single-rail track. Perfect for both children and adults, the ride is like a twisted bowl of spaghetti, as the twin tracks cross over and under each other a dozen times during the ride. In other words, there will be two trains on two parallel dueling tracks that simultaneously allow guests to compete and race to the finish.
It's for the Birds
Georgia's largest bird and nature festival, Georgia Bird Fest, offers a month of activities including guided field trips to the state's best birding hot spots, nature-based workshops and guest speakers. The more than 40 events occur from April 22 to May 21. Events include exploring nature at Chattahoochee Bend State Park and a workshop on journaling birding experiences. Teens may take a birding trip to Fernbank Forest.
Toast the Tunes with a Brew at SweetWater 420 Festival
One of Atlanta favorite craft beer companies, SweetWater 420, holds one of Atlanta's favorite music festivals, the SweetWater 420 Festival The two-day event in Centennial Olympic Park, April 22 and 23, will feature performers such as Shakey Graves, Consider the Source and Wolf Mask.
It's Blooming Bodacious
Welcoming spring with open arms. The flower fête of the season is back in Buckhead Village with the second annual show-stopping Bodacious Blooms Flower Festival, April 27 through April 30. Stacked with flower power from featured florists, the community-wide festival invites visitors to join in for a weekend of far-out floral installations, hands-on floral workshops from master floral designers, stellar in-store activations, exclusive promotions and funky photo-ready moments – all vibrantly designed to celebrate spring in style.
In addition, the area will promote a chic, walkable weekend complete with a budding line-up of ticketed events, open-to-the-public floral displays and over-the-top installations across all properties.
Oakland Cemetery Lights the Night
Illumine, Oakland Cemetery's popular after-dark arts experience, returns April 27 through May 7 with history to uncover and with new installations set against Atlanta's skyline. Along with the art installations, you will enjoy live music, craft cocktails and an Oakland pop-up shop as you marvel at illuminated headstones, mausoleums, flowers, trees and buildings.
For more things to do in Atlanta, check our calendar of events.
Discover More
Get to know Atlanta, and discover the best things to do around the city.