The Ultimate MARTA Adventure: Things To Do near Atlanta's MARTA Stations
The Metropolitan Atlanta Rapid Transit Authority (MARTA) rail system has helped Atlantans navigate the city since 1979. With 48 miles of rail stretching north/south and east/west across Atlanta, MARTA is a great option for getting around the city. Whether you don't have a car or want to avoid Atlanta's traffic, here are the coolest spots to check out by using MARTA.
Red/Gold Line
The Red/Gold Line begins south at the airport, runs north through Downtown, Midtown and Buckhead before splitting into two separate lines, the North Springs Line due north of the city and the Doraville Line northeast of the city.
Five Points Station
Five Points, the only station where all lines converge, is in the heart of Downtown Atlanta.
With support from Atlanta United, Soccer in the Streets opened the world's first soccer field in a train station, Station Soccer. The facility hosts free youth programs, adult league play and pick-up soccer matches throughout the year. Looking for nightlife options around Five Points? The Masquerade, one of Atlanta's most storied music venues, moved to the neighborhood in late 2016. Featuring three indoor venues, The Masquerade brings to the stage the best in rock, alternative, indie, electronic, metal, punk and hip-hop.
Arts Center Station
Artists and culture vultures alike may ride MARTA to Arts Center Station. Just outside of the station is the Woodruff Arts Center. Home to the Alliance Theatre, Atlanta Symphony Orchestra and High Museum of Art, the Woodruff Arts Center is known to produce world-class performances and events. In recent years, the High has been home to work from artists including Yayoi Kusama, Andy Warhol, Salvador Dali and Picasso.
Be sure to get out and explore the neighborhood surrounding the Arts Center Station, too. With Atlanta's Relay Bike Sharing program, you can pick up a bike at the Arts Center MARTA Station and ride it a few blocks to Atlanta's favorite green space, Piedmont Park. Soak up the sun in this picturesque park featuring postcard views of the Atlanta skyline.
Lenox Station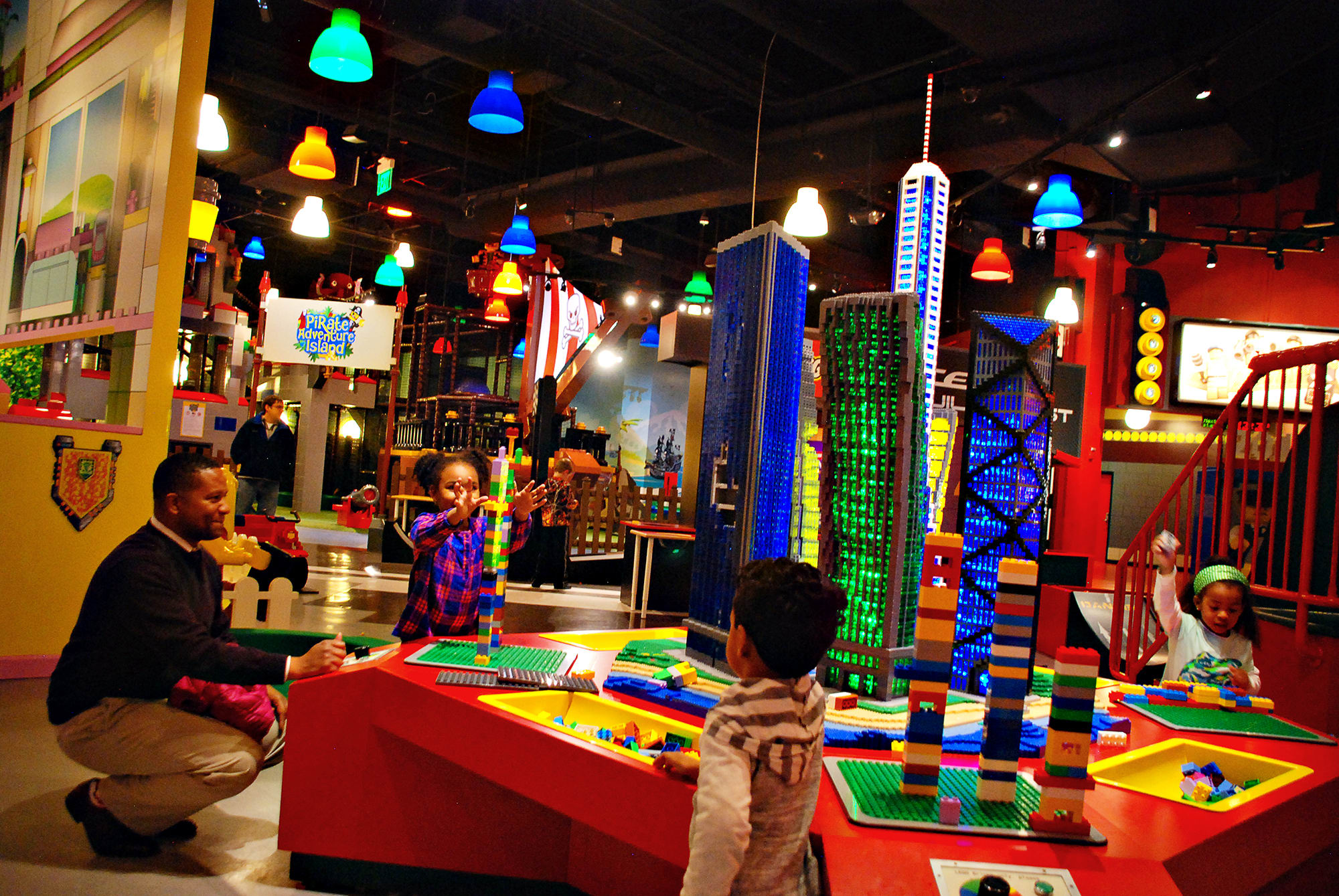 If you like to shop, take the northeast Gold MARTA Line to Lenox Station, where you will find Lenox Square, a mall with more than 1.5-million square feet of retail space, 250 stores on four levels and a large food court. Home to department stores Bloomindales and Nieman Marcus plus upscale stores like Louis Vuitton, Burberry and Prada, Lenox Square can meet all your shopping needs. Also, be sure to check out Lenox Square's sister property, Phipps Plaza, located just across Peachtree Street. Known for its luxury retailers, Phipps also is home to a movie theater and LEGOLAND Discovery Center, perfect for an outing with the kids.
Blue/Green Line
The Blue/Green Line runs east to west, connecting historic Westside neighborhoods to Downtown before extending east through neighborhoods like Inman Park, Candler Park and East Lake. While the Blue/Green Line tends to be more residential, there are several places worth visiting within an easy walk of MARTA train stations.
Dome/GWCC/Philips Arena/CNN Center Transit Station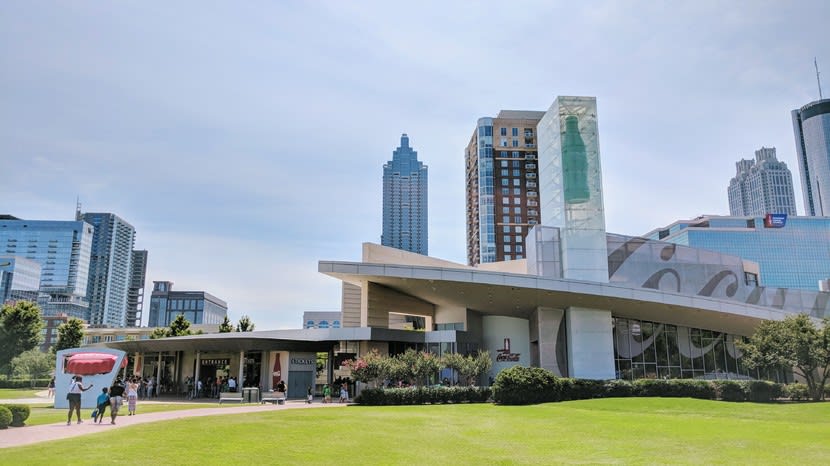 Located one stop west of Five Points Station, Dome/GWCC/Philips Arena/CNN Center Transit Station puts you in the heart of Atlanta's Downtown entertainment district. No matter what you are into, there are endless options within walking distance of this station. Snap an Instagram pic in front of the iconic CNN sign in front of CNN headquarters. Sports fans can watch the Hawks play at State Farm Arena (formerly Philips Arena), the Falcons play at Mercedes-Benz Stadium, relive history at the College Football Hall of Fame or appreciate Atlanta's storied 1996 Olympic Games at Centennial Olympic Park. Families can get in on the fun, too. World of Coca-Cola, Georgia Aquarium, Children's Museum of Atlanta and the Center for Civil and Human Rights are within a 10-minute walk of the station.
King Memorial Station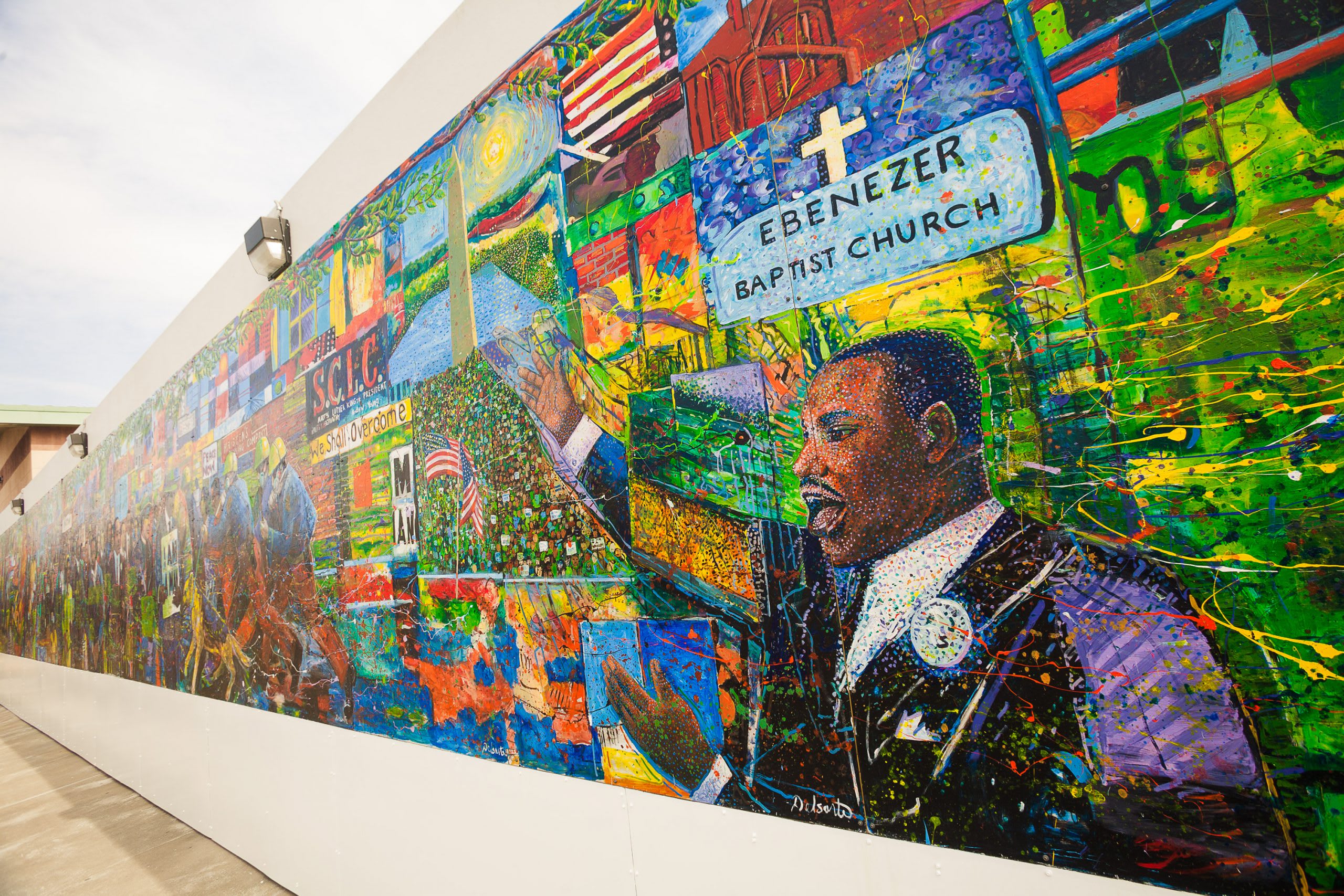 Serving the Sweet Auburn Historical District, this station, two stops east of Five Points, is named for Martin Luther King Jr. who was born in the neighborhood. A few blocks from the station you can visit the Martin Luther King Jr. National Historic Site, which includes the home where Dr. King was born, Ebenezer Baptist Church, where King preached, and his grave site and memorial.
After taking in the life of the civil rights icon, check out Edgewood Avenue, one of the trendiest areas in the city. Home to historic turn-of-the-century buildings that have been converted into restaurants, bars and nightclubs, Edgewood Avenue is the perfect place to embrace Atlanta's historic past and explore the city's present diverse nightlife scene. One of Atlanta's most accessible neighborhoods from a public transportation perspective, Sweet Auburn Historic District also connects to Downtown through the Atlanta Streetcar.
Decatur Station
Along the Eastern Blue Line, this MARTA Station drops you in the heart of Decatur, a municipality located five miles northeast of Downtown. Home to more than 200 boutiques, restaurants and galleries, Decatur is known for its friendly, walkable, festival-fueled happenings. In recent years, the local food scene has gained national praise. Featuring restaurants from esteemed chefs like Kevin Gillespie and Ford Fry, Decatur is home to some of the best food in the Atlanta area. There are also great nightlife options; check out local music acts at Eddie's Attic or explore the exploding beer scene at Brick Store Pub, Twain's Brewpub, 3 Taverns Brewery and Blue Tarp Brewing. With so many great options within walking distance of the Decatur MARTA station, take a break from the car lifestyle and utilize Atlanta's public transportation.
Discover More
Get to know Atlanta, and discover the best things to do around the city.