Atlanta BBQ Smackdown: The Best Barbecue Restaurants in Atlanta
Get ready to loosen your belt, ATL, because these barbecue spots are meat-laden heaven.
While Southern cuisine reigns supreme in Atlanta, we can't forget the fierce loyalty people have for barbecue — and it can get pretty contentious. But can you blame them? The flavor. The succulent meat. The billowing smoke. We're not satisfied until our wings, ribs and chops reach fall-off-the-bone territory, so in honor of the finger-licking, food coma-inducing art form that is barbecue, we've asked around and rounded up some of the best BBQ restaurants in Atlanta along with suggestions of what to order as you explore the city's glorious barbecue scene. Forks down.
LAKE & OAK NEIGHBORHOOD BBQ
If chef and restaurateur Todd Richards didn't open a barbecue restaurant in Atlanta, it was going to be a problem. Patrons have waited for years with bated breath for the two-time James Beard Award-nominated chef and celebrated author of "SOUL: A Chef's Culinary Evolution in 150 Recipes" to open his barbecue magnum opus. And it happened with Lake & Oak Neighborhood BBQ. Richards and chef and partner Josh Lee are changing the BBQ game in Atlanta, serving up slabs of slow-smoked ribs, wings, pulled pork and more, pop-up style in East Lake.
What You Should Order: It's all about the rib tips, which, after hours of being smoked to perfection, become juicy, meaty flavor nuggets. Dip in Carolina mustard if ya feeling saucy.
Where: East Lake/Oakhurst
DADDY D'Z BBQ JOYNT
When it comes to barbecue goodness, it's best to never judge a book by its cover. What may seem like a hole in the wall from the outside may be housing a delicious experience inside. Daddy D'z BBQ Joynt, which has been serving up slabs of juicy ribs for more than 20 years, is a prime example and has garnered a cult following and international acclaim from the likes of BBC, Food Network and Travel Channel.
What You Should Order: Daddy D'z ribs are a house specialty and bad to the bone, but don't forget to try the Famous Que Wraps of BBQ pork wrapped in dough and fried golden brown.
Where: Downtown
B POPS UP
The famed barbecue of James Beard-nominated pit master Bryan Furman of B's Cracklin' Barbecue has guided Atlantans to meaty glory since opening in 2016. After a fire effectively shut down his remaining locations in 2019, the celebrated chef didn't let that stop him. He pivoted to highly sought-after 'cue meet-ups called "B POPS UP." As the name says, Furman drops a date and location on his social media where customers can preorder pounds of brisket, ribs and whole hog smoked to perfection.
What You Should Order: Whatever you can get your hands on before various spontaneous meat drops sell out.
Where: Various locations
FOX BROS. BAR-B-Q
Fox Bros. Bar-B-Q serves as the standard in ATL's 'cue scene and is typically the first place that comes to mind when locals recommend a must-try barbecue spot. This crowd favorite brings a little bit of Texas in its barbecue style with a focus on cooking slow and allowing the rich hickory smoke to permeate the meats, imbuing unadulterated flavor.
What You Should Order: Fox Bros. hickory-smoked wings will take a game day to the next level with brisket making for the perfect sandwich.
Where: Candler Park, Brookwood Hills
WOOD'S CHAPEL BBQ
Springing up in the revitalized neighborhood of Summerhill, Wood's Chapel BBQ is bringing wood-fired meat-by-the-pound to the masses. From chef Todd Ginsberg and the team behind The General, Fred's Meat & Bread, and West Egg Café, Wood's is placing a welcomed focus on modern barbecue. Cooking over white oak, Ginsberg produces pristine meat selects like Heritage Carolina pork and St. Louis ribs. And this probably is the only pit house where you'll see smoked salmon and turkey breast.
What You Should Order: You can play it safe with pulled pork and brisket or go hog wild with the specialty Cue-Bano sandwich sporting smoked pork shoulder, ham, melty Swiss and pickles.
Where: Summerhill
FAT MATT'S RIB SHACK
The neon lights are bright and the ribs are oh so right at Fat Matt's Rib Shack in Morningside. An ATL icon through and through, Fat Matt's has been kicking out the succulent and savory goodness for more than 20 years. The choice is never just one rib. It's more like one slab or two.
What You Should Order: It's in the name. Fat Matt's ribs are the true star of the show with a fall-off-the-bone pedigree complemented by amazing sides like "rum" baked beans and coleslaw.
Where: Morningside
ANNA'S BBQ
Ever drive by a restaurant and just know it's good? Atlanta is one of those places where you can't judge a book by its cover, and with all the glamour of modern barbecue restaurants with huge smokers and glitzy interiors, there's just something about a low key, old-school barbecue spot that's your personal best-kept secret. Anna's BBQ fits the bill offering an expansive menu of Southern barbecue bliss featuring brisket, a variety of sausages and wings you can tell were cooked with love. Have you ever tasted love? That's Anna's.
What You Should Order: Like its namesake neighborhood, the pulled chicken "Kirkwood" with ranch and fried pickles is the sandwich you need in your life.
Where: Kirkwood
SWEET AUBURN BBQ
Where our previous barbecue spots have been steeped in traditional styles, Sweet Auburn BBQ turns tradition on its head with its modern and eclectic approach. While you can still find classic slow-smoked meat marvels on the menu, Sweet Auburn's penchant for Asian-style influence, using ingredients like sesame, pineapple and ginger make for true flavor standouts.
What You Should Order: Sweet Auburn's Southern Seoul sandwich is downright soulful with Korean-style short ribs, jalapenos, cucumbers, pickled carrots, red onion and sriracha aioli.
Where: Poncey-Highland
D.B.A. BARBECUE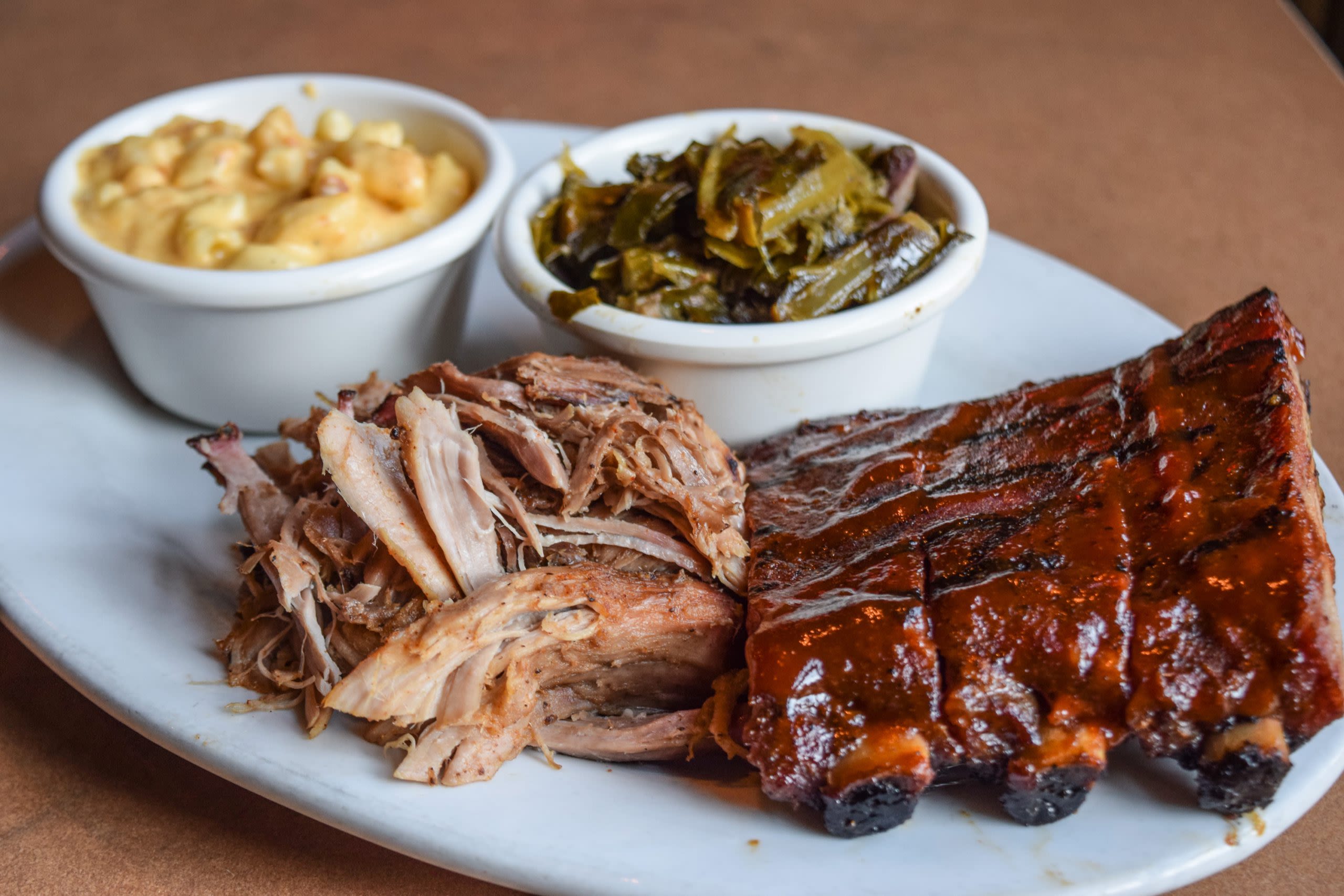 Continuously keeping Va-Hi brimming with flavor, D.B.A. Barbecue has been the neighborhood go-to for glorious meats since opening in 2009. With house-cured pastrami, baller brisket and some of the best smoked wings the city has to offer, you'll be hard-pressed to share.
What You Should Order: The smoked pulled pork and macaroni and cheese-topped "Archie Bunker" sandwich is basically a full meal between Texas toast. Food coma in 3, 2, 1.
Where: Virginia-Highland
HEIRLOOM MARKET BBQ
It may be small but it is mighty and consistently on the list of best barbecue joints in the country. If the line extending well out the door and around the building of this tiny Cumberland-area barbecue house is any indication, Heirloom Market BBQ is serving up the meaty goods. What makes Heirloom's unique brand of 'cue special is the blend of influences going on in the kitchen- that perfect meld of American influence with Korean flavors and technique.
What You Should Order: The spicy Korean pork is a must-have experience in platter and sandwich form topped with kimchi slaw.
Where: Cumberland
Discover More
Get to know Atlanta, and discover the best things to do around the city.