Cheat Sheet: Best Places to Eat Around Atlanta's Convention Center
Note: Many Atlanta restaurants may have updated hours and safety protocols. Please visit our restaurant safety measures guide to find out more. Since availability may change quickly, visitors are encouraged to book reservations ahead of time at OpenTable or call ahead.
With all the nuances of attending an event, sometimes the basic things get overlooked — like eating. Fret not. Here is a cheat sheet of a few restaurants not far from Atlanta's Georgia World Congress Center. Most are within walking distance or they are a short Uber ride away. There's plenty variety nearby (and throughout the city) to fuel you for your next round of meetings.
Restaurants Within Walking Distance of Georgia World Congress Center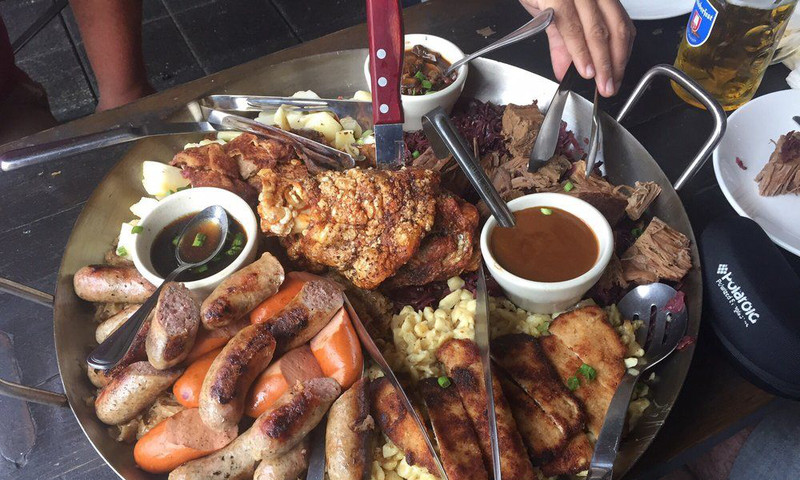 Attendees can kick back after a long day of meetings at the outdoor beer garden. Paired with hearty German food, it's a perfect way to unwind.
Overlooking Centennial Olympic Park, Dos Bocas will satisfy your craving for Cajun or Tex Mex.
This popular sports bar serves up plenty of beer to go with just about any game you want to watch. Bonus: There's a really big patio.
New York-style pizza made to order sound good? This place is for you.
Stop here for fresh fish, aged steaks, poultry, entree salads and pasta.
Good food, check. Fine bourbon, check. Craft beer, check. Add to any of those entrees, salads and pub sandwiches.
This should be on your list if you like custom-aged, USDA prime steaks, served with the signature sizzle, and an award-winning wine list.
Top Draft
Inside Omni Atlanta Hotel at CNN Center, Top Draft offers a sophisticated sports bar and dining experience with views of Centennial Olympic Park from the expansive terrace. Guests can enjoy an extensive list of beers and wines on tap and top-shelf cocktails. The menu features elevated bar fare such as house-made pork rinds, steak chili and butter-poached lobster fries. Other restaurants inside the Omni are New South Kitchen, a good spot for breakfast and lunch, and Centennial Grounds, a coffee bar where you can also get pastries and sandwiches.
Waffle House
This Southern staple is a must-have when visiting Atlanta for the first time, and especially for those looking to satisfy late night cravings. With 24-hour food service, dining at Waffle House is most enjoyable when ordering the all-star breakfast special, smothered and covered hash browns or the irresistible Texas patty melt.
Restaurants a Few Blocks Away from Georgia World Congress Center
Head to Ray's for seafood, made-to-order steaks and fresh sushi.
Go up, up, up to the top of the Westin Peachtree Plaza and enjoy a bird's-eye view of the city as you dine. Reservations required.
Everything is fresh, made from scratch at this American grill founded by Atlanta media mogul Ted Turner and restaurateur George McKerrow. It's an iconic Atlanta place to dine.
You can get salad, soup, sushi, a sandwich, steak and seafood here. Pair your choice with wine, beer or sake.
Castleberry Hill
Castleberry Hill is a hip neighborhood offering a touch of Atlanta's rich culture and only a short, 10-minute walk from Georgia World Congress Center. Here are some restaurants in Castleberry Hill:
Bottle Rocket
A cheeky sense of humor runs throughout this sushi spot. Craft cocktails and local beers help bolster the community feel. Bottle Rocket is on Walker Street SW.
Match Bar & Oven
Polynesian treats and tiki drinks are abundant at this festive bar. It is the perfect place to kick back and relax after a day of meetings. It is located on Walker Street.
Located just four blocks from the convention campus, No Mas! is the place to enjoy delicious Mexican fare in a delightful atmosphere created with artisan-crafted décor. With a 50-foot travertine bar, expansive outdoor patio and hand-blown glass light fixtures, No Mas! is a great choice for enjoying a margarita or two before heading to the game. This restaurant is operating at a limited capacity in order to respect social distancing guidelines.
Steeped in tradition, Paschal's was a popular gathering spot for civil rights leaders to meet and discuss the issues of the day over a plate of fried chicken. The chicken is still frying.
Discover Our Neighborhood Dining Scene
If you're game for venturing further out to experience the rest of Atlanta's vibrant neighborhoods, start with our neighborhood dining guide. From Downtown to Midtown, to Buckhead and beyond, you'll come away with a memorable only-in-ATL dining experience.
This post was originally published October 29, 2018 and updated January 2022.
Discover More
Get to know Atlanta, and discover the best things to do around the city.