Guide to Atlanta's Best Food Halls
Published April 24, 2023
Last Updated April 27, 2023
Atlanta is home to some of the best food halls in the country, not to mention one of the oldest. You can eat at Atlanta's food halls, of course, but that isn't all. You also can shop, get a manicure, have a break on a patio, even listen to live music. One Atlanta food hall has a park for your pooch.
Chattahoochee Food Works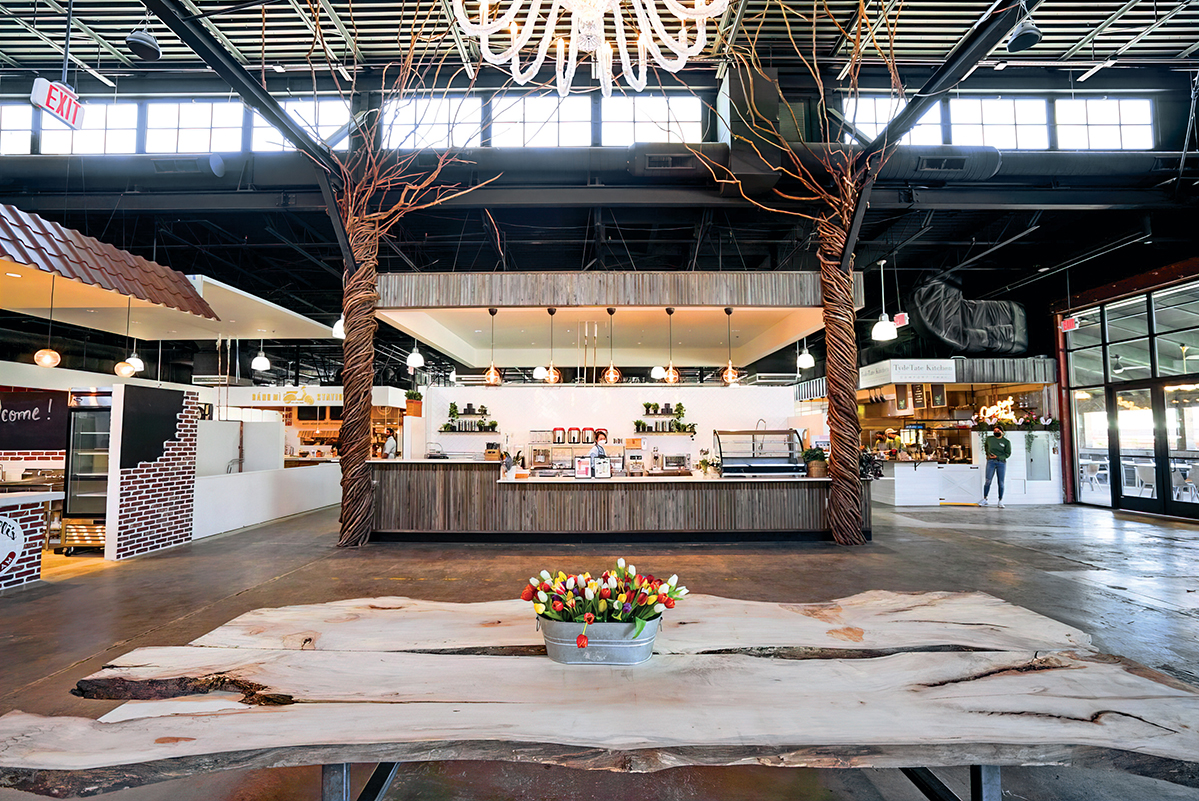 The 22,000-square-foot Chattahoochee Food Works — a collaboration between Robert Montwaid, creator of Gansevoort Market in New York, and celebrity chef Andrew Zimmern — features some of the best of the city's storied culinary scene. Located at the center of The Works, an adaptive mixed-use development with retail, office, residential and green space on Atlanta's Upper Westside, the food hall houses a full-service bar and culinary tenants including Cubanos ATL, Báhn Mì Station, Graffiti Breakfast, Delilah's Everyday Soul, Selvasana and plenty more.
Among retailers at The Works are Adelina Social Goods where you can find stationery, party supplies and gifts; BOBO Intriguing Objects, headquarters for home furnishings; and Happy Mango, an eco friendly baby, pregnancy, and kids boutique. You may get your nails or your hair done or stop in Your 3rd Spot to play games — more than 80 of them. There's even Fetch Park for your four-legged pal.
Where: 1235 Chattahoochee Ave. NW
Citizens Market Atlanta
Just opened Citizens Market Atlanta at Phipps Plaza is a 25,000-square-foot food hall, bar and event space. A family-friendly destination, it offers eight food concepts and a full-service bar. Try something from fast-casual brands Umami Burger, Krispy Rice, Sam's Crispy Chicken, Sa'Moto, EllaMia, Cicci di Carne, El Pollo Verde and Soom Soom. Citizens Market Atlanta serves breakfast, lunch, and dinner seven days a week.
The culinary market sits adjacent to The Green, the newly designed courtyard with comfortable seating, green space and a hand-painted mural commissioned from Savannah College of Art and Design (SCAD). Phipps Plaza is home to the nation's first next-generation LEGO Discovery Center, an AMC movie theater, Nobu Hotel Atlanta and retailers including Dior, Dolce & Gabbana, Gucci, J. Jill and plenty more.
Where: 3500 Peachtree Road NE
The Collective Food Hall at Coda
The Collective Food Hall @ Coda is a 25,000-square-foot street-level space full of vendors offering both food and drinks. This dining destination, open for lunch and dinner seven days a week, was brought together by some of Atlanta's top chefs. Located in the heart of Midtown at Technology Square (technology as in Georgia Tech), The Collective provides gathering, meeting and dining hot spots overlooking the 20,000-square-foot outdoor Coda plaza.
El Burro Pollo is a concept developed by chef Hector Santiago (of El Super Pan and Bravo's Top Chef acclaim) featuring Juarez, Mexico-style burritos, a ceviche, bar and more in a cantina environment. Poke Burri serves sushi burritos and poke bowls along the sushi donut and sushi corn dog. Aviva by Kameel offers its Mediterranean-style cuisine of fresh falafel, shawarma, vegetables, salads and more. Humble Mumble is a sandwich shop serving a crafted menu using sustainable proteins cooked in-house, house-made pickles, condiments, fresh seasonal produce and artisan bread. By Weight and Measure offers boozy and non-boozy options. If you are there at the right time, you might catch a Georgia Tech football or basketball game. Another campus option is the Ferst Center for the Arts.
Where: 756 West Peachtree St. NW
Krog District
The Krog District is located in the former Atlanta Stove Works factory in the Inman Park neighborhood. The area boasts a curated mix of dining, shopping and service businesses. Guests can funnel into the district via the adjacent Atlanta BeltLine Eastside Trail to experience a variety of dining options such as burgers and cheesesteaks at Fred's Meat & Bread; flavorful, authentic Szechuan fare at Gu's Dumplings; fresh-baked pastries at The Little Tart Bake Shop; and Pour Taproom, a self-service beer bar.
Retail stops include The Merchant for gifts, stationery and home furnishings; XOCOLATL Small Batch Chocolates to satisfy you sweet tooth; and Indulge Popcorn for gourmet Popcorn.
Where: 99 Krog St. NE
Politan Row at Colony Square
A foodie destination in Midtown Atlanta, Politan Row at Colony Square is an eclectic mix of dining options along with a VIP chef's table experience, cocktail bar, the secluded Jojo's Beloved Cocktail Lounge and space for private events. Food vendors span the culinary globe with options such as Pretty Little Taco, Tandoori Pizza & Wing Co., Unbelibubble and Federal Burger.
And that's just part of the attraction of Colony Square. There are restaurants including 5Church Midtown, Holeman & Finch Public House and Rumi's Kitchen. If you need a minute to take a break, there is a pocket park, a covered patio and a gathering spot right on Peachtree Street. You can get a manicure at the Nail Bar, watch a movie or get in a workout at the Yoga Studio. Colony Square also is known for a variety of special events, so you never know what might be happening.
Where: 1197 Peachtree St. NE
Ponce City Market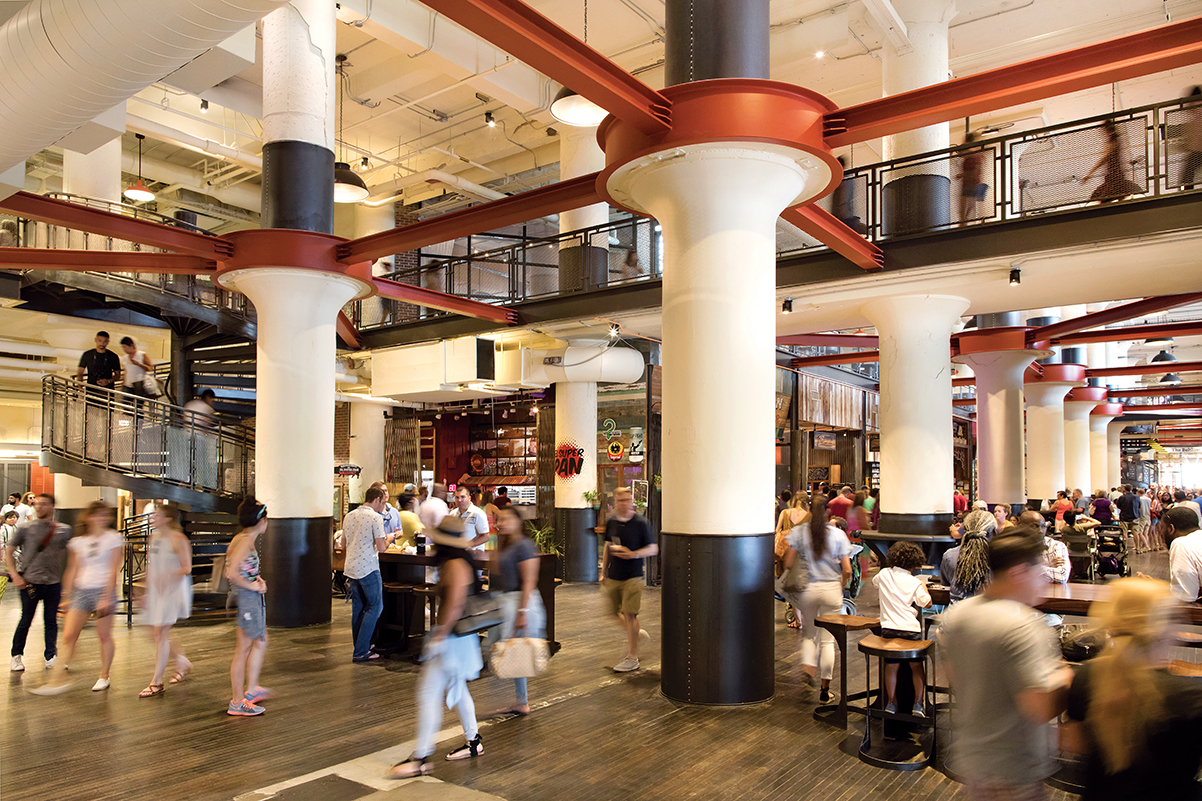 This historic, mixed-use landmark, Ponce City Market, on the Atlanta BeltLine Eastside Trail is home to a popular Central Food Hall and retail shops plus a rooftop that features carnival games and a spectacular view of the city. Just a few of the stops in the food hall are Boti Walla Indian Street Grill, VIỆTVANA Phở Noodle House and Sweetgreen, serving salads and bowls among other tasty offerings. On the retail side, shops include Madewell where you'll find clothes, shoes and jewelry; Williams-Sonoma for all things kitchen, dining and cooking; and Citizen Supply, a maker's market. Stick around at night and visit City Winery, which is a fully functioning winery and also a concert venue.
Where: 675 Ponce de Leon Ave. NE
Southern Feedstore
Live music might be on the menu while you are enjoying a Woody's Cheesesteak at Southern Feedstore, a small food court in Atlanta's East Atlanta Village. Woody's has been an Atlanta institution since 1978, so you'll feel like a local when feasting on a pepper steak or a mushroom steak. At Butaco (opening soon), you can get tacos, bowls and sides. There's also the Waffle Bar and TKO, a Korean restaurant. Sharpen your stand-up act in case you arrive on open mic night.
Where: 1245 Glenwood Ave. SE
Sweet Auburn Curb Market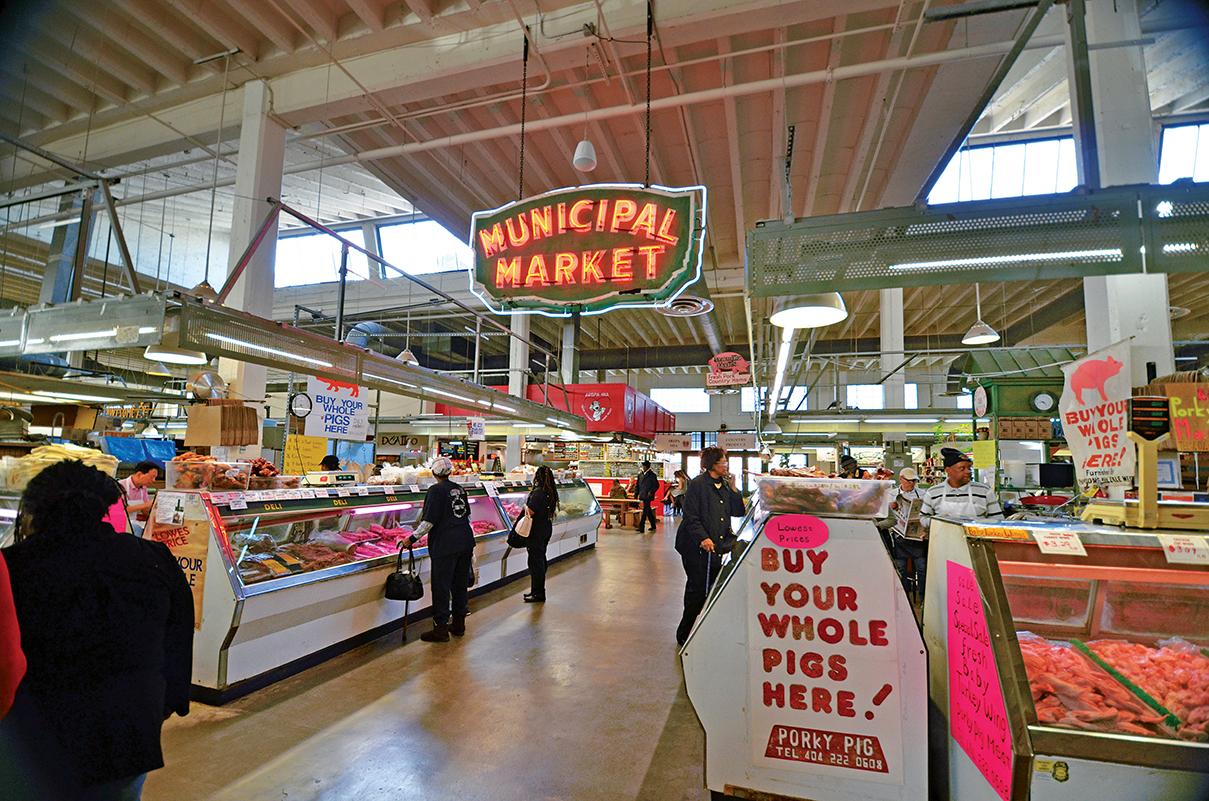 What started as a large open-air market following the Great Atlanta Fire of 1917, Sweet Auburn Curb Market, also known as the Municipal Market, continues to thrive in the city's historic Sweet Auburn District. It has been ranked among the best food markets in the world by USA Today and is home to independently owned businesses that sell fresh produce, meat and seafood. There are food choices such as Tijuana Tacos, Panbury's Double Crust Pies and Vieux Carre Bistro. Stop in Garden Market Atlanta for olive oils and seasonings.
Where: 209 Edgewood Ave. SE
For more information about where to eat in Atlanta, visit our dining guide. For more choices, see our guide to the Best Restaurants on Peachtree Street.
Discover More
Get to know Atlanta, and discover the best things to do around the city.