Black-Owned Businesses in Atlanta You Should Know
Published June 8, 2020
Last Updated August 16, 2022
Atlanta has a wealth of Black-owned businesses that run from boutiques to spas, music stores, book stores, galleries and so much more. If you're hungry, we've got you covered there, too, with a few of our favorite Black-owned restaurants. Here are some places to check out.
Tours
c consistently earns five-star ratings on Yelp, Trip Advisor and Google reviews. Tour Atlanta by electric car, Segway tours or even the Peachtree Trolley. The tours explore historical neighborhoods and architecture along with the best local restaurants and hidden gems. ATL-Cruzers Electric Car Tours began in the summer of 2010, becoming the first electric car tour of its kind. 
Where: Downtown, with tours throughout the city
Unexpected Atlanta offers Unexpected Virtual Tours, Atlanta Food Walks and Atlanta History Tours. Taste essential Southern foods while learning how food impacted the American civil rights movement, walk through the history and culture of Atlanta and trace the story of Atlanta with passionate storytellers. 
Where: Downtown, with tours throughout the city
Boutiques and galleries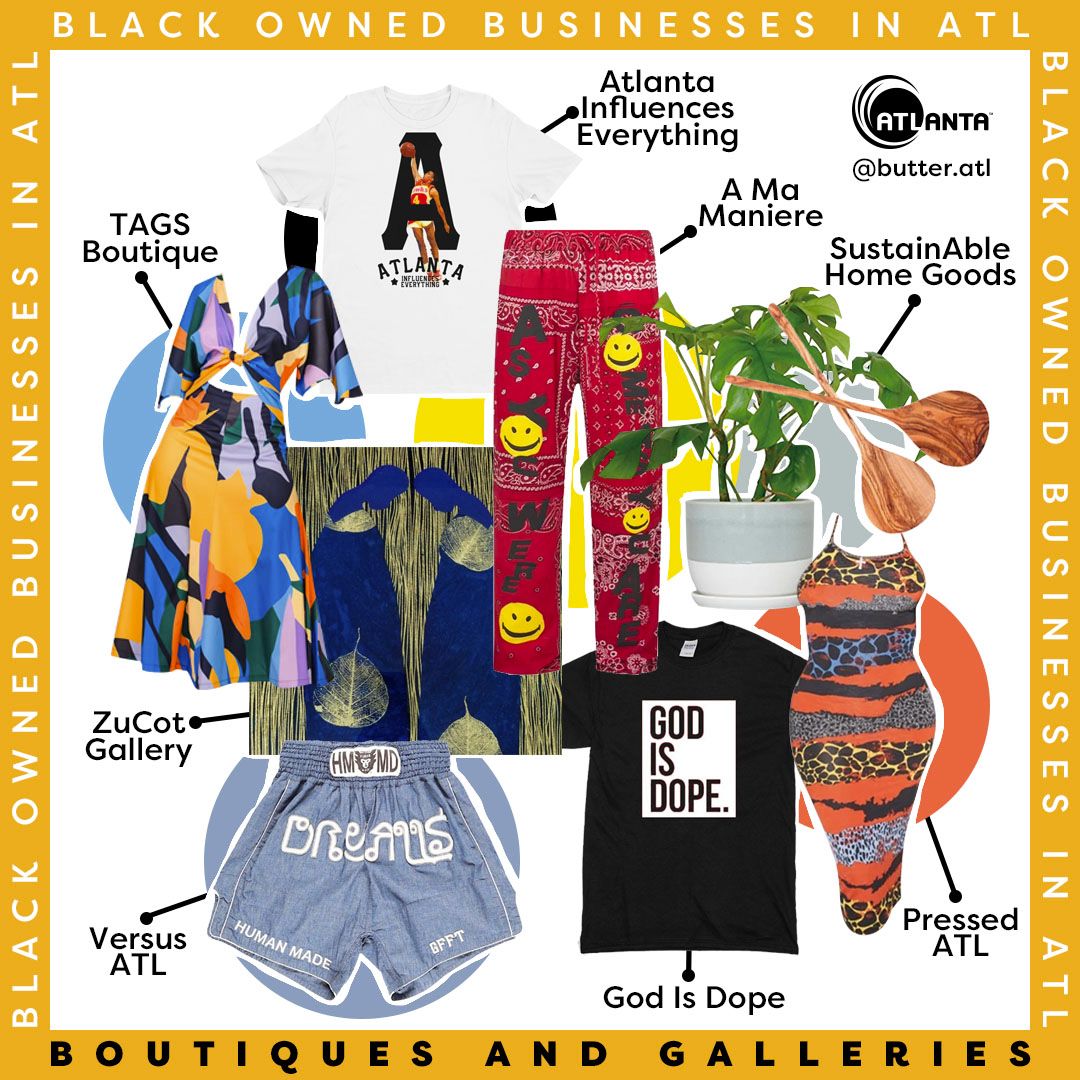 When Ian Ford and Bem Joiner initially said "Atlanta Influences Everything" a movement started. More than a T-shirt, this creative consultancy harnesses the influence of Atlanta culture to connect communities. Order some official Atlanta Influences Everything T-shirts, hats and hoodies, and join the celebrities and locals, including Jermaine Dupri and Keri Hilson, who wear the merch and encourage economic growth.
Where: online
Book an appointment at this Westside shop specializing in new trends and styles for fashion-forward clients. Find the latest brands in street wear and footwear, all inspired by Parisian culture.
Where: Westside
This Christian-based lifestyle brand has a brick-and-mortar store on Edgewood Avenue. T-shirts, hats and hoodies for men and women are available in-store as well as online.
Where: Downtown
Shop online or visit this Buckhead boutique that specializes in self-expression. From top to bottom, women can style their own look with sweaters, hoodies, dresses and jumpsuits, plus accessories, wedges and sneakers.
Where: Buckhead
LaToya Tucciarone founded SustainAble in 2017 and now offers fair and ethically made artisan goods, hand-picked décor and accessories online and at Ponce City Market. In addition to artisan products, SustainAble features a variety of ethical design services, such as developing custom pieces, styling spaces and providing design recommendations.
Where: Eastside, Ponce City Market
Since 2009, friends Peaches Chin and Kandi Burruss offer trendy boutique wear for less than $100. Check out their store in Castleberry Hill or order jumpsuits, dresses and even glass slipper heels online.   
Where: Downtown
Specializing in vintage, sneakers and street wear, this buy, sell and trade boutique is located in Castleberry Hill. Browse Adidas, Nike and Jordan brands, Anime and Afrocentric T-shirts and denim, either in-store or online. 
Where: Downtown
After great success with programming and events for Black startups at locations throughout Atlanta, Lakeysha Hallmon and the Village family took their company's call-to-action, "Support is a Verb," to the next level. The Village Market's first-ever retail location, The Village at PCM is located on the second floor of the Central Food Hall at Ponce City Market. The marketplace curates apparel, furniture, food and other products by local Black business owners, artists and creatives. The brands rotate brands every four months.
Where: Eastside
The largest African American-owned gallery in the Southeast is in Castleberry Hill. Adorn your walls with art by local, living African American artists or view the exhibitions online and hit the merch page to support the gallery.
Where: Downtown
Music, books and food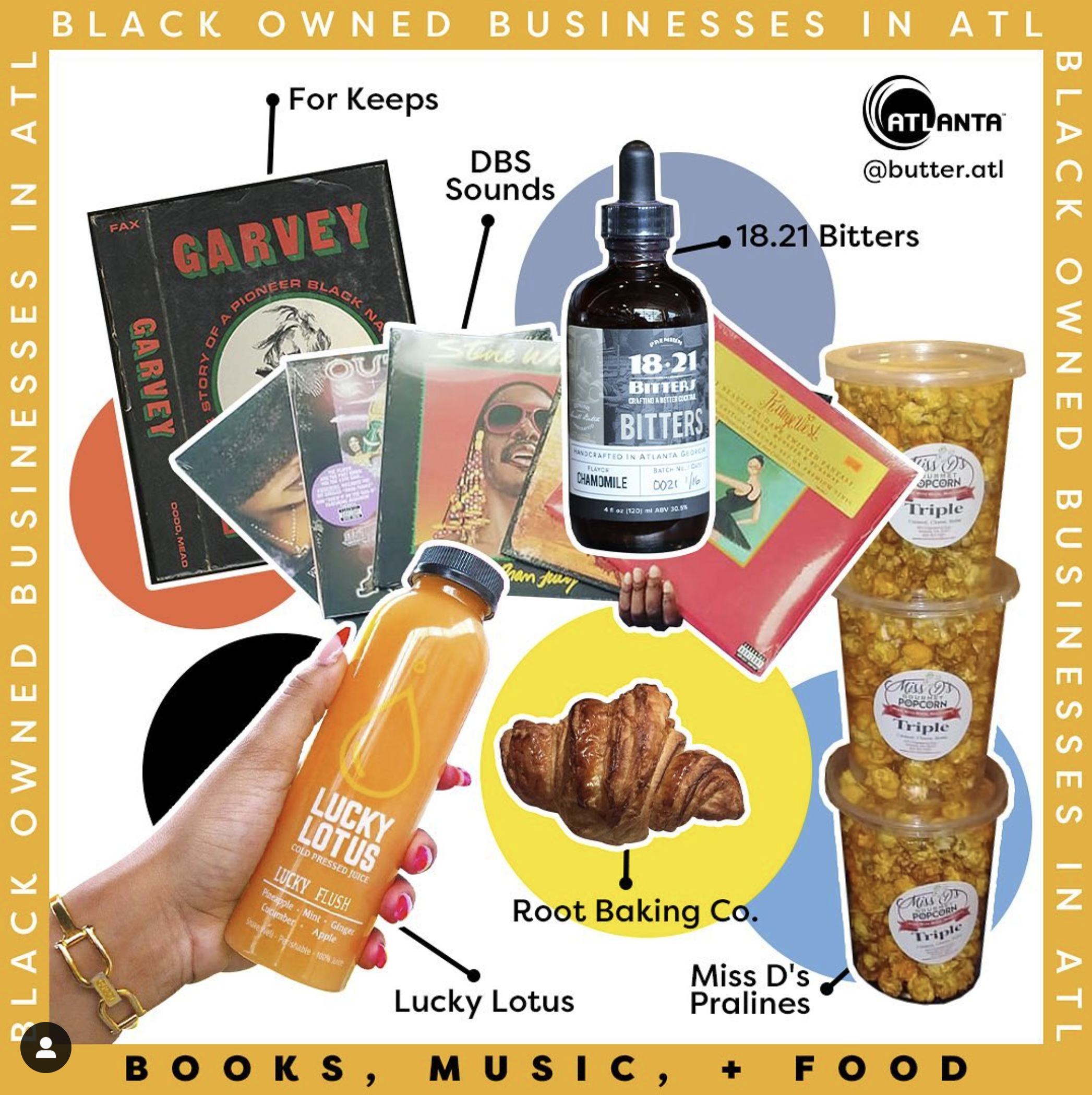 Established in 2017 by founders Warren, Cheryl and Allyce Lee, 44th & 3rd Bookseller is a family-owned, multicultural bookstore headquartered in the heart of ATL where the owners curate their collection of books and promote the exchange of ideas. The "3" in 3rd represents the core values of the founders: life, literature and legacy.
Where: Westside
Find all your music needs from vinyl to books, all with excellent customer service from owner Tobago and his team. Find this independent music store in Riverdale.
Where: South Atlanta
Rare and classic Black books are sold in this charming shop and reading room on Auburn Avenue. Rosa Duffy curates a collections of reading material where visitors can interact with history.
Where: Downtown
Find this candy shop in the historic Sweet Auburn Curb Market selling not only pralines but also popcorn, candy apples and "pratzels," a mash up of pralines and pretzels. 
Where: Downtown
Enjoy everything from vegan fare to flavorful donuts at Atlanta's Black-owned restaurants.
Spas and Services
Float away while indulging in aromatherapy massage, revitalizing facials and herbal body wraps. This Cascade Road spa also offers gift cards for lucky recipients to use later.
Where: Southwest Atlanta
Hair care, body treatments and nail services are offered to make sure clients leave feeling rejuvenated. Indulge in reflexology, hot stone massage and body detoxification at this spa on Fairburn Road.
Where: Southwest Atlanta
The Castleberry Hill day spa presents farm-to-skin treatments with products created with fresh juice and powder from vegetables, fruits and herbs.
Where: Downtown
Small batch, plant- and mineral-based skincare products are sold along with organic facial therapies, natural hair care and reflexology.
Where: Southwest Atlanta
College Park native Mose James takes events and campaigns to another level with virtual photo booth experiences. With contributions to the debut of the MLK Nike City Edition Uniform for Atlanta Hawks as part of #EarnTheseLetters, Get Your Teach On and Get Your Virtual Teach on, #StillAtlanta and #SilencetheShame, OMGBooth brings colleagues, friends and families together with storytelling and branded moments.
Where: Online
Mia Canada's luxury gift wrap business specializes in boutique balloon collections and beautiful "gift scapes," which give style and uniformity to a gift table at a special event.
Where: Southwest Atlanta and Sandy Springs
From reflexology to lash treatments, body massage and sauna therapy, Respire was voted one of the top 15 Black-owned spas by Essence.  Currently, they provide services by mobile appointment only and pop-up spa days.
Where: Mobile
Named Atlanta Magazine's "Best of Atlanta" in 2016 and serving the Historic Old Fourth Ward for more than five years, Gauge Fitness is an outdoor fitness boot camp company. Started by Lawrence Palmer and co-owned by Angela Hazelton, Gauge Fitness helps Atlantans get back to a fit and healthy state once again.
Where: Eastside
Black Enterprise's BE100s
Black Enterprise also recognizes the top-grossing Black-owned businesses in the nation. Many of Atlanta's Black-owned businesses are often ranked and listed, including:
H. J. Russell & Co.
Benton-Georgia L.L.C.
Jackmont Hospitality Inc.
C. D. Moody Construction Co. Inc.
TME Enterprises 1 LTD
B & S Electric Supply Co. Inc.
Engineering Design Technologies Inc.
Legacy Automotive Group
In the Auto 40:
Wade Ford Inc.
The Baran Co. L.L.C. (Mercedes-Benz of Buckhead)
Jackson Acura
BE Financial Services:
Citizens Bancshares Corp. (Citizens Trust Bank, founded by Heman Perry in 1921 and located on Auburn Avenue)
Others previously ranked include: Carter Brothers LLC and The Gourmet Cos (launched in 1975 by Nathaniel R. Goldston III and among BE 100s since 1976).
This post was originally written in February 2019. It has been updated to include new businesses.
Discover More
Get to know Atlanta, and discover the best things to do around the city.