Great Restaurants for Large Groups in Atlanta
Published May 6, 2019
Last Updated February 3, 2021
Atlanta is a great place to meet new friends and connect with old ones. What better way to hang with friends than at restaurants that cater to large groups? Party of five? No problem! How about 20? Ditto.
Here are some of the best Atlanta restaurants for parties of 20 or more. (Full restaurant list can be found here.)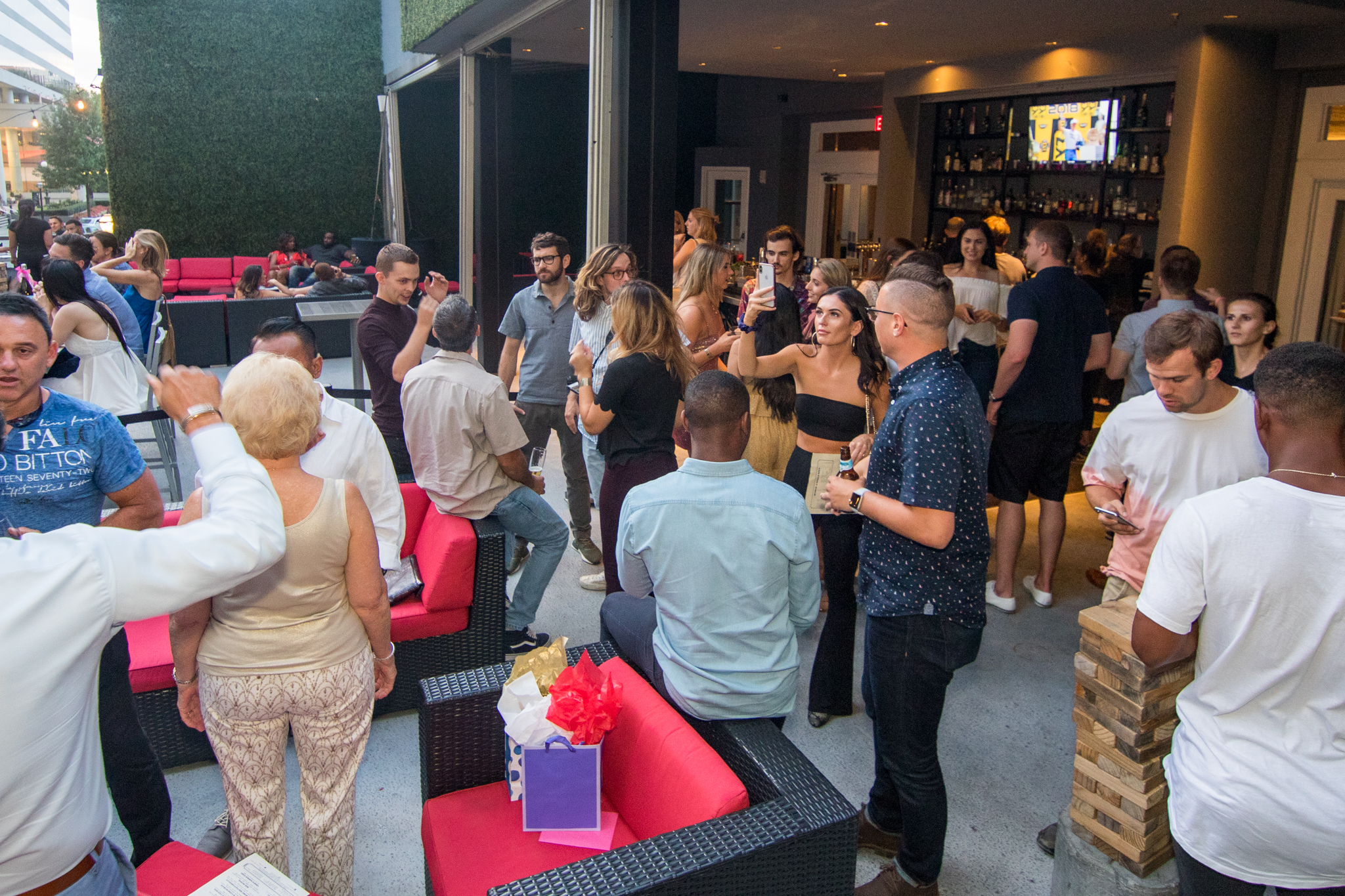 5Church, located in Colony Square, has a private upstairs room and a fantastic patio.
5Church, located in Colony Square in Midtown, can handle an intimate dinner party or a gala for 250. 5Church, known for its dishes such as crab stuffed lobster tails, lamb burgers and filet mignon, is a large restaurant with an inviting bar. But for large groups there is a private room upstairs (complete with bar), and 5Church has one of the best patios in Midtown.
Babalu, located just steps from the Midtown MARTA station, is an upscale Latin-inspired restaurant with a large outdoor patio and a private room for functions. Get a group of friends and enjoy its signature guacamole and a variety of tacos and tapas to share. Babalu is a pro at handling parties and will help in planning the ultimate tasting party. From boxes to bundles and taco bars to platters, Babalu is ready to make any get-together a hit.
Bones, located in Buckhead, is a local favorite for business lunches and serious dinner parties. The staff makes you feel at home right away. There are several private rooms as well as spaces that are perfect to seal the deal, toast a promotion or just get together with friends for some of the best steak in town.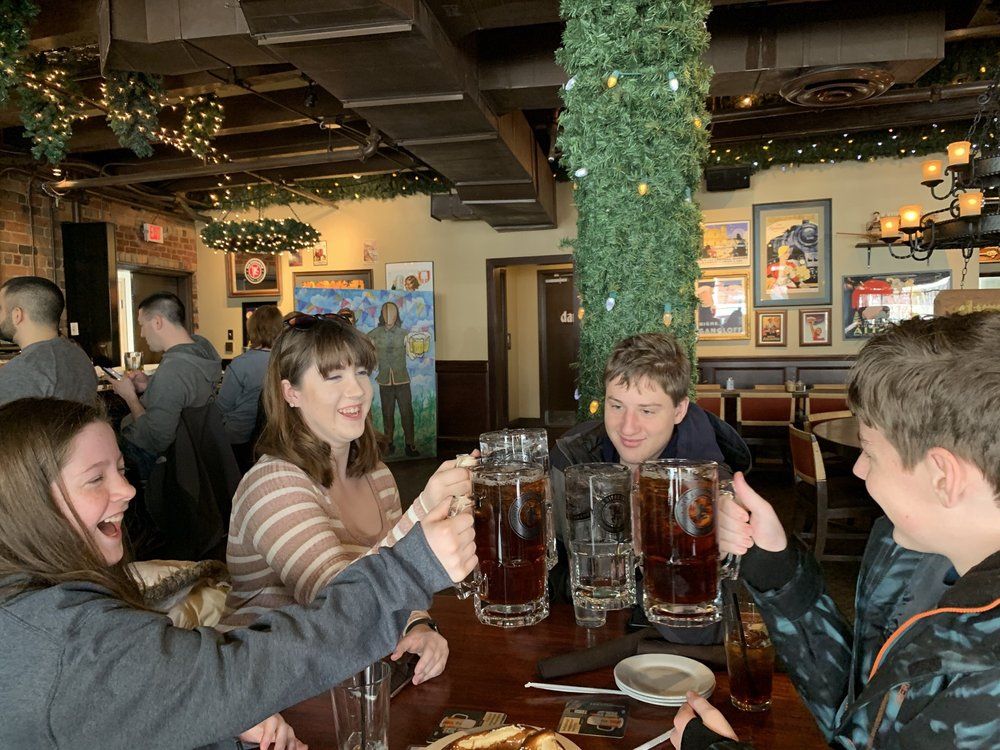 Der Biergarten is a wonderful Downtown restaurant, perfect for for raising a stein and having a party.
Nestled between the Chick-fil-A College Football Hall of Fame and the Georgia Aquarium, Der Biergarten is an old-fashioned German beer garden, which means it's the perfect place for large parties to sit back, munch on a pretzel and raise a glass-or a stein. Der Biergarten features a white tablecloth dining room, an alley with Fussball and table shuffleboard, and an indoor/outdoor beer garden. 
City Winery can accommodate large groups at various scales. (📷 Heather Fulbright)
City Winery is the perfect place to have a glass of wine, listen to live music and relax. It's also a top place for a party, whether it's for nine or several hundred of your pals. The winery, which is Atlanta's only fully functioning winery, can host parties throughout the venue depending on the number of guests. You can choose from the Den (capacity 50, seated) Barrel Room (160 seated), the Patio (120 seated), the Winery (50 seated); the Venue (350 seated) and the Nook (32 seated).
Estrella is located at Bazatti, a space that features another restaurant, Brasserie, and several shops with unique products. But what makes Estrella so fabulous is its second story patio with great views of the city. Located on the Eastside BeltLine, it's the place to soak up the Latin vibe, sway to the  upbeat music, drink something refreshing from the gin & tonic cart, enjoy a menu that includes tempura oyster tacos, Yucatecan pork Belly and squash tartare.
JCT. Kitchen & Bar is an updated Southern restaurant on the Westside. While the restaurant serves outstanding fried chicken, house-made bacon mac and cheese, and angry mussels, the setting is perfect for large groups. There is an upstairs bar and outdoor seating plus the restaurant can handle semiprivate seating in its main dining room for up to 50; 135 to 160 for a seated private party in the dining room; and 50 guests in the courtyard for a cocktail party.
Miller Union has a rustic but modern vibe, which is perfect for a gathering of friends for fun or work. Owners Steven Satterfield and Neal McCarthy created a restaurant that is heavy on Southern cooking with a dynamic wine list that focuses on producers with sustainable farming practices. When you walk in, the restaurant features a large bar and a several tables, but don't worry. There are a few rooms in the back for groups to enjoy the outstanding cuisine and each other's company.
Neighbors is well named. This Virginia-Highland eatery is perfect for neighbors, friends and soon-to-be-friends to sit outside on the patio and watch the world go by-and have a few beers, nachos and wings. Get a group of friends and play Skee-ball, shuffleboard and darts, watch TV on 18 sets or play trivia on Tuesday. Or just relax on the patio that fits 250 (as well as numerous dogs).
No Más! Cantina is located in the Castleberry Hill area near Mercedes-Benz Stadium and is perfect for a friends get-together. The Mexican eatery features an artisan market and lots of rooms to enjoy great food. The restaurant can handle a crowd of up to 350 on a huge covered patio. No Mas! is perfect for family get-togethers, retirement parties, life celebrations, rehearsal dinners and corporate events.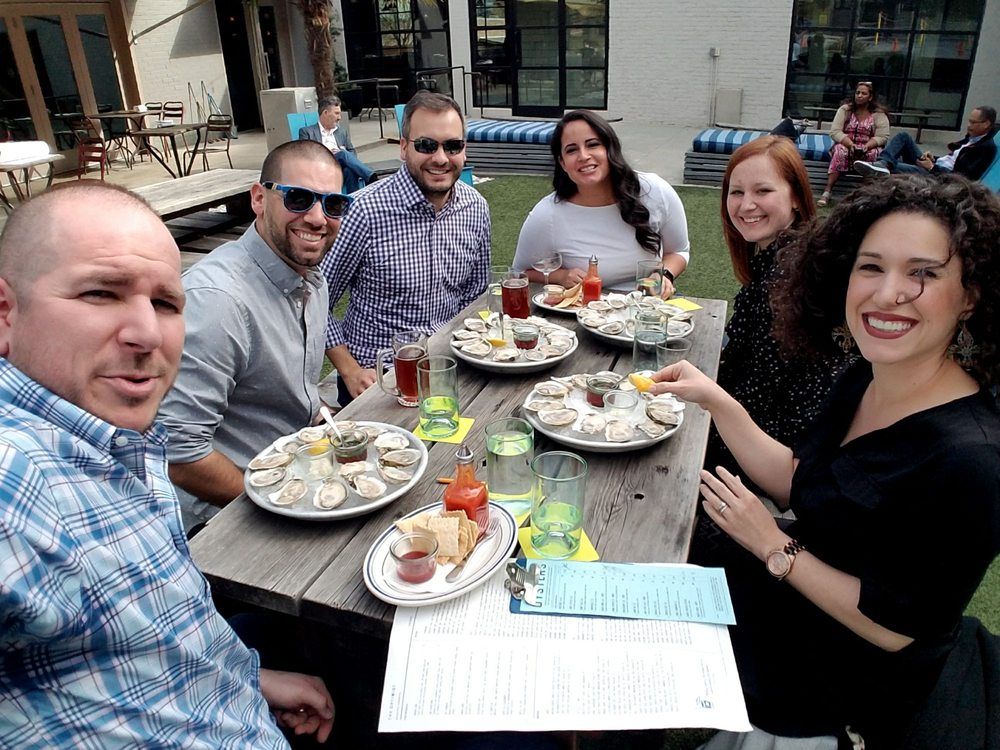 Yes, you can eat outside at The Optimist, but most people – including stars like Chris Pratt – prefer to eat indoors.
The Optimist is Ford Fry's seaside fish camp that has garnered international acclaim. With fresh oysters from the Alabama coast and Maine sea scallops, the Optimist, located on the Westside, has it all. The Optimist has an open floor plan but it does have private rooms, or you and your friends can eat on the picnic bench outside. When actor Chris Pratt is in town, he often hosts a group of friends in a private room.
Southern Art, located in Buckhead's InterContinental Hotel, offers private space and party planners to make your group meeting a huge success. Art Smith, who served as Oprah Winfrey's personal chef for 10 years, oversees the menu, which features dishes that were inspired by family recipes and loaded with classics offering an authentic taste of local cuisine. Among the favorites are butternut squash ravioli, bourbon braised lamb shank and honey glazed salmon.
TWO Urban Licks in located on the Atlanta BeltLine (in fact, just a few steps from Estrella) and also offers an amazing view of the city. But, what a lot of people don't know is that it has a private room (with a table-long water feature) where friends can have a great time in private. We always order the salmon chips as well as oven roasted brie, bronzed scallops and pork shank. Among the craft cocktails is the Why Ask Rye (rye whiskey, Antica Carpano, Amara and bitters).
Discover More
Get to know Atlanta, and discover the best things to do around the city.