Head Just North of Atlanta For Watersports and Parks at Lake Lanier
Published August 30, 2018
Last Updated February 7, 2023
For fun on the water, Lake Lanier is a perfect spot near the landlocked metro Atlanta area (Chattahoochee River is another refreshing option). While this 38,000-acre oasis about 50 miles north of downtown Atlanta is well-known for Cocktail Cove, a spot where boaters gather for revelry and adult beverages, more active-minded visitors will find plenty to keep them busy, too.
Lake Lanier's vast size makes it a prime place for any type of watersports, from waterskiing and wakeboarding to stand-up paddleboarding and kayaking. Plus, its 690 miles of sandy shoreline and two dozen beaches serve more relaxed pursuits, like splashing around with the little ones or simply lounging on the sand. It's also a popular spot among angling enthusiasts.
There is plenty to do beyond the shores, too, namely some 90-plus parks teeming with walking and hiking trails for all ability levels. Whether you're planning a day out with the whole family or are craving some solo communing with wilderness, the lake and its nearby offerings boast a variety of ways to soak up the beauty of North Georgia's nature.
Hit the Trails at Lake Lanier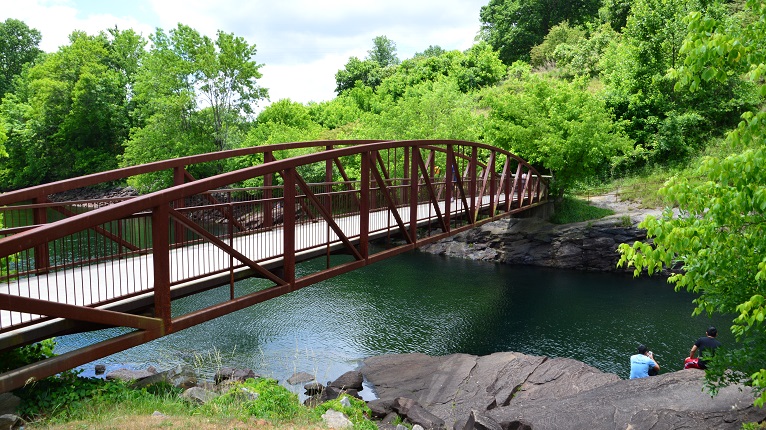 More than 90 parks are located within the vicinity of Lake Lanier, spanning dozens of miles of trails. To take full advantage of the area's outdoor offerings, arrive early for a hike — with so many options, you can make it as easy or as ambitious as you like — followed by a refreshing dip in the lake.
Buford Dam Trail
Looking for a quick, convenient trek? The one-mile Buford Dam Trail can be accessed via the Lower Pool Park, located directly behind the dam. For a longer outing, the four-mile Laurel Ridge Trail wends past the Buford Dam and part of the Chestatee River and through the Buford Dam Park. Along the way, you'll take in views of the powerhouse at the dam (Insider tip:The trail can be accessed via the Lower Overlook Park, which doesn't charge for parking.)
Don Carter State Park
Located at the north end of the of the lake, Don Carter State Park contains approximately four miles of paved and natural substrate trails, as well as 12.5 miles of equestrian trails that were just opened in July 2018. Meanwhile, the Lanier Islands offer nine trails that range from nearly a mile all the way up to six miles, with opportunities for wildlife viewing along the way.
Grab a Paddle to Explore Lake Lanier
If you're looking to explore Lake Lanier from the water, you're in luck: Stand-up paddleboarding, kayaking and canoeing are all sublime ways to do just that. In Gainesville, the Lanier Canoe and Kayak Club and Lake Lanier Rowing Club are excellent starting spots for newbies to get on the water, with rentals and introductory classes; moonlight paddles are another unique way to enjoy the lake. For an easy place to put in, check out Don Carter State Park, whose sandy white beach offers a pleasant spot for a post-paddle dip.
Another popular spot for paddlers, especially of the stand-up variety, is Vanns Tavern Park, believed to be named after a tavern that once stood before being submerged when the Buford Dam created the lake itself. Paddlers can easily put in at Vanns and mosey along the route of Two Mile Creek, a leisurely, smooth paddle in protected waters.
For a more ambitious outing, you can also make an eight-mile loop out to Three Sisters Island and back. It's actually a trio of islands whose reddish, sandy shores and brambles of greenery are characteristic of most of the lake's islands. On blustery days, the paddle out into the channel is challenging against the wind, but on the way back, with the breeze at your back, it can feel like surfing — yet another way to savor this beloved lake.
A Dam, a Poet and the Olympics
As popular as it is today, it's hard to believe that prior to 1956, Lake Lanier didn't really exist. That year, the U.S. Army Corps of Engineers completed the Buford Dam on the Chattahoochee River, forming Lake Sidney Lanier — named after the famed Georgia poet. More commonly known as Lake Lanier, it's become one of the most popular lakes in the Southeast for recreation and is prized as an excellent spot for boating and fishing.
During the 1996 Summer Olympics in Atlanta, Lake Lanier made its debut on the international stage when it served as the Olympic venue for rowing, canoeing and kayaking. In recent years, the lake has cemented its status as an outdoor playground for family outings, swimming, hiking and even bird watching.
Planning a Visit to Lake Lanier
Summer is peak season, when visitors and locals flock to this recreational hot spot. Weekends and holidays like Memorial Day and Labor Day are especially busy; for fewer crowds, try to plan a midweek visit.
As the area encompassing the lake is vast and the parks are numerous, choosing which park you are visiting will determine the logistics for your trip. Each park has its own parking (some free; others not), and on summer weekends, spaces can fill up quickly.
Following heavy rains, certain swimming areas can be closed because of dangerous water conditions.
Discover More
Get to know Atlanta, and discover the best things to do around the city.