Grilled Okra
yogurt. peanuts. mint.
serves 4-6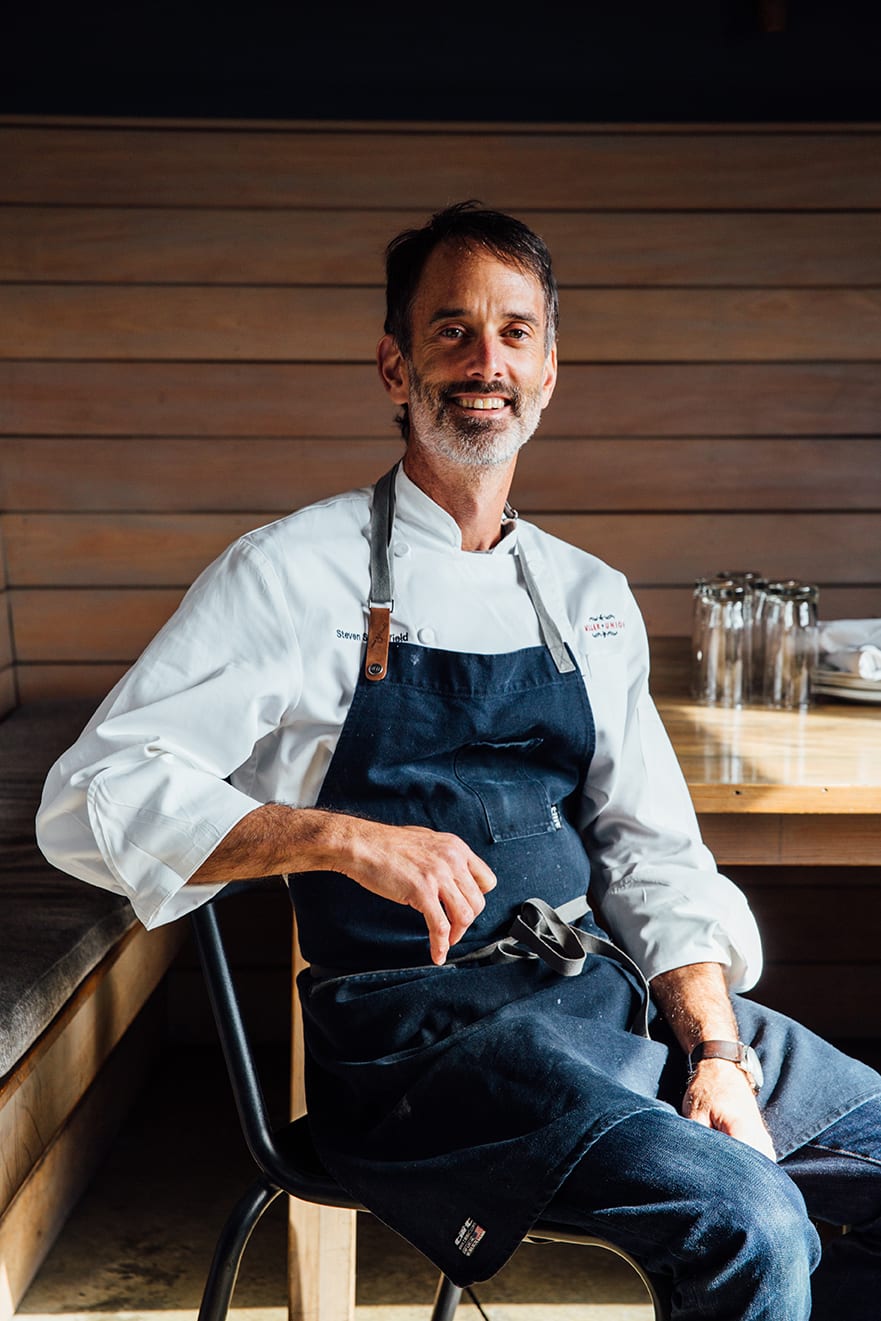 Yogurt
1 cup whole-milk greek yogurt
1 large clove garlic
zest of one lemon
juice of one lemon
1 tsp cumin, ground
1 tsp coriander, ground
1 tsp red pepper flakes, dried
½ tsp kosher salt
6 inch wooden skewers, soaked in water
1 lb f resh okra pods
In a medium bowl combine yogurt, cumin, coriander, red pepper flakes, and salt. Using a microplane, grate the garlic clove then sprinkle it and the lemon zest over the yogurt. Cut zested lemon in half. Juice over a small wire mesh strainer into the yogurt, to catch any seeds or pulp. Stir well to combine. Cover and refrigerate until ready to use.
okra
6 inch wooden skewers, soaked in water
1 lb f resh okra pods
Prepare the grill. Place natural charcoal and/or wood and light. Let flames flare up and die down before cooking on them. If using a gas grill, heat to medium-high. Prepare the remaining ingredients while the grill preheats.
Wash okra and place on a towel to dry. Arrange okra pods side by side on a work surface with all tips facing in the same direction.
Holding the pods in place with one hand, thread a skewer about ½ inch from the top of each pod, just below the cap of the okra, with your other hand.
Thread a second skewer about ½ inch from the bottom of each pod, just above the tapered tip, creating a row of secured pods that looks like an okra plank. Be sure to leave the ends of the skewer exposed an inch to prevent
the pods from falling off. Repeat with more skewers and okra until all the pods are secured and planked.
grill
okra planks
3 tbsp peanut oil
kosher salt
Brush the okra planks on both sides with peanut oil; sprinkle evenly on both sides with kosher salt.
Place the okra planks on the hot grill. Cook until the pods begin to char slightly, about 2 minutes; flip and grill the okra on the opposite side about 2 minutes more.
Transfer the grilled okra to a platter to cool and then remove the skewers when cool enough to handle.
plate
½ cup peanuts, roasted
spiced yogurt
3 to 4 tbsp mint leaves, chopped
charred okra
Place the yogurt in a serving bowl and top with peanuts and fresh mint. Place the individual grilled okra pods around the bowl. Serve warm or at room temperature.
Discover More
Get to know Atlanta, and discover the best things to do around the city.