Holiday Takeout Dining Options
Published December 16, 2022
Last Updated December 19, 2022
Are you in charge of bringing a side dish to the holiday party this year? Hosting friends and family, but cooking is not your thing? Make it easy on yourself and impress your guests with delicious offerings from local businesses. From restaurants offering holiday favorites to go to gourmet shops offering a selection of dishes, here are several options for holiday takeout.
Takeout from Restaurants and Chefs
Aziza
Aziza is bringing back its popular holiday to-go menus: boxes of assorted Sufganiyot and bottles of wine for festive celebrations at home. Available for celebrations and pick-up any day between Dec. 18 and Dec. 23, the meals serve six people for $225 and include dishes such as roasted brisket, challah, potato latkes and assorted sufganiyot. Orders must be placed online three days prior to the requested pickup date, and the pickup window is open each day from 3 to 5 p.m.
Cozy Coop
Feed a crowd these holidays with authentic Southern flavors. Cozy Coop specializes in large orders. Its catering menu features large trays of fried chicken, ribs, chicken tenders, sides, cornbread and biscuits. Making last-minute plans? Cozy Coop can save the day, as you can place catering orders at least one hour in advance by calling 770-485-2503.
Fresh Harvest
Special holiday items will go home for Christmas and Hanukkah at Fresh Harvest this season. Offerings such as Hanukkah cookies, pies, small holiday turkeys and traditional sides will be available to order throughout the month until sold out. Order a week in advance anytime in December or by Dec. 16 for delivery before Christmas.
Humble Pie
There is no holiday party without delicious and comforting sweets. Humble Pie's pastry chef Carelys Vazquez offers a variety of holiday baked goods to celebrate. The menu features a holiday cookie package with two dozen cookies, including vanilla and cinnamon pinwheel cookies, gingerbread glazed cookies and Juniper Cafe cookies – gooey cookies stuffed with pecans, oatmeal and chocolate chips. Need something bigger? Pick from the eggnog cheesecake with white chocolate roasted chantilly or the peppermint chocolate mud pie Order online by Dec. 21 and pick up on Dec. 24 at sister restaurant Juniper Cafe.
Juniper Cafe
The Asian meets Southern bakery and cafe in Atlanta's Upper Westside neighborhood offers a family-style takeout menu to celebrate the holidays. The special menu includes pork and chili wontons, scallion pancakes, Georgia shrimp, veggie fried rice and bone-in General's Tso's chicken. For $125 four people eat. Takeout orders must be placed online by midnight on Dec. 21 and can be picked up on Dec. 24.
SabaRaba's
SabaRaba's, the authentic Israeli street food experience in Sandy Springs, will be open on Christmas Eve from 11 a.m. to 7 p.m. offering online and walk-up orders for takeout. The eatery operates out of a welcoming yellow shipping container replicating the feeling of a "falafeliya" in Israel. Guests can order on the spot or place orders for delivery via Grubhub and Uber Eats. SabaRaba's catering options are the ideal way to feed families in town for the holidays.
Saint Germain Bakery at Buckhead Village
Enjoy the merriest time of the year with Saint Germain's iconic Bûche de Noël. Place your order by Dec. 20 for a Dec. 23 pickup. Need it sooner? Oder 72 hours in advance for pickup anytime before Christmas. Choose from flavors like vanilla buttermilk, chocolate peppermint, strawberry cheesecake, black forest raspberry and many more. Orders can be placed online or over the phone by calling 404-825-3850.
South City Kitchen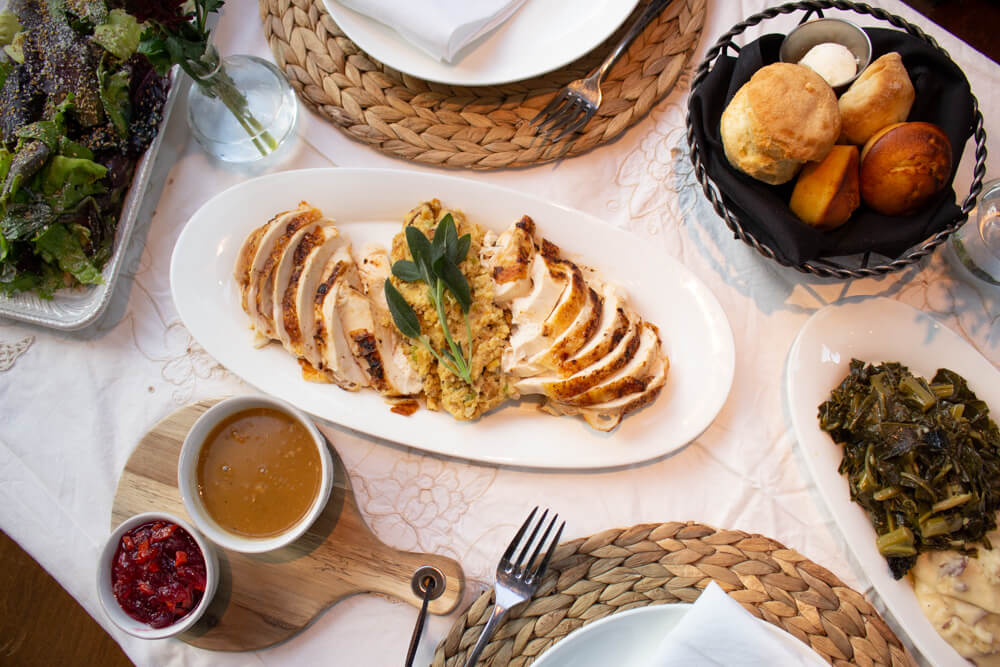 Take home the flavors of South City Kitchen with a prepared dinner for two. Pick the turkey option and enjoy oven-roasted turkey breast with gravy and cranberry sauce, biscuits and cornbread, salad, collards and mashed potatoes. Pick the braised short rib dinner and celebrate the holidays with short ribs and jus, mashed potatoes, collards, roasted veggies and green salad. Ordering details can be found on South City Kitchen's website.
Zúcar Patisserie
Pastry chef Ricky Saucedo will be taking custom orders for you to impress your guests this holiday with delightful sweet bites. From cakes to carefully crafted pastries, Zúcar pleases all palates. Need inspiration? For the season, chef Saucedo will also be offering yule logs, pies and holiday-flavored Viennoiserie items such as brioche and croissants. Try not to salivate too much when visiting Chef Saucedo's Instagram page, @ricky_zucar. Orders can be placed online.
Gourmet Takeout Shops
The Buttery ATL
Brought to you in part by Atlanta restaurateurs Gina and chef Linton Hopkins, The Buttery offers comforting Southern favorites, freshly baked bread and pastries. Find made-to-order classics like chicken pot pie, mac & cheese, and ham biscuits, and be sure to add on a bag of bacon caramel popcorn.
JenChans and MikChans
These two family- and women-owned businesses in Cabbagetown and East Atlanta Village offer a variety of prepared food, casseroles, soups and more. Offerings change but have been known to include lasagna, Market Pot Pie (a Taste of Atlanta Must Eat item), ricotta meatballs or Chinese boiled peanut chicken. Gluten free, vegetarian and pescetarian options are all available.
Alon's Bakery and Market
This Morningside stop has a variety of specialty items and prepared gourmet food. You'll find pepper-crusted seared tuna, Moroccan chicken skewers, chicken salad and much more. Order cakes such as the legendary Midnight Cake: three layers of chocolate buttermilk cake filled with white chocolate mousse. The Hanukkah goodies are so popular that it's best to preorder a platter of potato latkes or sufganiyot (jelly doughnuts). Other locations are in Dunwoody and Buckhead.
Floral Park Market
Find locally sourced organic produce, prepared meals from local chefs and caterers and beautiful flowers. Try out a pizza pie with truffle oil, sumptuous macaroni and cheese, and delicious quiches. This Westside market also offers its loyal customers domestic and imported flowers.
Star Provisions Market & Cafe
Chef Anne Quatrano is an integral part of the Atlanta culinary scene and her Star Provisions in the Westside offers the same locally sourced ingredients found at her restaurants. For your special feast, order a free- range turkey and cranberry orange relish, sage and apple dressing, and fluffy rolls. Grab holiday treats such as iced cookies, gingerbread and pies.
Lucy's Market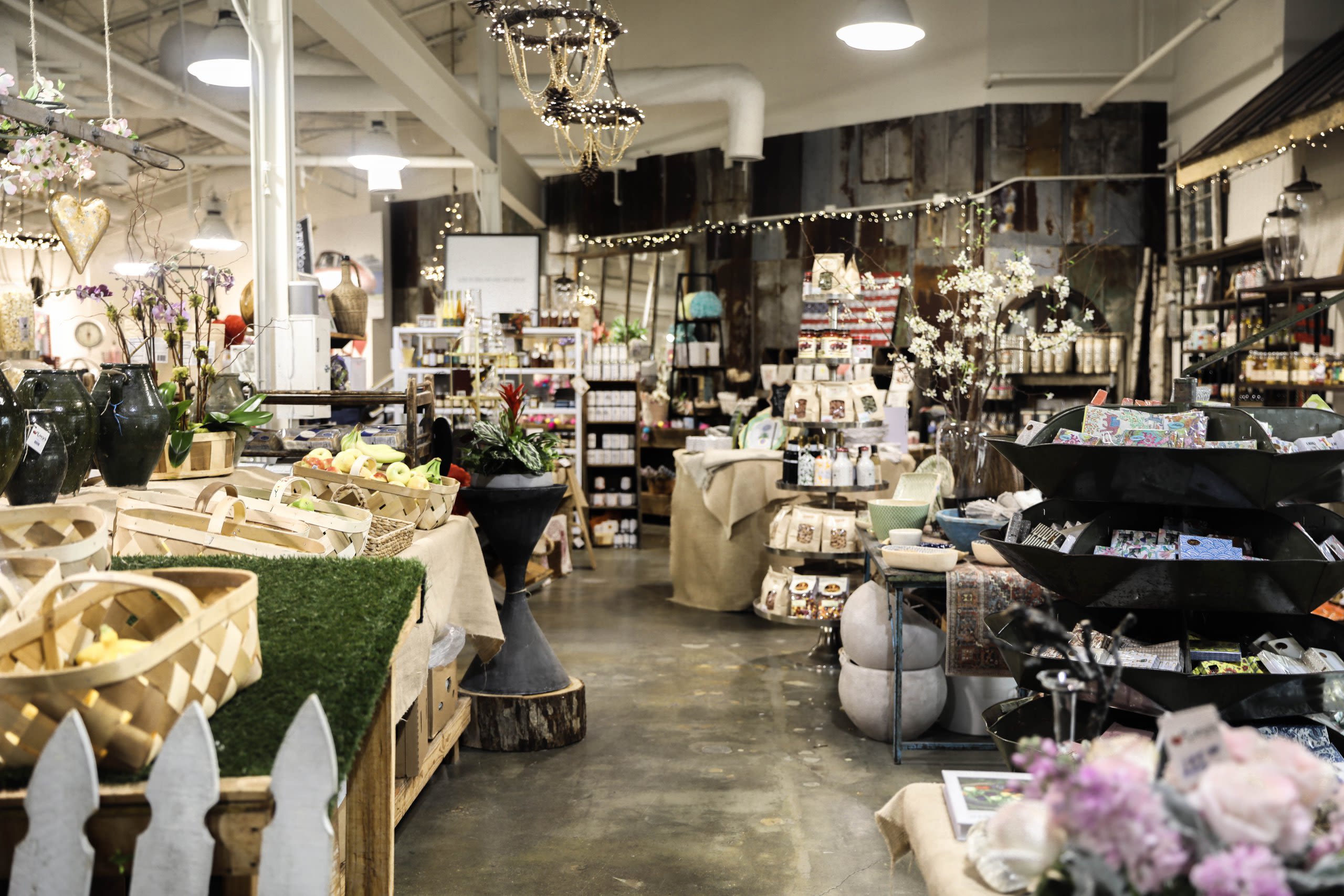 This Buckhead gem features local produce, baked goods and prepared foods. For family gatherings, choose from poppyseed chicken, turkey meatballs in marinara, mojo pulled pork, spaghetti carbonara and Parmesan chicken. Special holiday meals are also available. Lucy's also offers customized gift baskets and an extensive wine selection.
Atlanta's restaurants and gourmet shops help you host this holiday. Don't worry about a thing, and enjoy the time with loved ones. If your plans are going out for dinner, check out our recommendations on where to dine out on Christmas Day in Atlanta.
Discover More
Get to know Atlanta, and discover the best things to do around the city.