Best Outdoor Patios for Winter Dining
A rainy day doesn't have to keep you away. You can still enjoy the joy of al fresco dining in Atlanta thanks to covered patios, heaters and more. Here are the best patios for winter dining in Atlanta.
Buckhead
Buckhead is known for upscale shopping and trendy dining. Stroll the village, visit the governor's mansion and Atlanta History Center, home to the famed Swan House and the Atlanta Cyclorama. Finish the day with a drink at one of Buckhead's happening bars or lounges before turning in at one of the best of Atlanta hotels.
10 Degrees South
Consistently rated a top dining establishment in Atlanta, 10 Degrees South is one of the country's few South African restaurants. Its outdoor dining area is reminiscent of a luxury safari tent with comfortable furnishings and exotic decor.
Where: 4183 Roswell Road NE
Aria
Aria's award-winning modern American cuisine can be enjoyed on the quaint, brick patio under a bistro umbrella. The patio, surrounded by manicured hedges, evokes the feel of a European cafe.
Where: 490 East Paces Ferry Road NE
Bistro Niko
The patio at Bistro Niko offers a view of Peachtree Road while providing a comfortable space to enjoy topnotch French cuisine plus craft beer, wines and cocktails.
Where: 3344 Peachtree Road NE
Boone's Restaurant
Boone's Restaurant overlooks Bobby Jones Golf Course, offering sweeping views of the golf course and Atlanta skyline. The comfortable shaded patio features plenty of space for enjoying Boone's upscale American cuisine.
Where: 2205 Northside Drive NW
Botica
The lush patio at Botica is reminiscent of a sidewalk cafe in Paris or Tuscany. Vibrant umbrellas offer respite from the elements as you enjoy a menu inspired by the chef's flair for blending Mediterranean, Mexican and Spanish flavors.
Where: 1820 Peachtree Road NW
Grana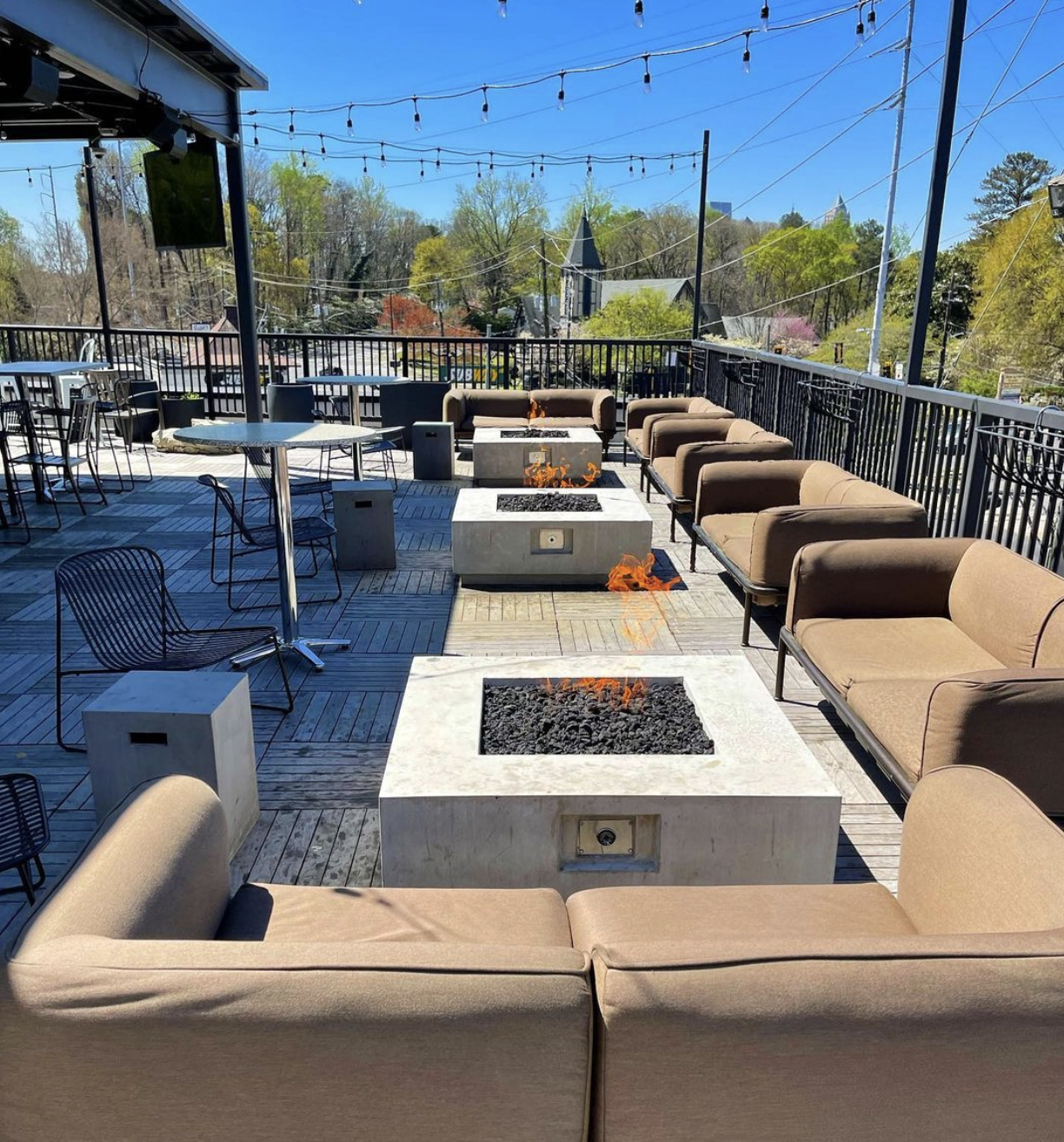 The Southern Italian Grana restaurant offers a beautiful rooftop bar complete with cafe lights, firepits and comfy couches. Enjoy cocktails or appetizers along with handcrafted Italian specialties in this popular space.
Where: 1835 Piedmont Ave. NE
Gypsy Kitchen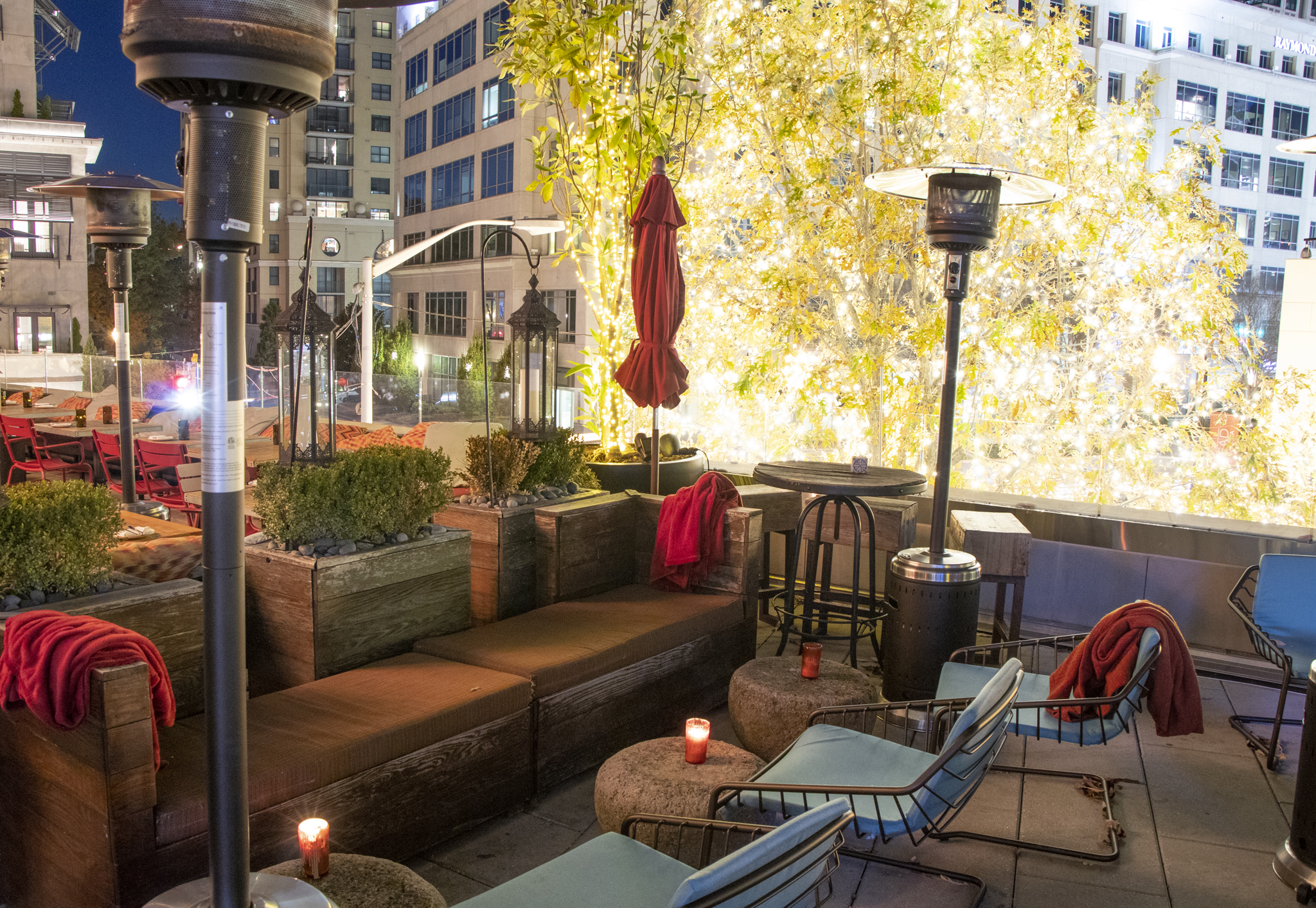 The rooftop at Gypsy Kitchen ticks all the boxes. Great views? Yep. Great food? Absolutely. Top that off with great drinks in a beautiful atmosphere and you've got a recipe for a fun and delicious experience. Gypsy Kitchen serves Spanish tapas with influences from India and Morocco, which are echoed on the colorful and comfortable rooftop.
Where: 3035 Peachtree Road NE
Kyma
One look at the patio at Kyma and you'll know you're in for a Greek treat. The quintessential blue and white palette of Greece anchored by a large fireplace and marble columns creates a comfortable space to enjoy Greek specialties and seafood.
Where: 3085 Piedmont Road NE
Little Alley Steak Buckhead
If you're in the mood for a good steak, head to Little Alley Steak Buckhead. The comfortable patio is rich with texture, wood and intimate lighting interspersed with greenery, making it the perfect spot to dine on a fine aged steak and throw back one of LAS's extensive offerings of whiskey and bourbon.
Where: Alliance Center, 3500 Lenox Road NE, No. 100
Midtown
Art lovers will enjoy exploring Atlanta's Midtown neighborhood, home to Atlanta Botanical Garden and known as the "heart of the arts" thanks to Midtown's Arts District. Here you can find numerous locations to enjoy performing and visual arts in modern and historic venues. After filling your culture cup, head to West Midtown to shop Atlantic Station, a walkable district of shopping, restaurants and entertainment. Here are some of the best patios in Midtown for winter dining.
Bazati and Estrella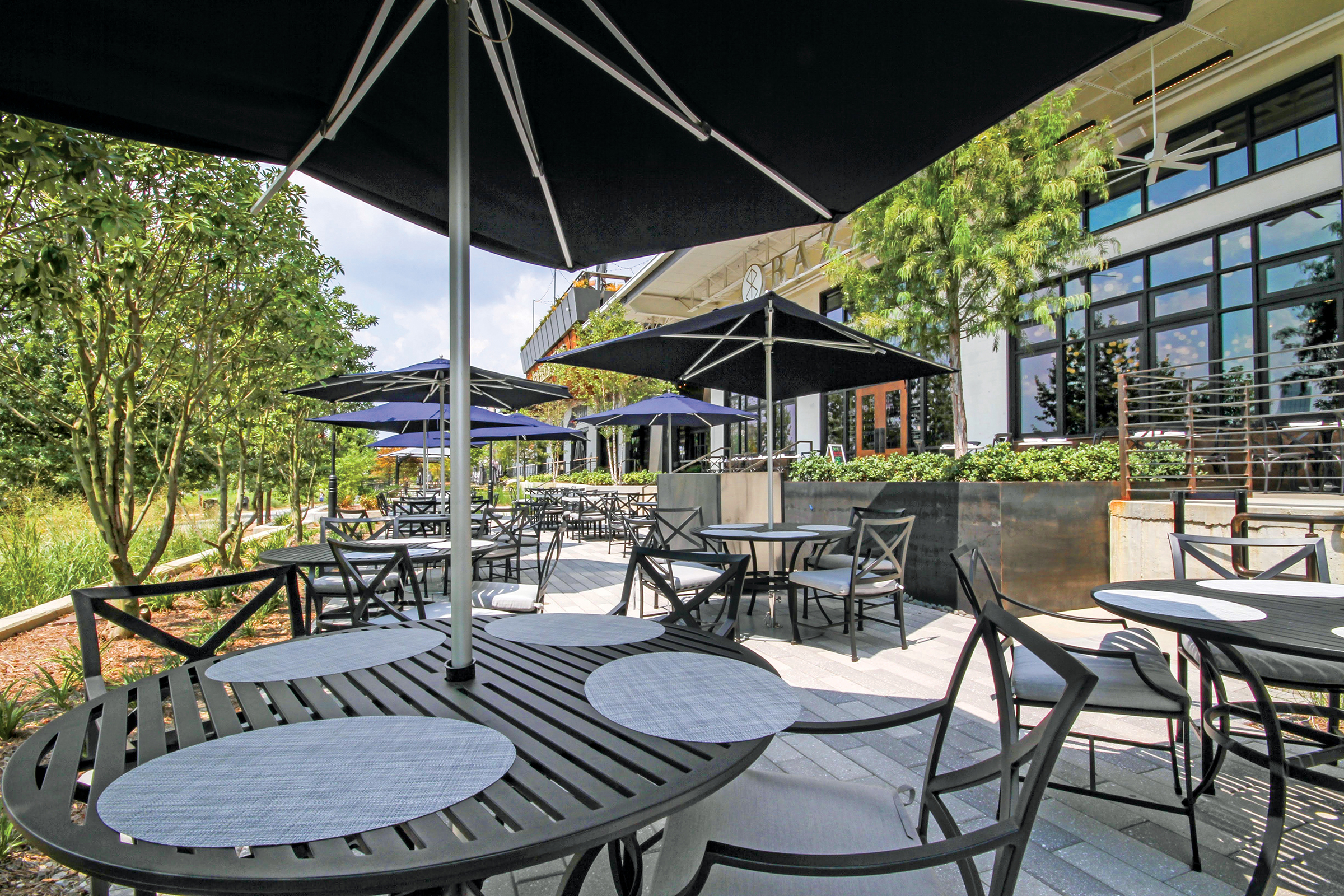 This is a double threat eatery with stunning rooftop dining at Estrella, which features modern Mexican cuisine. Bazati serves Latin-infused cuisine on its outdoor patio. Both offer stellar views, brunch, cocktails and are pet friendly.
Where: 550 Somerset Terrace NE
Ecco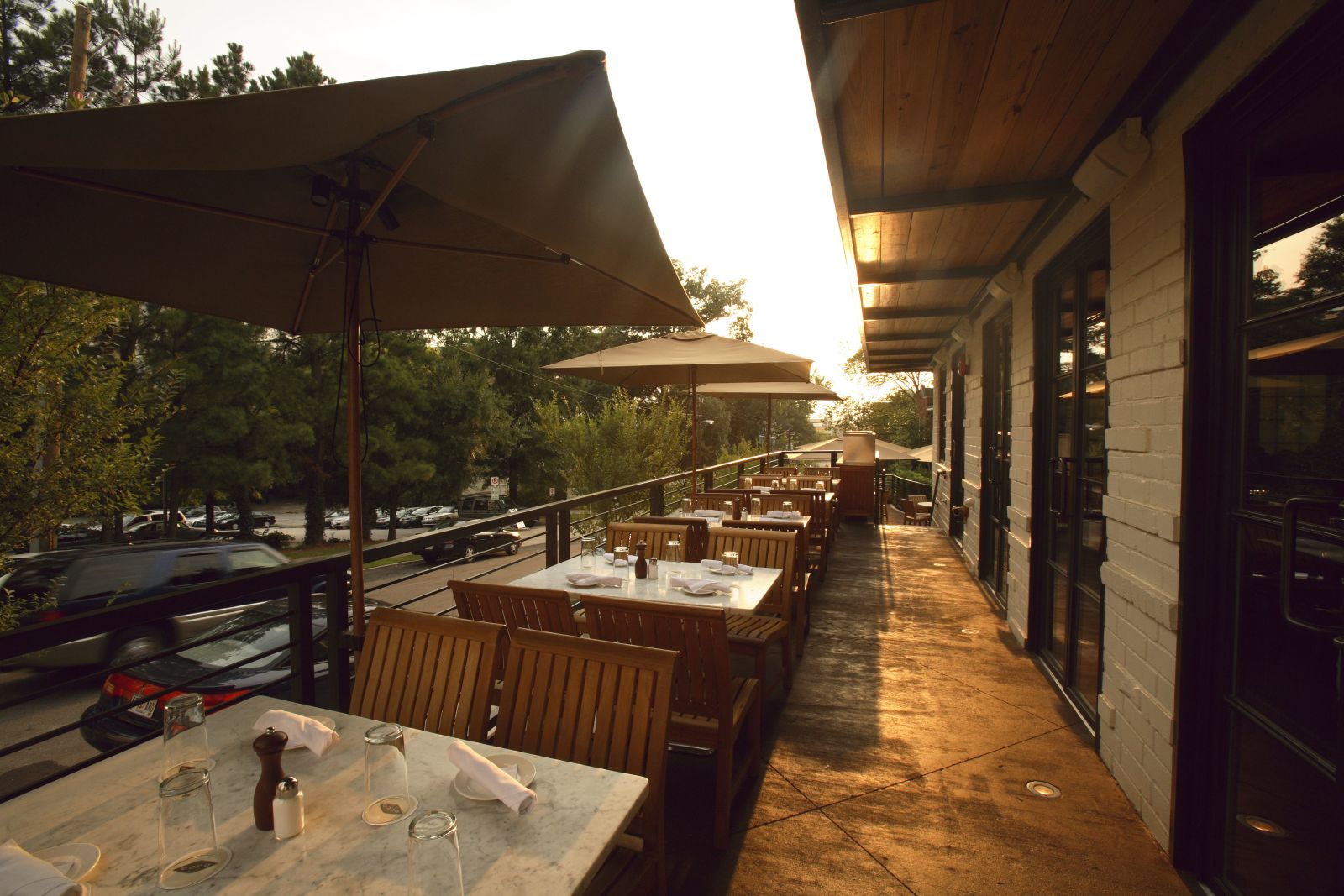 Ecco Midtown's patio offers a covered portion with overhead and space heaters to keep you cozy while enjoying modern European cuisine.
Where: 40 Seventh St. NE
New Realm Brewery Co.
The beer garden and rooftop dining at New Realm Brewery Co. overlooks the Atlanta BeltLine, creating a picturesque spot to enjoy IPAs and pilsners alongside wood-fired pizza, burgers and other upscale bar food. Enjoy live music and family-friendly dining options. Dogs are welcome.
Where: Common Ground, 550 Somerset Terrace NE Unit 101
TWO Urban Licks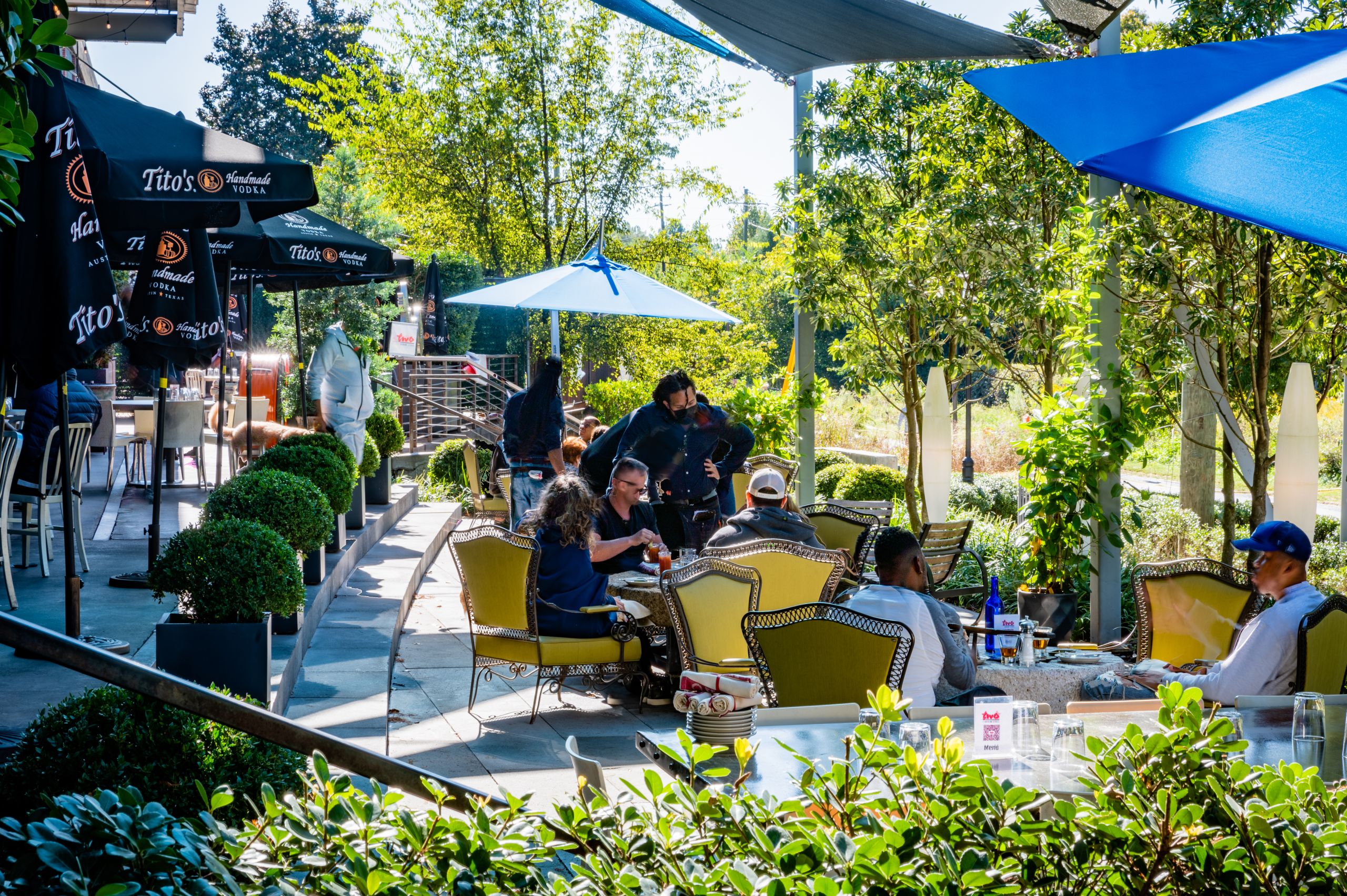 TWO Urban Licks features an expansive patio with views of the Midtown skyline. The comfortable space offers firepits and an outdoor bar, adding to its ambiance. The space is surrounded with greenery, offers various dining and lounging configurations and is a great space to enjoy the restaurant's offerings of wood-fired cuisine. Dog-friendly.
Where: 820 Ralph McGill Blvd. NE
Firepit Pizza Tavern
Firepit Pizza Tavern in Grant Park has a cozy, dog-friendly patio with a modern firepit, patio tables and plush furniture perfect for enjoying a dinner with friends.
Where: Larkin On Memorial, 519 Memorial Drive SE
Eastside and Westside
Atlanta's East and West sides lie along the renowned Atlanta Beltline, a path of multiuse trails that connect parks, neighborhoods and attractions. The area is oozing with history, from the Martin Luther King, Jr. National Historical Park to the Jimmy Carter Presidential Library and Museum. Explore top rehab projects that have turned retired warehouses and factories into unique shopping/dining experiences like Krog Street Market and Ponce City Market or stop off to experience 200 species of animals at Zoo Atlanta. Stop by one of these restaurants with patio dining on the Westside or Eastside.
Canoe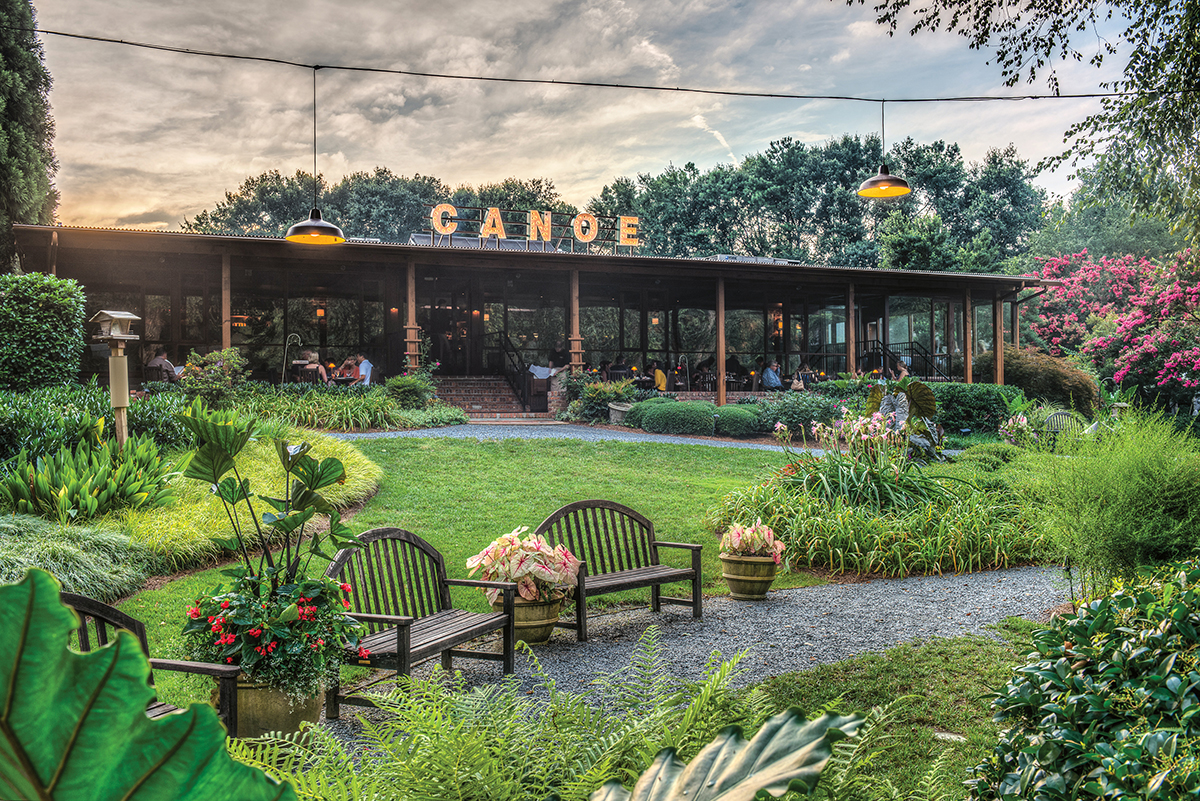 Nestled on the banks of the Chattahoochee River is Canoe. This stunning eatery has received acclaim for both design and cuisine. While the restaurant itself offers huge windows for natural lighting, the patio is the true gem of this beautiful restaurant and features not only views of the river but the incredible manicured yet natural landscape.
Where: 4199 Paces Ferry Road SE
Delbar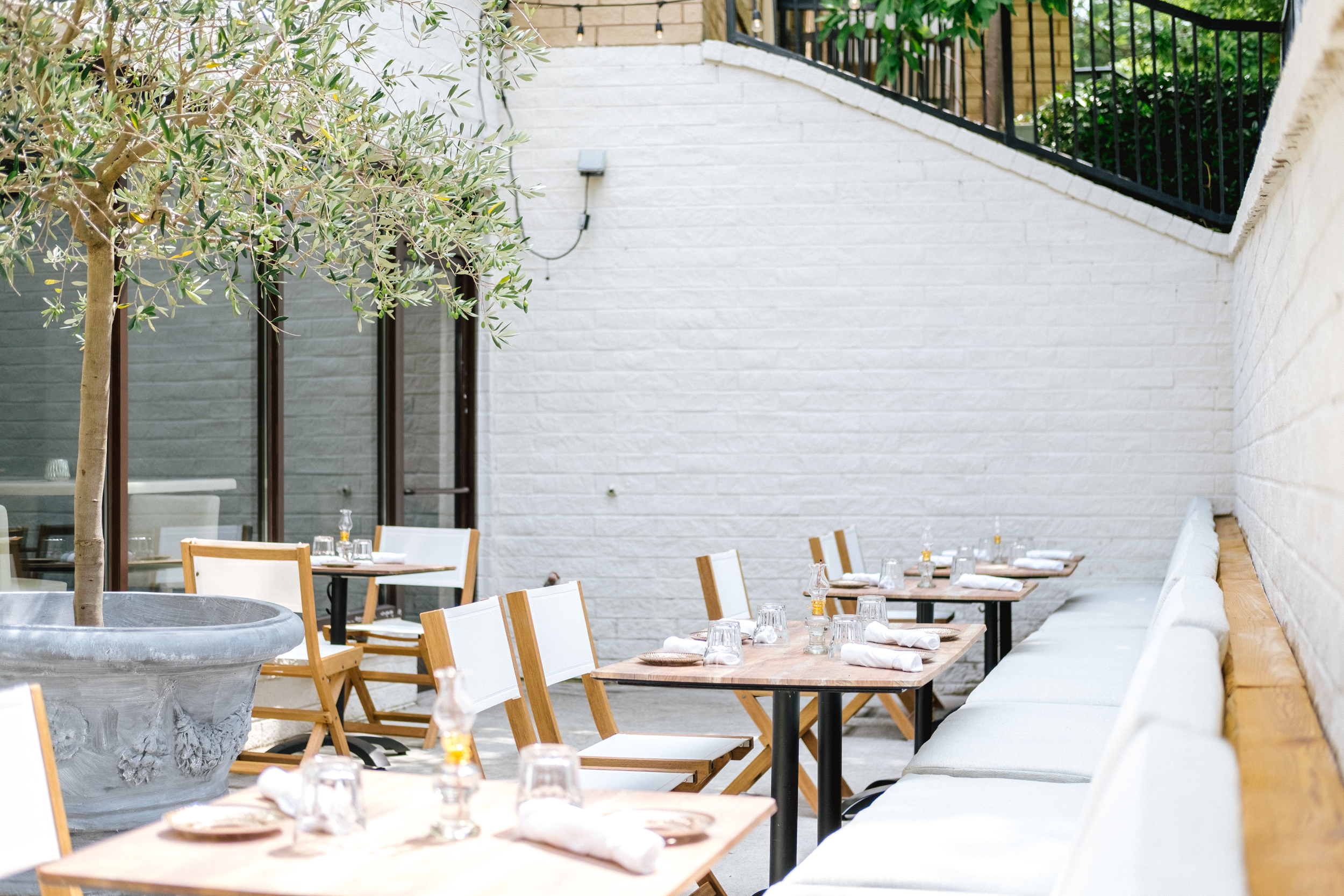 This Middle Eastern restaurant offers a variety of outdoor dining, from the climate controlled sunroom to the beautiful terrace. Both spaces offer comfortable seating where you can enjoy the tasty menu.
Where: 870 Inman Village Parkway NE, Suite 1
Forza Storico
The outdoor dining area at Forza Storica is conducive to a communal and party vibe. The busy patio space sports cafe umbrellas, greenery and twinkle lights accompanied by outdoor heaters for cooler temps. Dine on Roman fare in this fun environment.
Where: 1198 Howell Mill Road, No. 020
Kevin Rathbun Steak
Kevin Rathbun Steak offers BeltLine dining on its rustic patio, which adjoins its converted warehouse restaurant. Enjoy the finest meats, seafood and sides along with craft cocktails on the expansive patio with its open fireplace to keep you warm during cooler winter temperatures.
Where: 54 Krog St. NE, Suite 200
Ladybird Grove & Mess Hall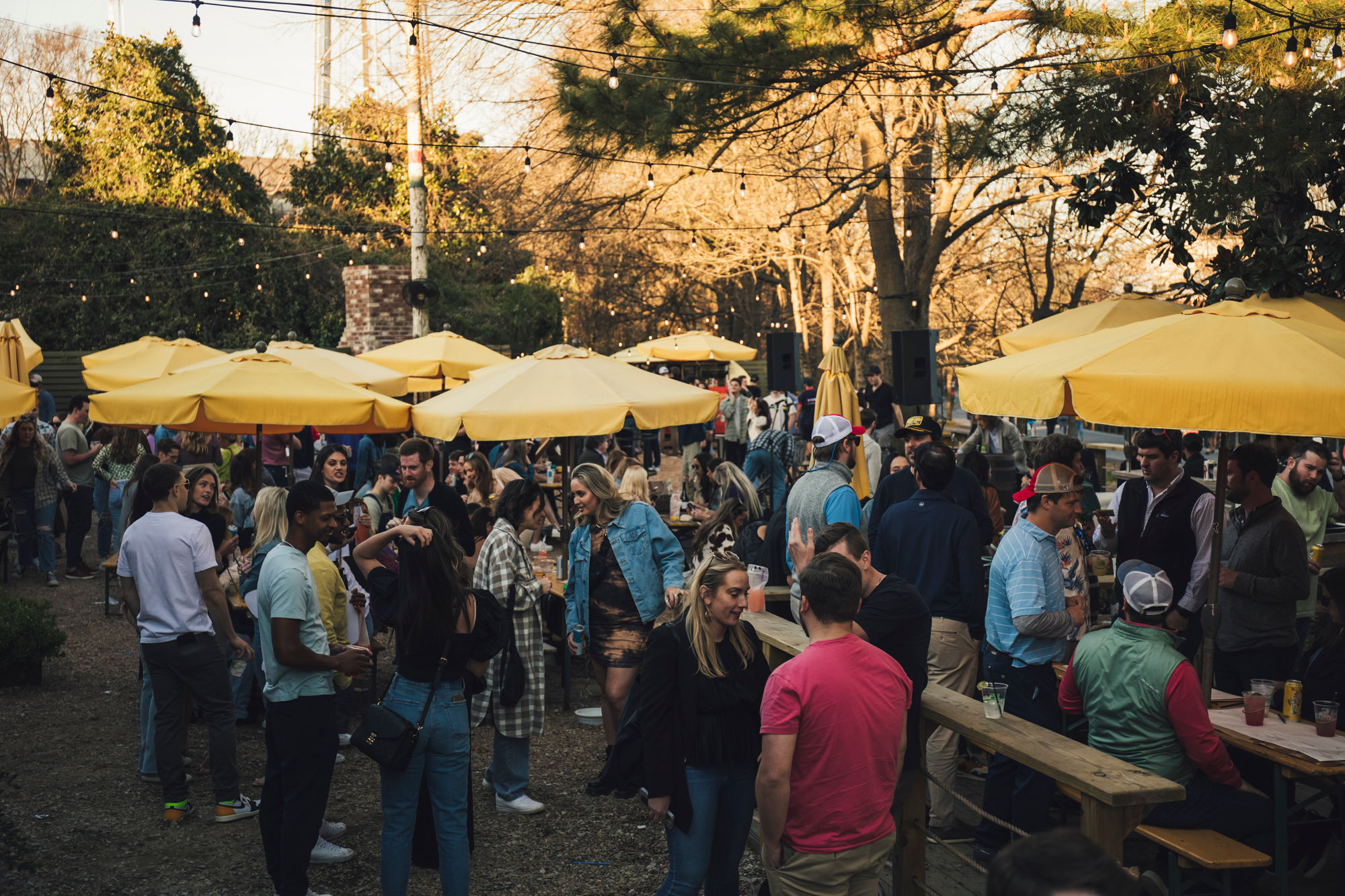 This clever camp-themed patio has become one of the top outdoor spots in Atlanta to enjoy drinks and dining. Elevated campfire cuisine is served in a comfortable space that is pet-friendly, offers live music, great views and a fun atmosphere.
Where: 684 John Wesley Dobbs Ave. NE
Lazy Betty
If you're interested in world-class fare and cozy vibes more than a skyline view, head to Lazy Betty where the patio offers bench seating, heaters and blankets to keep warm. The romantic spot features a tasting menu rooted in the chef's Chinese roots, Southern upbringing and classical French training.
Miller Union
Miller Union offers a pretty porch that is ready to meet any weather condition. The light-filled, covered space features plenty of greenery and comfortable surroundings in which to enjoy the ever changing farmstead-inspired menu.
Where: 999 Brady Ave. NW
Ponce City Market
Ponce City Market offers numerous eateries and a large outdoor eating space that is shaded and fun. Head to The ROOF for incredible skyline views while enjoying cocktails, appetizers or even a meal at 9 Mile Station. In the coldest months, reserve an igloo for your party to celebrate the evening, play fur-coat minigolf and warm yourself at one of the firepits.
Where: Ponce City Market, 675 Ponce De Leon Ave. NE
Red's Beer Garden
If you're looking for a fun spot to enjoy cold brews and upscale bar food, Red's Beer Garden is for you. With more than 200 varieties of beer and other libations, there is bound to be something you like. Head out to the garden to find a picnic table under a patio umbrella and enjoy camaraderie, game nights, entertainment and more.
Where: 1328 Boulevard SE
Patio dining is available year round in Atlanta. For more options check out our guide to the best patios in every Atlanta neighborhood.
Discover More
Get to know Atlanta, and discover the best things to do around the city.