Best Patios in Every Atlanta Neighborhood
Published March 15, 2022
Last Updated May 1, 2023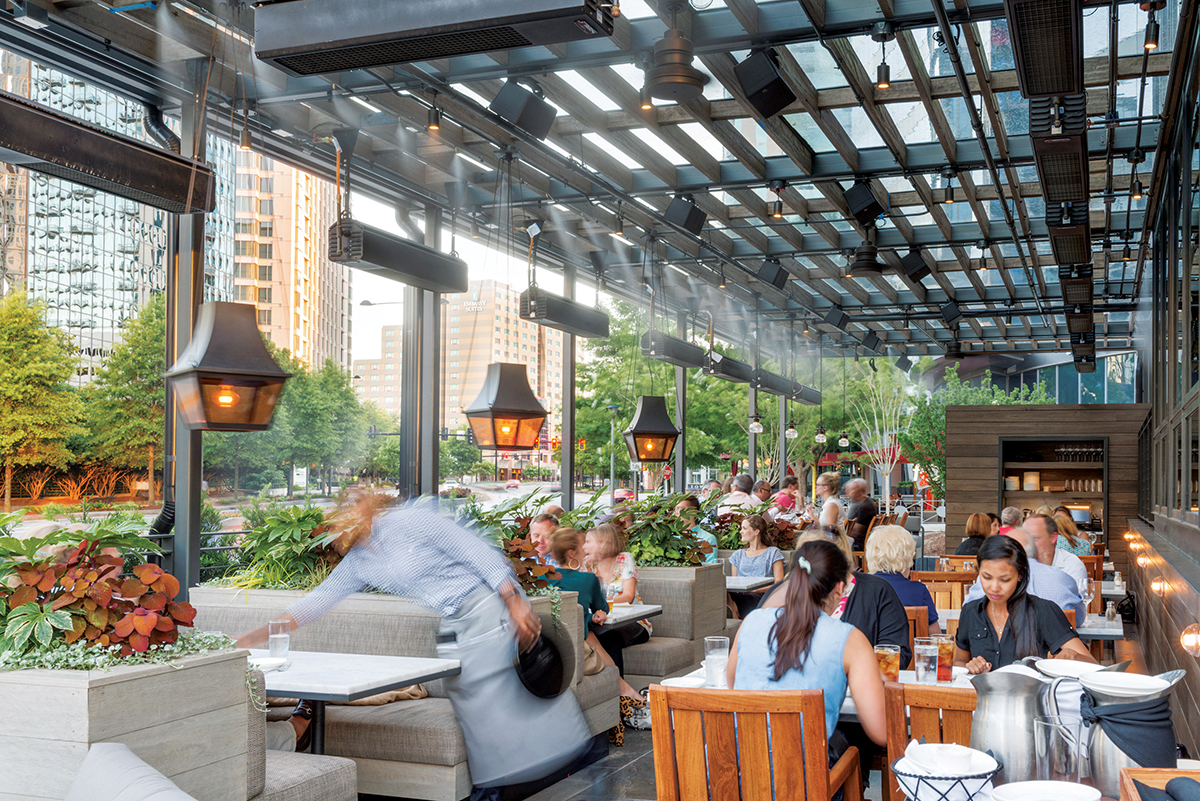 Whether you're looking for a sunny patio with amazing skyline views or a neighborhood eatery shaded by towering oaks, Atlanta is full of outside places to eat. The city's mild temperatures last just about all year, making it easy to take advantage of all of the restaurants with outdoor eating. In this list, you'll find the perfect backdrop for relaxing with family or friends at these top places to eat outside in Atlanta.
Downtown Restaurants with Outdoor Seating
Perch on a patio or breezy terrace in one of our Downtown restaurants with outdoor seating. Whether you're gathering before the big game at Mercedes-Benz Stadium or searching for a local spot in Castleberry Hill or Summerhill, there are plenty of places to eat outside in Atlanta.
No Mas! Cantina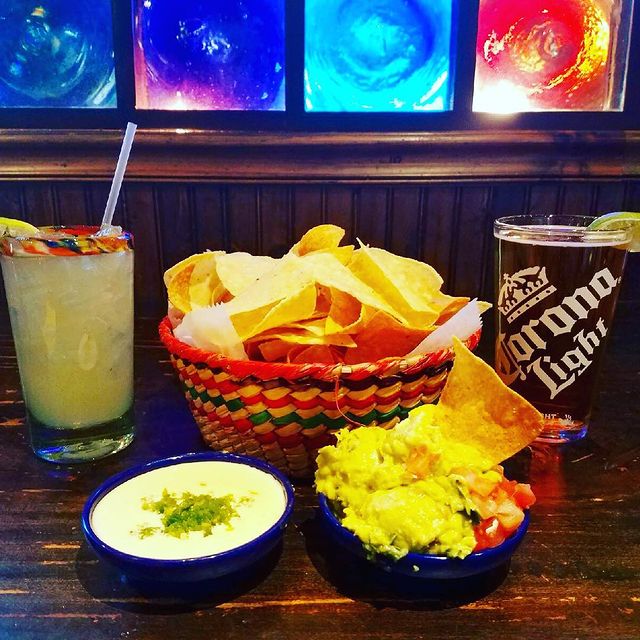 Enjoy delicious Mexican fare in a festive atmosphere created with artisan-crafted décor. With a 50-foot travertine bar, expansive outdoor patio and hand-blown glass light fixtures, No Mas! is a great choice for enjoying a margarita or two in the Castleberry Hill neighborhood.
Der Biergarten
Named one of the top beer gardens in the country, Der Biergarten spreads across 7,000 square feet of indoor and outdoor space. Menu items include traditional German beers and dishes such as riesebretzel (giant warm pretzel with mustard), Jägerschnitzel (lightly breaded pork with a mushroom, bacon and onion sauce) and bratwurst on a bun.
STATS Brewpub
STATS offers elevated bar food, home-brewed beers from its on-site brewery and personal beer taps on select tables. A spacious, partially covered rooftop patio overlooking the Centennial Olympic Park District provides plenty of fresh air and great views.
Big Kahuna
Craving a taste of the sea? Head to Big Kahuna with a menu full of Pacific Coast flair served with Southern hospitality. Margaritas and ice cold draft beers are perfect for the patio.
Dos Bocas
Dos Bocas brings together authentic Tex-Mex and Cajun flavors with a beautiful patio view of Centennial Olympic Park. Tantalize your taste buds with a Dos Bocas margarita before delving into menu favorites of cast-iron chicken, jambalaya or fajitas.
Max's Coal Oven Pizzeria
Share a specialty pie served piping hot out of the oven, and be sure to try the signature coal oven wings. Sandwiches and pastas round out the menu at Max's Coal Oven Pizza. Everything is best enjoyed on the sidewalk patio.
Top Draft Sports Lounge
Step inside the Omni Atlanta Hotel CNN Center to hang out on the terrace of Top Draft Sports Lounge with a fantastic view of Centennial Olympic Park. Elevated bar fare such as butter poached lobster fries and house made pork rinds will satisfy while games play on several televisions.
Hudson Grille
The covered patio at Hudson Grille is a perfect place to relax and throw back a local brew and interesting bar food such as buffalo chicken nachos and jalapeño cheese balls, or larger plates piled with jambalaya and giant burgers.
Georgia Beer Garden
Called "Downtown's largest backyard," this Edgewood Avenue destination serves local Georgia brews and local pop-up eats like @myabuelasfood and @ladolcemadness.
Pacific Rim Bistro
Come for lunch or dinner to indulge in Pan Asian cuisine and fresh sushi at Pacific Rim Bistro. Lounge on the roomy patio with a glass of wine, sake or Japanese whiskey.
Wood's Chapel BBQ
Chef Todd Ginsberg helms the Wood's Chapel BBQ kitchen serving brisket, ribs, pulled pork and sides in the Summerhill neighborhood. The fun, open patio is perfect for trying out smoked wings, brisket tacos or tangy beet and jalapeno slaw.
Outdoor Dining in Midtown
Called the Heart of the Arts, Midtown is packed with theaters, museums and performing arts venues. Discover plenty of outside eating places to discuss the latest art opening or performance, or simply just relax and enjoy the beautiful trees that provide shade over many outdoor dining spots. Midtown restaurants with outdoor dining are plentiful, no matter what the occasion.
Grana
There's nothing like a wood-fired Neapolitan pizza, a meatball flight and a satisfying cannoli. Grana brings Italy to Midtown, offering perfect spaces to dine on the patio or rooftop.
Publico Kitchen & Tap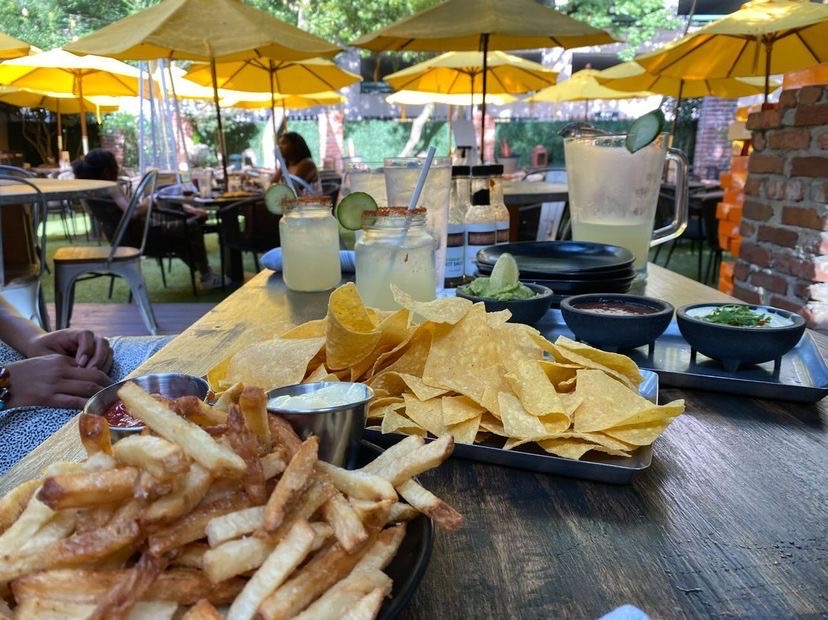 Located on Crescent Avenue, Publico Kitchen & Tap sports one of the trendiest patios in Atlanta, serving Latin-Asian inspired cuisine and themed cocktails.
Bulla Gastrobar
Enjoy shareable Spanish cuisine while watching the world go by at Bulla Gastrobar, preferably on the comfortable patio. Try the flan de coco for a late night indulgence.
Park Tavern
Park Tavern sits where Piedmont Park meets the Atlanta BeltLine and the spacious patio is perfect for people (and dog) watching. Sit back and enjoy one of Park Tavern's own beers, a diverse menu and live music. In cooler weather, firepits warm the patio.
Joy Cafe
Serving Southern fare with a modern twist, Joy Cafe serves lunch, brunch and dinner favorites with inventive cocktails, perfect for lounging on the patio overlooking Peachtree Street.
The Lawrence
This Midtown restaurant offers contemporary Southern food to enjoy along with signature house bourbon and uniquely crafted cocktails. The Lawrence is a relaxing oasis with a stylish outdoor space.
Zocalo Mexican Kitchen & Cantina
Zocalo offers Mexican food favorites and some of the strongest frozen margaritas in town. With its large outdoor patio just a few steps from Piedmont Park, Zocalo is a hot spot for people watching and enjoying Atlanta's great weather.
5Church Midtown
Located in Colony Square, 5Church Midtown has a rooftop patio that's perfect for enjoying New American cuisine and a variety of drinks including whites, reds, roses, bubblies, beer and specialty cocktails. A second 5Church location, in Buckhead, opens in April.
Lure
Transport yourself to a coastal ocean town without leaving the city at Lure. Escape to the outdoor patio for coastal seafood cuisine and a new happy hour menu. At any hour, cocktails and communal punch bowls are great accompaniments for oysters, baked crab dip or barbecue shrimp.
Buckhead Patio Restaurants
Buckhead has long been known for its upscale restaurants, but a variety of restaurants and local spots beckon in this neighborhood. Buckhead patio restaurants range from local, chef-owned to upscale, fine dining. Settle with a cocktail and check out our Buckhead list of outside places to eat.
Mission + Market
Enjoy a globally influenced, seasonal meal at Mission + Market. The elegant space has a private outdoor patio that sets the tone for a parade of savory dishes.
St. Julep
St. Julep sits on the ninth floor atop the Kimpton Sylvan Hotel, offering cocktails and elevated bar snacks in a modern-chic atmosphere. Perfect for dates, brunch or a gathering, this is the ultimate rooftop for an Instagrammable experience.
Botica
Join in the lively atmosphere at Botica, serving delicious fare inspired by the flavors of Spain and Mexico. Come for brunch and a mimosa on the patio.
Little Alley Steak Buckhead
Ranked one of the 50 best steak houses in the country by OpenTable.com, Little Alley Steak Buckhead has a 2,500-square-foot patio with an outdoor bar, lounge area and plenty of outdoor heaters in the cooler months.
10 Degrees South
Taste a fusion of flavors at 10 Degrees South, the South African dining experience. Taste native wines and specialties such as ostrich medallions and pan-seared prawns on the patio.
Boone's
The neighborhood destination welcomes guests at Bobby Jones Golf Course with upscale, New American cuisine. Take in spectacular views at Boone's, overlooking the golf course from the veranda.
King + Duke
Indulge in wood-fired cuisine at King + Duke. The restaurant's outdoor space spills over into the courtyard where guests can order drinks and bites from a patio-only menu.
Ecco Buckhead
Explore European-inspired flavors and dishes in a contemporary setting at Ecco. Menu highlights include the signature fried goat cheese drizzled with honey and an impeccable wine list. Enjoy Ecco's welcoming patio with a built-in fireplace for cooler weather.
South City Kitchen Buckhead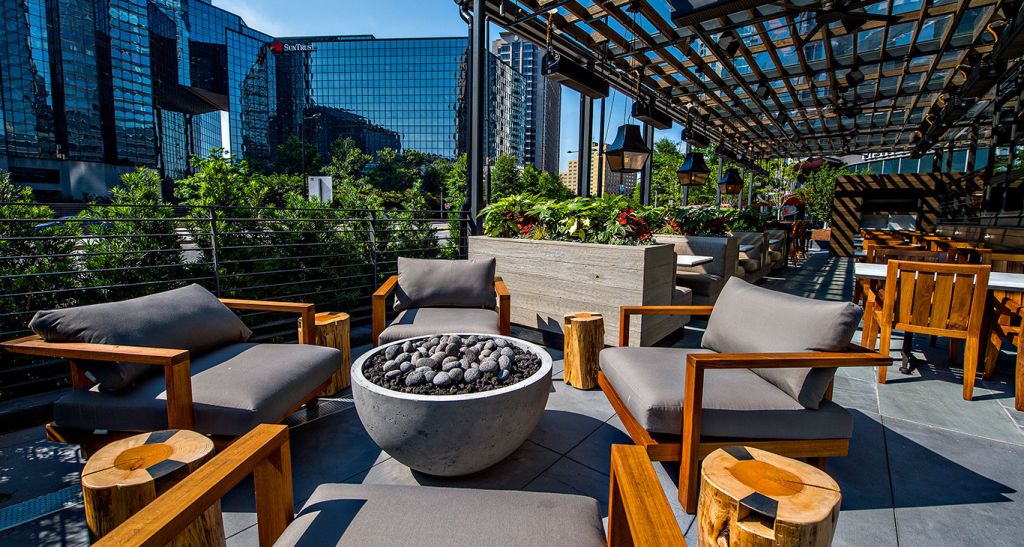 The lush, outdoor dining space at South City Kitchen offers a beautiful setting to watch the city lights. Dig into sophisticated Southern cuisine such as can't-miss fried green tomatoes, she-crab soup and fried chicken with collard greens.
Gypsy Kitchen
When you think of Spain, you might think of tapas, seafood and outdoor dining. Gypsy Kitchen evokes all of that and more. The restaurant, located at Buckhead Village District, offers modern-day Spanish cuisine and a lively second-floor patio.
Whiskey Blue Atlanta
Arrive by a private elevator to the rooftop patio at Whiskey Blue. Sink back into the overstuffed sofas, put your feet into the shag rugs and keep an eye on the dramatic 18-foot video on the back wall that shows vintage rock 'n' roll images. Two outdoor terraces offer stunning views of Buckhead.
Bartaco
Dine at Bartaco and you just might feel as if you're at the beach in Brazil, Southern California or Uruguay. Bartaco is an upscale street food eatery with three locations — Buckhead's Chastain Park, Inman Park and West Midtown. Regardless of which one, the patio views are awesome, and you don't even have to get on a plane.
Bistro Niko
Travel to Paris without leaving Buckhead and savor modern French fare for lunch, brunch and dinner. Bistro Niko features a spacious patio overlooking Peachtree Road and a menu of classics such as French onion soup, oysters on the half shell, steak au poivre and loup de mer.
Taverna
Italian dining is what you'll find at Taverna in Buckhead Village. The inviting patio is perfect for antipasto with a cocktail. Taverna mixes up delicate pastas and indulgent risottos, plus hearty pizzas baked in a wood stone oven.
Kyma
This Buckhead gem is a contemporary seafood tavern highlighting the flavors of chef/owner Pano Karatassos's Greek roots. Settle into Kyma's secluded patio to order Mediterranean staples like eggplant and cucumber-yogurt spreads, grilled octopus and the signature spicy lamb pie.
Alma Cocina Buckhead
At Alma Cocina, you'll find authentic dishes reflecting contemporary Mexican and Latin cuisine. Cloaked in greenery, this secluded patio overlooking Peachtree Road is perfect for viewing busy city life from a social distance. A large selection of tequilas and mezcals make any time of the day celebratory.
The Chastain
You'll find two outdoor areas at The Chastain. The Old Oak Terrace and the South Terrace offer multiple places to enjoy New American cuisine, complete with a fire pit and lounge seating for lingering after dinner. Dogs are welcome on the terraces.
Outdoor Restaurants on Atlanta's Westside
Atlanta's Westside beckons with restaurants in chic, industrial buildings and outdoor dining on Atlanta BeltLine. The area collects some of the hippest outside places to eat in the city.
Azotea Cantina
One of the latest additions to Atlantic Station, Azotea Cantina offers Mexican food, the best of Georgia's local beers and a spacious rooftop patio with incredible views.
Bone Garden Cantina
Bone Garden Cantina offers California-influenced Mexican dishes and a variety of tequilas. The interior is decorated with Mexican-inspired art celebrating Day of the Dead year-round, and the patio is perfect to enjoy street-style food and mezcal drinks.
Drawbar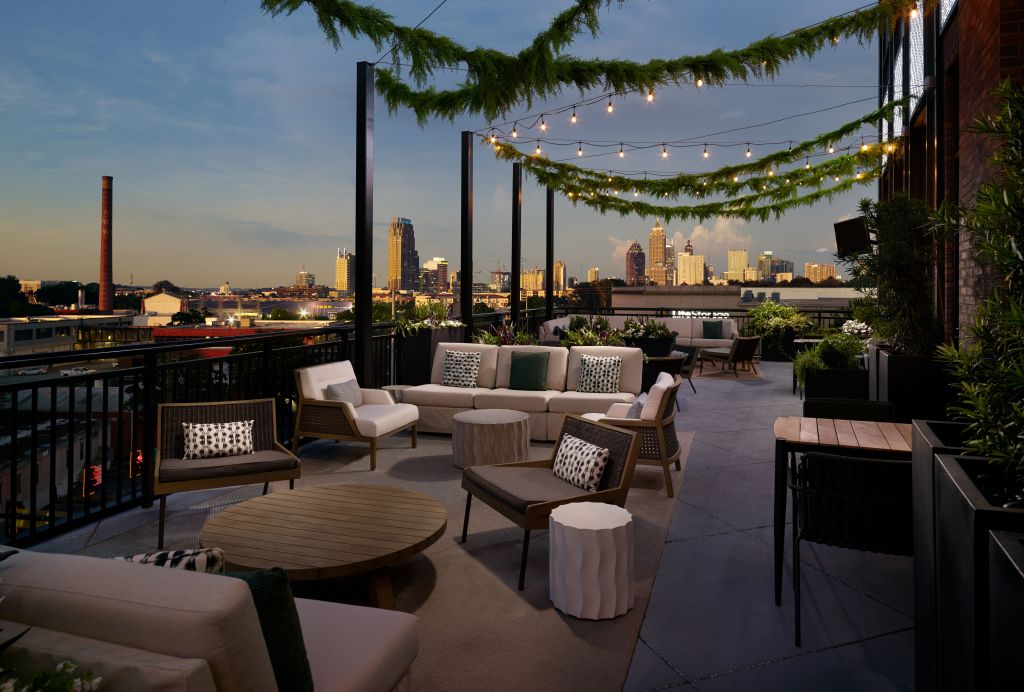 Excellent drinks, friendly service and a voguish atmosphere describe one of Atlanta's newest lounges. Craft cocktails and a menu of Southern flavors are served at Drawbar, located in Bellyard Hotel.
O-Ku
Atlanta's Westside is home to one of the best modern Japanese restaurants in Atlanta. A fresh and innovative menu sourced with Southern ingredients delights the palate, while the views from the rooftop at O-Ku are amazing.
Best End Brewing Co.
At Best End Brewing Co., there's great beer, a graffiti Tiki Bar, live music and daily shenanigans. The brewery is perfect for outdoor dining on the large heated patio.
Marcel
Dig into the throwback American steak house menu and find appetizer favorites such as Oysters Bienville or escargots, the perfect starters for juicy, sizzling steaks. Gather in Marcel's outdoor dining space and sip a Sidecar cocktail while enjoying a breezy evening, complete with a roaring fire for cooler months.
Miller Union
Linger on the inviting patio and experience the seasonal cuisine of James Beard Award-winning chef Steven Satterfield. Miller Union has been honored by Bon Appetit and Food & Wine for its farmstead-inspired cooking where ingredients drive the menu.
Bogg's Social & Supply
Head to the Westside Atlanta BeltLine and find this neighborhood bar. Gather on the patio to imbibe in draft beers and Korean cocktails. Rotating food pop-ups are hosted frequently at Bogg's Social & Supply and include anything from coveted birria tacos to New Zealand hand pies.
Redbird
Chef Zeb Stevenson and Ross Jones opened Redbird, turning local ingredients into free-spirited cuisine. Check out Redbird's Birdy Biscuits sold at Redbird's kitchen window each Saturday and Sunday. Have a fried chicken biscuit with cheddar and sweet chili sauce on the patio or settle in for dinner and a cocktail later in the day.
Forza Storico
Forza Storico brings Italian history, culture, tradition and taste to the Westside Provisions District. Sit on Forza's busy patio while sipping a smoked Old-Fashioned and indulging in an exquisite house-made tagliatelle.
Wild Heaven
The Atlanta brewery, Wild Heaven, lives up to its "Serve Your Neighbor" motto by offering a menu of snacks and tacos. The patio has large firepits, festive outdoor lighting and easy outdoor bar services.
The Optimist
This seaside fish camp offers a robust menu of creative seafood dishes. In the summer, the outdoor dining space at The Optimist lures diners to try their hand at the putting green and groove to tunes from the occasional band.
Bold Monk Brewing Co.
With a beer hall-inspired dining space in the protected entry area, a wooded beer garden accessed by bridge and a wide selection of house-brewed Belgian-influenced beers, Bold Monk Brewing Co. transports guests to centuries-old villages found throughout Europe.
Patio Dining on Atlanta's Eastside
Atlanta's Eastside begins just one mile from Centennial Olympic Park and is where tattooed locals, funky street art and community food halls come together in a unique blend of neighborhoods, all with places to eat outside in Atlanta.
Kevin Rathbun Steak
Renowned Atlanta chef Kevin Rathbun welcomes visitors to his Inman Park steak house, created inside a refurbished industrial building. Outdoor dining on the Atlanta BeltLine has never been easier with the year-round, wrap-around patio that entices with both overhead fans and a cozy fireplace.
El Tesoro
Find authentic Mexican food and pleny of laid-back outdoor space in the middle of the eclectic Edgewood neighborhood. This rustic and charming space at El Tesoro is perfect for everyone, including families. While the kids play tic-tac-toe, parents can order a mezcal cocktail or Mexican beer.
Hotel Clermont's The Rooftop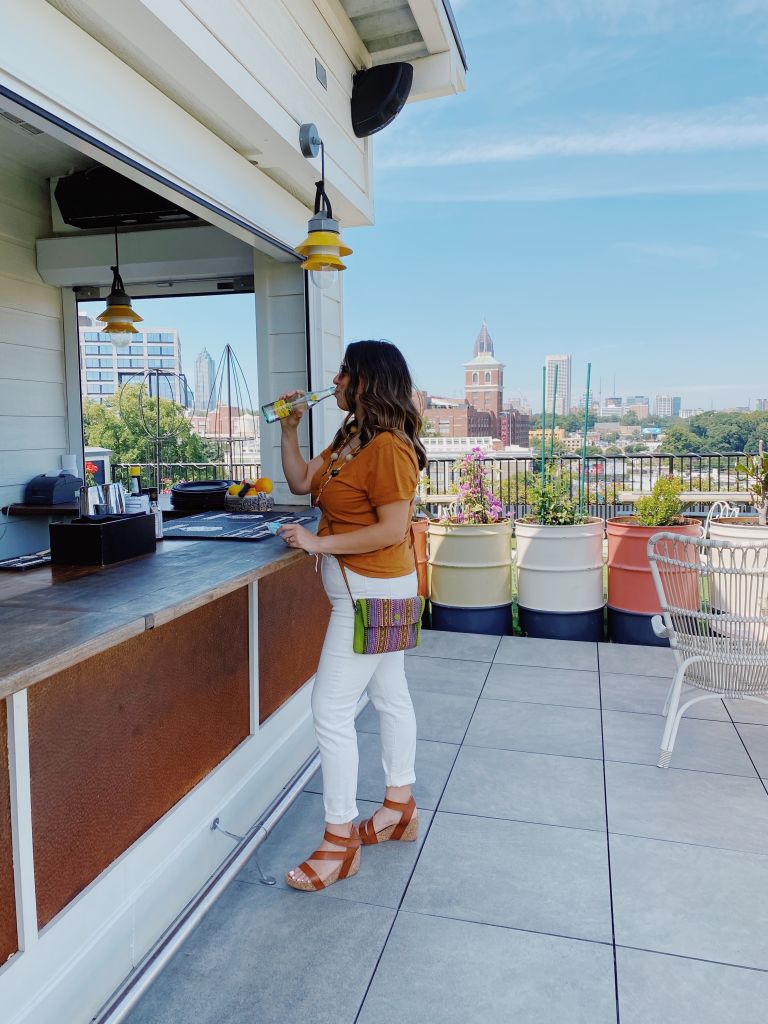 The vibe of the historic Hotel Clermont carries up to the rooftop bar with a chic retro design, astroturf, cocktails and street food. The Rooftop sits atop one of Atlanta's beloved landmarks with a stellar skyline view, mismatched vintage chairs and the perfect frozé.
BeetleCat
Sitting just a block away from the Atlanta BeltLine, BeetleCat features an array of internationally inspired seafood complemented by dishes such as Mexican corn, Korean-style chicken and doughnuts on Sunday.
Bread and Butterfly
Travel to Paris with a perfectly crafted pastry and a French-inspired breakfast at Bread and Butterfly. In a chic space outdoors, the stylish bistro offers bites for breakfast, brunch and lunch made with fresh locally sourced ingredients.
New Realm Brewery and Taproom
Take in some of the best views of the city, not to mention some of the best beer. Located on the Atlanta BeltLine near Ponce City Market, New Realm has a beer garden patio and rooftop.
Estrella Rooftop
Find fresh-squeezed margaritas, casual food from the Mexican state of Yucatan, Latin beats and one of Atlanta's best skyline views at Estrella. It sits atop Bazati Atlanta and offers a perfect environment to gather with friends for outdoor dining on Atlanta BeltLine.
Bar Mercado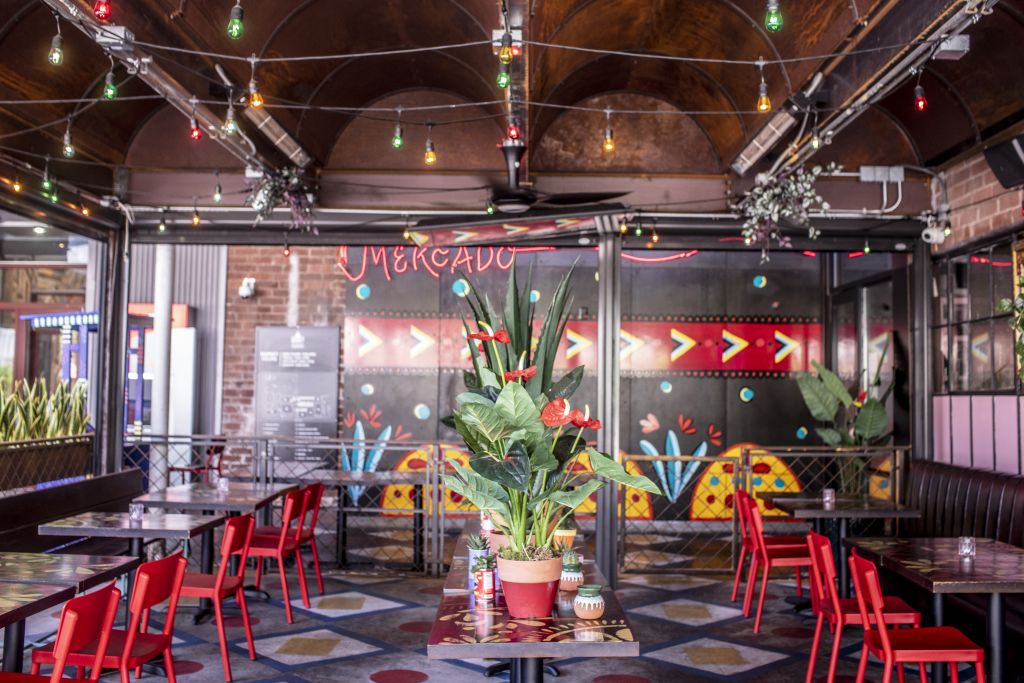 Come sit on the spacious, canopy-covered patio for eclectic Latin American cuisine. Bar Mercado offers up tapas, empanadas, paella and ropa vieja at Krog Street Market.
a mano
Dine al fresco at this lovely Old Fourth Ward bistro with both a patio and covered deck. Settle in at a mano for dinner with a cocktail and selection of antipasti and fresh pastas.
Ladybird Grove & Mess Hall
Ladybird offers elevated campfire cuisine with shareable dishes. The incredible outdoor dining space offers live music each week, comfortable seating and great views of the Eastside Atlanta BeltLine.
Hampton + Hudson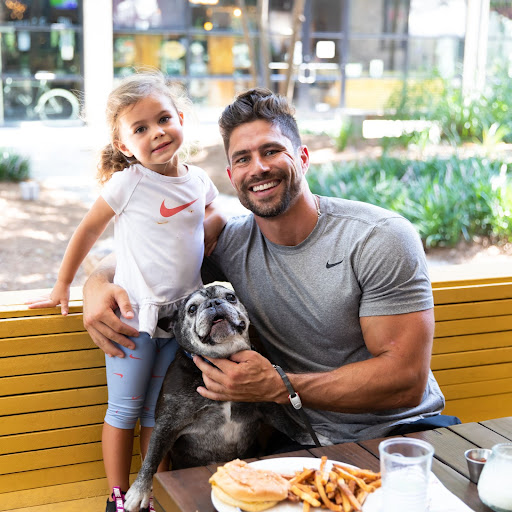 Stop in for some Hampton hot chicken sliders or the classic H+H smashburger with three beef patties and American cheese stacked between two glazed doughnuts. The community bar at Hampton + Hudson in Inman Park has a covered, dog-friendly patio for lunch, brunch or dinner.
TWO Urban Licks
Its wood-fired cuisine, live rotating rotisseries, unique 26-foot wine-on-tap barrel wall and breathtaking Downtown skyline views make it an Atlanta favorite. While we love the edgy, urban look, it's the patio right on the Atlanta BeltLine that makes TWO Urban Licks special.
Six Feet Under
Six Feet Under has two locations, both with incredible outdoor patios. The original in Grant Park got its name from being across the street from Historic Oakland Cemetery. Climb up to the rooftop space to enjoy seafood baskets, a cold brew and a view of one of Atlanta's most storied cemeteries. Another location is found on Atlanta's Westside.
Neighbor's Pub
Located in Virginia-Highland, Neighbor's has a large and inviting patio where friends, neighbors and dogs congregate in between games of shuffleboard and darts, jukebox karaoke and sports watching.
Superica
This upbeat Tex-Mex dining joint makes a mean queso fundido, which will pair nicely with your not-so-sweet Texas Star margarita. Chef and restaurateur Ford Fry's Tex-Mex restaurant has four locations but those enjoying the Atlanta BeltLine Eastside Trail can refuel at the eatery's Krog Street Market location that offers an expansive outdoor patio.
The Original El Taco
This taqueria serving Tex-Mex with a twist offers bold meals on a large patio. Taco plates such as fried chicken and pork carnitas are on the menu at this Virginia-Highland restaurant. More choice include enchiladas, nachos and frozen drinks.
Osteria 832
Rustic, Italian fare such as thin crust pizzas and pastas are served up at this Virginia-Highland spot. However, it's the outdoor dining space overlooking North Highland Avenue that makes Osteria 832 hard to resist.
8ARM
With executive chef Hiro Endo at the helm of 8ARM, you'll discover inventive Japanese-centered dishes, sushi, natural wine and cocktails. Settle on the patio with terraced seating under the backdrop of one of Atlanta's famous murals.
Delbar
The Inman Park restaurant recently opened, serving Middle Eastern cuisine. Tangy spreads, a la carte meats and plenty of vegetable dishes can be best enjoyed on the sunny patio. Now offering brunch.
9 Mile Station
Located on top of Ponce City Market, 9 Mile Station is a rooftop beer garden that offers sweeping views of the city's skyline. Order a craft beer, classically prepared cocktail and shareable food. The ROOF at Ponce City Market, adjacent to 9 Mile Station, features Skyline Park with retro carnival games, a giant slide, munchies and mini golf. During winter, 9 Mile Station features dining igloos.
Murphy's
A Virginia-Highland favorite, Murphy's offers upscale comfort food, gracious service plus a bakery and wine shop. Enjoy what many call "Atlanta's best brunch" on the outdoor dining space with plenty of breezy shade.
For more great places to eat and drink outside in Atlanta, visit our patio dining guide.
Discover More
Get to know Atlanta, and discover the best things to do around the city.