Where to Eat Breakfast in Atlanta
No matter if you break your fast at the usual early morning breakfast hour or if you prefer your eggs later in the day, here are some of our favorite places in Atlanta to get eggs, bacon, omelets, pancakes and more.
Atlanta Breakfast Club
Atlanta Breakfast Club is the perfect combination of modern dining and retro decor. It is arguably one of the best breakfast spots in Atlanta. Stop by for either the crispy fried chicken and waffles or the peach cobbler French toast. Dine-in, takeout. Downtown.
Where: 249 Ivan Allen Jr. Blvd. NW
Buttermilk Kitchen
Looking for Southern food made from scratch that's also sustainable and local? Buttermilk Kitchen strives to nurture customers with wholesome local food that's made in-house, paying tribute to its name, "Buttermilk." This women-owned restaurant is best known for breakfast and brunch items including the pimento cheese omelet and French toast. Dine-in, drive through. Buckhead.
Where: 4225 Roswell Road NE
Folk Art Restaurant
Folk Art Restaurant is an egg-cellent restaurant in Inman Park. The all-day breakfast menu includes biscuits with sausage gravy, Benedicts, and chicken and waffles. Specialty cocktails include Mr. Sunshine, a mixture of gin, orange juice, lemon juice and ginger syrup; and What's Up Doc, featuring vodka, carrot juice, apple cider and fresh ginger. Dine-in, curbside pickup, delivery. Eastside.
Where: 465 North Highland Ave. NE
Gocha's Breakfast Bar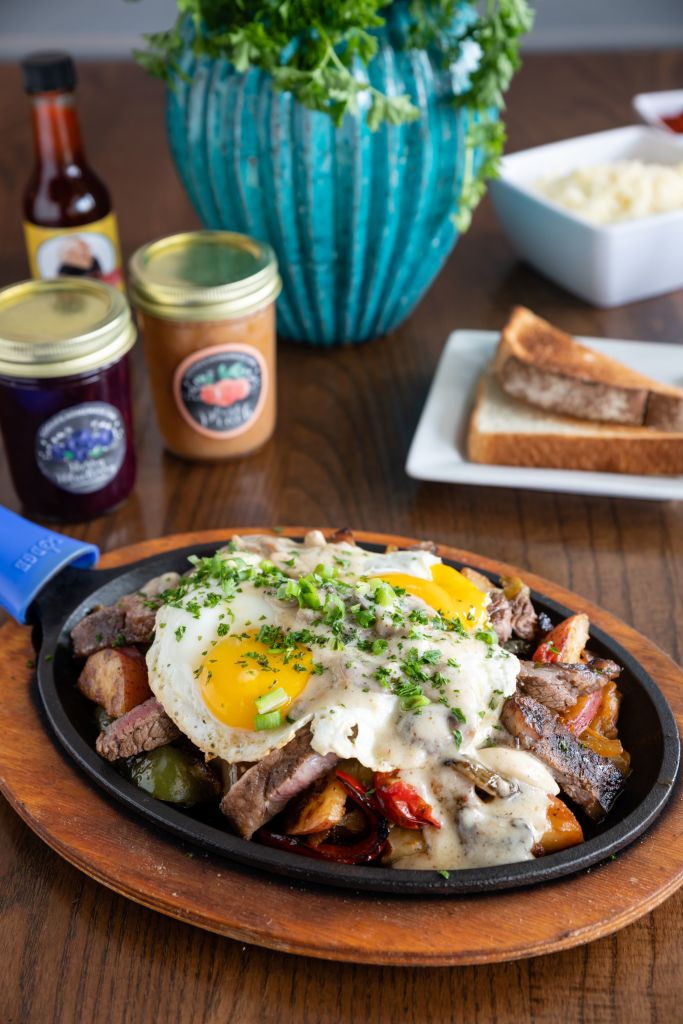 Located in Atlanta's Cascade neighborhood, Gocha's Breakfast Bar has you covered. This upscale breakfast restaurant offers a modern atmosphere and carefully executed meals. The menu features Southern-style pescatarian and vegan-friendly dishes like crunchy battered French toast with mixed berries, powdered sugar and house-made vanilla bean sauce. Dine-in, curbside pickup, delivery. Westside.
Where: 3695 Cascade Road. Suite 440
Highland Bakery
A local favorite, Highland Bakery serves delicious cups of coffee, delectable baked goods and mouth-watering breakfasts. Starting with great coffee and scrumptious muffins, the menu has grown to include an array of homemade breads and home-style Southern fare. Shrimp and grits, sweet potato pancakes, black-eyed peas and eggs Benedict make it hard to save room for sweets such as mini-doughnuts or cinnamon rolls. Luckily for loyal customers or first-time visitors, Highland Bakery has several locations in Atlanta, making it an easy breakfast option wherever you're located. Dine-in, takeout, delivery. Buckhead and Eastside.
Where: 3343 Peachtree Road in Buckhead; 655 Highland Ave. NE in Midtown; 25 Park Place NE Downtown; 1515 Dickey Road and 1300 Clifton Road near Emory University
Home Grown
Nestled in Reynoldstown, Home Grown is a laid-back eatery known for serving locally sourced breakfast and Southern fare in a retro country-style diner setting. The fresh ingredients make the popular Basic Breakfast dish anything but basic. Home Grown has quickly become a favorite neighborhood hangout for nearby residents and those passing through. Dine-in, drive-through. Southside.
Where: 968 Memorial Drive SE
Java Jive
Looking for one of Atlanta's hidden gems? Opened in 1994, Java Jive is a mom-and-pop style diner with retro decor featuring a vintage toaster collection. Although it's known for serving anything from pancakes to omelets and everything in between, you can't go wrong with ordering one of its most popular scramble dishes, the chorizo-flecked Santa Fe Scramble. It is served with a fluffy, lopsided buttery biscuit and two pieces of crispy bacon. Stop by Java Jive to truly experience Atlanta. Dine-in, takeout. Midtown.
Where: 790 Ponce De Leon Ave. NE
Joy Cafe
Joy Café is your perfect weekend brunch spot for enjoying breakfast while soaking up the beautiful Atlanta weather on the outdoor patio. This locally run cafe offers just about any delicious thing made from scratch that you can imagine. Our mouths water at the thought of the Big Berry Belgian Waffle or the shrimp and grits. Joy Café offers classic eggs Benedict, fresh omelets, breakfast sandwiches and salads, too. Dine-in, takeout, delivery. Midtown.
Where: 1100 Peachtree St. NE, No. 110
Maple Street Biscuit Company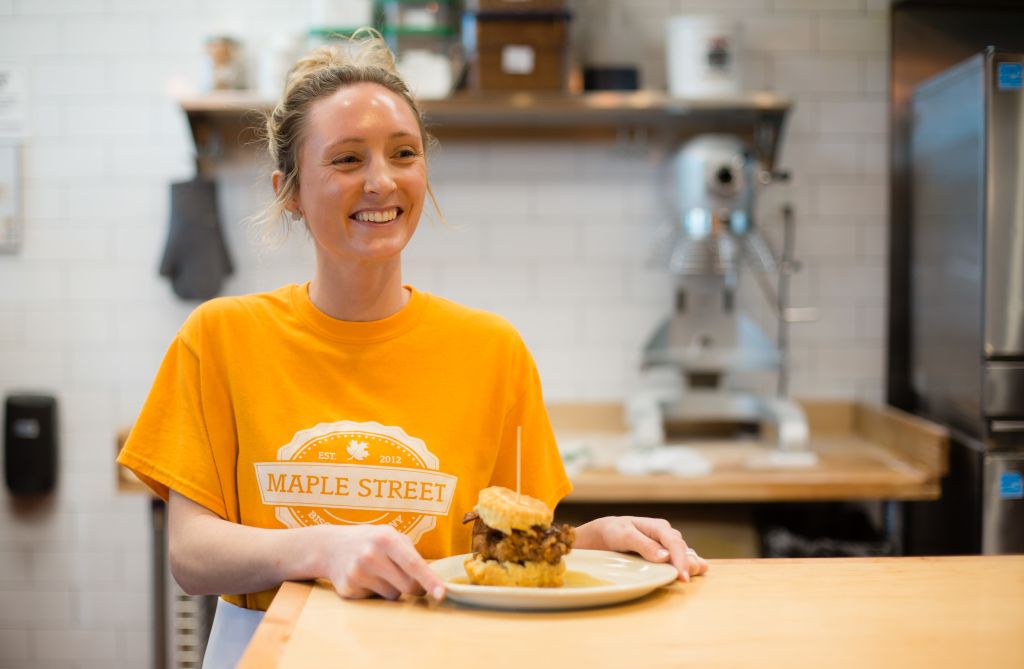 Known as a community-inspired store that focuses on helping people and serving others, Maple Street Biscuit Company is home to friendly staff and buttery biscuits. The casual atmosphere is just right for indulging in a Southern breakfast or brunch comfort food. Biscuits, gravy and jams are made from scratch and the maple syrup is pure, Grade A from third-generation Bissel Farms. From pecan-wood smoked bacon and all-natural chicken breasts to freshly squeezed orange juice and hand-roasted coffee beans, Maple Street's great food starts with the best ingredients. Dine-in, takeout, delivery. Westside.
Where: 1085 Howell Mill Road, Suite B-1
R. Thomas Deluxe Grill
It's 2 a.m. and whether you're finishing up your night or just starting the day, R. Thomas Deluxe Grill just might be what you're craving. Although famous for burgers, this funky spot serves breakfast around the clock. The lush-covered garden patio and organic menu with vegetarian fare create a unique experience. R. Thomas prides itself on treating both carnivores and vegetarians with the utmost respect, using high quality ingredients such as free-range chicken and wild-caught tuna, homegrown herbs and local organic honey. Dine-in, drive-through, delivery. Midtown.
Where: 1812 Peachtree Road NW
Ria's Bluebird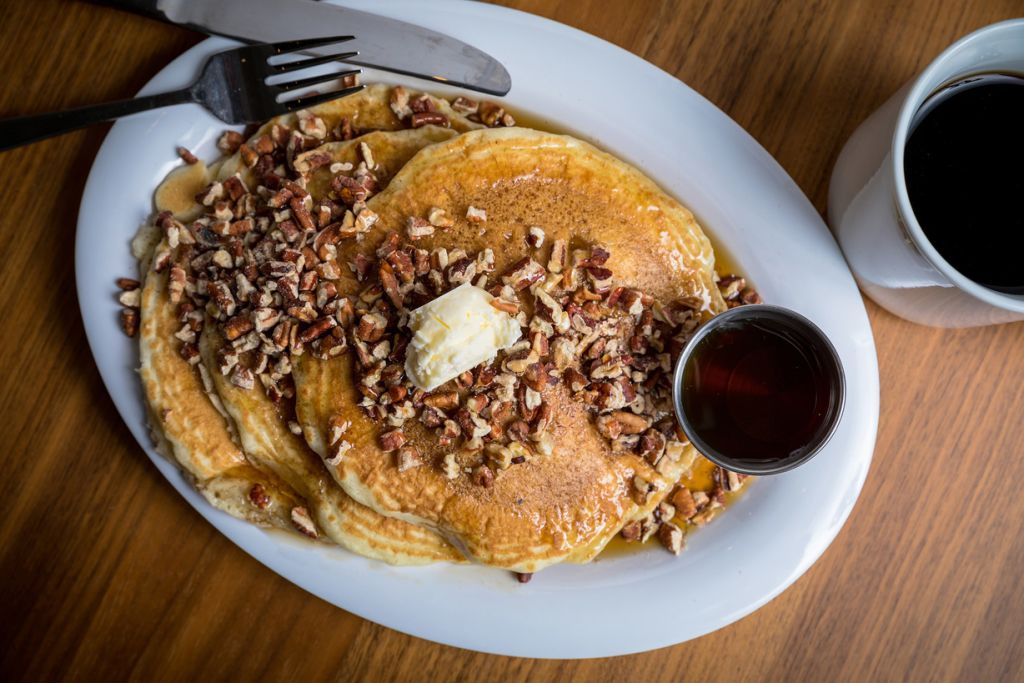 A staple in the Grant Park neighborhood, Ria's Bluebird is a LGBTQ+ owned casual all-day brunch restaurant guiding residents and visitors to morning glory with their famous pancake platters. Fluffy, buttery and topped with toasted pecans or bananas, these made-from-scratch flapjacks keep diners coming back. Celebrated by The New York Times as "the world's best pancakes," these stacks are where it's at. Dine-in, takeout. Southeast.
Where: 421 Memorial Drive SE
Silver Skillet
The Silver Skillet is both Atlanta's and Hollywood's favorite go-to breakfast diner. An Atlanta icon since 1956 and famous for more than just its country-fried steak with cheesy eggs, this Midtown eatery is bursting with nostalgia. Known for its vintage decor, the Silver Skillet can be found in some of today's top films and TV shows including the "Traveling Man," "Remember the Titans" and "I'll Fly Away." It's even been featured on the Food Channel's "Diners Drive-Ins and Dives" and most recently, "The Chew." Dine-in, takeout. Midtown.
Where: 200 14th St. NW
Sun in My Belly
Do you love having breakfast for dinner? Located in Atlanta's Eastside neighborhood, Sun In My Belly serves breakfast all day long. Whether you choose the brioche French toast served with honey ricotta and fresh berries or the pimento cheese omelet, it'll be a dinner — or should we say breakfast — unlike any other. Sun In My Belly offers a range of brunch items with a traditional Southern twist including fried green tomatoes and shrimp and grits as well as a variety of tasty sides, sandwiches and salads. Dine-In, curbside pickup, delivery. Eastside.
Where: 2161 College Ave. NE
Thumbs Up Diner
The Thumbs Up Diner is a bustling breakfast spot that has been an Atlanta institution for nearly three decades. With two Atlanta locations plus others in the metropolitan area, Thumbs Up offers a wide range of breakfast options. You can't go wrong with one of the original dishes like the fried chicken strips and waffle with New England maple syrup. Before you go, be sure to stock your wallet as this famed eatery is cash only (or use the ATM inside for a small fee). Dine-In, takeout. Downtown and Midtown.
Where: 573 Edgewood Ave SE and 826 Marietta St. NW
West Egg Cafe
They say breakfast is the most important meal of the day, so why not do it right? Named one of the 22 best breakfast spots in America by Thrillist, West Egg Café treats guests to Southern fare in minimalist decor. The BYO (Build Your Own) biscuits, must-try shrimp and grits, or pimento cheese and bacon omelet are certainly worth getting out of bed for (even on your first alarm). If you're not an early riser, you're in luck — West Egg Café serves breakfast all day. Dine-in, takeout, delivery. Westside.
Where: 1100 Howell Mill Road
If breakfast is not your thing, coffee probably is. In that case, visit one of Atlanta's Best Coffee Shops to Work or Study. Wait, what? You prefer tea? Here's Where to Drink Tea in Atlanta. And, if you're more a brunch type than a breakfast type, take a look at Best Brunch Spots in Atlanta in Every Neighborhood.
Discover More
Get to know Atlanta, and discover the best things to do around the city.