The Best Tours for Seeing Atlanta Up Close
From food and brews, to films, art, history and attractions, the ATL has it all and a tour to go with it. Rich with civil rights history, culinary treats, craft brews, history and more, discover an ATL tour that is perfectly suited for your tastes and walk, pedal, eat, drink and discover your way around the ATL.
Bicycle Tours
Bicycle Tours of Atlanta
Discover Atlanta on two wheels with Bicycle Tours of Atlanta, rated #1 Outdoor Activity in Atlanta. Multiple tours to choose from means there is sure to be one that will suit your ability and interests. Ride along the BeltLine or book an off-the-beaten-path adventure. Explore the excitement of Downtown, the sophistication of Midtown and gorgeous neighborhoods on the "Fall in Love with Atlanta," two and half hour, eight-mile history tour. Take a civil rights journey by bike, discover murals, or pedal off on a specialized sustainability tour.
Brew Tours
Atlanta Beer Bus
Hop on the Atlanta Beer Bus, the ATL's only HOP-on/HOP-off brewery shuttle service. For a daily fee, riders have access to the city's growing number of breweries, a distillery, a cidery, and a MARTA station. The Bus's resident Beer Nerd will help you navigate the breweries and selections. Book a private charter for your next celebration or outing. 
Atlanta Peach Roll
Hop on a 10-passenger pedal-powered bike for a tour through downtown attractions and pubs with the Atlanta Peach Roll.
Food Tours
Atlanta Food Walks
Sample Atlanta's culinary scene on a tour by Atlanta Food Walks. Named the top tour to explore the city by National Geographic, and one of the top 50 tours in the world by the Sydney Morning Herald, you will love what you discover in both cuisine and history. The Downtown Southern Food Walk includes 15 tastings from 7 locally-owned restaurants, with a deep look at how Dr. Martin Luther King Jr. was a foodie. All food and drink included, plus a guided tour through Atlanta's oldest market. Other tours are also available.
The Chick-fil-A Backstage Tour
Take a rollicking journey through the history of the number one chicken restaurant chain in America on The Chick-fil-A Backstage Tour. The tour includes a fun guided walking storytelling experience that takes you back to the beginning when S. Truett Cathy founded Chick-fil-A. The Original Tour focuses on Cathy himself and the core values and culture of the company he so lovingly created. With the Deluxe tour, attendees also get to visit Cathy's office, savor tastings in the Kitchen and spend time in the Nest (the company's training center). It's an excellent way to go behind the scenes and get to know everything about Chick-fil-A, from the hospitable people and the delicious menu to the adored Eat Mor Chikin Cows. Located moments from downtown Atlanta, the Chick-fil-A Support Center is nestled on a scenic 80- acre campus. Tours are held Monday – Friday for adults and children over the age of 6. For more information, visit tours.chick-fil-a.com.
Walking Tours
Atlanta Preservation Center
Enjoy a Guided Walking Tour of historic sites and neighborhoods with a knowledgeable volunteer guide with a passion for history and preservation from the Atlanta Preservation Center. Nearly a dozen different tours are offered from March through November. Each will take you on a tour of a historic neighborhood like Sweet Auburn, and visit sites like Westview Cemetery, where many important Atlantans are buried, or the L.P. Grant Mansion, a former Civil War hospital, and later home of Margaret Mitchell, author of "Gone With the Wind." Tours are $13 for adults, $7 for students and those 65+. Reservations required. Book 48 hours in advance.
Welcome Walks USA
Welcome Walks USA offers digital walking tours delivered by mobile app and the freedom to explore a city on your schedule and pace.
Attraction Tours
Mercedes-Benz Stadium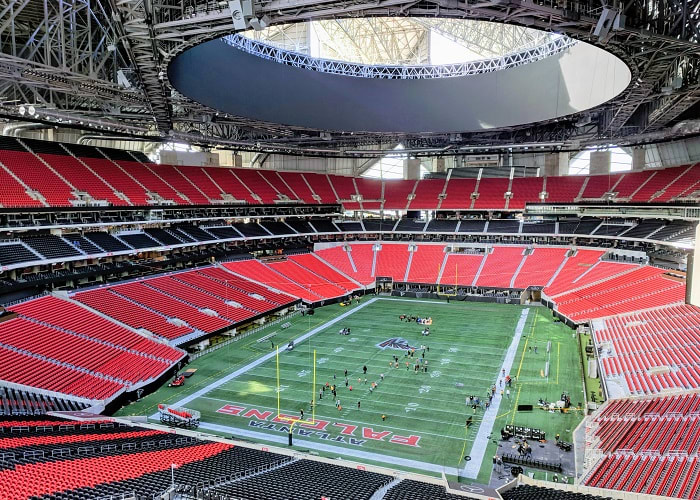 Go behind the scenes at the home of Atlanta Falcons and Atlanta United FC on a Mercedes-Benz Stadium Tour. See the locker rooms, play on the field, explore the architecture and expansive art collection, including the world's largest sculpture of a falcon on your 90-minute tour.
Atlanta Motor Speedway
Get behind the excitement with a track tour at the Atlanta Motor Speedway. Feel the energy of the Monster Energy NASCAR Cup Series world as you behind-the-scenes at one of the south's finest entertainment complexes. Tours include a brief track history, a visit to Petty Garden, a tour of an Atlanta Motor Speedway suite, a sneak peek at the garages and Victory Lane, and three laps in the Speedway van around the same 1.54-mile track that stars like Jimmie Johnson and Kyle Busch race on.Tickets are $10 for adults. $8 for 65+, $5 for ages 6-12, under 5 free. Group discounts of 10% on 12 or more. Please call in advance for availability.
Truist Park at The Battery Atlanta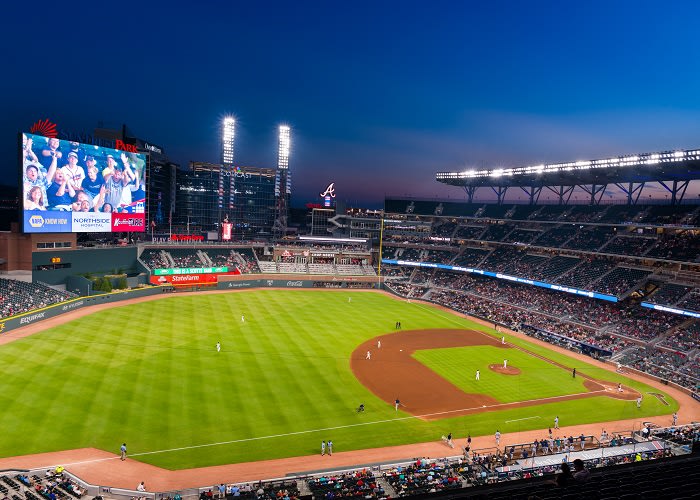 Get a bird's eye view of the action with tours at Truist Park at The Battery Atlanta, the home of the Atlanta Braves Baseball Club. Explore this state-of-the-art ballpark designed for the ultimate die-hard baseball fan.
Wren's Nest
The Wren's Nest is the historic home of journalist Joel Chandler Harris, an early editor of the Atlanta Constitution and creator of the characters Brer Rabbit and Uncle Remus. The Harris family lived at the house between 1881 and 1908 and it became a museum in 1913 and is now designated a National Historic Landmark.
Motorized Tours
Red T Tours
Zip around town in a red Model S Tesla Sedan with Red T Tours. You'll have your knowledgeable driver's attention all to yourself on this private tour tailored to your specifications. Personalized, classy, try the "Atlanta Sampler" which draws from other specialized tours (food, history, civil rights, lifestyle) or request a deep dive neighborhood tour.
ATL-Cruzers Electric Car & Segway Tour
Experience the best of Atlanta on an intimate and eco-friendly ATL-Cruzers Electric Car & Segway Tour. Discover history, trivia, architecture and hidden neighborhood hotspots with the ATL-Cruzers. The 90-minute electric car tour, 2.5 hour Segway tour, or 3 hour e-bike tour are all great ways to explore the city. Sites covered include Centennial Olympic Park – Georgia Aquarium – World of Coca-Cola – CNN Center – Martin Luther King, Jr. National Historical Park – Inman Park – Fabulous Fox Theatre – Piedmont Park – Margaret Mitchell House and more. Prices start at $29 (car) and $59 (segway). Call 1-404-492-7009 to book a tour.
Culture Tours
Civil Rights Tours
Tom Houck, former driver for civil rights leader John Lewis, had a front seat to the civil rights movement in Atlanta for decades. Let him take you on a three hour bus trip through the past, present, and future of civil rights on this Civil Rights Tour of Atlanta to see where history was made. See the elementary school Martin Luther King, Jr. attended, Auburn Avenue, and new murals honoring civil rights leaders. Visits to more than 20 civil rights stops will leave you wanting more. 
Amazing Atlanta Tours
Amazing Atlanta Tours offers a full range of tour experiences. Guests can bike, walk, or kick back on a bus or shuttle while exploring Atlanta's history, art, and culture with tours like the "Off the Wall" ATL Mural Tour, "Fall in Love with Atlanta" three-hour bike tour rated #1 outdoor activity in the ATL on TripAdvisor that's suitable for the whole family, and specialty tours like a "Sustainability in Action" tour to discover all the green buildings, spaces, water conservation and more.
The Sweeney Zone
Convention attendees will love the Shop 'Till You Drop partnership with Shop the Mart program at the The Sweeney Zone at the Atlanta Convention Center at AmericasMart. This extraordinary "Shopportunity" lets convention and meeting attendees enjoy an exclusive shopping experience with unbeatable pricing in downtown Atlanta. AmericasMart Atlanta is a unique location for those wanting a spouse program, teacher appreciation, corporate or association package, or bridal party. 
DTours
Private, guided DTours will help you dive into the ATL's unique blend of Southern & Urban culture. Get off the beaten track and take a DTours.
IGO Tours
Since the 1996 Summer Olympic Games, Atlanta has become a focal point in the international tourism industry. IGO Tours creates each travel program and tour service for Atlanta and other regions of the Southeast.
Pennyman Atlanta Tours
From Civil War battlefields to Walking Dead film sites, Pennyman Atlanta Tours will take you there. Dining, tailgate, Gee's Bend Quiltmakers, and customized private or group tours, they will design a tour just for you.
Discover More
Get to know Atlanta, and discover the best things to do around the city.