Best Atlanta Tours for Seeing the City Up Close
From food and brews to art and attractions, the ATL has it all plus a tour to go with it. ATL tours let you walk, pedal, eat or drink your way around town.
Bicycle Tours
Bicycle Tours of Atlanta
Discover Atlanta on two wheels with Bicycle Tours of Atlanta. Ride along the Atlanta BeltLine or book an archival adventure. Explore Atlanta's Tiny Doors or ride alongside artists who have created Atlanta's thriving street art scene. Learn about the city on the Fall in Love with Atlanta tour. Take a civil rights journey by bike or pedal off on a specialized sustainability tour.
Rolling Tours
Atlanta Beer Bus
Hop on the Atlanta Beer Bus, the ATL's only HOP-on/HOP-off brewery shuttle service. Get an Ale Trail passport on the Atlanta Beer Bus website then pick up the bus at any of the Beer Bus locations and visit up to eight stops. Buses arrive approximately every hour. Breweries you might visit include Scofflaw Brewing, Steady Hand Beer Co., Monday Night Brewing, Urban Tree Cidery, Fire Maker Brewing, Bold Monk Brewing, Second Self Beer Co. and Round Trip Brewing.
Atlanta Peach Roll
Hop on a 10-passenger pedal-powered bike for a tour through the city and historical districts with the Atlanta Peach Roll.
Food Tours
Atlanta Food Walks
Sample Atlanta's culinary scene on a tour by Atlanta Food Walks. Named the top tours for exploring the city by National Geographic and one of the top 50 tours in the world by the Sydney Morning Herald, this tour combines cuisine with history. The Downtown Southern Food Walk includes 15 tastings from seven locally owned restaurants. You'll learn about history and regional variations of Southern food from colonization through the civil rights movement while you indulge your taste buds with some of the city's culinary gems
The Chick-fil-A Backstage Tour
Take a journey through the history of the No. 1 chicken restaurant chain in America on the Chick-fil-A Backstage Tour. The tour includes a guided experience that takes you back to the beginning when S. Truett Cathy founded Chick-fil-A. The Original Tour focuses on Cathy himself and the core values and culture of the company he created. Located near downtown Atlanta, the Chick-fil-A headquarters is located on an 80-acre campus. Tours are held select days for adults and children older than 6. For more information, visit tours.chick-fil-a.com.
Walking Tours
Atlanta Preservation Center
Learn about Atlanta's vibrant history and experience the city from a new perspective. Atlanta Preservation Center has offered guided tours since 1980. Tours, available February through December, are led by dedicated and knowledgeable volunteers with a passion for preservation.
Welcome Walks USA
Welcome Walks USA offers digital walking tours delivered by mobile app and the freedom to explore the city on your schedule and at your own pace.
Attraction Tours
Mercedes-Benz Stadium
Go behind the scenes at the home of Atlanta Falcons and Atlanta United FC on a Mercedes-Benz Stadium Tour. Experience the signature features of Mercedes-Benz Stadium including stops at locker rooms, the field, Window to the City, skybridges and clubs. You can take an engineering and architectural tour, a technology tour, a sustainability tour or an art tour.
Atlanta Motor Speedway
Twice a year, Atlanta Motor Speedway is the center of the NASCAR Cup Series world. The rest of the year, the facility is open to the public for speedway tours and a behind-the-scenes look. Official track tours include a brief track history, visit to Petty Garden and Bootlegger's Bar, a stop at the start/finish line in the grandstands, an infield tour and a stop at Victory Lane.
Truist Park at The Battery Atlanta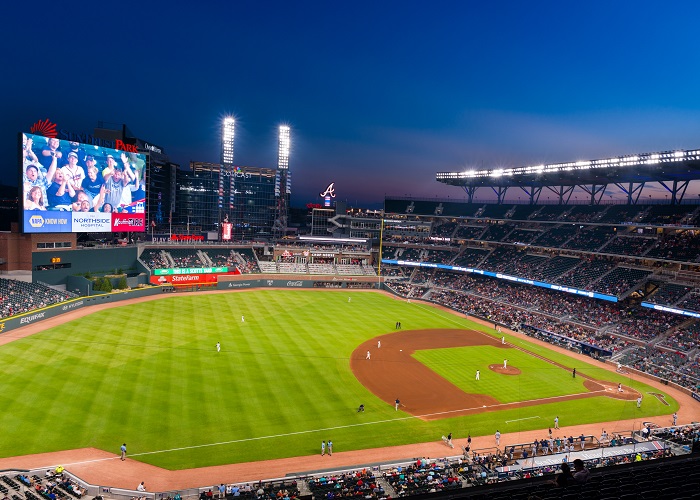 Tours of Truist Park are offered year-round and take you to many areas off limits during games. With artifacts and exhibits distributed throughout the ballpark, it is a definite must for any Braves or baseball fan. Tours begin at the right field gate and tickets must be purchased in advance online. Tours depart rain or shine and last approximately one and a half hours.
Wren's Nest
The Wren's Nest hosts house tours and a live storytelling hour every Saturday. House tours are available on the hour and half hour from 11 a.m. to 12:30 p.m. and again at 2 p.m. and 2:30 p.m., following a live storytelling performance at 1 p.m. By exploring each room of The Wren's Nest, the historic home of Joel Chandler Harris, tour takers will learn about the life of Harris, an early editor of the Atlanta Constitution and creator of the Characters Br'er Rabbit and Uncle Remus. Tours last approximately 30 minutes.
For decades, The Wren's Nest has presented a weekly storytelling hour on Saturdays, allowing visitors to hear the tales in the spirit of their original form. Four professionals perform at these sessions. Each brings a unique style, making the old stories come to life. The Harris family lived at the house between 1881 and 1908, and it became a museum in 1913. Today it is a National Historic Landmark.
Motorized Tours
ATL-Cruzers Electric Car & Segway Tour
Experience the best of Atlanta on an eco-friendly ATL-Cruzers Electric Car & Segway Tour. Discover history, trivia, architecture and hidden neighborhood hot spots with ATL-Cruzers. The 90-minute electric car tour and the two-and-a-half-hour Segway tour are great ways to explore the city. Call 1-404-492-7009 to book a tour.
Culture Tours
Amazing Atlanta Tours
Amazing Atlanta Tours offers a full range of tour experiences. You can bike or walk while exploring Atlanta with tours like the Off the Wall ATL Mural Tour or the three-hour Fall in Love with Atlanta bike tour and specialty tours like a Sustainability in Action tour to discover green buildings, spaces, water conservation and more.
Ambassador ATL – Atlanta Tours
Learn about the rich history of Atlanta through the lens of Ambassador ATL tours. Ambassador ATL offers an accredited tour guide/event planner and features a variety of tours including the New Black Wall Street Tour, Atlanta Hollywood Tour, City Bus Tour and Black History Bus Tour.
Black Girl Magic Tours
Black Girl Magic tours focus on the magic and power of Black women through a culturally enriching three to three-and-a-half-hour curated tour of Atlanta's mural art and skyline.
Civil Rights Tours
Tom Houck, former driver for Martin Luther King Jr., had a front seat during the civil rights movement in Atlanta. Let Houck take you on a three-hour bus trip through the past, present and future of civil rights on this Civil Rights Tour of Atlanta. See the elementary school Martin Luther King Jr. attended, Auburn Avenue and new murals honoring civil rights leaders. Visits to more than 20 civil rights stops will leave you wanting more.
DTours
Private, guided DTours help you dive into the ATL's unique blend of Southern and urban culture.
Pennyman Atlanta Tours
Pennyman Atlanta Tours combine Atlanta history and Georgia history, telling stories that make the history of the Civil War and the civil rights movement come alive.
The Sweeney Zone
Convention attendees will love the Shop Till You Drop partnership with Shop the Mart program at the The Sweeney Zone at the Atlanta Convention Center at AmericasMart. This extraordinary "shopportunity" lets convention and meeting attendees enjoy an exclusive shopping experience with unbeatable pricing in downtown Atlanta. AmericasMart Atlanta is a unique location for spouse programs, teacher appreciation events, corporate or association packages and bridal parties.
Discover More
Get to know Atlanta, and discover the best things to do around the city.