Hip, Art-Filled Neighborhood: Castleberry Hill

Castleberry Hill has always been an Atlanta neighborhood with a rich dichotomy toeing the line between an arts district and an invigorating nightlife destination. It's like the Amsterdam of ATL. It is a hip, walkable sector of Downtown Atlanta blanketed with art galleries, bars, and restaurants that have turned old shops from ATL's past into an inspired community with a story to tell. Take a journey into the neighborhood phoenix that is Castleberry Hill.
Locals' Favorite Restaurants and Bars
The amount of flavor packed into the streets of Castleberry Hill will take you around the globe. For sandwiches that walk a fine line between brilliant and baller, Elliot Street Pub is your spot. No Mas Cantina is like a trip to Mexican hacienda full of vibrant colors, decor, and lip-smacking margaritas and tacos. Jet set into Japanese cuisine with meticulously prepared sushi rolls and Asian-inspired burgers at Bottle Rocket. A trip to Italy with a side of hip-hop you say? Spin is your go-to with cheesy pizzas and DJs spinning the tunes. Old Lady Gang and Paschal's drive soulful Southern eats with Smoke Ring delivering on solid, belly-rubbing barbecue. Match Bamboo Lounge sets your tiki cocktail dreams on fire with Art Cafe Ethiopian Kitchen bringing global cuisine in an authentic, worldly atmosphere. Cap it all off with a sweet, ice-cold treat at McCoughtry's Ice Cream.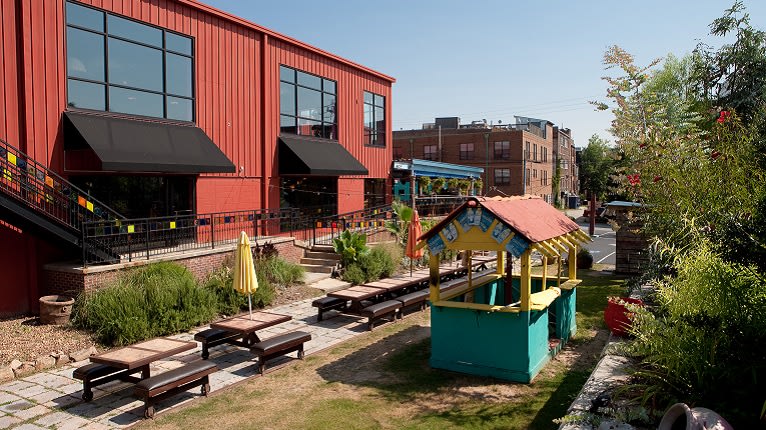 Unique Shopping Options Abound
While the shopping options in Castleberry Hill aren't as sprawling as in other ATL neighborhoods, specialty shops offer boutique styles and bespoke offerings for a variety of connoisseurs. If cigar culture is your thing, blaze up at Habano's with a wide selection of stogies and craft cocktails. Habano's even hosts occasional cocktail competitions pitting the city's finest mixologists against each other. For "sneakerheads," Kwys Denim carries hard-to-find kicks, selvedge denim and the hottest street wear around. And for the health conscious, a visit to iwi Fresh is a masterclass in pampering with all of the products created using only natural ingredients, taking a real "farm-to-skin" approach to skin care.
Castleberry Hill Showcases a Stunning Art Scene
Art is a hallmark of the Castleberry Hill experience with its plethora of galleries and studios showcasing various mediums from around the world. You can find fine art and notable photography pieces at Besharat Gallery and Marcia Wood Gallery, with Zucot Gallery focusing on the work of living African-American artists, making it the largest gallery focused on this niche in the Southeast. But art is more. That's why a visit to City of Ink Tattoos is essential and seen as a journey into the world of stunning body art with people traveling for miles to have famed tattoo artist Miya Bailey imprint one-of-a-kind pieces to skin.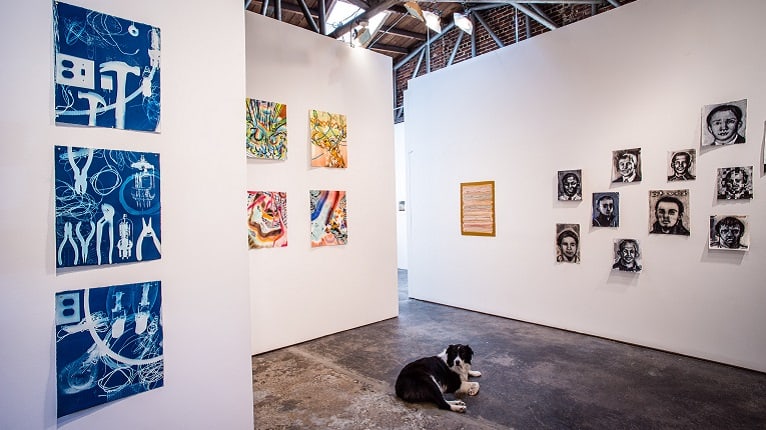 A Music Scene that Will Keep your Vibes High
It's safe to safe that Castleberry Hill's music scene goes hand-in-hand with a majority of the bars and restaurants there. Blending a high-energy club/lounge, bar and tasty bites are the trifecta of Escobar Lounge, 255 Tapas and Pearl Restaurant & Lounge, where lovers of hip-hop and DJ culture let their hair down for amped-up nights on Peters Street. And did you know our favorite sandwich spot, Elliot Street Pub, has a live music venue in the basement called "The 51?" The is one neighborhood prepared to keep your vibes high.
Stroll Through Castleberry Hill at Quirky Events
Every second Friday of the month, the call to the art-centric neighborhood is heeded at Castleberry Hill Art Stroll. The monthly block party of art galleries opening up their doors to the public with street artists showcasing their work continues to be a mainstay in signifying what the district is all about. But art comes in all shapes and sizes, and the gang at Elliot Street Deli & Pub got in on this notion with the monthly Atlanta Metal Works Iron Pour. In conjunction with the Art Stroll, this insane spectacle draws the crowds as hot molten iron is poured and thrown onto a wall for explosions of fireworks you have to see to believe.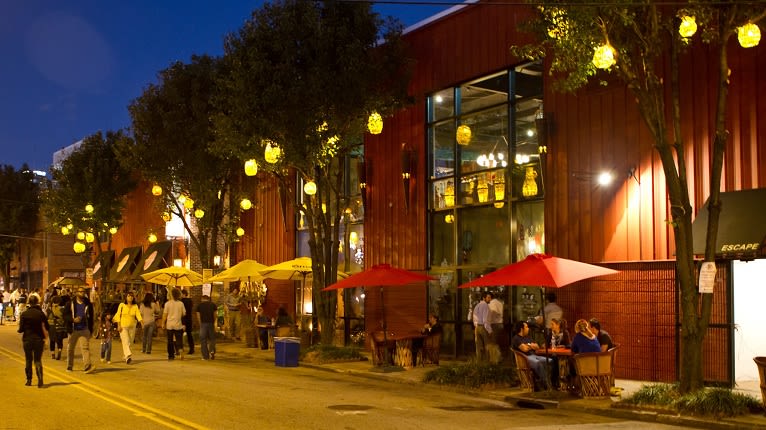 Discover More
Get to know Atlanta, and discover the best things to do around the city.