Fun Ways to Celebrate Hanukkah in Atlanta
Hanukkah 2023 begins at sundown on Dec. 18 and ends Dec. 26. Chabad is holding menorah lighting ceremonies in different neighborhoods throughout the city. The Atlanta Hawks are celebrating. Even the comedians at Dad's Garage are getting in on the festivities. Hanukkah is a good time to visit a kosher market and enjoy a delicious sufganiyot (jelly doughnut).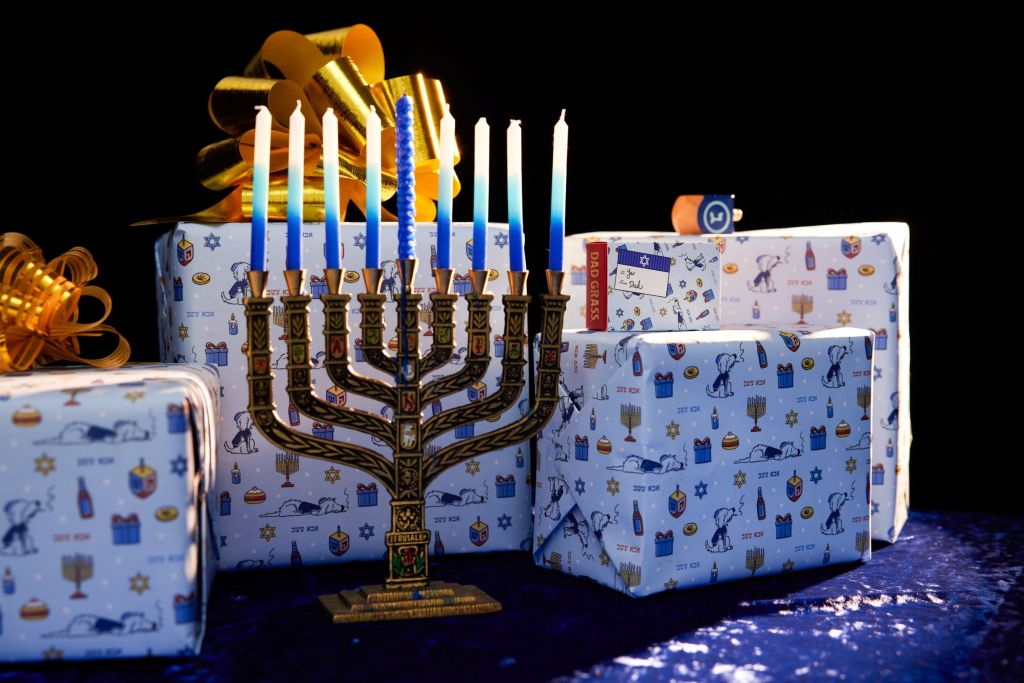 Light Up Marcus Jewish Community Center
The Marcus Jewish Community Center (MJCCA) of Atlanta plans to light up the center starting at 5 p.m. on Dec. 20. Join Rabbi Brian Glusman to celebrate Hanukkah with a menorah lighting, Hanukkah songs, performances and free hot chocolate and doughnuts all outside in the MJCCA courtyard (weather permitting).
The MJCCA invites kids ages 4 to 11 to celebrate the Festival of Lights on Dec. 18 by learning all about the science of lights. The program will offer educational and fun STEM activities for both preschoolers and older kids. There will be hands-on light activities from Georgia Tech and Emory University STEM programs, URJ 6 Points Sci-Tech Academy, Snapology of Smyrna, Nurture from The Davis Academy and more.
The MJCCA notes that during the countdown to Hanukkah, there are many chances to do nice things, or mitzvot, for friends, families, community and the world. In view of that the MJCCA advises kids to complete 10 or more mitzvot and bring their calendar (see below) to the event to receive a prize and be entered to win a free week of MJCCA Day Camps. Kids may download the countdown calendar at at https://www.atlantajcc.org/app/uploads/Countdown-to-Hanukkah.pdf.
Chabad Lights Menorahs Across Atlanta
Chabad invites the public to a Hanukkah Celebration Dec. 18 at North Highland Park (corner of North Highland Avenue and St. Charles Place). Enjoy music, live entertainment, pre-packaged Chanukah treats, dreidels, music and more with the wider Virginia Highland community at Chabad Intown's annual Virginia Highlands menorah lighting.
Chabad Intown plans a menorah lighting at 6 p.m. Dec. 21 at Ponce City Market. The celebration will take place on The Yard with music, live entertainment and refreshments.
Chabad Brookhaven and Buckhead plans a menorah lighting Hanukkah Celebration at 7 p.m. Dec. 24 at the Shops Buckhead Atlanta. There will be Hanukkah crafts and activities, latkes, doughnuts, hot drinks and Jewish holiday music.
Chabad Smyrna/Vinings plans a Giant Gelt Drop and menorah lighting at 5:30 p.m. Dec. 20 at Brawner Hall. In addition to chocolate gelt raining down from the sky, there will be face painting, balloons, music and Hanukkah treats.
Hanukkah with Chutzpah
The William Breman Jewish Heritage Museum celebrates Hanukkah with Chutzpah Dec. 18 with free admission. "History with Chutzpah" co-curator Sandy Berman will host a tour for visitors starting at noon. You will see Sam Greenblatt's 125-year-old bagel, possibly the oldest in the world, along with hundreds of artifacts, photographs and videos. Space is limited so reserve your spot online. 
Hanukkah Night at Dad's Garage
Invasion: Christmas Carol — Hanukkah Night is set for 8 p.m. Dec. 21 at Dad's Garage. It's the classic Christmas Carol story with a new invading improviser.
Atlanta Hawks Celebrate Hanukkah
Hanukkah Night at the Atlanta Hawks on Dec. 19 features a pregame menorah lighting, kosher food options, raffles and, of course, watching the Hawks vs. Magic game at State Farm Arena.
If you can't make one of these events, stock up on sufganiyot to eat at home after you light your own menorah.
Discover More
Get to know Atlanta, and discover the best things to do around the city.