Top Filming Locations in Atlanta
By Aubree Dumas and Carol Carter
Hollywood has given two thumbs up to the city of Atlanta. A diverse range of neighborhoods within a few miles of Downtown can portray everything from New York City to middle America to a quaint Southern town on the bayou. Here are a few of the top locations where filmmakers use Atlanta as a backdrop to make movie magic.
Agnes Scott College
Widely recognized for its beauty, the Agnes Scott College campus is located six miles east of Atlanta in Decatur. With its well-maintained Gothic and Victorian architecture, Agnes Scott has played a variety of "characters" in more than 20 feature films, as well as countless commercials.
Show and films: "Driving Miss Daisy" "Fried Green Tomatoes" "Scream" "The Blind Side" "Life of the Party"
Where: 141 East College Ave.
Atlanta Civic Center
After closing in 2014, this Atlanta auditorium continues to make appearances in iconic films and shows.
Shows and Films: "Captain America: Civil War" "Katt Williams: The Pimp Chronicles Pt. 1" "BET Hip-Hop Awards" "Stellar Gospel Music Awards"
Where: 395 Piedmont Ave. NE
Atlanta Marriott Marquis
The Atlanta Marriott Marquis is a popular 4-star atrium hotel with floor-to-ceiling views that are picture-perfect. Even if you can't see it in person you can find it on the big screen.
Shows and Films: "The Hunger Games Catching Fire" "Flight" "Manhunter" "The Hunger Games: Mockingjay – Part 1" "Loki"
Where: 265 Peachtree Center Ave. NE
The Atlanta University Center
Atlanta University Center (AUC) is the world's oldest and largest consortium of Historically Black Colleges and Universities: Clark Atlanta University, Spelman College, Morehouse College and Morehouse School of Medicine. AUC also a filming location for many popular films.
Shows and Films: "The Real Housewives of Atlanta" "Drumline" "Fresh Territory" "Millenials" "Manhunt" "Hidden Figures" "School Daze" "Hidden Figures" "Macgyver" "A Different World" "We Are Marshall" "The Game" "Being Mary Jane" and several more.
Where: 156 Mildred St. NE
Briarcliff Mansion
The former mansion and estate of Coca-Cola heir Asa Candler Jr. makes for an impressive film backdrop.
Shows and Films: "Stranger Things" "Vampire Diaries" "Doom Patrol" "First Man"
Where: 1260 Briarcliff Road NE
Castleberry Hill Railroad Spur
The Castleberry Hill Railroad Spur is a little-known area hidden behind Walker Street properties that has been popular with filmmakers since the 1980s. Walk from Mangum Street to Haynes Street to see the backdrops for some pretty epic scenes.
Shows and films: "Freejack" "Kalifornia" "The Resident" (FOX) "Taken 3" "Let's Be Cops" "Term Life"
Centennial Olympic Park
Downtown's Centennial Olympic Park is a legacy of the city's 1996 Olympic Games.
Shows and Films: "Richard Jewell"
Where: 265 Park Ave W NW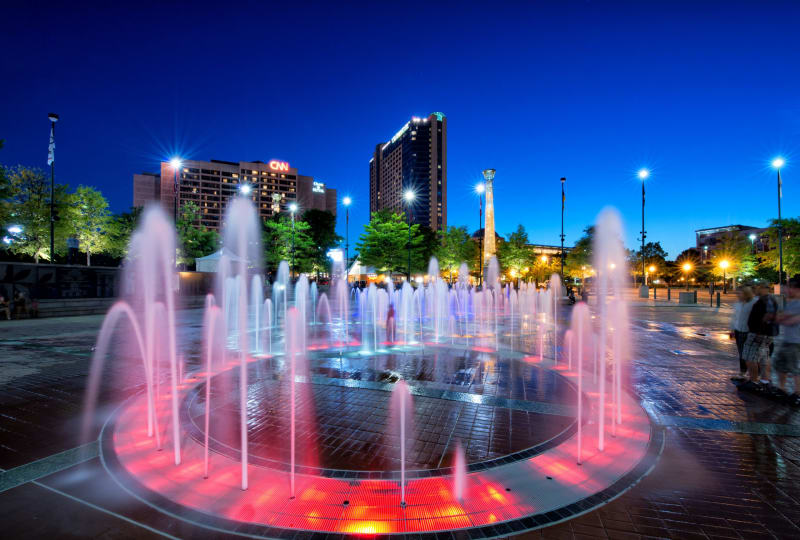 Downtown/Walton/Forsyth
The general area of Walton/Forsyth in downtown Atlanta's Centennial Olympic Park District is popular, especially for action flicks like the latest Marvel movies. The area is a must for any Marvel fan to check out while in the A.
Shows and films: "Avengers: Infinity War" "Venom" "The Walking Dead" (AMC), "Baby Driver" "Stranger Things" (Netflix)
Fairlie-Poplar Historic District
Known for its historic buildings, this business and entertainment district makes for the perfect setting for any storyline.
Shows and Films: "Ant-Man" "Spider-Man: Homecoming"
Glenwood Park
Another popular filming area is Glenwood Park with its quaint streets and suburban feel (even though it's right in the middle of the city).
Shows and films: "The Boss" "Hall Pass" "Drop Dead Diva" (Lifetime), "The Blind Side" "Pitch Perfect 3"
Georgia Aquarium
Georgia Aquarium is a must-visit attraction where you'll have thrilling encounters with sea creatures. It also is an iconic filming location.
Shows and Film: "The Last Song" "Alvin and the Chipmunks: Road Chip" "The Change-Up" "What to Expect When You're Expecting"
Where: 225 Baker St. NW
The Georgian Terrace
The Georgian Terrace is a modern luxury hotel located in Midtown Atlanta and across from the iconic Fox Theatre. Not only is this spot well-known for its charm, it's also well-known in film industry.
Shows and Films: "The Change-Up" "Identity Thief" "Cockfighter" "Anchorman 2: The Legend Continues"
Where: 659 Peachtree St. NE
Goat Farm Arts Center
This historic 19th-century factory boasts a variety of indoor and outdoor performance spaces that catch eyes both on and off camera.
Shows and Films: "The Hunger Games: Catching Fire" "The Walking Dead"
Where: 1200 Foster St. NW
High Museum of Art
The High Museum of Art truly shows great range from appearing as everything from a hospital to a London museum. No matter how filmmakers use it, we have to say it looks magnificent. In "Black Panther," you may notice a little movie magic was used to add a glass dome.
Shows and films: "The Watch" "Coma" (A&E mini-series), "Black Panther" "Manhunter" "The Resident" (FOX)
Where: 1280 Peachtree St. NE
Jackson Street Bridge
Known for being the "quintessential Atlanta view," Jackson Street Bridge looks almost as good on the big screen as it does in person.
Shows and Films: "The Walking Dead"
Mitchell Street
Another super popular spot for filming is the old "Hotel Row" between Ted Turner Drive and Forsyth Street. It has been dressed up and down plenty of times for some of your all-time favorite scenes. See if you can spot some of them.
Shows and films: "The Walking Dead" (AMC), "Black Panther" "Furious 7" "MacGyver" (FOX) "Superfly" "Spiderman: Homecoming"
Peters Street Bridge
One of the popular areas for filming is right Downtown in the Castleberry Hill neighborhood. The Peters Street Bridge and surrounding area have been seen frequently in movies and TV shows.
Shows and films: "The Walking Dead" (AMC), "The Nice Guys" "Furious 7" "Date Night"
Piedmont Park
You can't visit Atlanta without taking a stroll around this popular park. Piedmont Park is located between Midtown and the Virginia Highland neighborhood. Not only is this land frequented by many locals and visitors, it also is a popular spot for filming.
Shows and Films: "Boomerang" "MacGyver" "Mother's Day" "Spider-Man" "American Idol" "The Intern" "The Resident" "Instant Family"
Where: 1320 Monroe Drive NE
Porsche Experience Center
Satisfy your need for speed at this thrilling experience center or see iconic thrill/action films shot at this location.
Shows and Films: "Watchmen" "Avengers: Endgame"
Where: One Porsche Drive
The Swan House
Known as the Edward Inman "Swan" House, this mansion was built in 1928 and is part of the Atlanta History Center. You might recognize this beautiful estate as it played a role in popular films.
Show and Films: "The Hunger Games: Catching Fire" "The Hunger Games: Mockingjay, Part 2"
Where: 130 West Paces Ferry Road NW
Wheat Street Towers
This high-rise building for seniors was established by Wheat Street Baptist Church and is now widely known for making a debut in an iconic film.
Shows and Films: "Black Panther"
Where: 375 Auburn Ave. NE
Westside Reservoir Park
Located by the Atlanta BeltLine, Westside Park is a 350-foot-deep quarry and one of Atlanta's newest green spaces used as a set for various productions.
Shows and Films: "The Walking Dead" "The Vampire Diaries" "Game of Silence" "The Divergent"
Where: Johnson Rd NW
Woodruff Park
In the heart of Downtown, this park is home to fountains, monuments and a performance pavilion. Not only is it a picturesque spot to visit, it looks great on camera, too.
Shows and Films: "Anchorman 2"
Where: 91 Peachtree St.
Discover More
Get to know Atlanta, and discover the best things to do around the city.