Atlanta Music Venues
From the symphony to indie bands to hip-hop, you'll find nearly every musical genre performing in Atlanta at amazing venues. Whether you enjoy listening to music outdoors at Cadence Bank Amphitheatre at Chastain Park, prefer the ambience of the Fox Theatre or love to rock out at State Farm Arena, there's a venue for you.
Buckhead Theatre
Originally opened in 1931, Buckhead Theatre sits at the gateway to Buckhead, one of the country's most storied neighborhoods. Two years of painstaking restoration led the way for a grand reopening in 2010. The restored Spanish-Baroque architecture of this classic movie-house jewel is a seamless historical counterpoint to the updated state-of-the-art lighting and sound system. Embracing the deep musical heritage of Georgia and the Southeast, Buckhead Theatre has been the site of sold-out shows of every musical genre.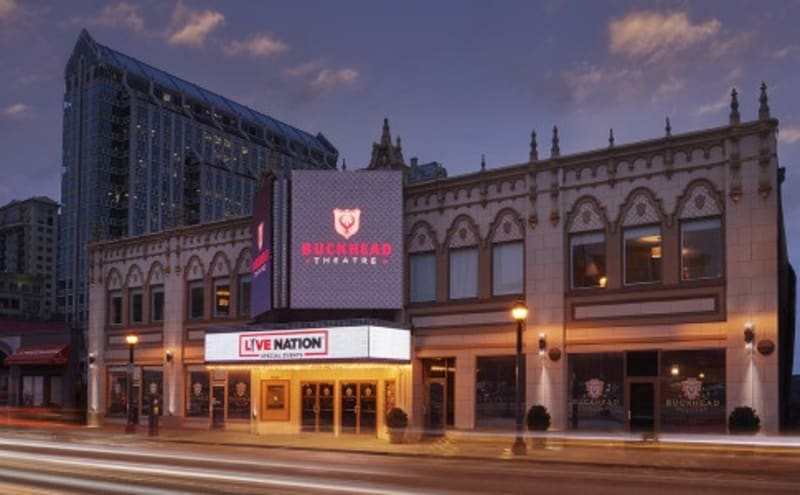 Cadence Bank Amphitheatre at Chastain Park
The Cadence Bank Amphitheatre is an outdoor amphitheater within historic Chastain Park, just minutes north of downtown Atlanta in the heart of Buckhead. Fans can enjoy a wide variety of live music each spring, summer and fall. Past performers include John Legend, Mark Knopfler, Rob Thomas, Billie Eilish and Adam Sandler. The venue opened in 1944 and claims to be "Atlanta's Oldest Outdoor Music Venue."
Cobb Energy Performing Arts Centre
Cobb Energy Performing Arts Centre is a popular venue for Broadway shows, ballet, concerts, educational shows, family performances, opera and events. Located in northwest Atlanta, this world-class facility creates diverse cultural, educational and entertainment experiences in the 2,750-seat John A. Williams Theatre, the 10,000-square-foot Kessel D. Stelling Ballroom and the terrace.
Coca-Cola Roxy
The legendary Coca-Cola Roxy Theatre originally was located in the heart of Buckhead and was one of the Southeast's most popular music venues before closing in 2008. It was resurrected in 2017 as the Coca-Cola Roxy in The Battery Atlanta next to Truist Park. The intimate venue offers theater-style and balcony seating plus state-of-the-art sound, lights and production. Coca-Cola Roxy hosts approximately 40 shows per year and presents a diverse range of local, national and international artists and bands.
Fox Theatre
The historic Fox Theatre is one of Atlanta's favorite venues for live entertainment. Each year, the 4,665-seat theater hosts more than 150 performances ranging from Broadway to rock to comedy to movies. It's no wonder Billboard Magazine once ranked the Fox Theatre in Atlanta as "The No. 1 non-residency venue worldwide for the decade (5,000 seats or less)." Its striking red-carpet entryway and ornate gilt work, soaring turreted ceilings and stained glass windows all lead to a vast cobalt "sky" with a sea of twinkling stars, creating a glamorous place to experience shows.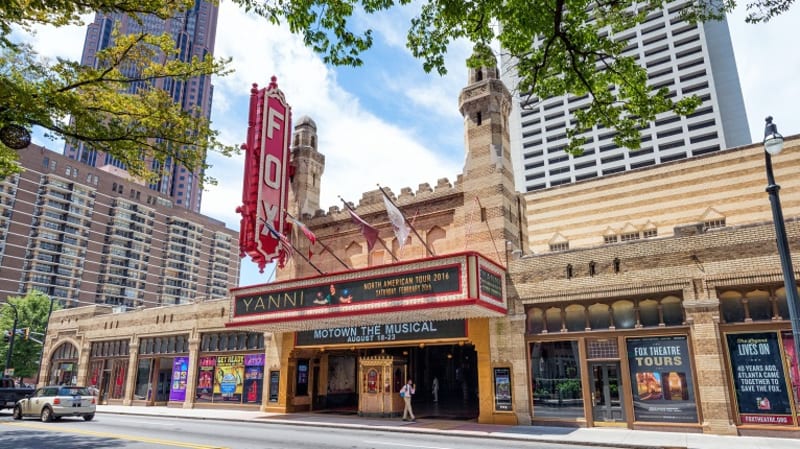 Infinite Energy Center
Infinite Energy Center is a vibrant, versatile venue showcasing a multitude of concerts, sporting events, family shows and more. The center has a capacity of 13,000 and features 30 corporate suites, two-party suites, club level seats, a spacious concourse, wider seats, a high-end sound system and acoustical enhancements to provide the best experience for every event. It is home to the East Coast Hockey League's (ECHL) Atlanta Gladiators and National Lacrosse League's (NLL) Georgia Swarm. The center features various food and beverage locations and a removable ice rink that accommodates ice entertainment shows.
Rialto Center for the Arts
The Rialto Center for the Arts at Georgia State University is the cultural centerpiece of Downtown, located in the heart of Atlanta's historic Fairlie-Poplar district. The intimate, 833-seat performing arts venue is home to the Rialto Series, featuring the best of national and international jazz, world music, dance and Georgia State School of Music performances. It is the downtown Atlanta go-to venue for performances of other arts organizations, visiting companies and independent film screenings. The nationally renowned arts programming is carefully curated to appeal to diverse audiences and represent the widest possible array of artistic styles and genres.
State Farm Arena
Home to the NBA's Atlanta Hawks, State Farm Arena in downtown Atlanta stakes its claim as one of the city's best sports and live entertainment venues. Consistently ranked among the top 10 concert and event venues in the world by Pollstar, State Farm Arena hosts approximately 200 events and nearly two million guests annually.
Tabernacle
Six ornate red doors welcome guests to this former church, which was transformed into a stylish music venue for the 1996 Atlanta Olympic Games. This incredible space is located two blocks from the Georgia World Congress Center and 12 major hotels and is a Live Nation venue booking local bands, DJs and headlining artists, including U2, Drake, Zac Brown Band and more.
Discover More
Get to know Atlanta, and discover the best things to do around the city.