View Atlanta's History and Heritage through Immersive Museums
Atlanta stands up for our truths, our people, and our past. Events that unfolded here built character and altered the city's and America's heritage. Brave people fought for their rights, built economic empires, crafted works of art, and one even became President of the United States. Atlanta celebrates these achievements and pays homage to the events that happened here that shaped our culture into what it is today. Experience the past through our museums and cultural institutions and find yourself forever changed.
APEX Museum
Atlanta's oldest Black History Museum, the African American Panoramic Experience (APEX) Museum, is devoted to African American history and is where you can get a better understanding of and appreciate the contributions of African Americans to America. Permanent exhibits are designed to create a personal connection to experiences that may be unfathomable, while sharing the influences and successes of Black people in Atlanta so they are celebrated and never forgotten. You will hear about one of Atlanta's first black-owned businesses and pioneers, local history and baseball lore, and watch videos at the Trolley Theater in the historic Sweet Auburn district.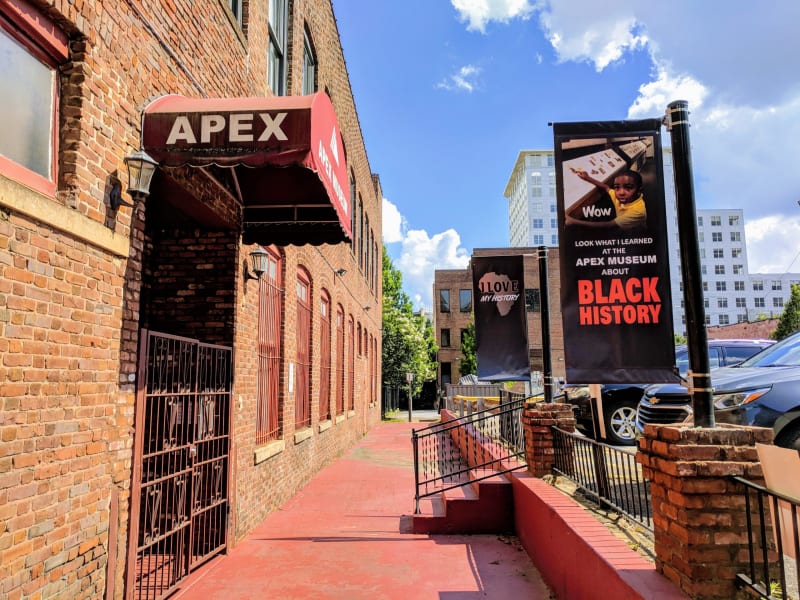 Atlanta History Center
The capital city of the Southeast is a city of the future with strong ties to its past. Nowhere else can you find vast collections that lay open Atlanta's complex history than at Atlanta History Center. A 33-acre experience in Buckhead is home to one of America's largest historic treasures—The Battle of Atlanta Cyclorama—and features award-winning exhibitions, enchanting gardens, interactive activities, and two historic houses. Built in the late 1920s, Swan House is the museum's headquarters, and the Midtown campus located in the Margaret Mitchell House welcomes visitors to delve into the issues raised by her book, Gone with the Wind.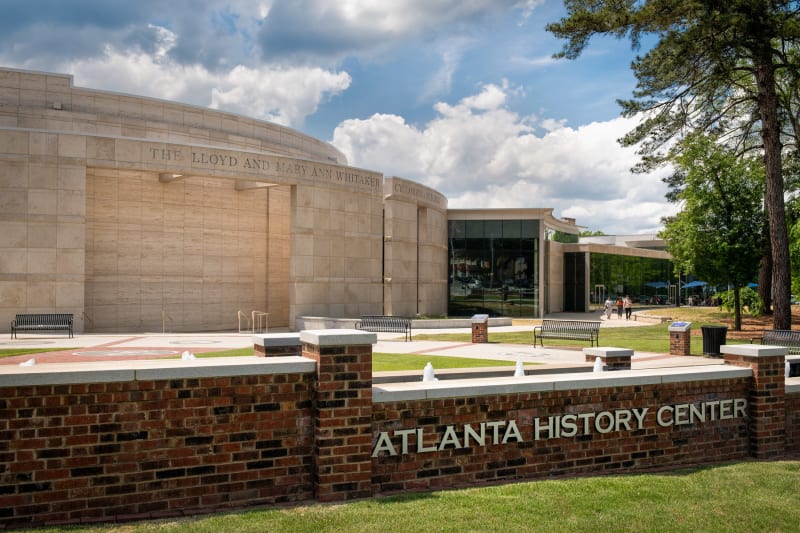 Fernbank Museum
The greatest show IS earth. You can travel around the world and back in time as you discover live animals, amazing places, ancient fossils, prehistoric cultures and new scientific discoveries at Fernbank Museum. Inside, get a look at one of the largest known dinosaurs ever to walk the earth, a giant sloth, shells from the Georgia coast and sites around the world, and much more. The fun continues outside as you explore 75 acres of new outdoor nature adventures. WildWoods and Fernbank Forest combine to highlight the natural world through immersive trails, educational programming, hands-on exhibits and beautiful scenery, including the Dinosaur Entrance Plaza, WildWoods, Fernbank Forest, Rain Garden, and Nature Gallery.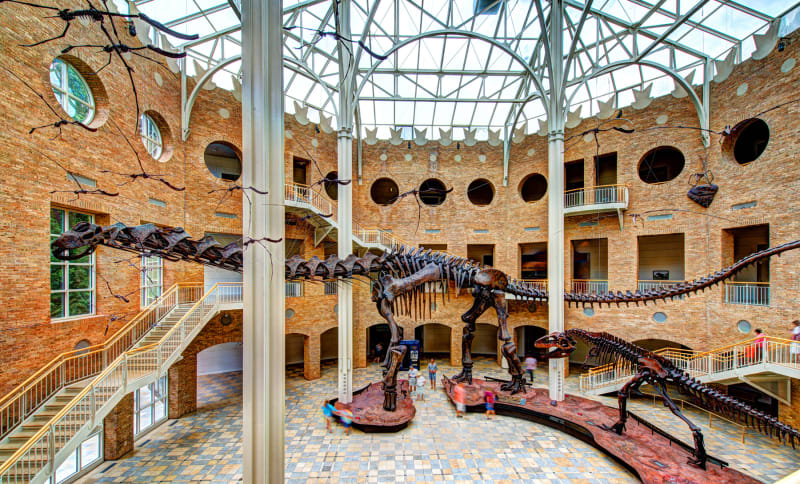 Hammonds House Museum
Step into a pre-civil war Victorian home and discover works of art created by artists of African descent and how these contributions have shaped world culture at Hammonds House Museum. The only African American free-standing museum of its kind is nestled in a neighborhood in the Historic West End. This is home to a permanent collection of more than 450 works dating from the mid-19th century by artists from America, Africa, and the Caribbean, including 18 works by master artist Romare Bearden and the oldest known painting by acclaimed landscape artist Robert S. Duncanson. Diverse lectures, workshops, youth programming, and special events educate, expose, and nurture an appreciation for the visual and related arts. You'll also find sculptures and masks from Africa, paintings from Haiti, and a variety of art forms by Black American artists from the collection of Dr. Otis Thrash Hammonds, the museum's namesake.
Jimmy Carter Presidential Library & Museum
Jimmy Who? This phrase is emblazoned above one of the exhibits at the Jimmy Carter Presidential Library. From his humble upbringing to his first reception on the campaign trail in Des Moines, Iowa, that drew only four people, to becoming the 39th President of the United States in 1976 and the foundation of The Carter Center in 1982, the life and achievements of Georgia's "Man From Plains" are fascinating. Inside this expansive library and museum are 40 million pages, 1 million photographs, 2.2 million feet of film, and 2,500 hours of video that offer a close-up view of the modern American Presidency. Immersive exhibitions, a life-size replica of the Oval Office, an Interactive Map Table, beautiful gifts from world leaders, a research library and much more deliver insights into one of America's most beloved civil servants and humanitarians.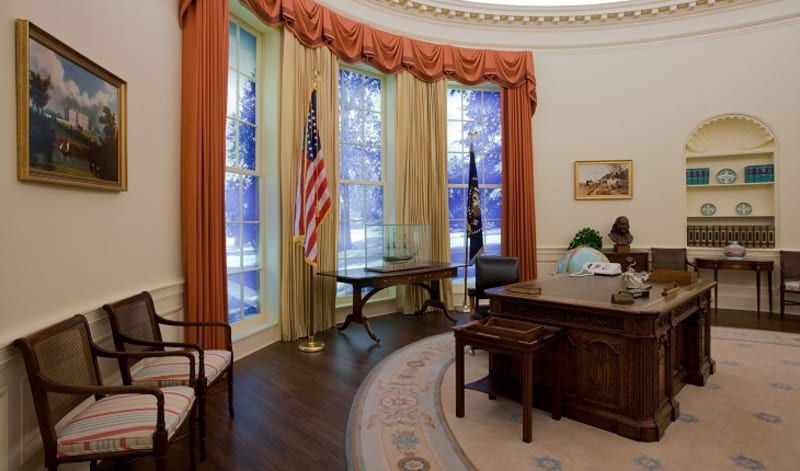 Michael C. Carlos Museum
On Emory's Atlanta campus sits the Michael C. Carlos Museum, a dynamic interdisciplinary center that cultivates literacy in the arts and fosters an understanding of diverse religions and civilizations. With artwork from ancient Egypt, Nubia, and the Near East; Greece and Rome; the Americas; Africa; and Asia, as well as a collection of works on paper from the Renaissance to the present, it's easy to see one of the most comprehensive collections in the region is in Atlanta. For more than 100 years, this museum has inspired faculty, students and visitors through world-class permanent collections and special exhibitions, innovative programming, and one-of-a-kind opportunities to engage with art firsthand.
Southeastern Railway Museum
Railfans delight! Georgia's Official Transportation History Museum is in a suburb of Atlanta. Southeastern Railway Museum features about 90 items of rolling stock including historic Pullman cars and classic steam and diesel locomotives that will delight visitors of all ages. What's more, a variety of educational programs for young fans, summer railway camp, and special event days like "Trains, Trucks and Tractors" and "Train or Treat" are hosted here. Guests are wowed by the caboose, locomotives, passenger, and freight cars, and other train memorabilia on display on this 35-acre site in Duluth, Georgia.
William Breman Jewish Heritage Museum
To never forget, we must look back and remember. The William Breman Jewish Heritage Museum brings the lessons of the Holocaust and the history of the Southern Jewish experience alive through permanent, travel, and rotating exhibitions. The narrative of this dark time in human history is put forth in the voices of those who survived and made new lives in Atlanta through the Absence of Humanity: The Holocaust Years, 1933-1945. Local architect and Holocaust survivor Ben Hirsch designed the permanent exhibit, and features historic photographs, personal memorabilia, family documents, and videotaped interviews with Atlanta-area survivors.
Discover More
Get to know Atlanta, and discover the best things to do around the city.