More to Enjoy in Nearby Parks and Gardens
Stone Mountain Park
Located on 3,200 acres of natural beauty, Stone Mountain Park is one of Atlanta's favorite destinations and features a wide variety of recreational activities, plus dining, shopping and several lodging options. It is also home to several festivals and special events, like the much-loved Pumpkin Festival, and other seasonal celebrations like Stone Mountain Christmas and Kids' Early New Year's Eve. Ride the scenic train, take the Summit Skyride to the top of the mountain, tour historic buildings, or try the adventure course in the treetops. End your day at the world's largest laser light show featuring a fantastic fireworks finale.
Cascade Springs
Located in Southwest Atlanta, the 135-acre Cascade Springs Nature Preserve is the perfect respite from the hustle and bustle of the ATL. Created in the 1970s to protect one of Atlanta's oldest forests and relics of the city's historic past, this tranquil oasis is surrounded by quaint shopping plazas and historic residential neighborhoods. Step onto the trails into a wild landscape with bubbling streams, a waterfall and peaceful woods that feature earthworks from Atlanta's Civil War past.
Chattahoochee River National Recreation Area
Discover a natural oasis in the middle of metro Atlanta at the Chattahoochee River National Recreation Area. With excellent opportunities for kayaking, fishing, rafting, biking, hiking, bird watching and tubing, it's the perfect place to get away from it all in the middle of the ATL. Hike or bike along scenic trails, explore exhibits at the Chattahoochee Nature Center, fish for trout in the Chattahoochee River, or "shoot the 'Hooch" with friends by raft, kayak or tube for a fun day on the river.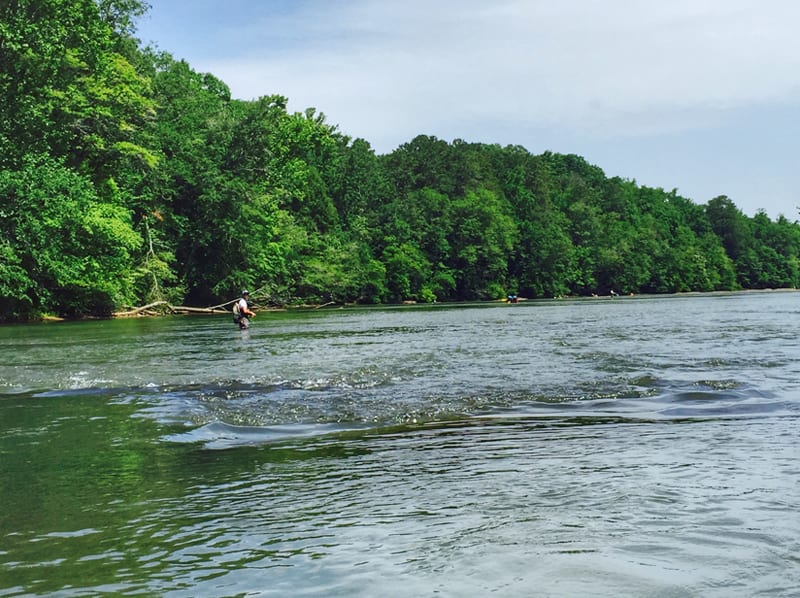 Chattahoochee River National Recreation Area – Island Ford Unit
The Island Ford in Sandy Springs, where the visitor center is located, is a crowd favorite well worth exploring, with easy trails the whole family will enjoy. Spot wildlife like deer and lizards on your hike or "shoot the hooch" and float down a three-mile stretch of the Chattahoochee River from Island Ford to Azalea Park, which features stretches of Class I and Class II rapids.
Chattahoochee River National Recreation Area – Vickery Creek Unit
An outdoor paradise for dogs and people alike, the Vickery Creek Trail is a 4.7-mile round trip that crosses historic mill ruins, wanders through a cool forest, and reaches a rushing dam-made waterfall at Vickery Creek, where there are giant rocks, perfect for sitting — and toe or paw-dipping — while you take in the view.
Arabia Mountain National Heritage Area
Just 30 minutes from downtown Atlanta, in Lithonia, Arabia Mountain National Heritage Area is an ecological wonder, with more than 34 miles of paved trails and dozens of miles of nature trails winding through it.
This 40,000-acre landscape, which includes Davidson-Arabia Mountain Nature Preserve and Panola Mountain State Park, features granite outcroppings and unusual geologic features, wetlands, pine and oak forests, several streams, lakes, rare native plants and spectacular views — making it superb territory for hiking and biking. Don't miss out on more than 34 miles of paved trails connecting the South River, peaceful forests and powerful historic sites across the National Heritage Area. Click here for a full map.
As you enjoy this beautiful landscape, make sure you Leave No Trace by picking up your trash, staying on the trail and avoiding stepping in the fragile solution pits on the mountain.
Discover More
Get to know Atlanta, and discover the best things to do around the city.