New To Atlanta United Soccer? Here's Your Fan Guide to Fun
Published August 30, 2022
Last Updated September 14, 2022
Are you craving the electrifying sport experience of wearing your favorite red jersey and chanting A-T-L but aren't sure where to go or how to get started? Look no further. We're here to give you the ultimate fan guide to fun with a few dos and don'ts to make your Atlanta United match day the best day possible.
Pre-game Tips
Download the App
The Mercedes-Benz Stadium app is your free, official resource for all your game day needs. Access your digital ticket, explore the stadium map or discover all of the award-winning food and beverage options from the palm of your hand. Ah, the beauty of technology.
Go Cashless
Leave your cash at home. Mercedes-Benz Stadium is a completely cashless stadium. Only credit cards and Apple Pay are acceptable forms of payment. There are reverse ATMs throughout the stadium that will give you a temporary debit card if you prefer.
Gear Up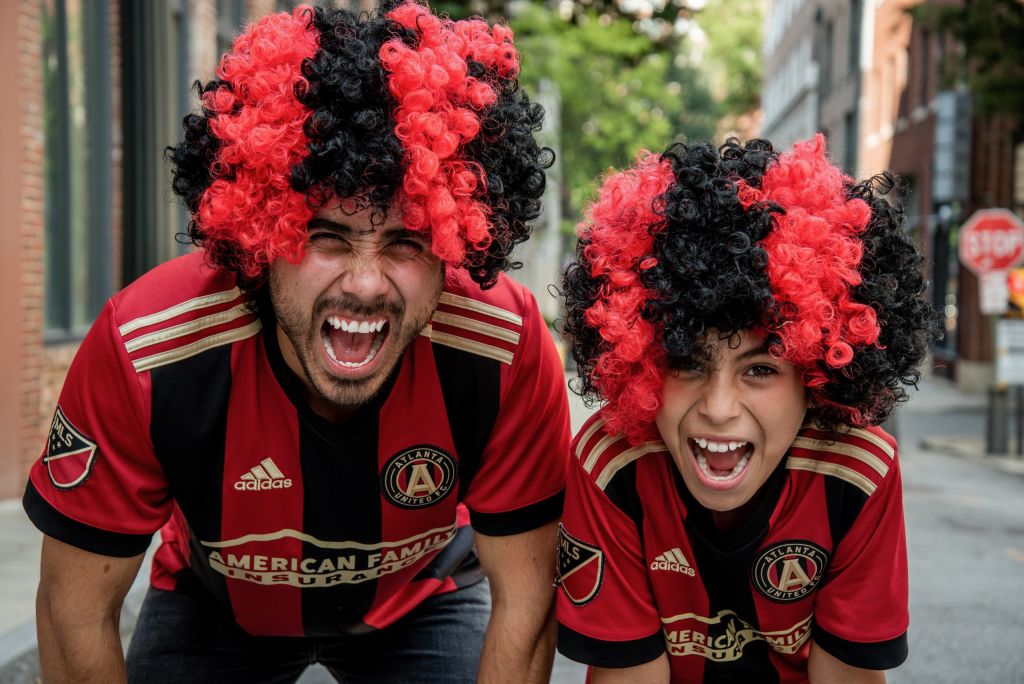 "Kitting up" is all part of the fun, and who doesn't love an excuse to dress up? Grab yourself an Atlanta United T-shirt, jersey, scarf or hat at one of the many shops around the city or online. Need something last minute? Stop by one of the shops inside the stadium on game day.
Match Day Madness
Take MARTA
Finding a parking spot can be frustrating, and ride-sharing services can be pricey. To limit these headaches, MARTA is the best option for match days, unless you have a friend who has a reserved spot in "the Gulch." More on that below. The two closest MARTA stations to the stadium are Mercedes-Benz/GWCC/StateFarmArena MARTA or Vine City MARTA.
Tailgate at the Gulch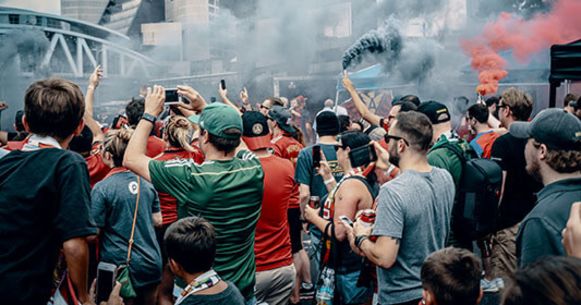 If you know, you know. This best-kept secret is that the Gulch is the prime tailgate spot for anyone going to the game. The Gulch is a large undeveloped area beneath the city streets near both Mercedes-Benz Stadium and State Farm Arena. Once you get off MARTA and make it above ground, ask anyone wearing the Five Stripes where to go. It'll be easy to hear the music and chants. Even if you don't have a tailgate invitation, take some extra time before the game to walk around and soak in this wild experience. Tailgates usually are set up three to four hours before the game so be sure to get there early.
Pro Tip: If you plan on being at the Gulch for a while, be sure to bring water, sunglasses and your walking shoes. You'll thank me later.
Make Friends with Supporter Groups
While tailgating at the Gulch, you may come across supporter groups. These clubs are made up of die-hard fans that can help you appreciate the game even more. Clubs are always looking for new members and joining them is a great way to make new friends with people who love soccer just as much as you. These groups are Terminus Legion, Resurgence, the Faction and Footie Mob. Watching these super fans head into the stadium is a sight to see.
Snap Selfies
If you don't snap a selfie and post it, did you even go? A classic selfie spot is the massive stainless-steel falcon sculpture in front of the main entrance to Mercedes-Benz Stadium. It sports a large Atlanta United scarf on match days. On the other side of the stadium by the Home Depot Backyard is a majestic metallic soccer ball sculpture that also makes for some great poses. Inside the stadium, you'll find even more amazing art that is just waiting for its closeup so be sure to take a lap around the concourse before the game starts.
Pro Tip: Tag @atlutd and use the hashtag #DiscoverATL when you post your game day photo on Instagram.
Game Time
Discover Traditions
Once you're inside and find your seat, be sure to look toward the supporter's section behind the home goal to find a unique homage to Atlanta — the Golden Spike. This Atlanta United tradition pays tribute to Atlanta's historic railroad past and happens just before every game. A guest of honor "nails in" the golden spike, which is brought in and signed by supporter clubs. Previous spikers have been famous celebrities and local heroes so you never know what icon may be in the spotlight the day you go.
Fun Fact: Celebrities like Big Boi, Waka Flocka, B.o.B., Maria Taylor, George Lopez and Tiffany Haddish have nailed in the Golden Spike.
Cheer with the Crowd
It probably goes without saying, but join in the cheers. Participate in a chant or two and listen for the train horn whenever the Five Stripes score, then revel with your fellow Atlanta United fans. Be on the lookout for the TIFO. Supporters frequently go all out and create huge murals, aka TIFOs, to display in their section. The TIFO is proudly displayed as a one-of-a-kind piece because no two TIFOs are alike. TIFOs range from funny to serious in nature and are always works of art.
Grab Beer and Grub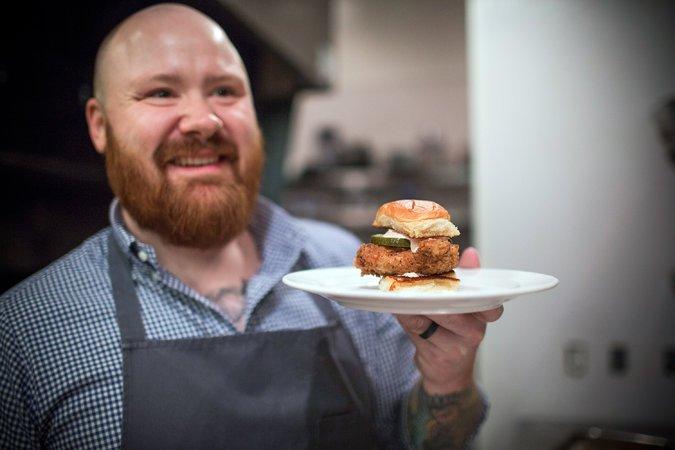 Most people would tell you to eat before you go but in this case, you'll want to dig into the "reimagined fan experience." Mercedes-Benz Stadium's award-winning food and beverage experience is known for offering delicious grub at Fan Friendly prices – $5 craft beers and $2 hot dogs. To avoid big crowds, it's best to get your food around the 30-minute point when the lines are usually the shortest and before the halftime crowds start eating. Some of our favorite spots to eat are Kevin Gillespie's Gamechanger, Fox Bros BBQ, Farm Burger and Delia's Sausage. All these stands have delicious match-day fare with an Atlanta flair.
Fun Fact: Kevin Gillespie's Gamechanger even has special items, depending on the day's opponent. So when Atlanta United is playing Philadelphia Union, you might get to order Gillespie's take on a Philly cheesesteak.
Post-Game Fun
Take a Chill Pill
Avoid the mad dash to the MARTA station and the slow trudge out of the stadium by taking your time leaving. Relax in your seat and chat with friends. Find one of the food spots mentioned above or a sit-down bar around the stadium to continue the party. You can also check out some of the amazing art all around the stadium or stop in one of the shops to grab Atlanta United fan gear if you weren't able to before the game started. This way the fun doesn't have to stop and you'll have a much more relaxed trip home.
Keep the Party Going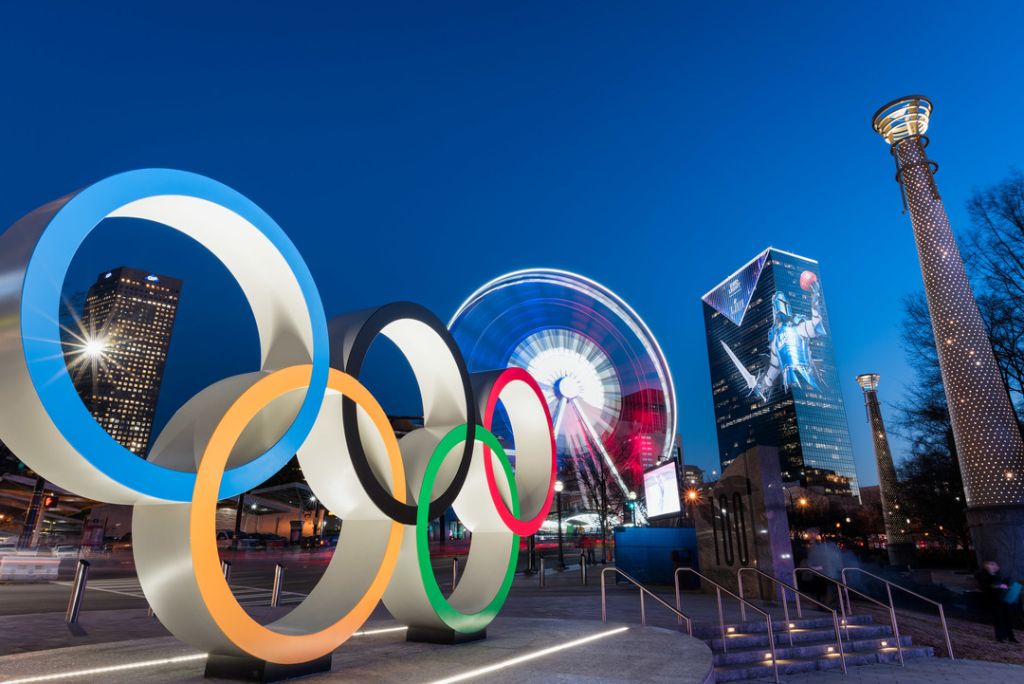 The night doesn't have to stop here. You're already in downtown Atlanta so you might as well make it worth it. Go for a spin on the SkyView Atlanta Ferris wheel. Take a selfie in front of the Olympic Rings at Centennial Olympic Park. Or explore one of the many bars and restaurants near Mercedes-Benz Stadium that are just a quick walk away.
Become a Pro Fan
Atlanta United games are like potato chips, you can't have just one. Once you are safe and sound at home, go ahead and purchase tickets for the next match. Invite your friends and show off all of your Atlanta United knowledge now. The blend of global influence on the city's soccer culture mixed with a Southern flair defines a match day in the ATL. It is truly something you and your friends will want to continue to be a part of so grab your red, black and gold, and chant A-T-L.
Not able to make it to Mercedes-Benz Stadium for the game but still want to cheer on your Atlanta United team? Check out the Top Pubs For Watching Soccer In Atlanta to find a restaurant or bar near you.
Discover More
Get to know Atlanta, and discover the best things to do around the city.