Honoring the Life and Legacy of Dr. Martin Luther King Jr.
The Martin Luther King, Jr. Center for Nonviolent and Social Change, or The King Center, was established in 1968 by Coretta Scott King. It is the official memorial dedicated to advancing the legacy of Dr. Martin Luther King Jr. The commemorative aspect of this free national landmark is incredibly moving. 650,000 visitors come every year to pay solemn tribute to the memory of Dr. King and his wife at the crypt standing peacefully in the center of a reflecting pool. Nearby, an eternal flame symbolizes "the continuing effort to realize Dr. King's dream of the 'Beloved Community,' which was his vision for a world of justice, peace and equality for all mankind."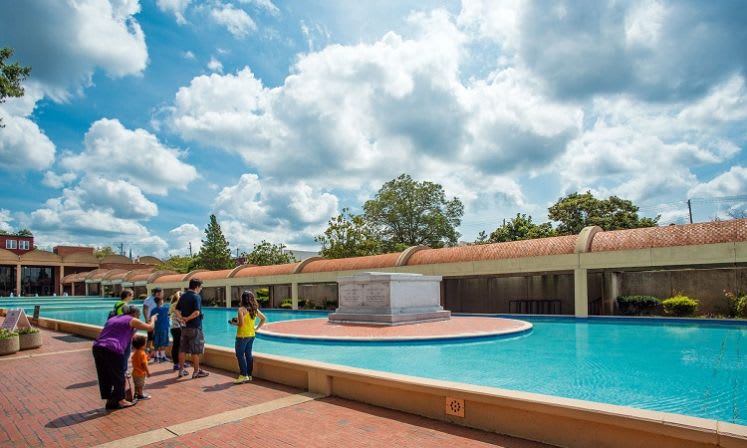 But the King Center is far more than a memorial to past events and accomplishments. It actively engages in educational and community programs to create social change today. In the words of Coretta Scott King, it is intended to be "no dead monument, but a living memorial filled with all the vitality that was his, a center of human endeavor, committed to the causes for which he lived and died." The King Center carries Dr. King's vision of equality and message of nonviolent social change forward to benefit this and future generations.
5 Reasons to Visit The King Center
1. Pay Respects
The crypt of Martin Luther King Jr. and Coretta Scott King quietly dominates the long pool of fresh water, drawing the eye down Freedom Walkway. The Georgia marble is inscribed with an adaptation of the final lines of Martin Luther King's "I Have a Dream" speech: "Free at last, Free at last, Thank God Almighty, I'm Free at last!"
2. Reflect on Greatness
The Reflecting Pool invites visitors to walk and contemplate the life of one of the world's great civil rights leaders. Gently splashing water falls rhythmically down steps like a voice delivering the powerful lines of his most famous speech. The words inscribed on the steps were first heard by the nation on August 28, 1963 during the March on Washington: "We will not be satisfied until justice rolls down like water and righteousness like a mighty stream." Nearby, the Eternal Flame burns with an expression of everlasting hope for humanity.
3. Probe and Explore
Learn about Dr. King's mission through exhibits at Freedom Hall explaining his work, philosophy and methods of nonviolent conflict resolution and social change. The Grand Foyer features art from Africa and Georgia, and the second floor educates visitors about Dr. and Mrs. King, Mahatma Gandhi and Rosa Parks.
4. Go to the Source
The King Library and Archives holds the world's largest collection of original source materials about Dr. Martin Luther King Jr., the American civil rights movement, the Southern Christian Leadership Conference and other major civil rights organizations. Scholars, researchers and anyone interested in the history of civil rights in America will find important correspondence, oral interviews and more in this repository.
5. Understand a Legacy
Exploring the entire Martin Luther King, Jr. National Historic Park is a rewarding experience that leads to a deeper understanding of his life and legacy. The lessons to be learned here are essential and valuable to all walks of life. Visitors should plan to take their time to absorb and be moved by what they encounter.
INSIDER TIPS
Tours of The King Center are self-guided. Pre-registration is required only for visits to the Birth Home of Dr. King, which is operated separately at the Martin Luther King Jr. National Historic Site.
Access video programs that are available at the King Center's information desk.
Take the Atlanta Streetcar from downtown Atlanta for a short, direct route to the King Center. Parking is available at the visitor parking lot.
KNOW BEFORE YOU GO
When is The King Center open?
The King Center hours are:
Open 7 days a week, 9 a.m. to 5 p.m.
Summer Hours (Memorial Day weekend – Labor Day): 9 a.m. to 6 p.m.
All facilities are closed Thanksgiving Day, Christmas Eve, Christmas Day and New Year's Day.
How much is admission into The King Center?
Admission and parking for The King Center are FREE.
Where is The King Center located?
The King Center address:
449 Auburn Avenue, NE
Atlanta, Georgia 30312
(404) 526-8900
YOU MAY ALSO LIKE
Events & Things to Do for Black History Month in Atlanta
Immerse Yourself in Atlanta's Civil Rights History
RELATED ATTRACTIONS
MLK Jr. National Historic Site
Discover More
Get to know Atlanta, and discover the best things to do around the city.