Best Festivals in the ATL
Music is ingrained in the soul of Atlanta with a storied history of cultivating talent across multiple genres. From country and gospel to hip-hop and R&B, the city's spirit of inclusiveness and diversity shows in the songs and year-round music festivals. And ATL has no shortage of rocking musical gatherings that pay tribute to them all. With hometown heroes like OutKast, Indigo Girls, Janelle Monáe and more cementing its legacy as a music city, here are seven music festivals in Atlanta you should put on your calendar with one extra for good measure.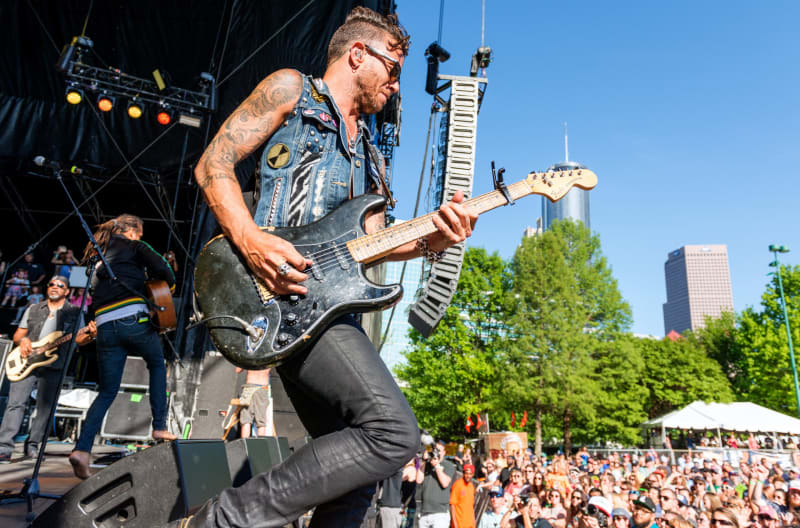 Trap and Hip-Hop
ONE Musicfest
In the home that gave us Killer Mike, Goodie MOB, and plenty more musical icons, the ATL needed a festival that paid tribute to hip-hop culture not only for where it's been but for where it's going. ONE Musicfest, rockin' strong for more than a decade, is a musical melee of beats and soulful sounds from artists like Ice Cube, Jill Scott, Busta Rhymes, Erykah Badu, T.I., Lauryn Hill, Dungeon Family, Rick Ross, Gucci Mane, Tory Lanez and even Wu-Tang Clan. Music pubs like Billboard and Rolling Stone have cemented it as the one hip-hop fest you won't want to miss.
When: September
Where: Centennial Olympic Park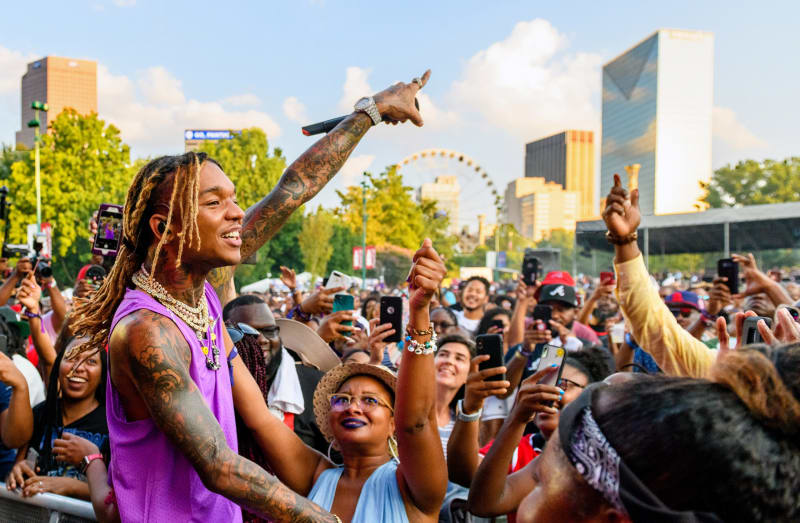 A3C Festival & Conference
What started as a small local showcase in 2005 has grown into a weeklong summit on hip hop culture. Diving deep into the state of hip-hop, the A3C Festival & Conference (All 3 Coasts) pays homage to the pioneers of the industry and introduces new artists to the scene. Equal parts rap state of the union and music fest, with industry royalty like T.I, Kevin Liles, Lenny S and more speaking on the business of hip-hop, this is a gathering for artists to make their sound known at nightly underground concerts, rap battles, DJ competitions, and more. Expect to see notable MCs like Nas, Ghostface Killah, and others do what they do best at what's lovingly called "Hip-Hop's Family Reunion."
When: October
Where: Atlanta Convention Center at AmericasMart and Hotel Indigo
Music Midtown
Sporting an expanse of music industry heavyweights since 1994, Music Midtown is the OG of music festivals. Past festivals have delivered hip-hop titans such as Eminem, The Killers, Drake, Kendrick Lamar, Bruno Mars, The Foo Fighters, Elton John, Travis Scott, and Cardi B. to more than 130,000 screaming fans. Look for the hottest artists in the game to date.
When: September
Where: Piedmont Park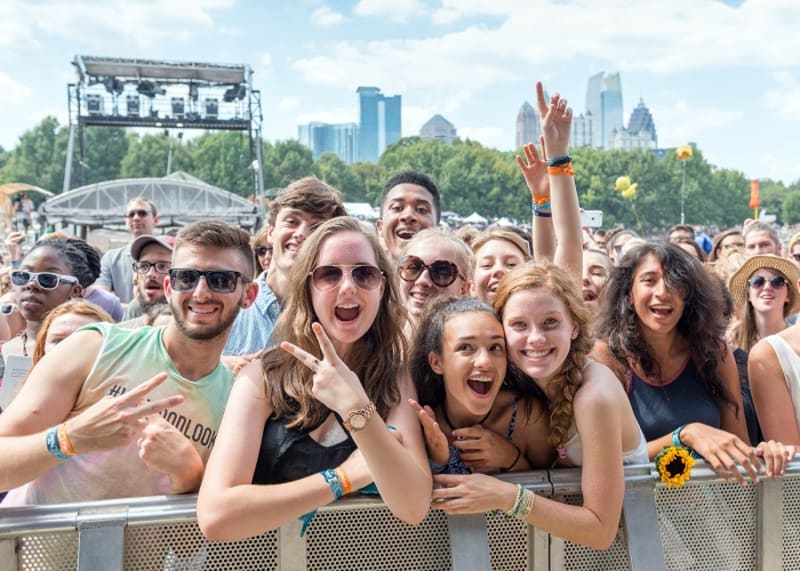 ATL Hip Hop Day Festival
The ATL Hip Hop Day Festival has been a welcome gathering for the past decade, celebrating hip-hop and trap music with the hungry artists who will soon flood your social media feeds. The free (yes, free) festival features a full lineup of young talent, DJ sets and maybe a few surprise guests.
When: October
Where: Woodruff Park
Red Bull Music Festival
Red Bull has garnered a storied reputation of bringing the most awe-inspiring and culture-defining events to sports and the music scene, and its touring music festival is no exception. Part concert, part panel discussion, part photography exhibition, part rap battle, it's two weeks of events spanning bass-heavy trap music, eclectic soul and body-moving R&B. The Red Bull Music Festival sets up shop in the ATL with activations in Little Five Points, EAV, Westside, and more. The inaugural festival featured an exhibit highlighting the work of prolific rap portrait photographer Gunner Stahl, an ATL-style TED Talk from Quality Control mogul Kevin "Coach K" Lee and concerts from Teyana Taylor, Ari Lennox and more. This is one not-to-be-missed festival that dives headfirst into the legacy of the ATL as a mecca for hip-hop.
When: November
Where: Various Locations
Trap Music Museum
This is the trap, this ain't no album; it's actually the Trap Music Museum. The Westside ode to the musical genre born in the ATL is the brainchild of the inimitable T.I. (who'd probably appreciate us using a word like inimitable), created as a pop-up art and educational installation of the music and artists who have lived and died by the culture since day one. Featuring a trap-centric escape room, 2Chainz's 1978 Chevy Impala from the famed Pink Trap House, and vignettes of a corner store, grandma's plastic-covered living room, and a jail cell, the insightful museum also brings out the celebs for intimate concerts, album release parties and a weekly "Trappy Hour," featuring drinks and DJ sets.
When: Year-Round
Where: Westside
Dance
Sweetwater 420 Festival
Every April — while some are celebrating the other 420 — Atlanta's hometown craft brewery is rejoicing with a blend of music, art, culture and, of course, plenty of heady beer at the annual SweetWater 420 Festival. What started as a sustainability effort and Earth Day celebration in 2004 has evolved into one of the ATL's most beloved music festivals, bringing more than 60,000 thirsty revelers and combining a 5K run, beer-tastings, comedy, dance party disco, and headlining musical acts from around the globe. The cross-genre extravaganza has delivered the likes of Snoop Dogg and Widespread Panic plus Bastille and Ludacris, making it a must-attend experience no matter your musical flavor.
When: April
Where: Centennial Olympic Park
Jazz
Atlanta Jazz Festival
If it weren't for jazz, we wouldn't have a lot of the mainstream rock 'n' roll, R&B and hip-hop tunes we enjoy today. The influence that jazz has played in other genres of music is undeniable, and the nation's largest free jazz festival, the Atlanta Jazz Festival, is a testament to that. Over its 40-year history, the expansive festival has hosted jazz greats like Dizzy Gillespie, Miles Davis, and Nina Simone, and it continues to introduce new faces and sounds to the genre over a three-day Memorial Day weekend spectacle of soulful sounds at Piedmont Park. Cap it off with stellar food truck fare and fun crowd activities and you've got an instant party.
When: May
Where: Piedmont Park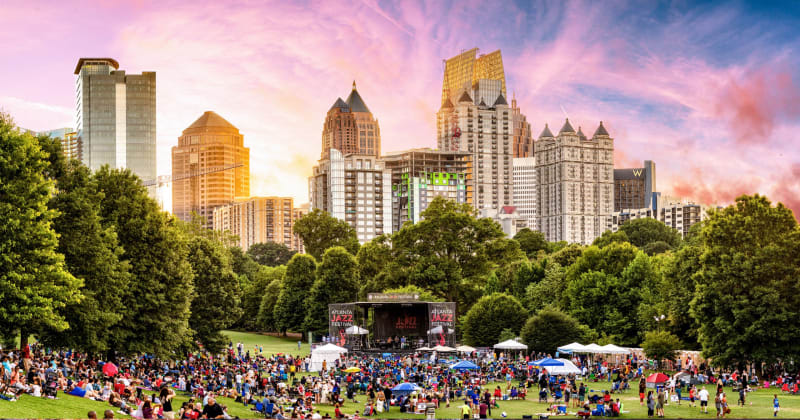 Rock
Shaky Knees Music Festival
Downtown Atlanta is the epicenter of entertainment, dining and attractions, so it's no surprise that it would be home to some of the year's most fantastic music festivals. Since 2013, the Shaky Knees Music Festival has been a rock-lover's fantasy show, bringing together acts from around the world like Florence + the Machine, Third Eye Blind, Jane's Addiction and more.
When: May
Where: Centennial Olympic Park
Discover More
Get to know Atlanta, and discover the best things to do around the city.