Paneéd Flounder
Blood Orange, Mustard, Brussels, Bacon.
serves 4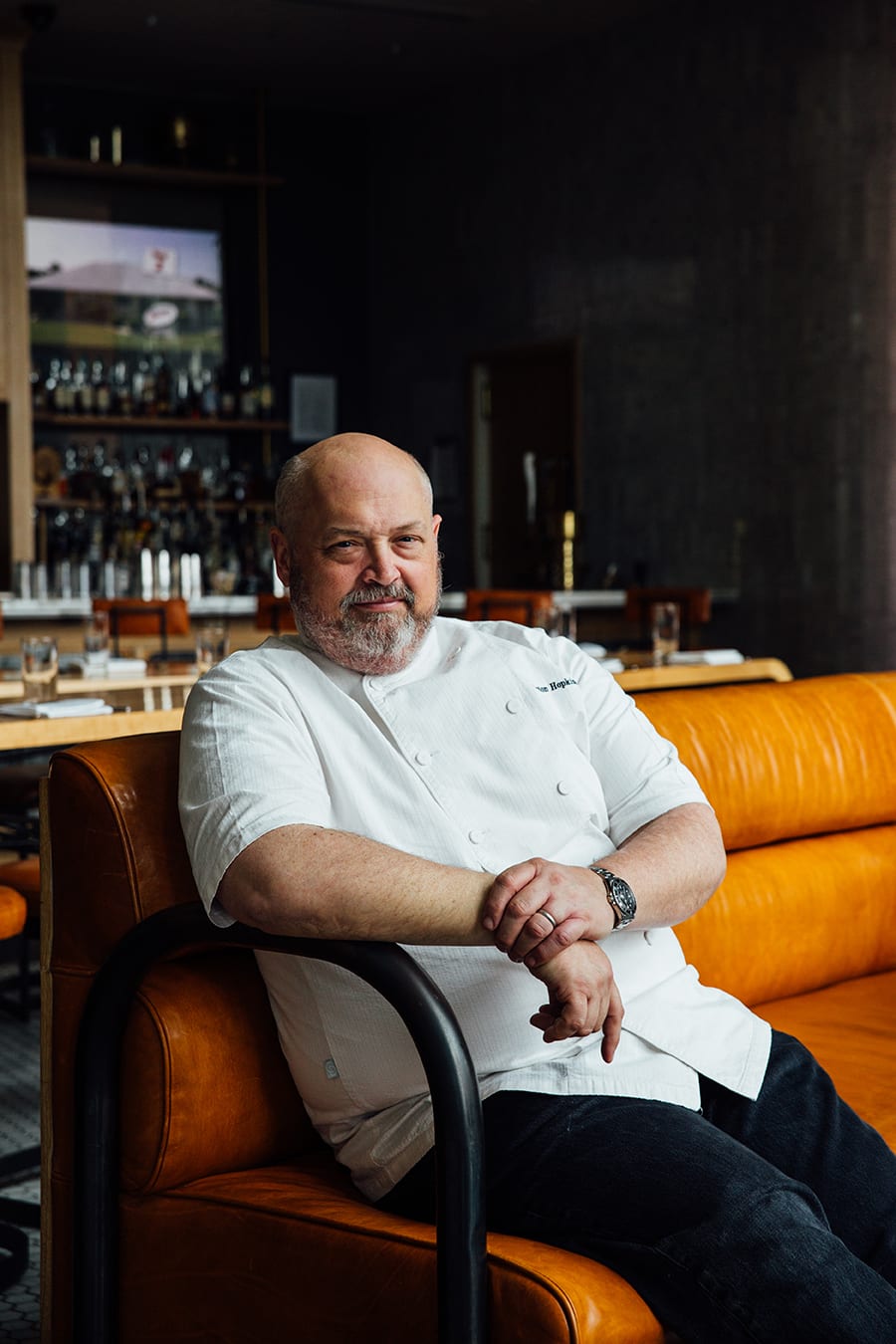 Confit
1 head garlic
1 cup extra virgin olive oil, light body
1 laurel leaf, fresh
Peel garlic cloves, leaving them whole. Place into a small pot with laurel so that oil covers all of the garlic. Bring to a simmer, reduce to 180 F, and cook for 3 hours, until soft but whole.
Bacon
4 oz bacon, Benton's
Finely mince bacon and cook over low heat in a cast iron skillet till quite dark, but not burnt.
Reserve warm in a small bowl with 2 tablespoons of its fat.
Sauce
reserved garlic confit
reserved bacon + fat
28 blood orange supremes, peeled
1 tsp lemon juice
Slice garlic confit and fold gently into bacon + fat with blood orange segments and lemon juice.
Reserve warm.
Seasoned Mustard
8 tbsp whole butter, cut into cubes
4 tbsp coarse whole grain mustard
1 pinch Maldon sea salt
½ tsp fresh cracked black pepper
2 tsp pomegranate molasses
Brown butter to dark golden brown in a small pot. Strain into a small metal bowl. Stir in mustard, molasses, salt and pepper.
Reserve warm.
Brussels
20 brussels sprouts
2 qts water
salt
Core fresh brussels sprouts and reserve leaves. You will need 25 leaves per plate. There will be many cores left over, which are delicious when roasted.
Bring 2 quarts of heavily salted water to a boil. Place leaves in water for 20 seconds then remove to ice water. Let chill. Drain and dry on a lint free towel.
Hold at room temperature.
Flounder
4 ea 7 oz pieces of flounder
2 tbsp vegetable oil
salt
little knobs of butter
Heat vegetable oil in a large non-stick skillet. Salt both sides of fish and lay non-skinned side down. Cook over medium heat while adding little knobs of butter along side the fish edges as it cooks to a dark golden brown.
You will know that you are cooking at the right temperature as the butter will lightly brown and not blacken. Turn fish over when a brown crust has developed on the edges of each filet.
Be ready to plate immediately.
Plate
warm plates
brussels sprout leaves
panéed flounder filets
bacon, garlic and blood orange sauce
mustard brown butter
toasted pecans
Place four preheated plates on the counter. Place fish filet in the center. Let brussels sprout leaves scatter across plate like leaves from a tree. Spoon bacon, garlic, and blood orange sauce over fish. Drizzle mustard brown butter over all the rest of the plates, being sure to dress the sprouts. Finely microplane toasted pecans over the whole dish.
Discover More
Get to know Atlanta, and discover the best things to do around the city.