Best Cocktails to Drink This Summer in Atlanta
It's hot, and Atlanta has a variety of fresh and replenishing craft cocktails to help you bear the heat and enjoy blissful summer days in the city. Whether you are a tequila lover, a vodka drinker or a wine aficionado, there is something for everyone. Here is a list of some of the best drinks to try around Atlanta this summer.
G & J
For the perfect skyline view of Buckhead, head over to Spaceman located at Hyatt Centric Buckhead. The new hotel offers a vibrant space to spend a summer day while sipping on a carefully crafted cocktail, such as a G & J. Made with gin, vanilla, pineapple, anise and vermouth, it's every sip feels like a sweet treat — something we all deserve on a hot summer day.
Humo y Flores
If you can't decide between mezcal and tequila, this is your summer drink. Make your way to East Atlanta Village and enjoy Banshee's relaxing patio with a Humo y Flores in hand. The Italicus, lime, grapefruit, orange blossom water and hopped bitters make this drink a perfect summer sip.
The Bad Bunny
On a healthy journey this summer? Go guilt-free at Chido and Padre's in Buckehad with a hand-mixed cocktail that is pretty much your morning healthy juice — with booze, ginger, carrot and orange juice mixed with Xicaru Mezcal. This refreshing drink is named after the notorious Latin trap singer.
Spring Fling
Head over to the rooftop at Ponce City Market for one of the best views in town and some of the most refreshing summer cocktails at 9 Mile Station. Let the Spring Fling carry on through the summer with this delicious cocktail made of Belvedere Vodka, lemon, Gran Classico Bitter, Peychaud's and soda.
Flying Blind
Enjoy Bastone's outdoor seating overlooking the buzz of Howell Mill Road on the Westside. Under the Atlanta sun, enjoy a Flying Blind. It's a rum drink that will have your taste buds buzzing, with the tamarind, coconut, lime and Urfa chili.
$5 Margaritas
There is something special about a classic frozen margarita, and if it comes with a price tag of $5 and can be enjoyed outdoors, it's a win. Head over to Bar Mercado on Inman Park on Mondays and satiate your thirst with a quality drink on a budget.
Electric Earth
Nothing says summer more than a drink that has the intense blue of the ocean and is beautifully topped with a bright yellow lime that looks like the sun. Sip on this inviting drink from one of Atlanta's new hot rooftops, Drawbar. This restaurant and bar located in Bellyard Hotel has the perfect view of a city thriving under the summer sun.
$5 Gin & Tonics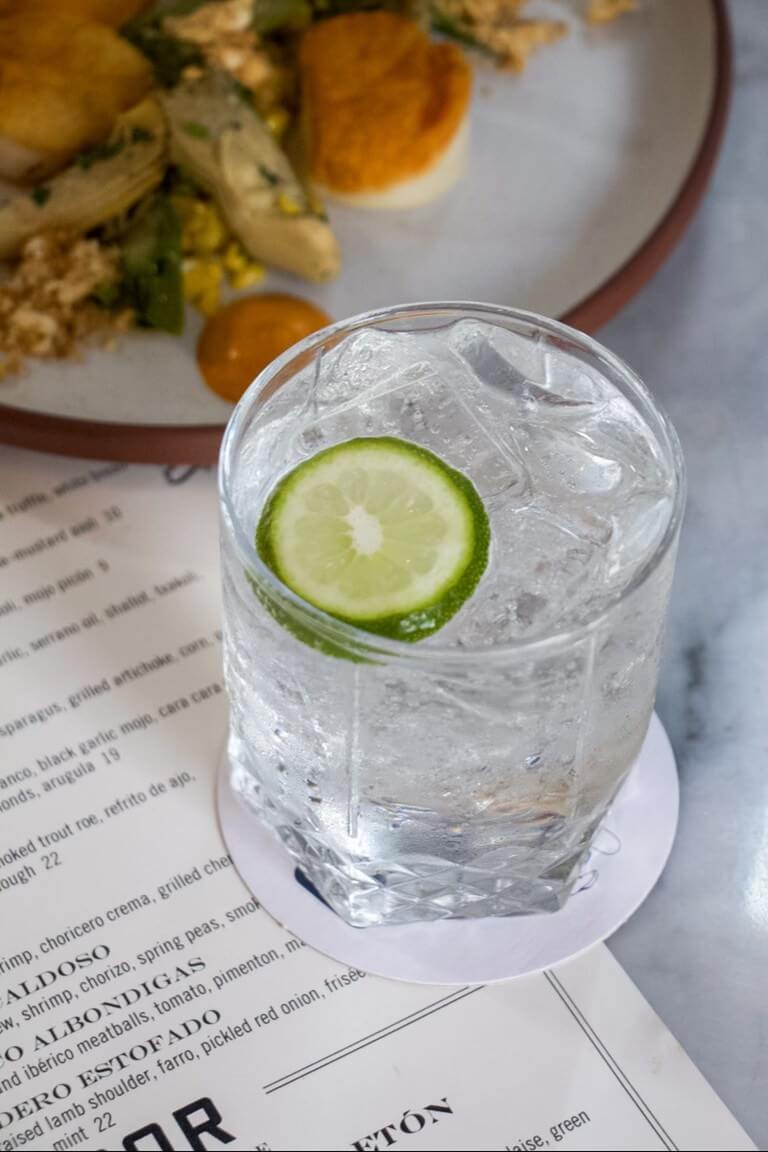 Enjoy a gin cocktail at Cooks & Soldiers on the Westside while taking a break from the sun at the recently remodeled enclosed patio. Sip on $5 happy hour G&Ts made with New Amsterdam gin and a choice of three Fever-Tree tonics — Indian, lemon or elderflower. It's called Pintxo Pote because you can add a small pintxo to each G&T for $1. Pintxo Pote is available from 5 to 6 p.m., Monday through Friday. And don't worry, after 6 p.m. there is a great variety of other G&T you can enjoy.
Strawberry Frozé Slush-Tail
Featuring some of the best local seasonal fruits, summers in Atlanta must always include a sweet treat from King of Pops. Making it even more fun for adults, King of Pops also offers incredible summer cocktails for adults at the location in Ponce City Market. This summer, don't miss the Strawberry Frozé slush-tail with rosé, elderflower liqueur, strawberry and lemon.
Rum Punch
Get a taste of the islands on Old Fourth Ward at Biggerstaff Brewing Company with a Don Q rum cocktail. With ample patio space, garage doors and even a coffee station, Edgewood's new addition is the perfect hangout for summer days. The Rum Punch comes in a to-go bag and is ready to be shared — or not.
Hojiso Highball
In the intimate and modern atmosphere of Mujō on the Westside, refresh with a Hojiso Highball — an elegant drink composed of rice shochu, shino syrup, lemon, soda and pickled plum. Sip and treasure the unrepeatable nature of the moment, just like it is intended at Mujō. Ichi-go, Ichi-e.
La Vie en Rose
Snag a spot at the patio this summer at Ecco Midtown and experience the magic of tequila and mezcal together in a cocktail. Offering El Jimador reposado tequila, Xicaru mezcal, Aperol, prickly pear, lime, agave and rose, La Vie en Rose will wash away your summer sorrows.
Punch Bowls
Summer patio hangs with your friends? Sip on a variety of punch bowls served in a beautiful 20th Century metal bowl at Lure in the heart of Midtown. There are a variety of options to enjoy this crowd-pleaser summer drink, including the Fizzy Lifting Punch with Aperol, peach blossom, orange and prosecco. Perfect for sharing.
Margaritas To Go
Atlanta has a lot to see, so we don't blame you if you prefer your cocktail to go. Stop by The Original El Taco in Virginia Highlands and grab a Rosalita Margarita packaged ready to go with you. Made with freshly made juices and sours, the margaritas have the option to add extra flavors. Maybe you are in the mood for melon, green apple or peach.
Más Así
Enjoy a Sunday evening with a cold bottle of Más Así alvarinho. The light and fresh wine is made with grapes from the borders of Portugal and Spain by the Castellucci Hospitality Group, a family-owned collection of restaurants around Atlanta. Más Así is sold at their restaurants, including Cooks & Soldiers and The Iberian Pig Buckhead, which have all the feels for a summer family meal at the enclosed patios.
Azotea Frozen Margarita
Enjoy the view from the rooftop at Azotea Cantina in the middle of the vibrant Atlantic Station. To keep your thirst at bay while enjoying the skyline, sip on an Azotea frozen margarita made with Blanco tequila, house curacao, lime and agave. Classic and effective.
Country Thyme Lemonade
Yes, lemonade is the official drink of summer in the hot South. So, if we add some vodka to it and rooftop views in the heart of Buckhead, we have the perfect combination. Come and grab a seat under the sun at South City Kitchen in Buckhead with a Country Thyme Lemonade, and enjoy the warmth of Atlanta.
Sangria Blanco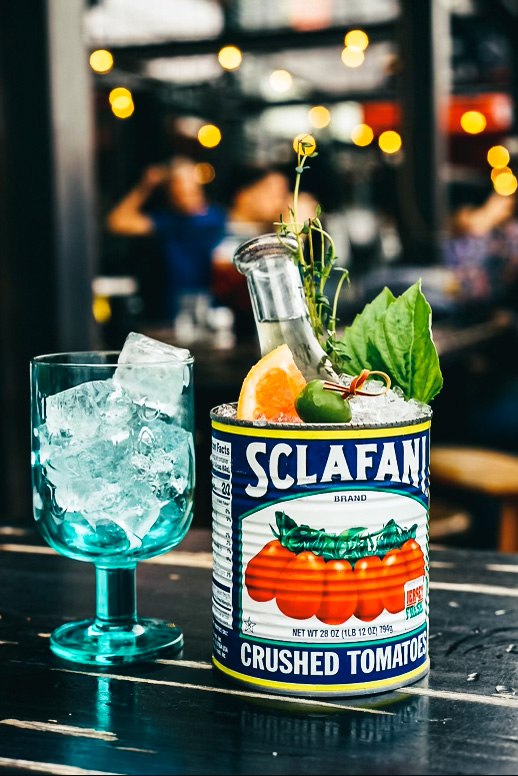 With a front-row seat to the Atlanta BeltLine's Eastside Trail, sit and relax on a beautiful Sunday afternoon at Nina & Rafi. Sip on the cooling and reviving Sangria Bianco, which features Cellario È Grigio Bianco, Bordiga Vermouth Bianco, Dolin Blanc, aloe, grapefruit, basil, mint and thyme. Iced in a crushed tomatoes can and garnished to the tee, the experience will enlighten your summer days in Atlanta.
If beer is more your jam, explore breweries and beer gardens in Atlanta with great patios. Whatever drink sparks your interest to cool off this summer, check out our Ultimate Guide to Patio Dining in Atlanta and head outside to enjoy the warm summer weather.
Discover More
Get to know Atlanta, and discover the best things to do around the city.