Atlanta Landmarks Connected to Women's History
In recognition of National Women's History Month, we are highlighting many of the dynamic women in and from Atlanta who have marked this city in nearly every field as well as the Atlanta landmarks connected to women's history. These are places that you can visit today to pay tribute to some of the most remarkable women in Atlanta history.
Coretta Scott King
THE KING CENTER
Coretta Scott King is well known to most for being married to Dr. Martin Luther King Jr., but she was a dedicated activist in her own right. Mrs. King conceived and performed in a series of fund-raising Freedom concerts, traveled and spoke extensively about civil rights, peace and justice. She quite notably founded the The King Center, a living memorial to the hopes and dreams of her husband. Today, you can visit The King Center, where you'll find the final resting places of Dr. and Mrs. King, Dr. King's birth home, as well as Historic Ebenezer Baptist Church, where Dr. King's maternal grandfather, the Rev. A.D. Williams, then his father, the Rev. Martin Luther King Sr., and finally Dr. Martin Luther King Jr. served as minister. Tour Freedom Hall, which houses many exhibits and resources regarding the civil rights movement and leaders like Dr. and Mrs King, Mahatma Gandhi and Rosa Parks. 
Xernona Clayton
Xernona Clayton Plaza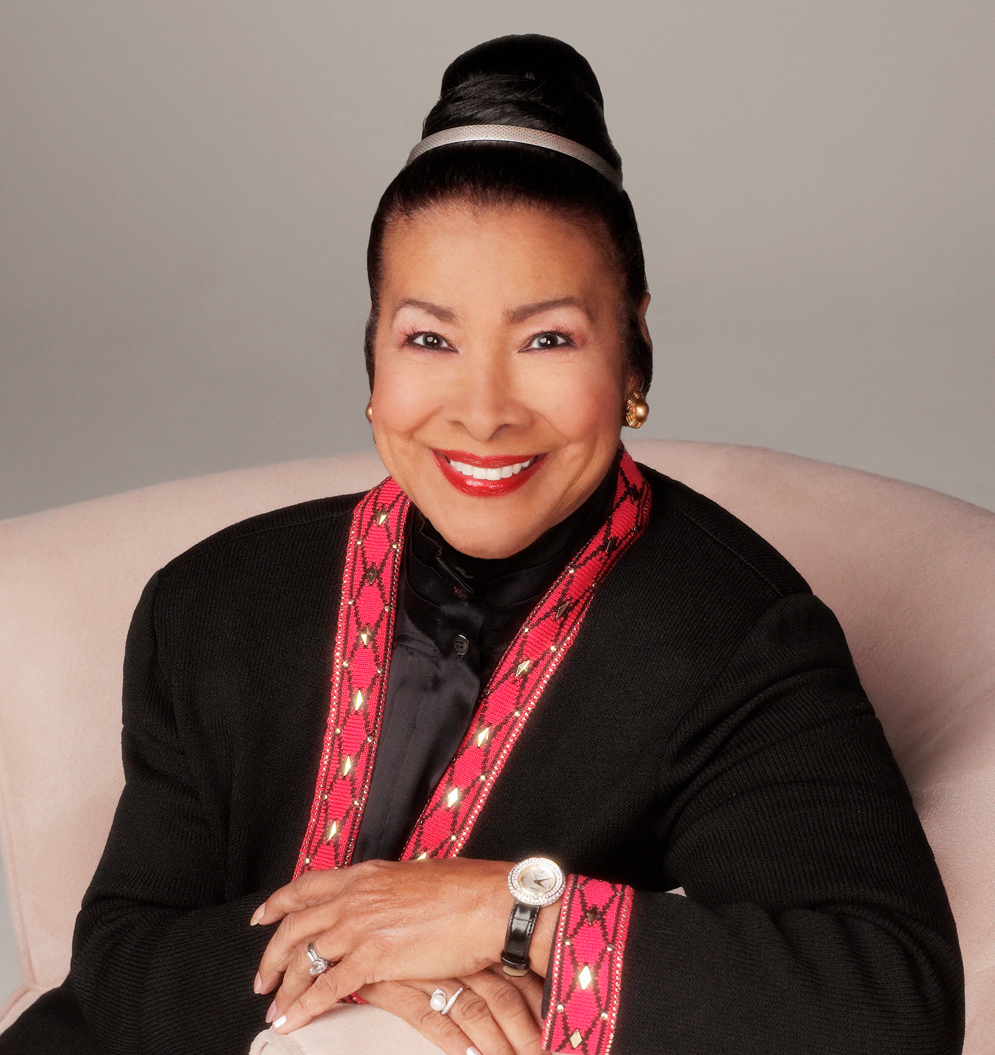 Xernona Clayton started a television career in 1967 and became the first Black person in the South to have her own TV show. She worked closely with Dr. Martin Luther King Jr. and traveled extensively with Coretta Scott King. Dedicated to promoting racial understanding, Xernona Clayton is founder, president and CEO of the Trumpet Awards Foundation Inc., created to highlight accomplishments and contributions of African Americans. In 2011, Clayton was honored by Mayor Kasim Reed and the Atlanta City Council with a street sign named for her at the intersection of Baker and Peachtree streets and with the dedication of the Xernona Clayton Plaza in Downtown Atlanta's Hardy Ivy Park, which you can visit today.
SPELMAN COLLEGE
Spelman College is a historically Black college for women founded in 1881 as Atlanta Baptist Female Seminary by Sophia B. Packard and Harriet E. Giles. It was renamed Spelman Seminary in honor of Mrs. Laura Spelman Rockefeller after receiving financial support from the John D. Rockefeller family. Spelman, part of Atlanta University Center, remains one of the top private colleges and HBCUs in the nation. Notable alumnae include:
Alice Walker (see below)
Bernice King – Minister, activist, CEO of King Center and youngest child of Dr. Martin Luther King Jr. and Coretta Scott King.
Christine King Farris – Eldest and only living sibling of Dr. Martin Luther King Jr., author, Spelman professor and speaker on various topics, including the King family, multicultural education and teaching.
Rosalind Brewer –  American business woman, Starbucks COO, slated to become CEO of Walgreens on March 15, 2021, making her only Black female CEO of a Fortune 500 company.
Stacey Abrams – American politician, lawyer, voting rights activist and author who served in the Georgia House of Representatives from 2007 to 2017 and as minority leader from 2011 to 2017.
Alice Walker
THE ALICE WALKER DRIVING TOUR
Alice Walker was an American novelist, short story writer, poet and social activist. Most notably, Walker is the author of "The Color Purple," which won a National Book Award, the Pulitzer Prize for Fiction and was turned into a critically acclaimed movie and a Broadway play. Walker attended Atlanta's Spelman College during her academic career. If you're up for a day trip from Atlanta, The Alice Walker Driving Tour takes place in Walker's hometown of Eatonton, Ga., and takes you past many important spots in her life.
Henrietta Dozier
GEORGIA TECH
Considered the first female architect in the state of Georgia and the first woman in the Southern United States to receive formal architectural training from a national school of architecture, Henrietta Dozier apprenticed at an architect's office after high school before going on to the Pratt Institute and MIT. In 1905 Dozier became the third woman member of the American Institute of Architects. Dozier designed the Federal Reserve Bank of Atlanta Jacksonville Branch with Atlanta architect A. Ten Eyck Brown and also the All Saints Episcopal Chapel, which was damaged by fire and eventually incorporated into a bigger structure. She helped to establish a scholarship fund at Georgia Tech for the School of Architecture.
AGNES SCOTT COLLEGE
Agnes Scott College is a small, private women's liberal arts college in Decatur, Ga. Established in 1889 and affiliated with the Presbyterian Church, it is considered one of the Seven Sisters of the South. Agnes Scott was the first higher education institution in the state of Georgia to receive regional accreditation and is listed on the National Register of Historic Places. The campus has been a filming spot for many movies. Notable alumnae include:
Leila Ross Wilburn (see below)
Katherine Krill, president and CEO of ANN INC., parent company of Ann Taylor and LOFT
Jean Toal, first female chief justice of the South Carolina Supreme Court
Jessica Owen, venture capitalist and founder of Autism Acumen
Jennifer Nettles, lead singer of the AMA and Grammy award-winning country music band Sugarland
Leila Ross Wilburn
Agnes Scott College, Woodward College, Atlanta History Center
Leila Scott Wilburn was one of the first female architects in Georgia. Educated at Agnes Scott College in liberal arts and science, Wilburn took private architectural drawing lessons. She traveled the country researching the emerging Arts & Crafts movement and catalogued more than 5,000 inspiring homes. She received most of her training with B.R. Padgett & Son (where she apprenticed) and became the South's second female architect (the first was Henrietta Dozier). Her first commissioned work was a three-story building that became the YMCA gymnasium at Georgia Military Academy (now Woodward Academy). Unlike many architects of the day, Wilburn focused not on commercial buildings but on home design and is said to have been the most prolific architect in Atlanta designing at least 80 houses, 20 apartment buildings and 24 duplexes. Wilburn left a lasting legacy as she published multiple books of home plans. The Leila Ross Wilburn Papers at the Atlanta History Center document more than 300 sets of house plans drawn by Wilburn. Each year the city of Decatur and the Decatur Preservation Commission present the Leila Ross Wilburn Award for individuals or organizations that promote preservation and/or excellence in design.
Jane Hurt Yarn
Jane Hurt Yarn Environmental Education Center, Tallulah Gorge State Park
Jane Hurt Yarn was a pioneering conservationist and environmentalist who single-handedly helped save thousands of acres of wild land in Georgia. Educated at Saint Mary's School in Raleigh, N.C., she did post graduate work at University of Georgia in landscape design but didn't become interested in conservation until a trip to Africa. Yarn founded Georgia's environmental lobbying organization, Save Our Vital Environment, and worked with then Gov. Jimmy Carter on environmental lobbying. Yarn is considered to have done more than any other for Georgia conservation and has received numerous awards including being inducted into Georgia Women of Achievement in 2009. Take a day trip to Tallulah Gorge State Park and visit the Jane Hurt Yarn Interpretive Center.
Margaret Mitchell
MARGARET MITCHELL HOUSE & MUSEUM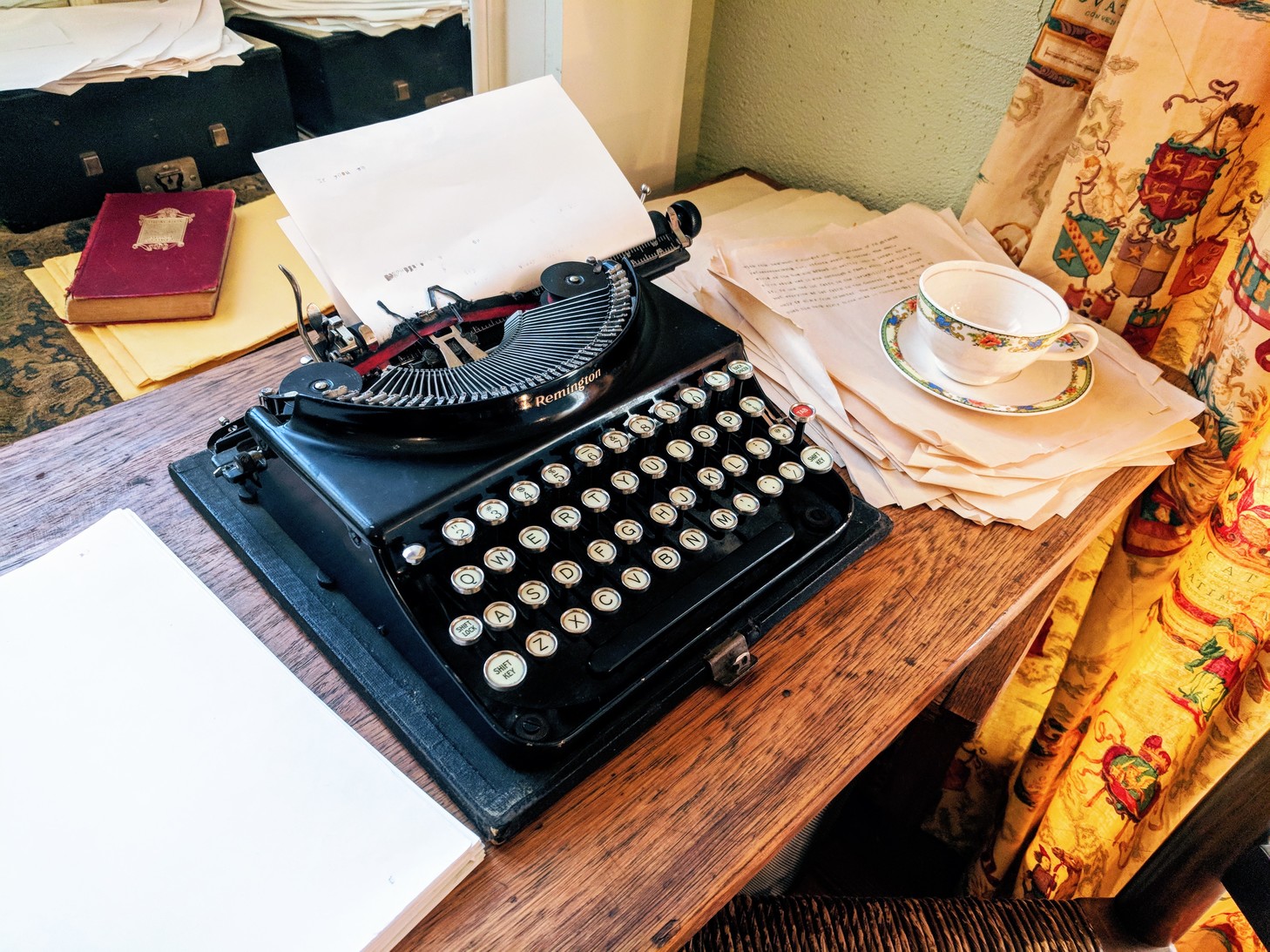 This historic home, where author Margaret Mitchell wrote "Gone with the Wind," has been converted into a museum, where visitors can get a glimpse into Mitchell's life and explore the complex issues raised by "Gone with the Wind" in history and today. Built in 1899 the Margaret Mitchell House as it is now known is listed on the National Register of Historic Places and is also designated as an Atlanta Historic Building. Learn more here.
Atlanta's Women's Club
The Wimbish House
Atlanta's Women's Club is one of oldest nonprofit women's organizations in Atlanta and is made up of professional women of all ages, races and religions who share a common goal: "to work together to improve our local community, socially, physically, culturally and educationally." Notable members include Margaret Mitchell, Eleanor Roosevelt, Julia Ward Howe and many notable suffragists. The Wimbish House, or "Old Lady of Peachtree," is a beautiful Victorian-era home nestled among Midtown's dramatic corporate skyscrapers. It was commissioned in 1906 by Atlanta attorney William A. Wimbish and designed by noted Atlanta architect W.T. Downing. Owned by the Atlanta Women's Club, The Wimbish House is available for photography shoots, weddings and other private events.
Atlanta Pioneer Women
PIEDMONT PARK
The Atlanta Pioneer Women's Society was organized in 1909 and was composed of women who helped settle Atlanta with the purpose of keeping traditions alive. The memorial, which you can visit today at Piedmont Park, was designed by Steffen Thomas and dedicated in 1938 to honor former members of the group.
Emily C. MacDougald & Emily Inman
SWAN HOUSE, ATLANTA HISTORY CENTER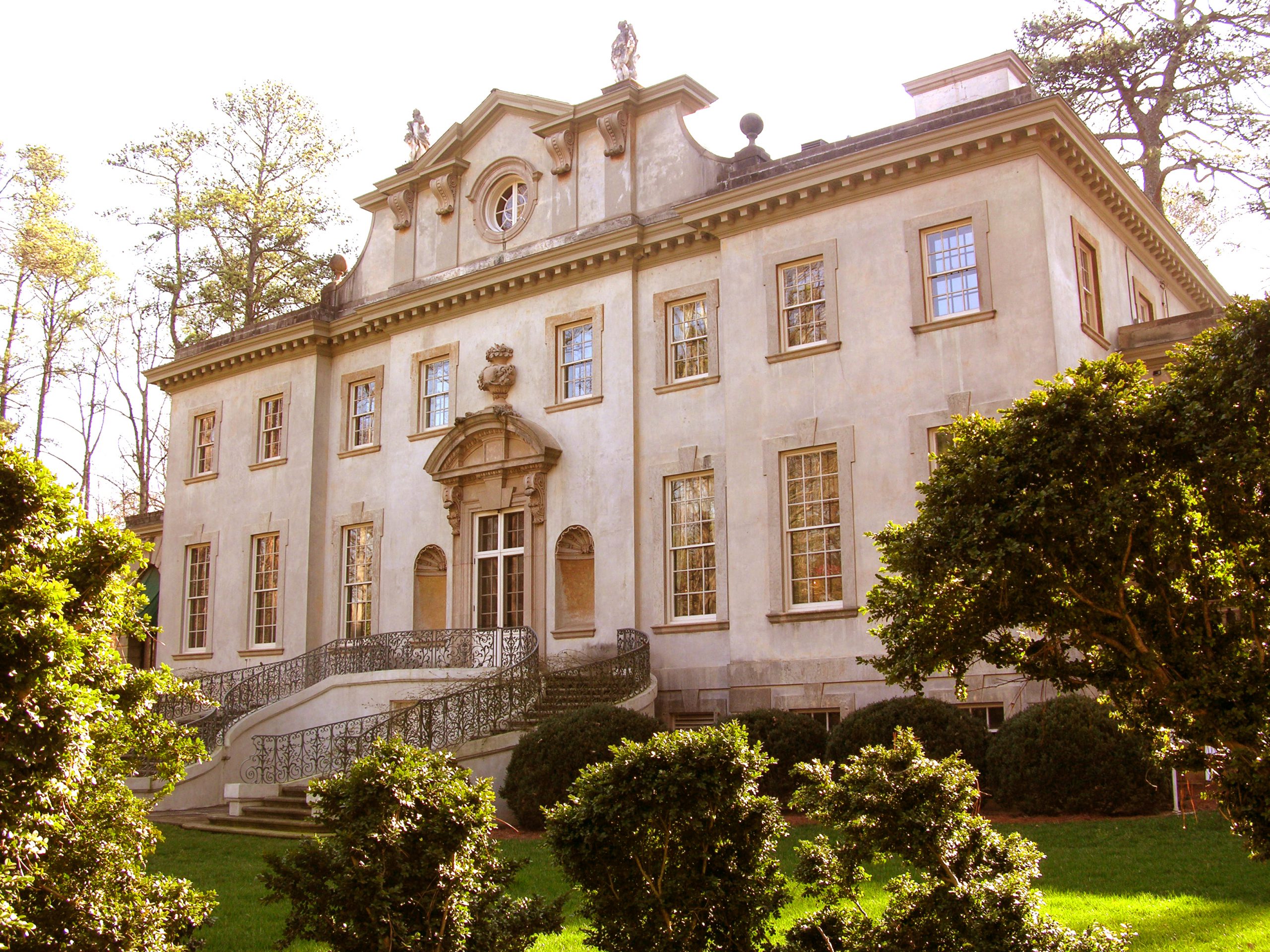 The Swan House was built in 1928 for Charles and Emily Inman on what are now the grounds of the Atlanta History Center. Mrs. Inman and her mother, Emily C. MacDougald, were key players in the suffrage movement as MacDougald founded the Equal Suffrage Party. In 1919 MacDougald wrote the resolution allowing women to vote in the Democratic white primary, which was passed with a vote of 24-1 by the executive committee. You can learn more by visiting the "Any Great Change" exhibit at the Atlanta History Center.
More sites and statues honoring Atlanta Women
There are several noteworthy statues in Atlanta that we would be remiss not to mention here. "Atlanta from the Ashes" (formerly known as The Phoenix) in Woodruff Park, features a woman holding up a Phoenix, symbolizing Atlanta's rise from the ashes of the Civil War. Miss Freedom (originally Goddess of Freedom) adorns the dome of the Georgia State Capitol and Earth Goddess, a 25-foot sculpture created for the "Imaginary Worlds" exhibit at Atlanta Botanical Garden, today is part of the garden's permanent collection.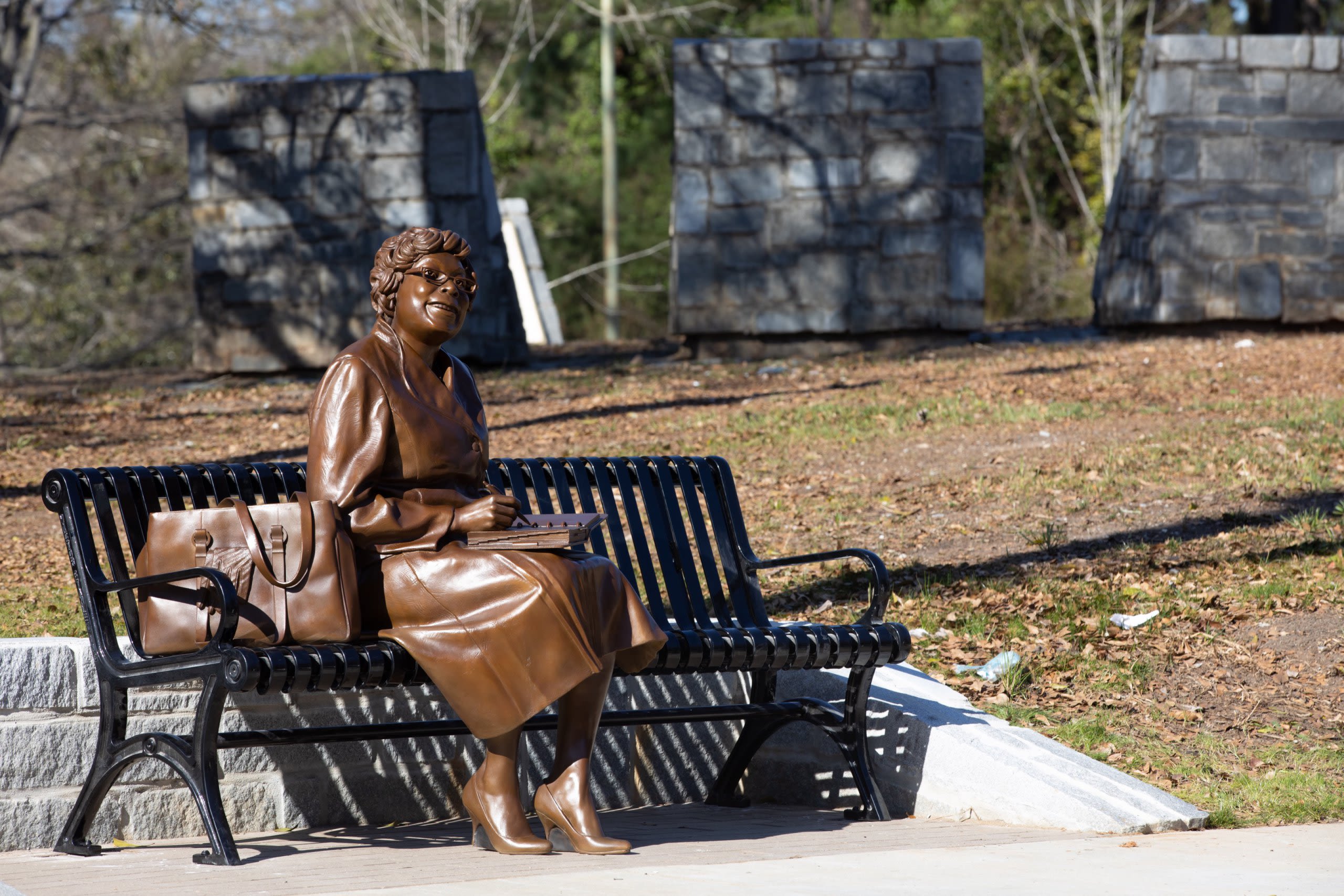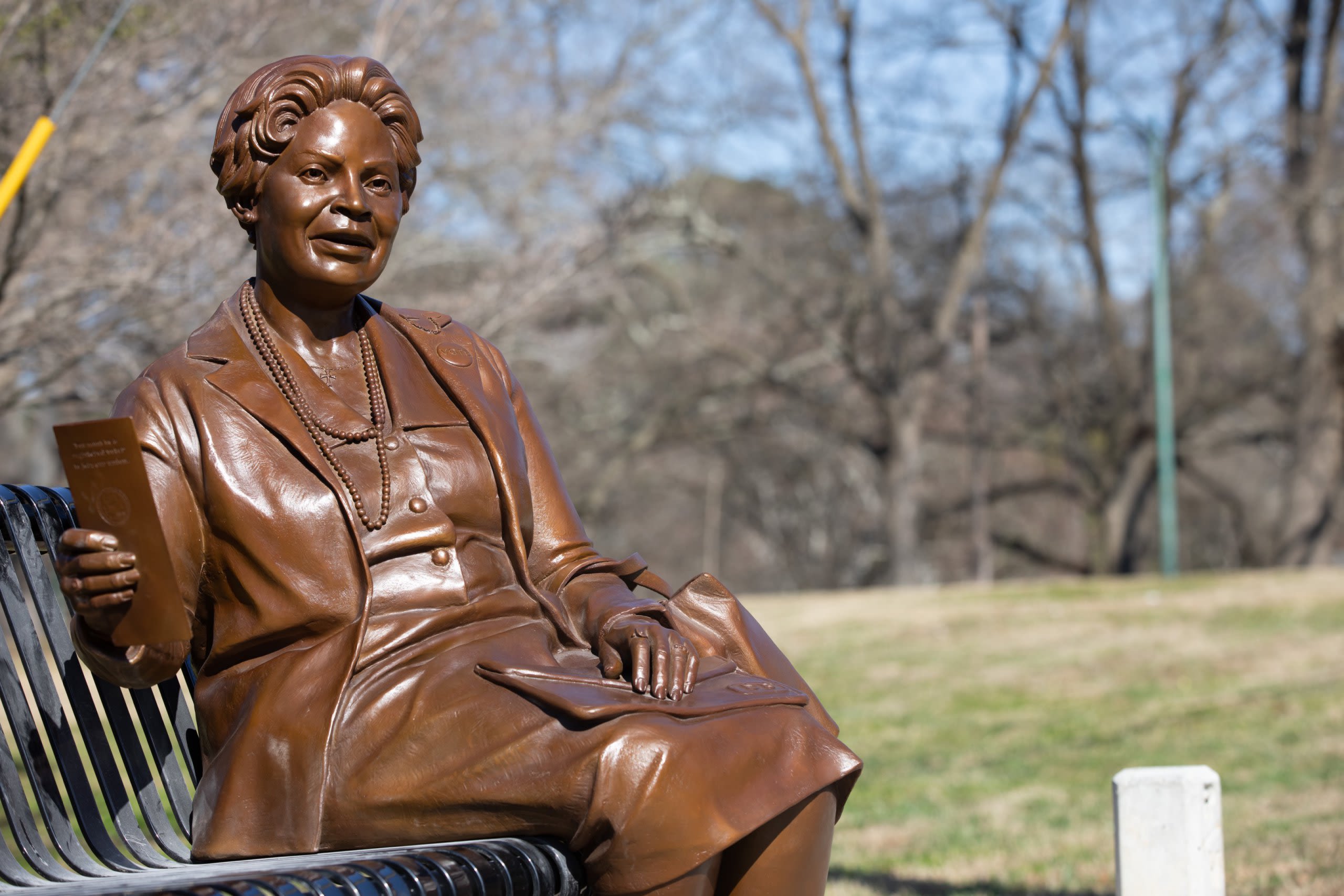 In February, the City of Atlanta installed four new benches in front of Mozley Park featuring life-size bronze sculptures to commemorate local Civil Rights leaders Dr. Rita Samuels and Dorothy Bolden, in addition to Rev. Hosea Williams and W.A. Scott. These new statues are intended to celebrate Atlanta's legacy and global influence in the Civil Rights movement.
There are quite a few more places in Atlanta that honor women's achievements. Here are a few more to visit in Metro Atlanta.
Discover More
Get to know Atlanta, and discover the best things to do around the city.