One Day in Atlanta Itinerary
Explore the best things to do if you only have one day in Atlanta
If you only have limited time in our wonderful city, enjoy this quick and enjoyable itinerary.
Morning
Head to the Georgia Aquarium, where you can see more than 120,000 animals of 500 different species in more than 8 million gallons of marine and fresh water. Touch tanks, 4-D theatre, Whale Sharks, Beluga Whales and more are perfect for kids of all ages!
Estimated Time: 2-3 hours
Alternate Option: Visit Centennial Olympic Park, the world's gathering place during the 1996 Centennial Olympic Games. The park features the popular Fountain of Rings and many outdoor events during the summer months.
Estimated Time: 45 minutes
Insider's Tip: Wednesday WindDown is a free concert series every Wednesday from 5:30-8pm at Centennial Park during the summer months.
Lunch
The Sun Dial Restaurant Bar & View (atop the Westin Peachtree Plaza, the tallest hotel in the Western Hemisphere) offers breathtaking views of Downtown Atlanta.
Afternoon
Head to the World of Coca-Cola, where the famous soft drink's story is told through fascinating exhibits, classic ads and an imaginative replica of the bottling process.
Estimated Time: 2 hours
Did you know Atlanta boasts two Nobel Peace Prize and Medal of Freedom winners?
Option #1: The Sweet Auburn district is the birthplace of Dr. Martin Luther King Jr. The Martin Luther King, Jr. National Historic Site includes a visitors' center depicting the story of Dr. King and the civil rights movement; the restored King birth home; Ebenezer Baptist Church, where three generations of the King family preached; and Dr. King's burial site.
Estimated Time: 1 hour (fast-paced) to 2 hours (leisurely)
Insider's Tip: Currently on exhibit at the MLK National Historic Site: The International Civil Rights Walk of Fame. Stand in the footprints and see the shoes of 17 civil rights leaders displayed as a tribute to the warriors of justice.
Option #2: Or visit the Jimmy Carter Presidential Library & Museum, next to The Carter Center. The library includes a replica of the Oval Office and Jimmy Carter's Nobel Peace Prize, as well as traveling exhibits.
Estimated Time: 2 hours
Insider's Tip: Transportation to the MLK National Historic Site or Jimmy Carter Library/Carter Center would be best by car (both locations have free parking) or MARTA bus. You also can enjoy the Carter-King Peace Trail pedestrian and bike path between the two attractions. Commemorative plaques can be found along the 1.5-mile walk.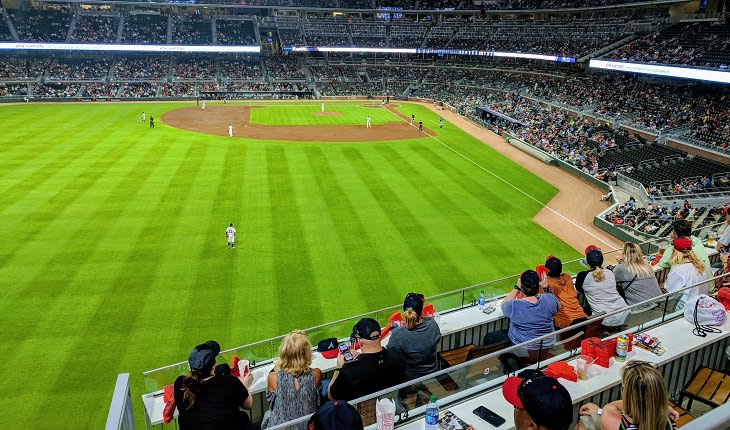 EVENING
Option #1: Between April and October, catch an Atlanta Braves baseball game. You can also take a tour of Truist Park to see the broadcast booth, press both, luxury suites, dugout and even the clubhouse (offered only when the team is out of town).
Estimated Time: 3-4 hours
Insider's Tip: The Battery Atlanta is for Braves fans before and after the game at SunTrust Park. Visitors can wine and dine at restaurants where Atlanta's most acclaimed chefs and mixologists are found. Culinary options to please foodies and families alike include Terrapin, Fox Bros. Bar-B-Q, Wahlburgers, PBR Bar & Grill, Antico, Goldberg's Bagel Company & Deli, and CRÚ Food & Wine Bar.
Option #2: In the cooler months, you can attend an Atlanta Hawks basketball game at State Farm Arena, right in the middle of Downtown Atlanta. That means you have everything you need for a great night out.
Estimated Time: 3-4 hours
Insider's Tip: Restaurants, bars and entertainment are just steps away from the hardwood when you catch a home Hawks game.
One day in Atlanta itinerary map
Discover More
Get to know Atlanta, and discover the best things to do around the city.