3-Day Atlanta Itinerary
Plan the Perfect Long Weekend Getaway
From outdoor adventures and thrilling attractions to luxury shopping and delectable cuisines, here are just some of the ways you can spend an incredible three days in Atlanta. Whether you're planning a staycation or just visiting from out of town, you're sure to enjoy this long weekend getaway in Atlanta, packed full of fun, dining, culture, shopping and just hanging out.
To see and do as much as possible during your 3-day Atlanta getaway, you'll start in Downtown for day one, spend day two in Midtown, and day three will be spent in Buckhead.
DAY ONE: DOWNTOWN AND AROUND
Atlanta Breakfast Club
Start the day at one of the city's best breakfast spots, the aptly named Atlanta Breakfast Club. Choose from delicious dishes such as salmon croquette, breakfast tacos, crispy fried chicken and waffles, or the Southern breakfast with eggs and grits. Another must-try dish is their biscuits with chicken sausage gravy.
Location: 249 Ivan Allen Jr Blvd NW
Georgia Aquarium
Just a three minute walk and you're at Georgia Aquarium, where you can see more than 100,000 animals of 500 different species in more than 8 million gallons of marine and freshwater. The aquarium is also home to the world's largest fish — whale sharks. From dolphin and sea lion shows to unique animal encounters and behind-the-scenes tours, you'll find something for everyone! Make sure to check out one of the largest sharks exhibits in North America and a must-see for visitors of all ages: Sharks! Predators of the Deep®.
Location: 225 Baker St NW
World of Coca-Cola
The next stop is World of Coca-Cola, where the famous soft drink's story is told through fascinating exhibits, classic ads and an imaginative replica of the bottling process. Featuring a multi-sensory 4-D theater where viewers can join the "Search for the Secret Formula" and an opportunity to taste more than 100 beverages from all around the world, the World of Coca-Cola entices visitors of all ages.
When exploring, be sure to step inside the Vault of the Secret Formula. This immersive experience showcases the legend and lore surrounding one of the world's most-beloved beverages. Highlights include the Virtual Tastemaker, a full-body interactive game and mobile storytelling option created with QR codes.
Location: 121 Baker St NW
Lunch Options
For casual cuisine, head to nearby Ted's Montana Grill, created by Atlanta mogul Ted Turner, for bison burgers. Lunch on classic American fare like a rock star at Hard Rock Cafe while surrounded by authentic rock memorabilia.
National Center for Civil and Human Rights
Experience the American civil rights movement firsthand at the new interactive National Center for Civil and Human Rights. The center's theatrical and high-tech exhibits use motion, sights and sounds to immerse visitors in the American civil rights movement and current human rights issues.
Location: 100 Ivan Allen Jr Blvd NW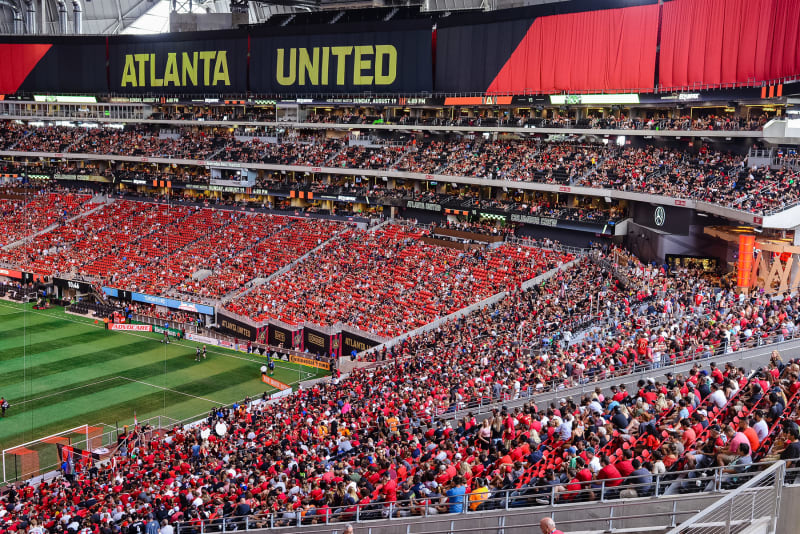 Catch a Game at Mercedes-Benz Stadium
If you're a sports lover, you probably already know that Atlanta offers several options. There's Georgia Tech and Georgia State University sports right downtown as well as the Atlanta Hawks, Atlanta Falcons and Atlanta United. Walk over to the spectacular Mercedes-Benz Stadium to enjoy fierce gridiron battles during an Atlanta Falcons game or to cheer on Atlanta United during a passionate soccer match.
Location: 125 Ted Turner Dr NW
Dinner Options
You can enjoy some great food in Mercedes-Benz Stadium, but there are so many other options nearby. After the game, walk to the historic Castleberry Hill neighborhood and enjoy the colorful murals, knowing that countless television shows have been filmed here.
Tempt your tastebuds at some of the city's best restaurants. In addition to its mouthwatering Mexican cuisine, No Mas! Cantina boasts an expansive patio and surrounding gardens perfect for outdoor dining and special occasions.  Enjoy a scrumptious Southern dinner at Paschal's Restaurant. Try their famous 1947 fried chicken with a side of macaroni and cheese and collard greens, and then finish it off with Georgia peach cobbler.
DAY TWO: GET CULTURED IN MIDTOWN
High Museum of Art
Visit the Midtown Arts District and gaze at more than 12,000 works in the High Museum of Art, a division of the Woodruff Arts Center. The permanent collection includes pieces from 19th- and 20th-century American and decorative, modern, contemporary, African and folk art, plus photography. Also at Woodruff Arts Center, you'll find the Grammy Award-winning Atlanta Symphony Orchestra and Tony Award-winning Alliance Theatre.
Location: 1280 Peachtree St NE
Museum of Design Atlanta
Just across the street, Museum of Design Atlanta presents unique, urban exhibitions that examine the effects of design on day-to-day life. This boutique gallery is a work of art itself with its naturally lit exhibition space.
Location: 1315 Peachtree St NE
Lunch at The Varsity
For an authentic Atlanta treat, try a chili dog and Frosted Orange milkshake at The Varsity, the world's largest drive-in restaurant. The restaurant has become one of Atlanta's biggest tourist attractions, as well as serving several presidents like Jimmy Carter and Barack Obama, and movie stars such as Clark Gable. No trip to Atlanta is complete without a stop at The Varsity!
Location: 61 North Avenue NW
Piedmont Park
Grab your chili dog to-go and sprawl out a blanket for a picnic lunch at Piedmont Park. The park encompasses more than 180 acres of lush lawns, Lake Clara Meer, a public swimming pool, scenic walking and jogging paths, playgrounds, athletic courts and an off-leash dog park. It's also home to many seasonal events such as Atlanta Dogwood Festival, Atlanta Jazz Festival, Atlanta Pride and Music Midtown. Piedmont Park is also connected to the BeltLine's Eastside Trail, a three-mile path that runs south through the city to Kirkwood Avenue.
Location: 1320 Monroe Dr NE
Atlanta Botanical Garden
Adjacent to the park is Atlanta Botanical Garden, an urban oasis of seasonal blooms and mesmerizing water features. Wander through the treetops on the Canopy Walk, a 40-foot-high suspension walkway offering a birds-eye view.
Location: 1345 Piedmont Ave NE
Dinner Options
One of the city's favorite neighborhood hangouts, 5Church, is a two-tier restaurant with an expansive outdoor patio that serves an eclectic, global fusion menu of the city's favorite foods. Just two streets over, South City Kitchen is the go-to for sophisticated Southern dishes. For fresh food concepts and historic architecture, head to West Midtown. This newly revitalized district offers decadent dining and tons of walkable shopping. At The Consulate, sample an array of global flavors in an artistic setting, with a bit of a James Bond feel.
Fox Theatre
The Fox Theatre is one of the best live entertainment venues in Atlanta. Enjoy a full menu of live performances ranging from dance to Top 40 concerts to Broadway productions by Broadway in Atlanta.
Location: 660 Peachtree Street NE
DAY THREE: SHOP 'TIL YOU DROP IN BUCKHEAD
Highland Bakery
Day three starts off at the Highland Bakery for sweet potato pancakes, with made-from-scratch cinnamon rolls, SOYsage and a steaming hot cappuccino. Braced with nutritional energy, it's time to walk a few blocks and do a little shopping.
Location: 3353 Peachtree Rd NE #130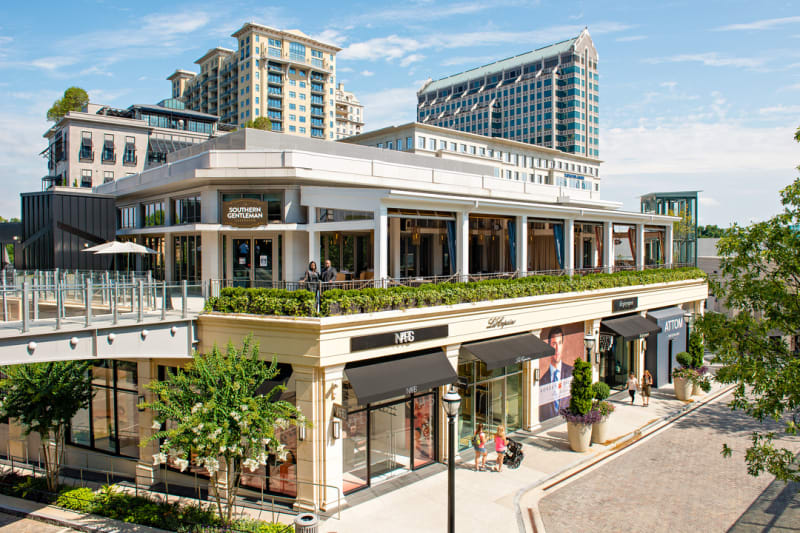 Lenox Square & Phipps Plaza
From luxury stores to unique boutiques, Buckhead has everything for the chic, savvy and fabulous. At Lenox Square, visit more than 200 stylish stores on four levels, including Henri Bendel, Bulgari and Louis Vuitton. Across the street at Phipps Plaza, get the season's hottest trends from another 100 plus stores such as Tom Ford, Versace, Kate Spade and more.
Location: Lenox Square; 3393 Peachtree Rd NE & Phipps Plaza; 3500 Peachtree Rd NE
Buckhead Village District
Make your way a little further down Peachtree Street to stroll through the Buckhead Village District. With ultra-luxe retail options such as Christian Louboutin, Hermès and Helmut Lang, along with delicious dishes for every palette, you can shop, drop and shop some more.
If all that shopping has made you a bit hungry, it's time to grab a snack. A red velvet cupcake from Georgetown Cupcake is the perfect treat for a boost of energy as you walk a few blocks to your next stop.
Location: 3035 Peachtree Rd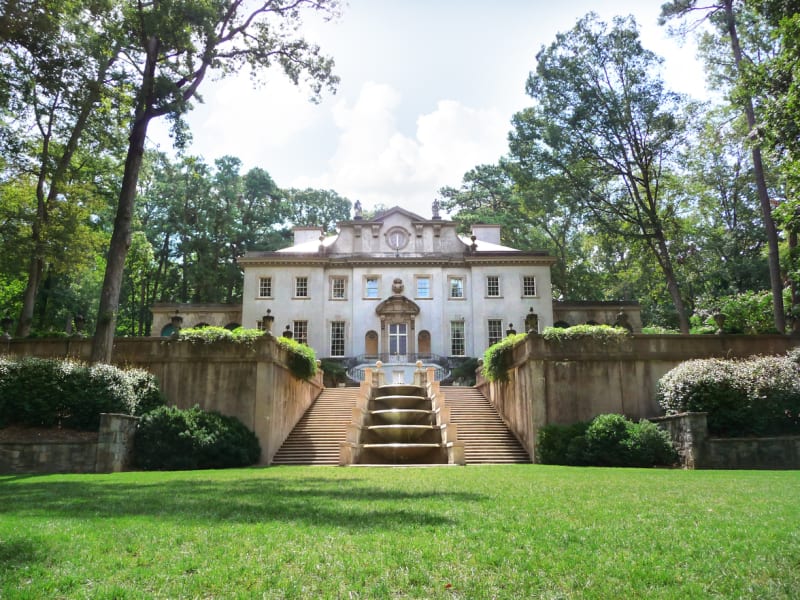 Atlanta History Center
Set on beautiful grounds, the Atlanta History Center showcases the city's history including special exhibits on the Civil War, traditions and the Bobby Jones Story. New to the center is "Cyclorama: The Big Picture," featuring the fully restored cyclorama painting The Battle of Atlanta, a 132-year-old hand-painted work of art.
Of course, no trip to the Atlanta History Center is complete without going to the Swan Coach House restaurant and experiencing Southern charm at its finest. A must-order is the Swan's Favorite, the restaurant's signature chicken salad served with a creamy frozen fruit salad.
Location: 130 West Paces Ferry Rd NW
Museum of Contemporary Art of Georgia
Visit one of the Buckhead design and cultural areas that include Miami Circle, Peachtree Decorative Arts Plaza, Galleries of Peachtree Hills and Bennett Street, where the Museum of Contemporary Art of Georgia permanently houses more than 600 works by local artists in contemporary mediums.
Location: 75 Bennett St NW
Dinner Options
Charm your guests at South City Kitchen Buckhead with elevated Southern food, and when the weather is nice the patio is a great option, with plenty of room for all your guests. Enjoy a top story view of the Buckhead Atlanta shopping district at The Southern Gentleman, where the menu and the atmosphere boast a modern take on Southern flavors. Southern Art and Bourbon Bar, located in Buckhead's InterContinental Hotel, features dishes that were inspired by family recipes and loaded with southern classics.
Johnny's Hideaway
After dinner, it's time to party and what better way than to cut a rug at another Atlanta institution, Johnny's Hideway. Johnny's Hideway features some of the city's best DJs spinning hits from the '50s, and it doesn't matter if your favorite dance is the shag, disco or the electric slide… Johnny's will play it. Or amp up your night with salsa, merengue, house or EDM at Havana Club and Tongue & Groove.
Location: 3771 Roswell Rd NE
We hope you have an incredible three days in Atlanta! It's impossible to see and do everything in one trip, so a repeat visit will be a must!
Discover More
Get to know Atlanta, and discover the best things to do around the city.