Where to Enjoy Authentic Mexican Food in Atlanta
Published May 4, 2023
Last Updated June 6, 2023
I am a Mexican living in Atlanta. Often, I find comfort in flavors that remind me of my childhood in Hidalgo, Mexico. My parents – and many generations before them – were chefs and restaurant owners in Mexico, so the flavors and smells of authentic Mexican food are part of me.
The History of Mexican Flavors
Mexican cuisine is the only cuisine as a whole to be protected by UNESCO as intangible cultural heritage. It dates back to the time before Mexico and Central America were colonized. The Mayan Indians and then the Aztecs used the animals and plants in the area – chili peppers, honey, salt, chocolate, corn and beans – to survive.
When Spain invaded Mexico, Spanish food became a tremendous influence on Mexican cuisine. Spaniards brought livestock such as sheep, pigs and cows, and introduced dairy, garlic, herbs, wheat and spices. Aside from Spanish influences, Mexican cuisine was also influenced by African cuisine brought to Mexico by slaves.
Mexican flavors have also influenced cuisines globally. Ingredients such as potatoes, tomatoes, chocolate (cacao), chiles and vanilla are endemic to Mexico. Today, in cuisines and menus around the world, you will find a hint of Mexican flavors.
Authentic Mexican Food in Atlanta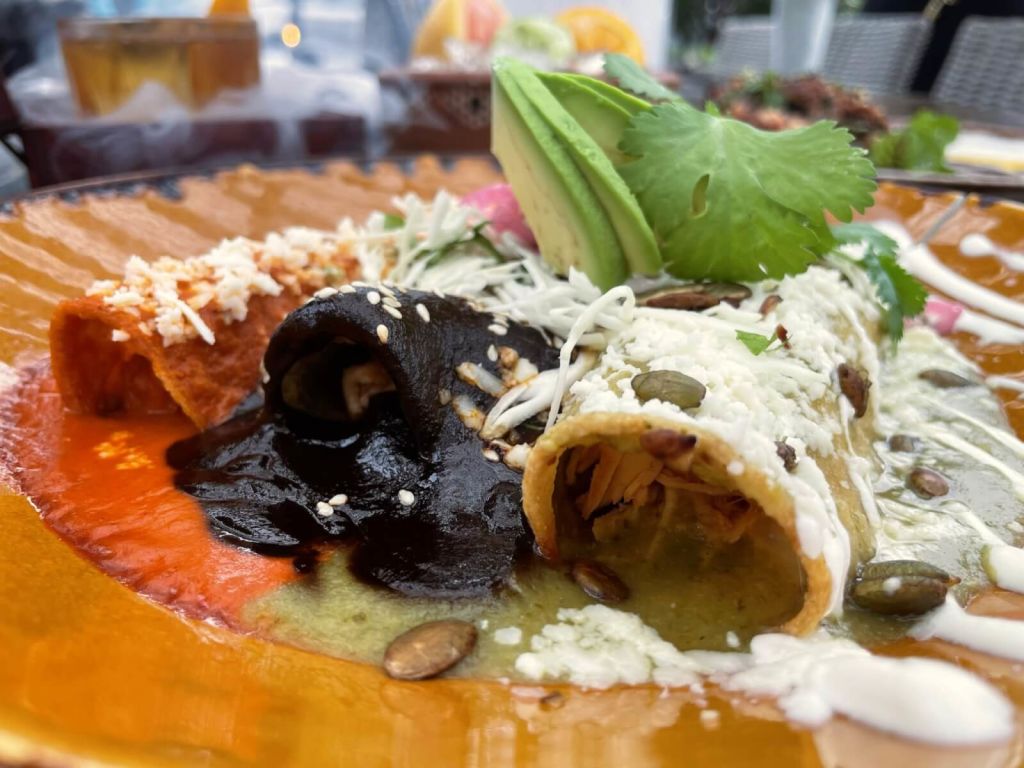 Mexican food is diverse and complex. Recipes and dishes vary per region, and, often, even by household. That being said, to identify the authenticity of Mexican food, one must look into the ingredients and cooking techniques and be open to the idea that one dish might have many variations that peek into the history of each region.
Fortunately for my heart and my taste buds, I find a lot of authentic Mexican flavors in Atlanta. Here are some of my favorite Mexican dishes in the city.
El Tesoro
I discovered El Tesoro by accident while driving around. I saw a rustic venue with piñatas and papel picado hanging, outdoor seating over gravel, a big luchador mural and a line that wrapped around the block. It immediately reminded me of a taqueria my family would stop by on our way to Pachuca from Tulancingo in Hidalgo. Attracted by the feeling of home, I stood in that line not sure of what to expect, and I never looked back. Since then, El Tesoro has become a special place where my family and I "travel" to Mexico through the flavors, the environment and the people. There is a sense of community where everyone is welcome.
The menu is full of options with authentic flavors. Some of my favorites are the tacos de guisado, which usually are listed on the specials chalkboard. My go-to is a mulita de carne asada, a typical dish from Tijuana, chicharrones as a side and an elote. My favorite 'rita is the hibiscus mezcal margarita. I can also recommend the mezcal flight that comes with sal de chapulines – yes, crickets.
If the line is long, don't let that turn you off. It's part of the experience. The bar is open and you can buy a drink to sip while you stand in line, and in warmer months, a taquero making tacos al pastor will tame your hunger while you wait to order.
Where: 1374 Arkwright Place SE
El Valle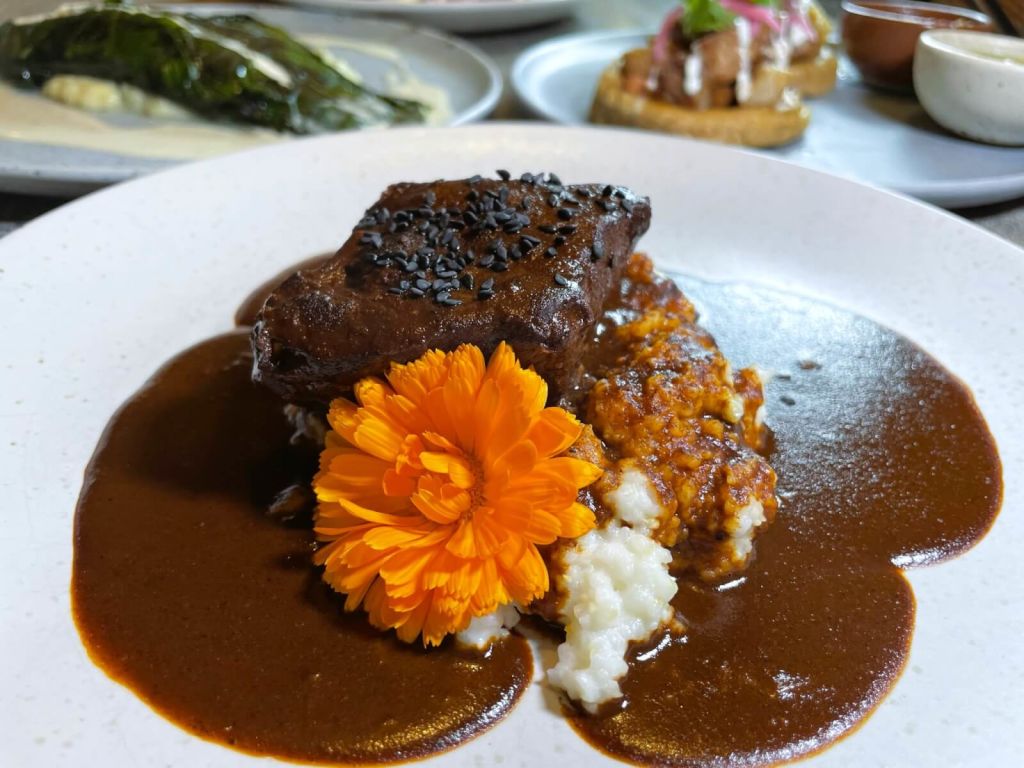 Ninety minutes south of Tijuana, through a beautiful coastline-drive, sits Valle de Guadalupe, the capital of wine in Mexico. It's practically the Napa of Mexico, which at some point produced 80% of the wine in the country. In the United States, it is challenging to find wines from Valle de Guadalupe, but thankfully, El Valle has made that possible for us here in Atlanta.
El Valle offers a great selection of Mexican wines, and if you can't make up your mind, go for the flight of wines. It's a great way to start. Mexican wines are known for unique complex flavors with floral, fruity, earthy and bold flavors.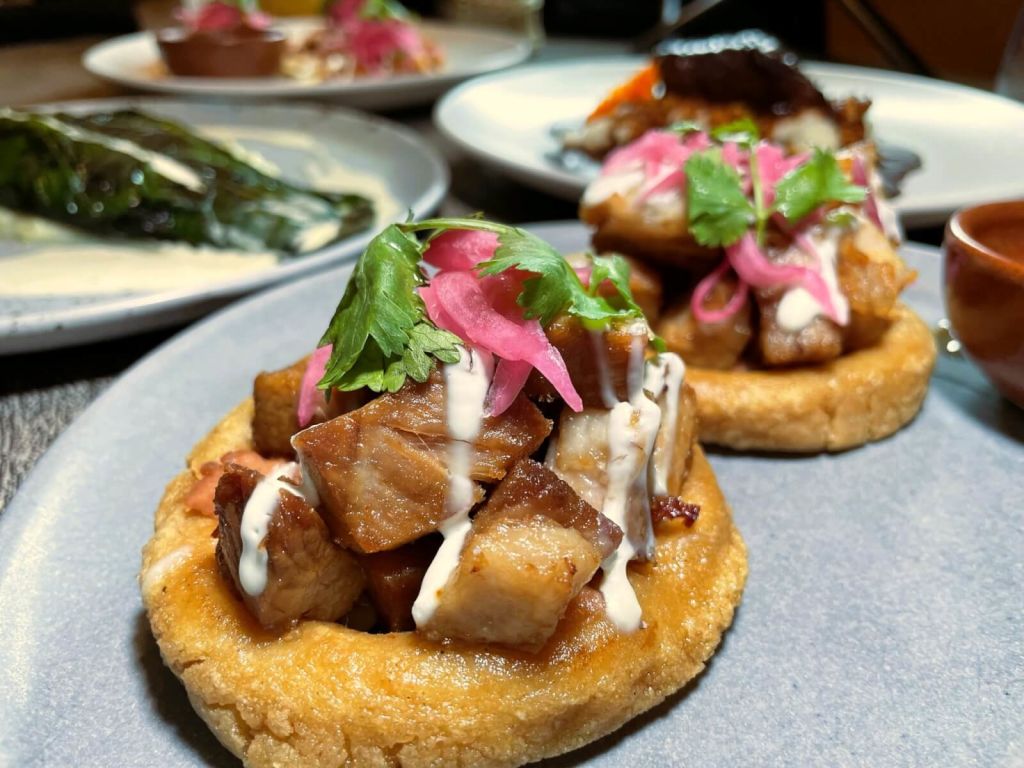 I was delighted by the Mexican wine selection, but when I ordered the food, I was transported to my mother's kitchen. The sopa de maiz reminded me of the creamy corn soup my mother made on rainy days after school. The sopes are delightful with a delicious masa taste, epazote hints on the beans and a gracious amount of carnitas.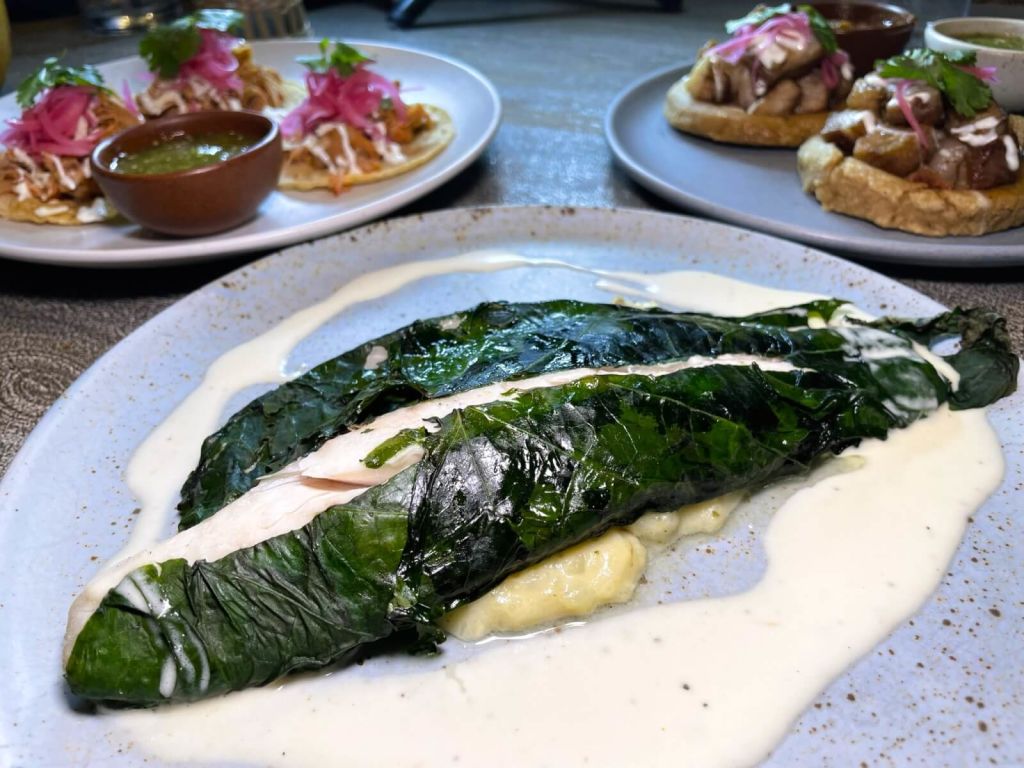 The Hoja Santa Branzino is a one-of-a-kind dish wrapped in hoja santa, Mexican pepperleaf, and stuffed in the familiar taste of papas with chile poblano. The Mole de Ajo Negro is incredible and a must-try. Executive chef Luis Damian and his mother – whose recipes play a key role at El Valle – are from Puebla, the capital of mole in the world, so they know exactly what they are doing. Mole is a sauce made out of as many as 17 ingredients, and it might be an acquired taste for some, but at El Valle it is evident that the family recipe has been passed down for generations for very good reasons.
While you sip on Baja California wines, travel to the coastline with the halibut ceviche, which is served with xoconostle, a delicious cactus fruit that adds the perfect texture and taste to the acidity of the traditional ceviche.
Where: 800 Peachtree St. NE
Patria Cocina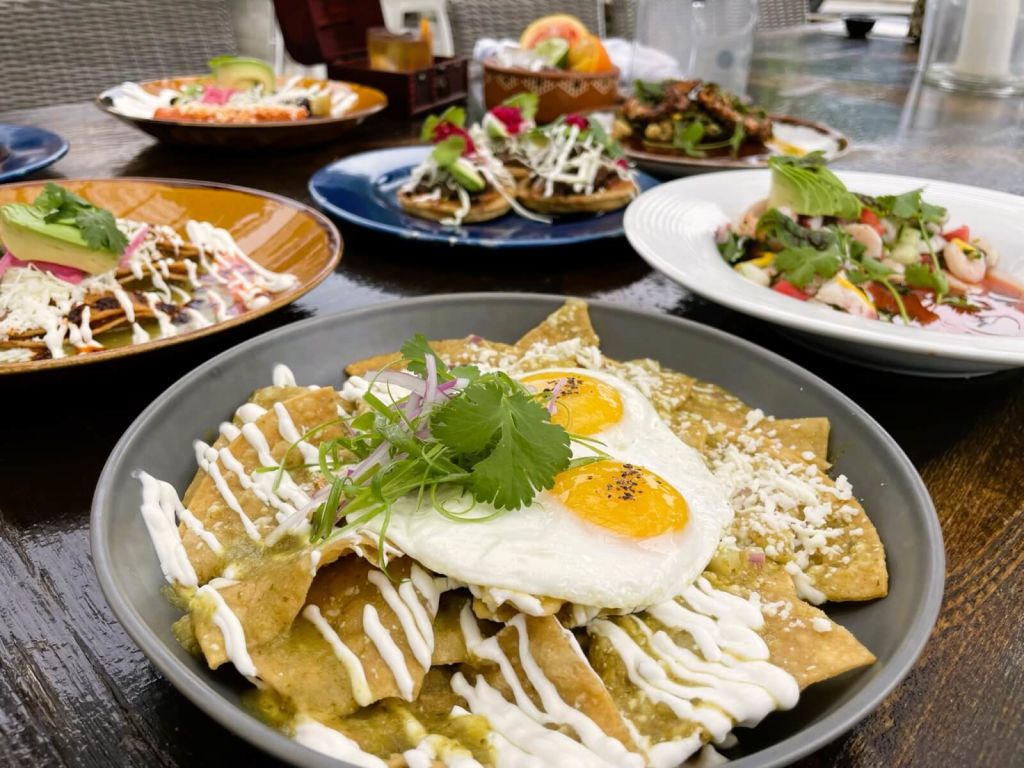 Based in the heart of Grant Park at The Beacon, Patria Cocina stole my heart at first bite. During my first visit, I tried the tostadas de mole negro because that was a very common dish that my mother would make at home with mole leftovers. The taste didn't disappoint and was very comforting to me with each bite full of memories.
My second visit was for brunch, recommended by other Mexican friends who were in the hunt for the best chilaquiles in the city. Well, I found them at Patria Cocina. Chef-owner Octavio Ruiz serves chilaquiles that taste just like my dad's, and that is a lot to say. I ordered the green ones with sunny-side-up eggs on top to allow the yolk to spread everywhere. The green salsa was superb, the tostaditas were clearly made from scratch and drenched in the salsa to perfection. Chilaquiles are a very iconic dish in Mexico that can be eaten at all times of the day, but particularly on Sunday mornings after a long night of partying.
The tacos de papa tasted just like those I could buy in the streets of Mexico City right by the Zocalo. Topped with that exquisite salsa verde and stuffed with papas con chorizo, it is a life-giving dish.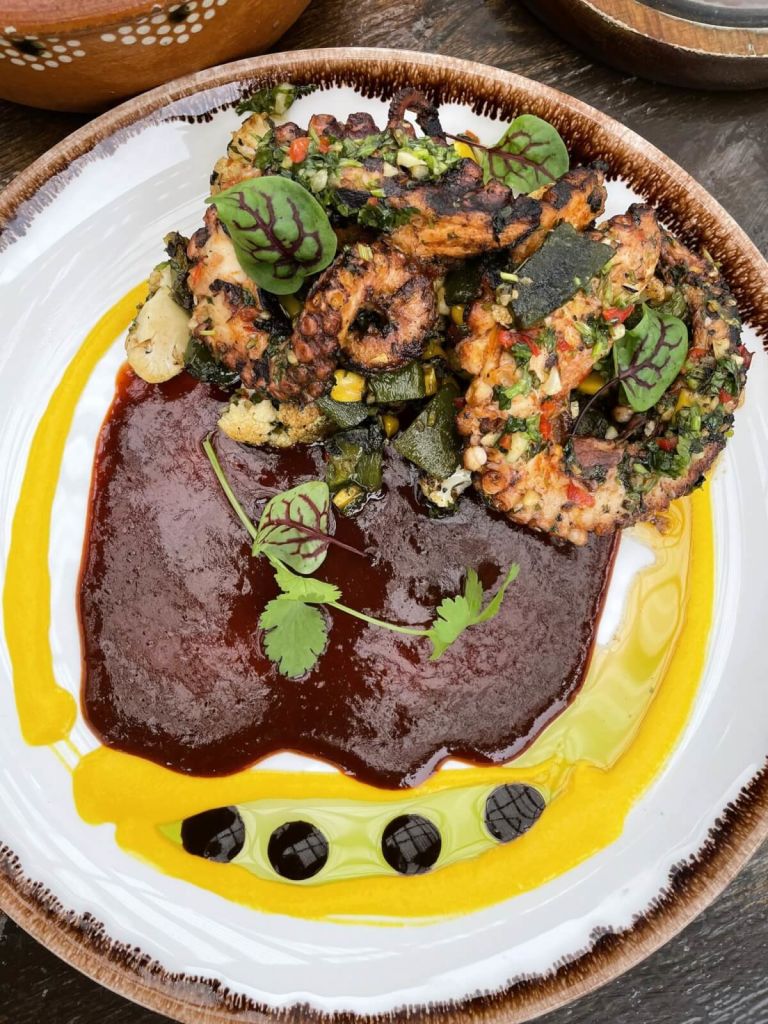 The pulpo Polanco, as the name says, is inspired by the colonial upscale neighborhood in Mexico City, and and the mancha manteles live up to its name – tablecloth dirtier – with the options to try three different enchiladas, each bathed in mole, guajillo and tomatillo sauce.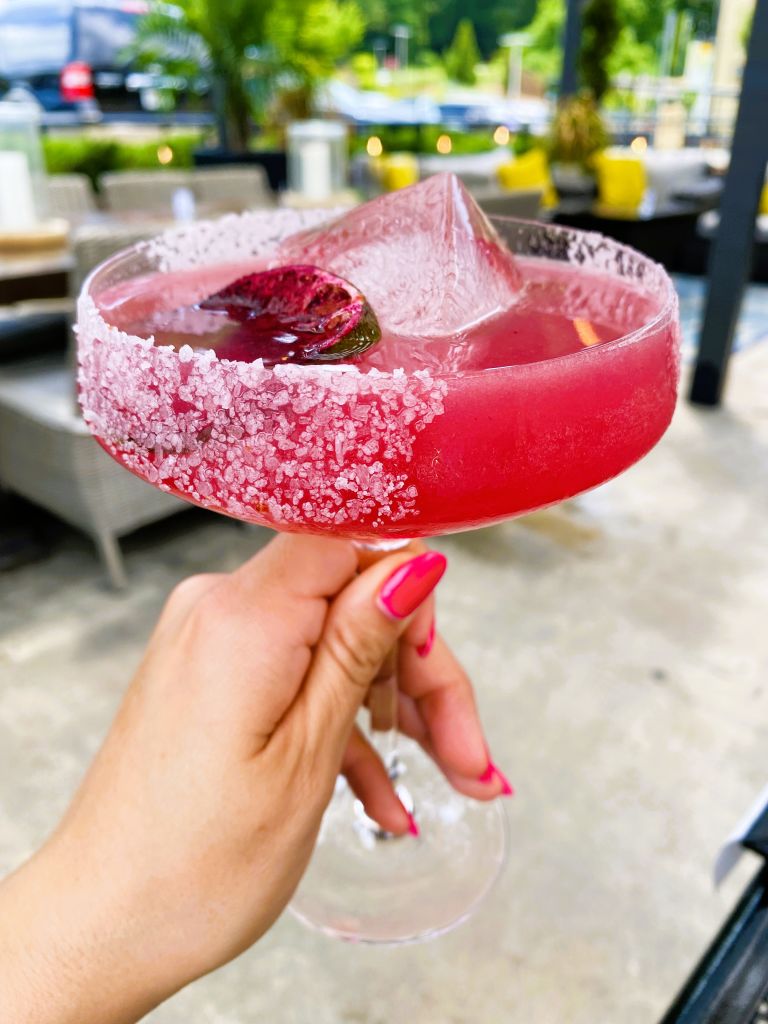 Chef Ruiz is from Jalisco, so, of course, he has a particular palate when it comes to tequilas. At Patria Cocina you will find only the best tequilas that will make you want to sip on them as opposed to taking them as shots. Order smokey and charcoal cocktails from the secret menu and discover the flavors with only natural ingredients and no syrups. It's such a vibe.
Where: 1039 Grant St SE
Palo Santo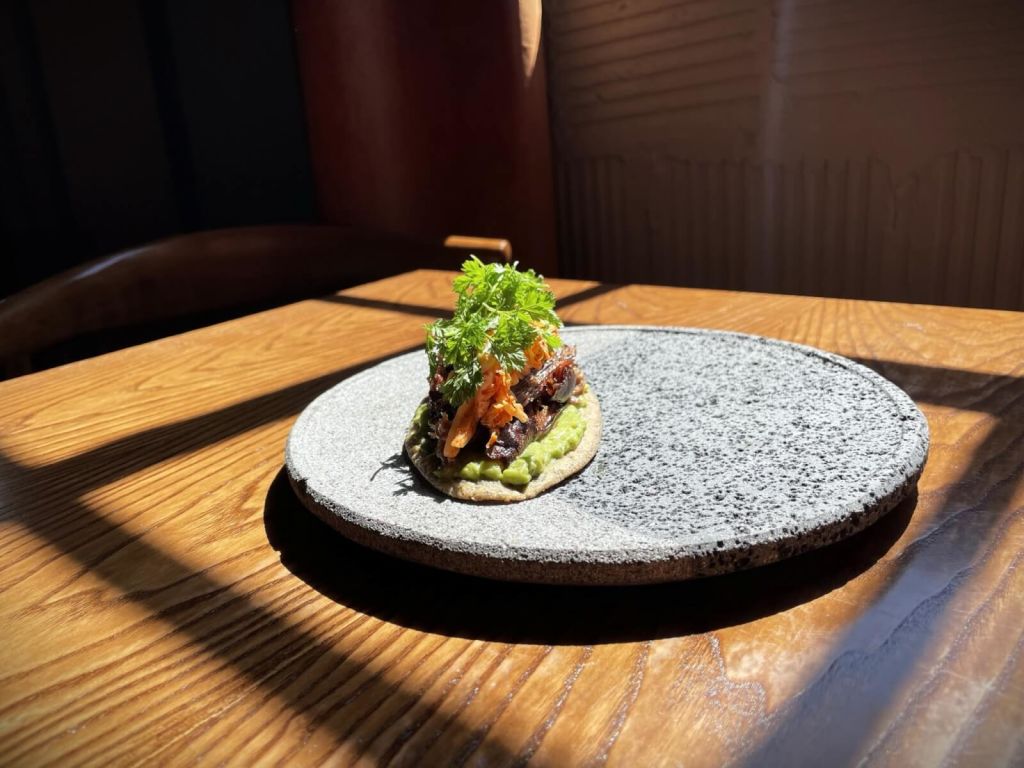 Here, you walk into a club style restaurant with a beautiful rooftop and incredible food. Chef Santiago Gomez designed a menu using authentic Mexican ingredients cooked in a wood-fire kitchen. He added his touch with influences from other cuisines, such as Asian. Wood firing is traditional in Mexican cooking as our ancestors didn't use ovens. Instead, they cooked on wood fire or under the ground. At Palo Santo I found incredible tastes that reminded me of home, elevated by the chef's modern techniques and influences, and complemented by traditional Mexican ingredients. Palo Santo imports directly from Mexico. The tuna tostada melts in your mouth, the tlayuda hanger is powerful.
Don't miss out on the incredible selection of cocktails and Mexican spirits. Sip on a carefully crafted mezcal cocktail while enjoying dishes like the carne asada cooked in charcoal or the incredible bone marrow with salsa mocajeteada – another very traditional cooking technique in a bowl made out of stone.
Where: 955 West Marietta St. NW
Rreal Tacos
When the sun goes down in many cities in Mexico, street food vendors pop up. You are likely to find your neighbor selling sopes out of a garage, or a taco stand in front of someone's house. It's not only common at 10 p.m., it's also delicious. This kind of Mexican street food can be found at Rreal Taco.
The birria barbacoa tacos are a hit. Barbacoa traditionally is made in holes in the ground, but since Piedmont Park would have never allowed for Rreal Tacos to dig into the beautiful grass, the chef there has perfected a technique that allows them to offer incredible birria barbacoa to us in Atlanta. It comes with a consomme, which is essentially the juices from the meat-cooking process seasoned with all kinds of Mexican goodness. Dip your taco in the consomme, take a bite and forget about all your problems.
If you are not into birria, but you could bathe in cheese, then costra taco is perfect for you. My favorite is with asada and lots of delicious salsa verde. Take a trip down memory lane with me and get a mollete. This bread with beans, cheese and pico de gallo on top is such a staple of kid's lunches in Mexico. I had my fair share.
Where: 100 6th St. NE #110 and 1000 Northside Dr NW #600
Bone Garden Cantina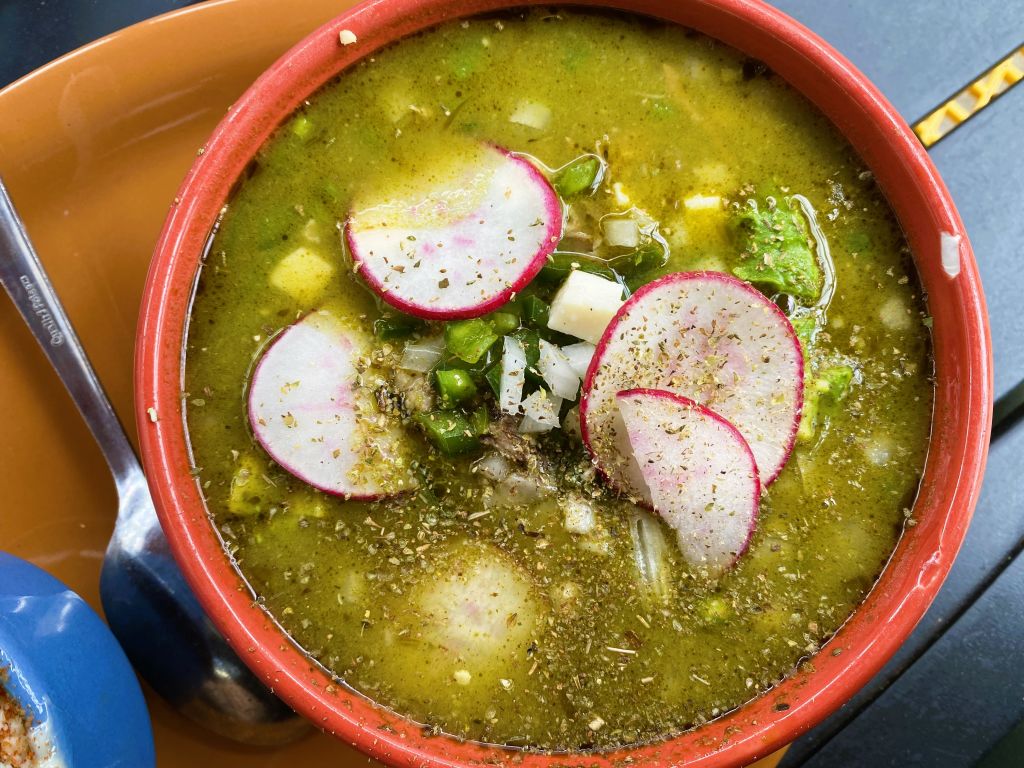 Bone Garden is a well-kept secret for locals who have enjoyed it for years. Honestly, I don't tell many people about this place, afraid that crowds will just come flocking in because it is that good. However, I'll share with you because the place, more than a restaurant, is a celebration of Day of the Dead, a traditional Mexican holiday that celebrates life.
Drive around what looks like an office complex, enter the restaurant and be transported to a Dia de Muertos parade. With colorful murals inside – including two skeletons riding a motorcycle and a skeleton version of the Virgin Mary – and skulls everywhere, Bone Garden is a vibe.
The homestyle Mexican menu includes a red goat soup that tastes like it could bring you back from the dead, and tamales, which are one of the most ancient dishes in Mexican cuisine. From lunch to dinner, Bone Garden never disappoints and satiates that need for traditional Mexican flavors.
Where: 1425 Ellsworth Industrial Blvd. NW
Atlanta offers an incredible variety of Mexican flavors celebrating the diversity of Mexican cuisine and offering something for every palate. Discover authentic Mexican flavors in Atlanta and celebrate the Mexican culture.
Discover More
Get to know Atlanta, and discover the best things to do around the city.