Keep Warm as you Dine Outdoors at these Atlanta Restaurants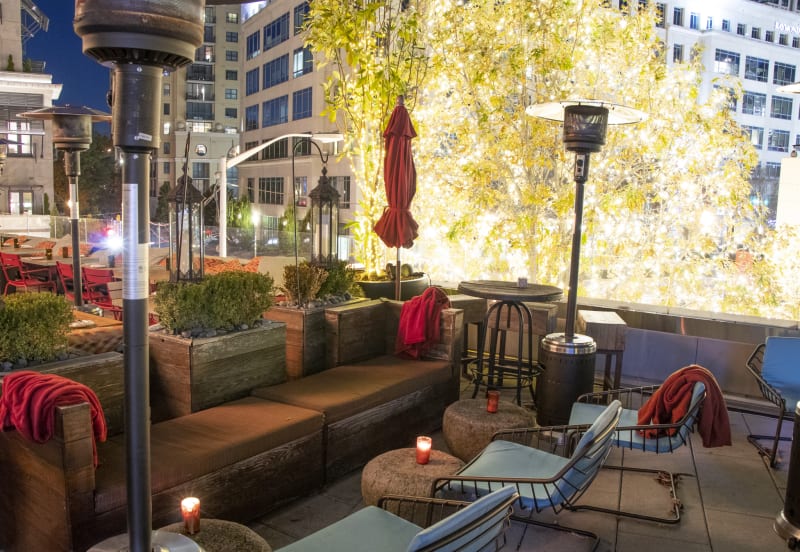 Just as most Atlanta restaurants have opened interior spaces as well as outdoor patios and balconies, the weather is getting colder. Once again, 2020! But there is no need to hibernate as Atlanta generally has mild winters and our eateries have bundled up their outdoor spaces so you don't have to.
Below is a list of some of Atlanta's favorite restaurants with information as to how they're going to keep outdoor spaces warm and inviting until the dogwoods start blooming.
Buckhead
Aria plans to serve its famed cuisine — both à la carte and a seven-course tasting menu — on the patio, under a tent. Reservations are available Tuesdays through Thursdays.
Buckhead Life Group owns two restaurants with outdoor spaces. Bistro Niko plans to feature outdoor dining with heaters, and Kyma will serve its acclaimed Greek food on the covered patio, complete with heaters, in the Kyma Garden through December.
Dantanna's is always a top choice for watching sports and, with its patio heaters and flat screen TVs, diners can enjoy the game and the outdoors. It's a perfect combination.
Joy Cafe plans to winterize its Peachtree Road patio with several conventional propane heaters as well as a few propane tungsten heaters. The restaurant also is considering adding seat warmers and electric heating fans to make guests even more comfortable.
Buckhead's Gypsy Kitchen plans to have plenty of heaters and blankets to keep the fun going all year long. After each use, blankets will undergo a thorough sanitizing process.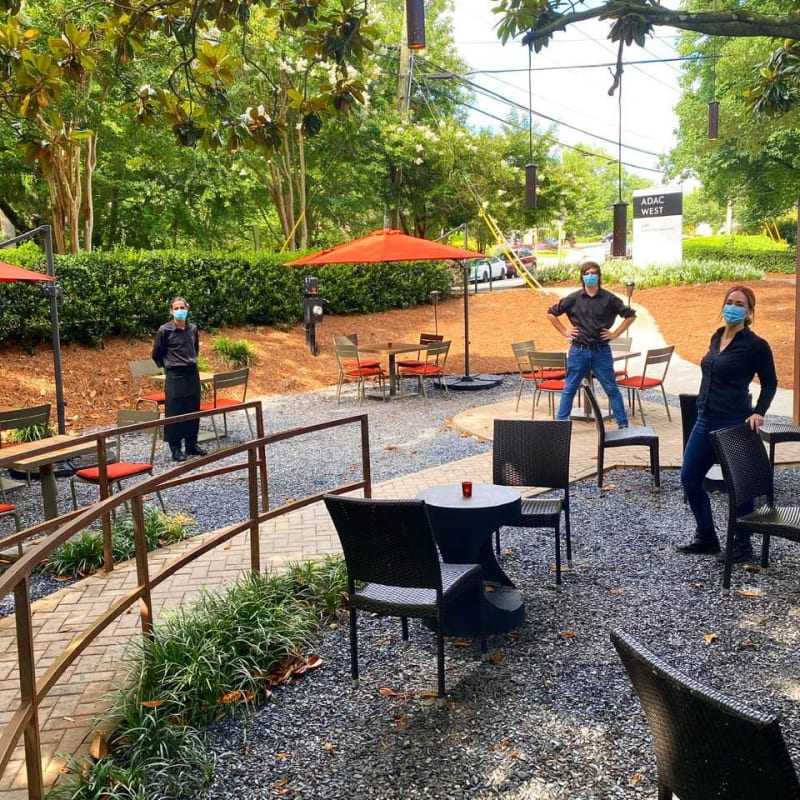 KR SteakBar has heaters in place, and servers wear masks so that diners can safely enjoy steaks and Italian cuisine while keeping warm.
Justin Anthony of True Story Brands, parent company of 10 Degrees South, Biltong Bar and Yebo Beach Haus, invested in nano doors during the five-month closure of 10 Degrees South. "The doors are a great solution for us for COVID, and we now open the doors every night for service," says Anthony. "We hope to be able to attract more diners by having the doors open with a real al fresco dining experience." The 180-seat South African restaurant is now limited to 100 seats between the dining room and the patio, so heaters have been added in the ceiling of the patio. Yebo Beach Haus added heaters to its courtyard patio.
It's first come first serve for tables on the patio at Ecco, but the heaters will keep you warm. Enjoy classic Italian dishes such as flatbreads, anchovy pinto and spaghetti with littleneck clams, Calabrian chili and roasted garlic.
South City Kitchen Buckhead has outdoor seating surrounding an awesome fire pit.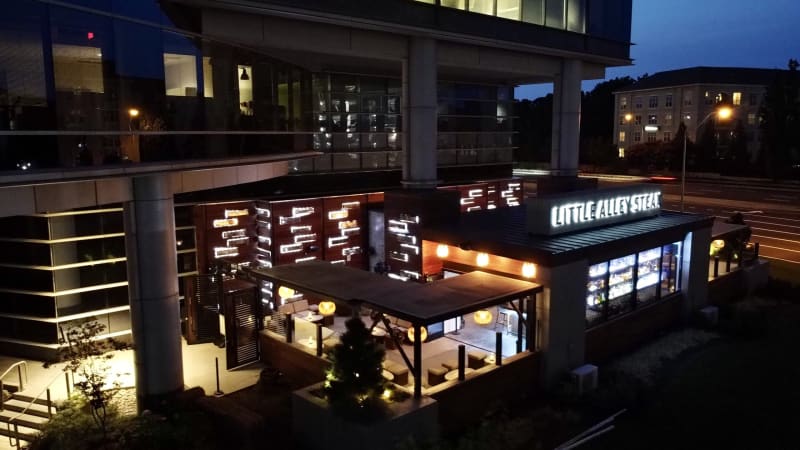 Over at Little Alley Steak Buckhead, outdoor dining is the new norm, says co-owner Hicham Azhari. The restaurant's 2,500-square-foot patio includes an outdoor bar, lounge area and plenty of outdoor heaters to "make our customers feel safe and warm."
Who doesn't love being on a golf course? At Boone's you are! Overlooking the Bobby Jones Golf Course along Tanyard Creek in Buckhead, Boone's offers a fun atmosphere to enjoy great food and a variety of craft beers. You'll keep warm with the heaters on the patio as well.
Grana, located between Buckhead and Midtown, features the best from Calabria and Campania. Enjoy its pizzas and pasta on the heated mezzanine and rooftop bar.
Midtown
Bazati, which houses the French-inspired restaurant Brasserie and Estrella, a Latin eatery, will have both heaters and blankets on the patio and balcony, respectively. Estrella is always a top choice for the best skyline view, so grab a blanket, a margarita and enjoy.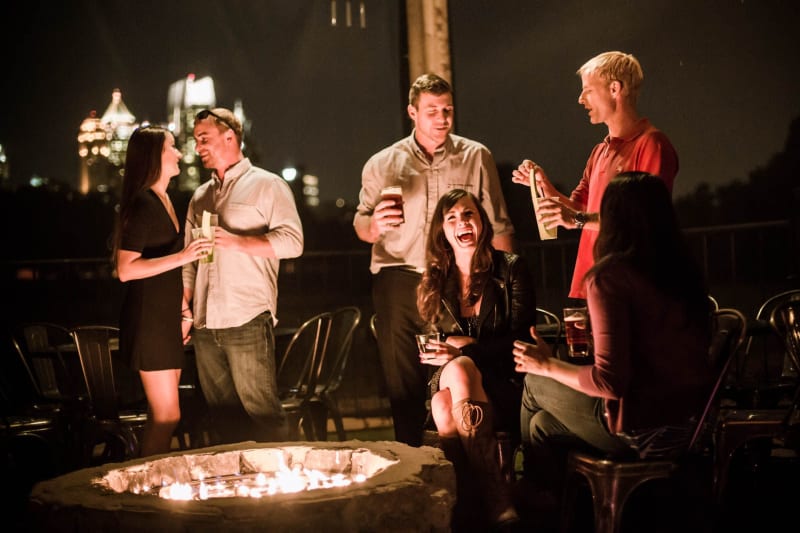 The Rink at Park Tavern is open, and for those who don't want to ice skate, they can sit next to the fire pits on the expansive covered patio. Guests can enjoy specialty cocktails, craft brews and s'mores. Also, remember that The Rink is dog friendly.
Speaking of dog friendly, TWO Urban Licks, located on the Beltline in the Old Fourth Ward, has a dog-friendly patio that features fire pits perfect for enjoying the Midtown skyline.
Firepit Pizza Tavern in Grant Park has a cozy, dog-friendly patio with a modern fire pit, patio tables and plush furniture perfect for enjoying a dinner with friends.
Cold Beer, the latest concept from acclaimed chef Kevin Gillespie, features such dishes as a New England hybrid lobster roll and bulgogi pork ribs. Enjoy them on a heated patio and watch the sights and sounds of the BeltLine's Eastside Trail.
Enjoy shareable Spanish food while watching the Midtown world go by at Bulla Gastro Bar. There is a large patio, with heaters, right on 11th Street. We highly recommend the flan de coco for a late night indulgence.
New Realm Brewery and Taproom offers some of the best views of the city, not to mention the some of the best beer. Located on the BeltLine near Ponce City Market, New Realm has a Beer Garden Patio and rooftop, both of which are ready and able to keep you warm and fed throughout the winter.
Osteria 833 in Virginia-Highland is a casual place perfect for families to enjoy reasonable Italian dishes on a large patio with heaters.
Eastside and Westside
Travel over to West Midtown and have a glass of chianti classico at Forza Storico on its heated and covered patio.
The Lazy Llama Cantina opened just before the pandemic hit and it's still, luckily, going strong. The fun won't stop as the cantina plans to serve carnitas and braised short ribs on its all-weather patio.
Bring your dog to Red's Beer Garden in Grant Park where there will be plenty of heaters and more than 200 beers plus wine and seltzer on the menu. When no one is looking, slip a bite of hot dog to your canine, as Red's is dog friendly.
Midtown's Ladybird Grove & Mess Hall is ready for anything winter throws at it. The BeltLine-adjacent restaurant plans to bring back "Base Camp Tents" that will be located in the eatery's large, outdoor Grove space. Priced by the hour, the three 144-square-foot tents will be open though the winter, and each will have its own food and drink menu.
Opened this summer is Delbar's. Owner Fares Kargar was thinking ahead and chose to fully cover the Inman Park restaurant's patio with an awning, glass door and window. Plus he installed heaters and fans to enclose the space fully, if necessary.
Lazy Betty, one of the city's most honored restaurants, already has heaters installed and shawls waiting to accommodate guests during the colder months.
The ROOF at Ponce City Market has a fun holiday program including an ice skating rink, fur coat mini-golf, outdoor fire pits, indoor heaters and heated pergolas. It may be cold, but the view from the roof is as spectacular as ever. Also at Ponce City Market's rooftop is 9 Mile Station, where igloos keep guests cozy.
Located on Crescent Avenue, Publico Kitchen & Tap offers Latin-Asian inspired cuisine and plans to keep diners warm with several geodesic igloo domes and space heaters.
Murphy's, a Virginia-Highland favorite, has invested heavily in patio heaters for those who want to dine outdoors. Murphy's installed a Synexis air purification system that fights infectious microorganisms in the air for those dining indoors.
The Hudson Grille in both Midtown and Downtown is offering new insulated and heated exterior patios. Guests can enjoy the warmth while catching a game on television or snacking on fare including signature wings with sauces such as Scorpion Stinger and Sweet & Spicy.
Chef Mimmo Alboumeh, best known as chef/proprietor of Red Pepper Taqueria, is opening Botica in the former Watershed space in Brookwood Hills, adding nano doors and covering 80 percent of the patio with a canopy to seat up to 150. "It's all about dining alfresco," says Alboumeh. "I've always relied on the patios at my restaurants, because that's what Atlantans prefer, but now they make more sense than ever."
Renowned Chef Kevin Rathbun can seat at least 60 outdoors at Kevin Rathbun Steak, and Rathbun is investing in new heaters and wind barriers to maintain his outdoor seating and please guests.
Sugar Factory Atlanta's patio overlooks 12th street at the heart of Midtown. The patio keeps guests warm with wooden pergolas and industrial heaters. Tables are spaced six-feet apart, and guests are urged to make a reservation for the patio.
They have it all at the Best End Brewing Co. There's great beer, a graffiti Tiki Bar, live music and "daily shenanigans. The brewery, right off the BeltLine, also has a large heated patio.
Sit near a heater and enjoy the seafood at Watchman's at Krog Street Market. Don't forget to order the oysters.
Marcel, on the Westside, is another of Ford Fry's outstanding restaurants. This steak house offers outdoor seating with a heater for each table and a fire pit. Marcel features a wine library, cigars and an outstanding cuisine, including one of the few places in the city that serves beef Wellington (the caviar selections are awesome as well).
Miller Union, on the Westside, has outside dining that will keep you warm as you enjoy the cuisine of executive chef Steven Satterfield. Miller Union has been honored by Bon Appetit and Food & Wine for its farmstead-inspired cooking where ingredients drive the menu. Try the shrimp & seafood gumbo or the grilled pork sausages.
For more great places to eat and drink outside in Atlanta, visit our patio dining guide.
Mary Welch writes business and lifestyle stories for local and national publications.
Discover More
Get to know Atlanta, and discover the best things to do around the city.