The Ultimate Atlanta Birthday Location Guide for Kids and Teens
Whether you live in Atlanta or are planning to visit for the special occasion, we want to help you find the best venue for your child's next birthday party. We've compiled this list and shared some of our ideas to help you plan the perfect celebration for your child or teen.
Atlanta Birthday Party Locations for Little Kids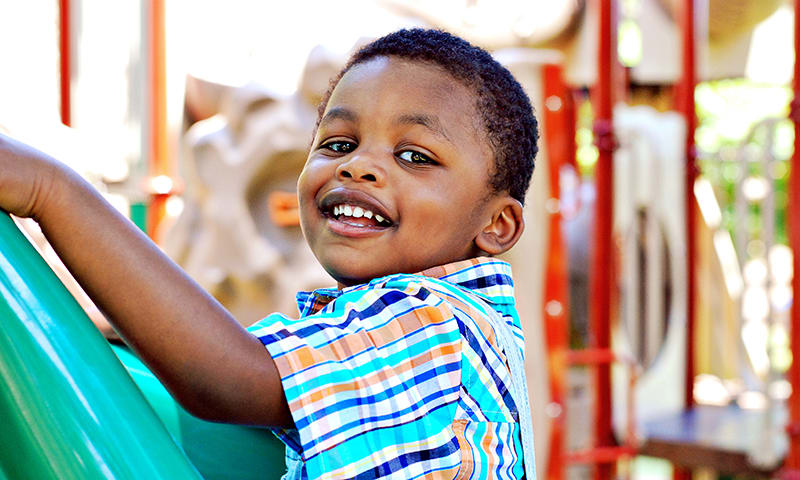 Party at Your Favorite Atlanta Park
A birthday party at your favorite Atlanta park could be as simple or elaborate as you want to make it. Some ideas might include a cenbrown bag picnic party, a sidewalk chalk party, a party at the splash pad or a field day of fun lawn games. Check out one of the best playgrounds in Atlanta. 
The Children's Museum of Atlanta
Parties at The Children's Museum of Atlanta start at $299 for non-members and $249 for members and include 20 guests (adults and children). The basic party package includes 1 hour and 45 minutes of museum exploration, a host to assist with food setup and cleanup, and reserved lunch table. The ultimate party package, which costs $499 for non-members and $399 for members, includes the aforementioned as well as a private party room for 1 hour, a facilitated room activity, and one free museum admission pass for each attending child for a future visit.
Dinosaur Party at Fernbank
Rawrrrrrrr! Party with the world's largest dinosaurs at Fernbank Museum of Natural History. Children's birthday parties at the museum include admission for 10 children and 10 adults, two hours in the private party room, use of the birthday dinosaur throne, a T-shirt for the birthday child and goodie bags. The cost is $375 for members and $425 for non-members. Lunch is not included in the birthday package, but is available for purchase from The Fernbank Café. Additional services such as animal encounters or story/sing-alongs are available at an additional cost.
Kefi Buckhead
Kefi is a completely unique family playspace in the Buckhead neighborhood of Atlanta. Featuring immersive, hands-on and fun activities for kids of all ages. Kids can draw, play, climb, play music and so much more in this space created just to enrich their imaginations. Birthday parties are a perk of membership and cost $499 for up to 24 kids for 90 minutes and includes a 30 minute Playsmith-led play experience. Choose from Storycave Shindig, Beat Box Bash and Scientist Soiree. Kefi handles every detail.
Tea Party at Olivia's Dollhouse Tearoom
The Two Hour Tea Party at Olivia's Dollhouse Tearoom offers the ultimate tea party experience and is geared toward groups of 7 (including the birthday girl). Each party includes time in the beauty parlor for dress-up, hair, nails and makeup, a fashion show and picture, and a treasure chest gift for each guest. The birthday girl will get her own special doll to take home. Food for adults is not included in the package, but adults may enjoy a complimentary pitcher of iced tea or lemonade. Two Hour Tea Parties start at $385. Other packages are available as well.
Train Birthday Party at Southeastern Railway Museum
Chugga chugga choo choo! Does your child love trains? Consider renting out the gazebo or a retired train car at Southeastern Railway Museum for his or her next birthday party. Prices are for admission and venue rental only, so you will have to bring in your own decor, food and drinks. Parties start at $185 and include admission for 10+ guests.
Book Party at Little Shop of Stories
Got a budding bookworm? Little Shop of Stories may be the perfect party venue for you. $175 for 12 kids gets you 2 hours in the Birthday Room, a 30 minute themed story time (you pick the theme), juice boxes, all paper goods, and custom Little Shop of Stories invitations.
Art and Animal Party at Farmhouse in the City
Farmhouse in the City is a creative venue in Roswell, that mixes art and animals for a unique experience. Art and Animal Parties are recommended for ages 2 through 6. Each party includes exclusive use of the farmhouse for 90 minutes, play and dress up time in the boys' and girls' playrooms, animal encounters, face painting and two creative projects plus a candy hunt. A themed table, including table decor, paper products are provided, and a party coordinator will lead all activities, serve cake and clean up. The cost starts at $325 for up to 10 children and $15 for each additional child.
Leapin' Lizards
Leapin' Lizards is Atlanta's largest indoor inflatable playground and is geared toward children ages 10 and younger. Birthday parties (4 packages to choose from) start at $199, which includes admission for up to 10 kids, 75 minutes of play, 45 minutes of party in a private party room, one juice box per child and digital invitations.
Art Party at Little House of Art
Art loving kids of all ages will love a party at Little House of Art. With a multitude of crafts to choose from, you'll have a hard time choosing a theme. Kids can enjoy crafts, bouncing, LEGOS, video games and more. Parties include space, craft, helper, goodie bags, partyware and best of all — clean up. Bring in your own food and leave the rest to them. Parties for 6 kids start at $165.
Atlanta Birthday Party Locations for Big Kids
Sleepover at Georgia Aquarium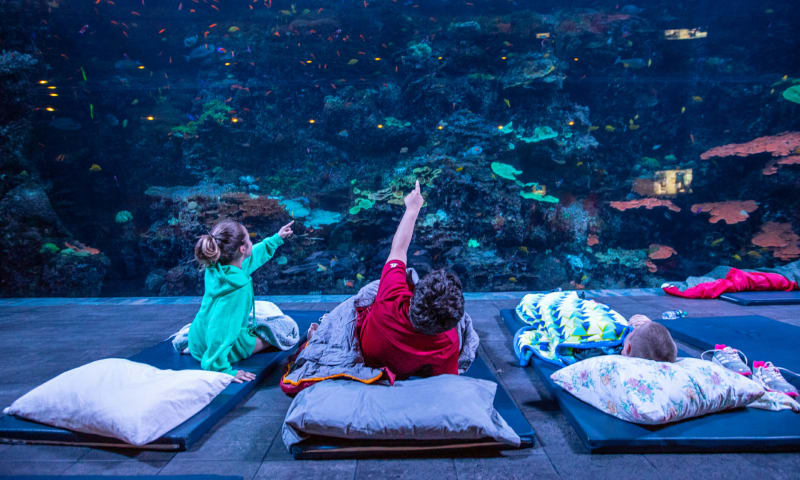 If you have a child who is fascinated with all things under the sea and you're looking for a unique birthday experience, consider Sleepovers at Georgia Aquarium. This is an adaptable program for ages 7 to adult and focuses on the aquatic animals and their habitats. Wake up and explore the aquarium with a private tour guide. Sleepovers take place between 6:30 p.m. and 10 a.m. and include general admission, evening snack, party decorations, cake and ice cream, gift bags for the children and continental breakfast. Cost is a flat rate $100 plus $91.95 per person. minimum of 10 children required. Georgia Aquarium also offers non-sleepover party packages too.
"Grown-up" Tea Party
For a fancy tea party with a few close friends, consider getting dressed up and heading to the St. Regis Tea Room at Astor Court, The Gilbert House or Swan Coach House Restaurant. Looking for something a touch more quirky but just as delightful? Try Dr. Bombay's Underwater Tea Party for high tea or stop in to Tea Leaves and Thyme in Woodstock.
LEGOLAND Discovery Center Atlanta
Calling all LEGO fans! Host the ultimate building party at LEGOLAND Discovery Center Atlanta for $560, for up to 40 guests. The birthday party package will get you free entry, a $50 LEGO shop gift card for the birthday child and an exclusive party room with host for 60 minutes, including 6 pizzas and unlimited Coca-Cola beverages. Cups, plates, napkins, included. You may bring in your own cake.
Zoo Atlanta
Hey party animals, did you know you can host a birthday party at the zoo? Zoo Atlanta offers a party package, which includes rental of The Birthday Pavilion for 90 minutes, 16 general admission tickets (for children or adults) and catering of pizza, chips, drinks and dessert. Packages start at $475 for non-members and $425 for members. Additional entertainment options include an animal encounter for $195, face painter for $250, caricaturist for $370, face painting clown for $375, kid's craft area for $350, or henna artist for $425.
Center for Puppetry Arts
Birthday parties at the Center for Puppetry Arts are an exclusive privilege for members at the family level and above and start at $241. Parties include 10 tickets to a live puppet show, priority seating in the theater with a special birthday announcement prior to the show and a party room for one hour. Additional performance tickets can be purchased for $8.75 each. Consider adding on Create-A-Puppet Workshop to-go kits as party favors for $4.25 each.
Medieval Times Dinner & Tournament
For knights and jousting fun, take a trip back in time to medieval Spain through a dinner theater experience at Medieval Times Dinner & Tournament. Experience action-packed sword fights in an authentic atmosphere, all while enjoying a four-course feast. The birthday package is just an additional $10 per person for groups of 10 or more and includes a birthday announcement during the show, a group photo, a slice of cake, frozen slushie in a souvenir castle cup and a cheering banner. Check website for discount nights.
Chattahoochee Nature Center
Does your child love exploring the outdoors? Chattahoochee Nature Center offers four birthday party plans for your favorite explorer ages 4 through 12. Parties include an engaging hike in the woods and live animal encounters. Party specifics vary depending on the age group, but each package includes a cookie cake from Ali's Cookies with your child's name on it and goodie bag for each guest. Birthday party plans start at $255. CNC members at family level and higher will receive a 10-percent discount.
The Art Barn
The Art Barn offers creative two-hour birthday parties at the farm year-round. The cost is $425 for up to 15 children and includes an opportunity to meet, pet, hold and brush friendly farm animals, create a cool art project, time for refreshments and a private hayride. Tables are already set up with linens and centerpieces, and each guest will take home a coloring sheet and their finished artwork. Hand-led pony rides are available for an additional $100.
Cooking Party at Young Chefs Academy
Does your child love being in the kitchen? He or she will love being the chef of the day at Young Chefs Academy. There are several all-inclusive birthday party themes starting at $300 for 10 participants (these vary with location). Each includes interactive, hands-on cooking and delicious fun. Guests will be introduced to the essentials of cooking and have an opportunity to make something from scratch. Parties are geared toward children ages 4 and up and last 90 minutes. There are four locations in the Atlanta area.
Great Wolf Lodge Atlanta/LaGrange
Choose from four different packages for groups of 13 or more. All packages include 90 minutes in reserved area, pizza, beverages and birthday cake plus a special t-shirt for the birthday child. Packages start at $445 and include unlimited time in the gaming area, including mini golf, ropes course and bowling. Waterpark access, characters and other add-ons for are available at an additional cost.
The Rock Ranch
While The Rock Ranch technically doesn't offer birthday parties they have all the amenities to make for a memorable celebration and offer event planning for groups of 7 to 7000 guests. The Rock Ranch is located about an hour and a half from Atlanta and filled with outdoor activities like zip-lining, gem mining, fishing and pony rides– just to name but a few.Take it a step further with Conestoga Wagon camping. Visit their website and let your imagination go wild with the possibilities of creating your child's dream birthday getaway.
Bowling Party
Fun for all ages and a bit of a retro throwback. Bowling parties are still a big hit and can be more budget friendly than some of the big name attractions.
KNOCK Music House
Kids love to get down and boogie? A video dance party may just be the way to go. KNOCK Music House offers up unique party experience with 2 hours of rockin' dancing with a Live Video DJ, dance lessons, red carpet entrance, photos and fun for 25 kids and 25 adults at $1,050. Price also includes pizza, chips and beverages, set up and clean up, party props and more.
Atlanta Birthday Party Locations for Tweens and Teens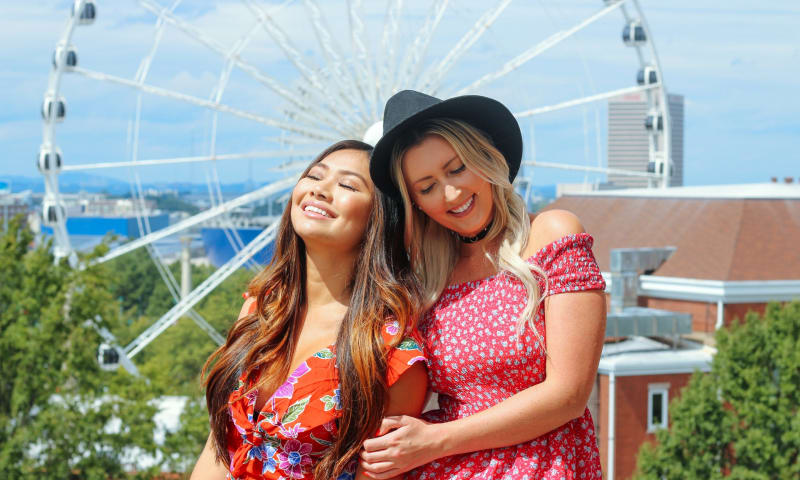 Centennial Olympic Park + SkyView Atlanta
Centennial Olympic Park was built in 1996 to celebrate the Olympics in Atlanta and to revitalize an area of town that had been forgotten until then. The park is anchored by Georgia Aquarium, World of Coca-Cola, Center for Civil and Human Rights Museum and Chick-fil-A College Football Hall of Fame. Any of these attractions would make for a great birthday outing, including the park itself. Within walking distance are great food options you can take to-go, and your guests will love seeing Atlanta from atop SkyView Atlanta, a 20-stories tall tall Ferris wheel.
Dinner with a View
There comes a time when kids want to bypass the "play" stage and opt for a more grown up celebration. For these special occasions we'd like to suggest dinner with a view. Why not "enjoy breathtaking panoramic views of downtown Atlanta's skyline" at Sky Lounge or visit one of these other fantastic Atlanta restaurants with a view.
The Escape Game
Escape rooms are huge these days and combining an escape room adventure at The Escape Game at The Battery with a food outing or treats run can create a pretty memorable birthday experience for teens. The Escape Game offers a variety of rooms that can accommodate 8 to 12 players at about $35 each.
College Football Hall of Fame
Football fans come in all sizes and you can score a touchdown by hosting your child's next birthday party at the College Football Hall of Fame. They offer two packages starting at $500 for 18 attendees, which includes room on the field, the birthday celebrant's name on the video board, all access passes and a $25 gift card for the birthday child to the gift shop. Food and drink are not included but may be added for additional cost. No outdoor food is permitted (except cake). The $625 package includes the same but for up to 25 guests.
Hotel Slumber Party
For the ultimate birthday of luxury, consider an upscale slumber party at St. Regis Atlanta or the Four Seasons Hotel Atlanta. Here are more luxury hotels in Atlanta.
Old Fourth Ward Skate Park
Skaters of all levels can pop ollies and tailslide at Old Fourth Ward Skate Park on the Atlanta BeltLine, where Tony Hawk's foundation contributed $25,000 toward construction. Sections of the park are marked as beginner, intermediate and advanced, and there are safety guidelines online. This is a great "free" birthday party with the option to offer lunch and refreshments to your guests at Historic Fourth Ward Park, where the skate park is located.
Movies at Atlantic Station
Calling all movie lovers! Let your teen host his or her next movie night with friends at Regal Atlantic Station 18 IMAX & RPX. The theater is located in Atlantic Station near the hottest restaurants. You can receive a discount for groups of 25 or more. Discounts are 50 cents off during matinee hours; during evening hours it's $1 off for adults and 50 cents off for children younger than 11. For an extra special Sweet 16 why not rent out an entire theater for a private screening.
Six Flags Over Georgia
Thrill-seekers love Six Flags Over Georgia. Two new rides will be offering topsy-turvy experiences in 2020, the Catwoman Whip and Poison Ivy Toxic Twister join the line-up in the all new Gotham City and roller coaster enthusiasts won't want to miss riding the recently opened Twisted Cyclone, hybrid wood and steel roller coaster. This is a great time to grab your friends and head to the Southeast's largest amusement park for your teen's next birthday.
Andretti Indoor Karting and Games
For the ultimate in fun and games, teens will love the adrenaline rush of the Super Karts at Andretti Indoor Karting and Games, which go as fast as 35 mph. Also available on site: sky trail ropes course, cosmic rock wall, laser tag and a zip line that propels riders over the Roswell track. Birthday parties range from $15.95 to $55.50 per person, with a 10 person minimum. Add-ons, or "turbo boosters," are available.
Fox Theatre
Built in 1929, Fox Theatre is a beloved Atlanta institution. This is a great location to attend a show or catch a flick for a special birthday outing. The Fox also offers event space and accommodations for bar and bat mitzvahs, quinceañeras and Sweet 16s. Welcome guests and give a special birthday shout out on the iconic marquee for $200 a day. Private event pricing and recommended vendor information can be found on the website.
Stone Mountain Park
Does your teen love the outdoors? Head to Stone Mountain Park for gorgeous views and adventure. Hike or ride up the mountain on Summit Skyride and picnic near Grist Mill. For large parties, you can rent the Grist Mill Pavilion, which includes interior lights, electrical outlets and a water fountain with faucet. This facility is only available for rental with Stone Mountain Park Catering. After the day's festivities, be sure to catch the Lasershow Spectacular. Looking to enjoy some of the attractions Stone Mountain Park has to offer? Group ticket prices are available for various attractions and meal plans for groups of 15 or more.
Experience the Arts at Woodruff Arts Center's Alliance Theatre, High Museum of Art and Atlanta Symphony Orchestra
See a play, take in a new exhibit or listen to the orchestra play. Woodruff Arts Center is home to the Alliance Theatre, High Museum of Art and Atlanta Symphony Orchestra and provide a variety of cultural experiences for all ages. Whether you choose to attend a scheduled event or performance or enjoy the grounds, Woodruff Arts Center can be a memorable location to celebrate a birthday. Planning a large event? Catering and facility rentals are available through the Woodruff Arts website for a variety of party sizes.
Don't let age stop the celebration. Here are some of our favorite things to do for your grown-up birthday party in Atlanta.
Originally published Feb. 2016
Discover More
Get to know Atlanta, and discover the best things to do around the city.