Arts ATL: Must-See Fall Plays, Performances and Exhibits in Atlanta
Published August 25, 2022
Last Updated August 26, 2022
Autumn in Atlanta is an exciting time, and nothing brings more thrills than Atlanta's arts community. See what's coming to Atlanta theaters, performing arts venues and museums this fall then mark your calendar because you won't want to miss a single thing.
World-class Shows and Plays Coming to Atlanta this Fall
Alliance Theatre
Susan V. Booth, Jennings Hertz Artistic Director
The Alliance Theatre always has something cutting edge for its audiences. Any hints on what audiences can expect this fall?
After a challenging few years, our upcoming season celebrates human resiliency and joy – in all the varied places and circumstances in which we find it. We will laugh and be moved by award-winning plays including "Everybody" about Man's journey into the afterlife, and the Pulitzer Prize-winning play "The Hot Wing King." And we will hold our breath as actors defy gravity under the big top of a traveling circus in the world premiere musical "Water for Elephants," based on the acclaimed novel. Plus, our shows for families include two world premiere musicals and our beloved annual production of "A Christmas Carol."
How would you describe the Alliance Theater and its value to audiences, as compared to regional theaters across the county?
The Alliance Theatre values community, curiosity, collaboration and excellence, and is dedicated to representing Atlanta's diverse community with the stories we tell. We believe that embracing differences in identity is essential to dynamic conversations and for growing empathy as we see others' stories told on stage. The Alliance is known for our high artistic standards and national role in developing significant theatrical works, with more than 120 world premieres including nine that have transferred to Broadway. We're also a leader in arts education, reaching 90,000 students annually through performances, classes, camps and in-school initiatives designed to support teachers and enhance student learning.
Center for Puppetry Arts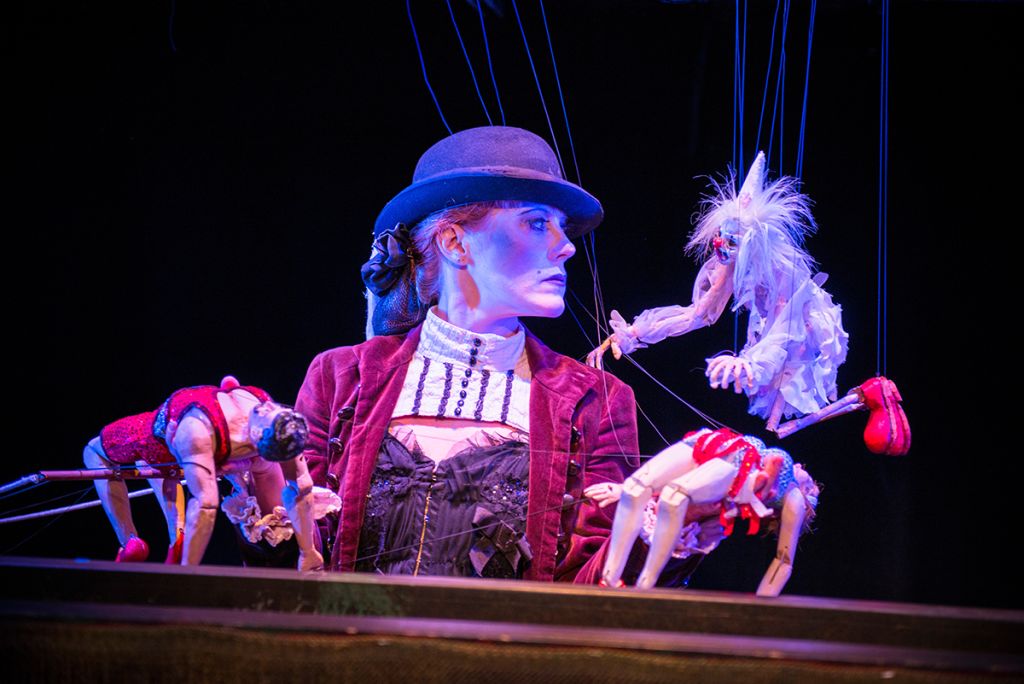 Beth Schiavo, Executive Director
The Center for Puppetry Arts thrills young and old audiences alike. What's the secret?
Attractions like aquariums, zoos and museums are in many states, but there is only one Center for Puppetry Arts in the entire United States. The center offers visitors of all ages an opportunity to experience every aspect of puppetry. Guests can see live, award-winning puppetry performances, build and manipulate puppets in workshops and learn about the rich global tradition of puppetry in the center's museum galleries. The Jim Henson Gallery features the largest collection of Henson Muppets in the world, while other galleries feature international and contemporary puppetry. An all-inclusive ticket offers visitors all three activities along with limited free parking.
So that readers can save the date(s), what are some of the shows planned for the fall?
Fall is a special time at the Center for Puppetry Arts. For adults at Halloween, The Ghastly Dreadfuls take the stage. The show is a combination of gothic ghost stories, songs and dances with a touch of grim humor. For families, the center invites you to the Monster Mash. Dress up to trick-or-treat throughout the center, see "How to Snag a Sea Monster," make puppets and dance the Monster Mash. In November, "Rudolph the Red-Nosed Reindeer" soars back into town for the center's faithful adaptation of the beloved 1964 television special. It is a must-see for everyone during the holidays.
Kenny Leon's True Colors Theatre Company
Jamil Jude, Artistic Director
Describe how, through your mission-based programs and services, Kenny Leon's True Colors Theatre Company meets the criteria of Southern Cultural Treasure?
We are pleased and proud that True Colors Theatre meets all five of the grant criteria. First, our mission is focused on Black creative expression in theater. Second, we have a 19-season legacy of stewarding artistry and creative expression in Atlanta, the second largest majority black city in the country. Third and fourth, we were founded to expand the opportunity for Black artists in contemporary theater as well as preserving artistic heritage in communities of color. And finally, our patron feedback indicates that we have a positive impact in the communities we serve.
What treasures are in store for audiences this fall?
2022-2023 is our 20th anniversary season, the theme of which is "Reclaiming Ours." We are extending our programming calendar to 18 months — from August 2022 to December 2023 — so that we can celebrate this milestone to its fullest. We will continue our tradition of three mainstage productions, each of which will have at least one Community Conversation event that will build on the themes of the productions. Each production represents a piece of True Colors history that will be reimagined for today's reality. Productions include a show that was first produced 35 years ago and starred founding artistic director Kenny Leon; a musical that True Colors produced from 2004 to 2007 to create opportunities for youth to experience live theater; and a play that brings our vision to develop new work full circle.
Out Front Theatre
Paul Conroy, Founder and Producing Artistic Director
No doubt the gay community makes up a considerable part of your audience. How does Out Front Theatre attract a wider audience?
Even though the stories that we tell are rooted in the queer community, they encompass universal themes that people of all genders and orientations can connect with. The best way to understand people that we think are different from ourselves is to, as the saying goes, "walk a mile in their shoes." We want these shows to be those metaphorical shoes and illustrate that we have a lot more in common than meets the eye. We will always stay true to our roots as Georgia's only queer-focused theater company, but our doors are open to anyone and everyone who wants to enjoy a night at the theater, be entertained and maybe even learn something along the way.
What exciting plays will pack 'em in this fall?
This fall we are honored to be producing the multi–Tony Award-winning musical, "Kinky Boots." It will be the largest show we have ever produced, with a cast of 23 local performers, and we are the first company in the state to stage the show — so it is both exciting and a little scary at the same time. After that, for the holiday season, we are bringing the hilariously campy "Christmas Dearest" to our stage. The show centers on the Queen of Hollywood, Joan Crawford, while she is filming a movie musical about the Virgin Mary. She demands that everyone work on Christmas Day, and she is soon visited by three spirits who teach her the true meaning of the season. It is a non-traditional, hysterical romp through Hollywood, and I know audiences will leave the theater sore from laughing.
7 Stages Theatre
Heidi S. Howard, Artistic Director
What sets 7 Stages Theatre apart from other theaters in Atlanta?
Residing on Creek/Muskogee land, 7 Stages Theatre has maintained a social, political and spiritual mission for over 40 years as a global center for the creation of vital conversations through collaborative performance. We are not afraid to take risks. Highlighting stories from marginalized communities, our productions often experiment with different forms of audience engagement designed to maximize the impact in creating social change. By using theater to learn across the gaps of difference we weave a more connected community across the globe. We are careful to always create brave spaces as we explore the critical issues of our time and find inspiration in the future. When we create together, we remind ourselves that anything is possible regardless of our differences.
What surprises will attract theater-goers this fall?
7 Stages, in collaboration with Turtle Island Trading, Zintkala Zi PowWow and the Little 5 Points Business Association presents First Voices Festival, an indigenous cultural sharing and celebration. Saturday, Nov. 19 the festival kicks off with a daytime PowWow held in Little Five Points including indigenous flautists, dancers, drummers, vendors, dialogues and demonstrations. It is curated by Tatankala Yellowbird (Buffalo), a member of the Lakota Sioux Nation, and his leadership ensures that the First Voices Festival will be conducted with authenticity, trust, care and in a manner that will not be complicit in colonialism exploitation. Following a full day of events, 7 Stages will host an evening of performances featuring Shelly Morningsong with Fabian Fontenelle.
Shakespeare Tavern Playhouse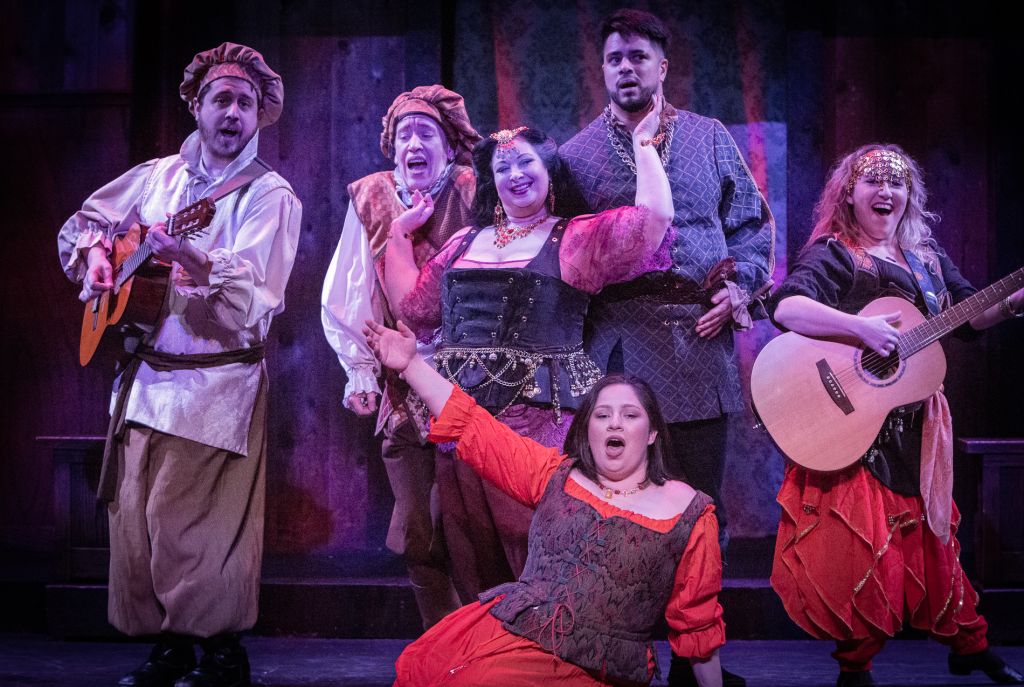 Jeff Watkins, Artistic Director
What do you think William Shakespeare would say about Shakespeare Tavern Playhouse?
First of all he'd say we are doing his plays justice, from the costumes, the acting, our short rehearsal process, company policies and procedures, the lights, direct audience address, emotional intent, sound sculpture, live music and overall vibe. We got it down. He'd compliment our audiences for having the taste, discretion and judgment to show up month after month for over 30 years, watching the plays multiple times during a run and for supporting his work even 400 years later. I think it would blow his mind. Then I think he'd order a beer in our lobby bar.
What will bring audiences to Shakespeare Tavern Playhouse this fall?
Technically speaking, their cars, MARTA, or Lyft; we even have people show up on their skateboards. But in non-literal terms, what brings people to Shakespeare Tavern Playhouse is their desire to have a good time in one of Atlanta's best-kept secrets. We have people show up to our box office the night of a show, buy a ticket and THEN ask, "What's on tonight?" They just want to be in the room, experiencing the play with 200 other people. This fall they can enjoy "Much Ado About Nothing," "Macbeth" and "The Tempest."
Theatrical Outfit
Matt Torney, Artistic Director
Theatrical Outfit likes to say that it produces plays that start conversations that matter. How is this accomplished?
At TO, we program cutting-edge plays that resonate with what's happening in Atlanta. From stories pulled directly from the headlines to award-winning plays from New York and London, our productions explore issues from a human perspective. We are known for brilliant acting and stunning design that create immersive and powerful experiences that will keep you talking for days. Alongside our productions, we also program panel discussions, post show conversations, the "downtown dialogues" podcast and community partnerships to get the whole city talking and to create lots of ways to engage.
What does Theatrical Outfit have planned for fall that will get people talking?
This September, we are presenting the co-world premiere of "Flex" by Candrice Jones. Set in rural Arkansas, the play tells the story of a Black high school girls basketball team, which dreams of going pro. Set during the '90s, right after the WNBA's first season, the play tells a story of the South that you have never seen before and explores the joy and challenge of teenage life. With an all-star Atlanta cast, live basketball and a fresh and exciting design, it's an unmissable highlight of the fall.
Amazing Classical Music and Drama in Atlanta
The Atlanta Opera
Tomer Zvulun, General and Artistic Director
The Atlanta Opera's vision is to reimagine opera. What does that mean?
Reimaging opera means that we embrace the evolution of our art form. At its core, opera is about storytelling, and because opera embraces a multisensory experience of music, dance and theater, that storytelling element can take many forms. In 2020, we persevered through the pandemic by performing outdoors in a giant circus tent. In our home theater, the Cobb Energy Performing Arts Centre (CEPAC), we continually create new productions and breathe new life into works that were created hundreds of years ago. We've also explored opera in a cinematic context through the creation of our new film studio. Being flexible and committed to exploring is the essence of reimagining opera.
What will audiences find inviting this fall?
Our two fall productions couldn't be more different, but they both hit right at the heart. First, we'll perform "Bluebeard's Castle" at Kennesaw State University. This is a newer adaptation of Bartok's original that directly deals with the subjects of dementia and caregiving. This production is intimate and invites audiences into the drama of a marriage as memories are uncovered.
Then, in November, we'll perform one of the most beloved and iconic operas of all-time, Puccini's "Madama Butterfly." This is a grand classic that signals our commitment to big and bold productions at CEPAC. The cast is stellar, and with a full-force orchestra in the pit, the heartbreaking drama of Cio-Cio San and Lt. Pinkerton will really come to life.
Atlanta Symphony Orchestra
Nathalie Stutzmann, Music Director
What's on tap at the Atlanta Symphony Orchestra (ASO) that will delight music lovers this fall?
I'm looking forward to leading eight programs this season,which will feature audience favorites such as Beethoven's Ninth Symphony, Brahms' Third Symphony and Bach's "St. Matthew Passion," plus a world premiere of a new choral piece by Hilary Purrington and a Pulitzer Prize-winning work by George Walker. The season will also include U.S. premieres of works by Lera Auerbach, Helen Grime and Tyshawn Sorey; ASO debuts from artists including Kazem Abdullah, Justin Austin and Elim Chan; and the return of such familiar faces as Lise de la Salle, Gil Shaham and principal guest conductor Sir Donald Runnicles.
We know the ASO is among the best orchestras in the country. Why do you think that is so?
It is an honor and a privilege to be the next music director of the Atlanta Symphony Orchestra. The first time I worked with these talented musicians, it became clear we had instant chemistry as well as mutual respect. The ASO is in top shape and deeply devoted to its craft, which is what first attracted me to Atlanta. I am also looking forward to working with the world-renowned Atlanta Symphony Orchestra Chorus. This group of dedicated choral musicians adds a real depth and breadth to the repertoire of the ASO. As a singer myself, I appreciate the ambition of this group and I'm looking forward to presenting some of the most beloved choral works in classical music in the coming seasons.
Incredible Ballet and Dance Performances on Stage in Atlanta
Ballethnic Dance Company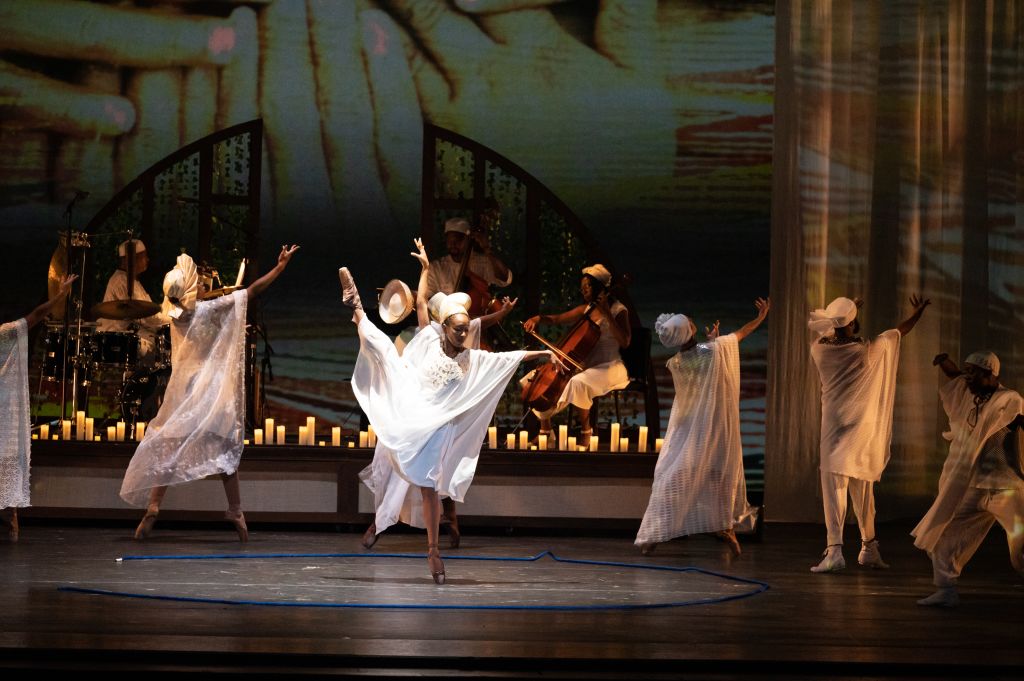 Nena Gilreath, Co-founder and Co-artistic Director
For ballet lovers who haven't yet been to a Ballethnic performance, what are they missing?
Ballet lovers who haven't yet been to a Ballethnic performance are missing an opportunity experience the authentic evolution of ballet. They will experience the brilliance of ballet, the passion of partnering or pas de deux, the magnificence of modern dance, the jubilation of jazz dance, the hits of hip-hop dance and the soulful artistry of African dance. The audience will experience the beauty and wonder of movements and imagery that are enhanced by significant musical accompaniment to touch the soul.
What will wow your audiences this fall?
Our audiences will be awed by the diversity and authenticity in our movements and collaborative projects with live musicians. Many of our works are created with musical compositions specifically made for our dance choreography. We tell stories through our dance that offer a refreshing portrayal of humanity and our conquests as African Americans or Black people. Many of our works will touch the souls of our audience members with visual and emotional concepts that reflect upon history, humanity and a love for nature and spirituality.
Must-See Museum Exhibits Coming this Fall
Children's Museum of Atlanta
Edwin Link, Executive Director
How is the power of play incorporated into programs and exhibits at the Children's Museum of Atlanta?
Kids develop cognitively, physically and emotionally when they play — it's how they learn about the world and themselves. Children's Museum of Atlanta (CMA) supports this important endeavor by providing 20,000 square feet of immersive, hands-on play environments where they can express their creativity, play pretend, experiment and problem solve, and explore. The museum's open layout lets kids engage in spontaneous, self-directed, open-ended play. Our programs take learning even further with design challenges, art projects, dance parties, story times, jam sessions and science experiments that help kids connect the dots between their play and their world.
What will kids want to see or do at the museum this fall?
Our newest exhibit "PAW Patrol: Adventure Play" opens on Sept. 24, and features kids' favorite heroic pups while encouraging them to explore their unique abilities and help friends. In September we'll also be celebrating Latinx Heritage Month. Among other activities, kids will learn about Colombian artist Ignacio Gómez Jaramillo and create their own cubist self-portraits. October brings spooky season to CMA. We'll have Halloween-themed activities that support creative expression and science learning while getting kids into the spooky spirit. At our annual Trick-or-Treat event we'll have more Halloween hijinks to explore plus candy and trick-or-treating throughout the museum.
High Museum of Art
Rand Suffolk, Nancy and Holcombe T. Green, Jr., Director of the High Museum of Art
With 18,000 works throughout the museum, how would you best explain the High's collections to a visitor?
The High Museum of Art is a general interest museum with something for everyone. The collection represents diverse artists and perspectives and features an extensive anthology of 19th- and 20th-century American fine and decorative arts; major holdings of photography and folk and self-taught work, especially that of artists from the American South; burgeoning collections of modern and contemporary art including paintings, sculpture, new media and design; a growing collection of African art with work dating from prehistory through the present; and significant holdings of European paintings and works on paper.
Can you tell us a little about the blockbuster Rodin exhibit coming this fall?
"Rodin in the United States: Confronting the Modern," on view from Oct. 21, 2022 to Jan. 15, 2023, tracks celebrated artist Auguste Rodin's rise to prominence in America and explores the collectors, art critics and curators who helped make it happen. The exhibition will feature more than 70 works, including some of Rodin's best-known sculptures, like "The Thinker" and "The Kiss," alongside lesser-known sculptures and works on paper, that reveal his daring and inventiveness as he pushed beyond traditional notions about sculpture.
Michael C. Carlos Museum
Elizabeth Hornor, Ingram Senior Director of Education and Interim Director
The Michael C. Carlos Museum is best known for the Egyptian collection. What keeps people coming back?
Yes, people are always fascinated by ancient Egypt. Many people come initially to see that collection and are surprised to find that we have so much more, from special exhibitions that feature work of contemporary artists to our recently renovated galleries of South Asian art, works from the indigenous Americas and more.
What is coming up this fall that will fascinate museum-goers?
This fall we are thrilled to welcome our new director, Henry S. Kim, who previously served as the founding director of the Aga Kahn Museum in Toronto and before that worked at Oxford University's Ashmolean Museum. As he arrives, we will open a new exhibition, "Making an Impression: The Art and Craft of Ancient Engraved Gemstones." The exhibition features more than 150 masterpieces in miniature, engraved onto a variety of colored gemstones by ancient hands.
The exhibition draws from the museum's collection of Greek and Roman gems, many of which have never been displayed publicly, alongside key loans that explore the material, ​production, iconography and function of this small but significant art form in classical antiquity. In developing the exhibition, our curator of Greek and Roman art, Dr. Ruth Allen, explored the material, production and function of these ancient artworks and considered the ways in which engraved gems were constructed and protected, and how they promoted the identity of their wearer. She also draws attention to the people who interacted with them — from the enslaved miners who quarried the stones to the engravers who carved them to the individuals who wore them and the viewers impressed by their luster.
Museum of Design Atlanta (MODA)
Laura Flusche, Executive Director
How does design make the world a better place?
Design is a creative problem-solving process that can be used to make every aspect of our lives better, from the fashion we wear to the household tools we use and from the buildings we inhabit to the cities we build. In addition to making our daily lives better, design can take on the big problems of the 21st-century, including how to fight climate change and how to design a world that is just and equitable for all.
What exhibits are coming up this fall at the Museum of Design Atlanta help make the world a better place?
In October, MODA will open an exhibition called "Close to the Edge: The Birth of Hip-Hop Architecture," which is curated by Sekou Cooke. The exhibition is about how the creative forces that shaped hip-hop can and are shaping the built environment. It's also an exhibition that reminds us that in order to design a just and equitable world, we need to listen to a plurality of voices when they talk about their needs and desires.
SCAD FASH Museum of Fashion + Film
Rafael Gomes, Curator and Director of Fashion Exhibitions
What will surprise first-time visitors to SCAD FASH?
Our SCAD FASH Museum of Fashion + Film celebrates fashion as a universal language, garments as important conduits of identity and film as an immersive and memorable medium. Our exhibitions evoke the visions and dreams of masters of fashion and film while honoring their legacies and diverse cultural contributions. SCAD is the global leader for arts and design in higher education, and our thought-provoking and cutting-edge exhibitions aim to be a creative resource for students of all ages and a wellspring of inspiration for our visitors.
What should fashion lovers plan to see at the museum this fall?
This fall, SCAD FASH is thrilled to present exhibitions honoring current icons in fashion, such as "Christian Siriano: People Are People," featuring over 60 garments that truly showcase the beautiful craftsmanship and point-of-view in each of his designs. "People Are People" also proudly celebrates Siriano as a champion of body positivity, diversity, inclusivity and self-expression for every body at every age. Later this season we are also very excited to unveil exhibitions for two of fashion history's most illustrious and revered artists, the famed French couturier, Madame Grès, and legendary fashion and portrait photographer, Horst P. Horst.
William Breman Jewish Heritage Museum
Leslie Gordon, Executive Director
People not familiar with The Breman may know only about the Holocaust exhibit. What else should people know about The Breman?
The Breman Museum, conveniently located in Midtown, is a center for Jewish arts, culture and history. Visitors can browse its award-winning exhibitions featuring photography and Southern Jewish history along with its permanent Holocaust exhibition "Absence of Humanity, The Holocaust Years 1933-1945," that tells the history of the Holocaust through the remarkable experiences of survivors who made their homes in Atlanta. The Breman is also known for educational and entertaining programs featuring Jewish influences on contemporary and classic music, arts and culture. Visit TheBreman.org for more information about programs, exhibitions and hours. Parking is free.
What exhibits or events should museum-goers put on their calendars for fall?
Every day you can visit the exhibitions at The Breman but starting fall 2022 Something Special Sundays begins with something happening every Sunday. There is an ongoing schedule of performances, educational programs, docent led tours and more. Most of the Sunday programs are free with the cost of admission. Some programs currently planned include docent-led tours of current exhibitions, live musical entertainment, films, genealogy programs, Holocaust survivor presentations and more. To learn more about Something Special Sundays and hours of operation visit TheBreman.org.
Versatile Performing Arts Venues in Atlanta
Fox Theatre
Allan C. Vella, President and CEO
Atlanta has long had a love affair with the Fox Theatre. Why do you think that is so?
The Fox really belongs to Atlanta. It's a treasure that the people of Atlanta saved from demolition back in the '70s and to this day I think Atlantans have a sense of pride and ownership in what the Fox represents. At 93- years-old, the Fox Theatre is a world-renowned, cultural icon that brings first class entertainment to the corner of Peachtree and Ponce. From Paulina Rubio and Alejandra Guzman to Young the Giant and Disney Junior Live, the Fox transcends all genres to continue sharing its stage with the city that saved it. With its rich history, beauty and stage presence, what's not to fall in love with?
What will find people lined up to get inside the Fox and under its starry sky this fall?
We are really proud of the amazing talent and diverse programming coming to the Fox this year. Broadway in Atlanta's '22/'23 season is super strong with new shows like "Pretty Woman" coming this September and the hit musical, "Chicago," in October. We'll say farewell to the B52's during their three-night run Nov. 11-13 and welcome Blackberry Smoke's first homecoming show at the Fox on Nov. 25. We'll see lots of crowds lined up to get in this fall but there's no doubt lines will wrap around the building for K-Pop supergroup ITZY, bringing their 1st World Tour to us on Nov. 5. We're so thankful that entertainment is back in full swing and happy to report that there's nothing but clear skies for those planning a trip to the Fox Theatre.
Rialto Center for the Arts at Georgia State University
Lee Foster, Executive Director
The lineup at the Rialto Center for the Arts is eclectic, to say the least. What can we expect this fall?
Performances in our 2022-23 season reflect our theme, "Season of Power and Spirit." Performances begin with a Burkinabe actor telling the story of one man's return to Africa. The season continues with Jane Monheit performing standards from The Great American Songbook and Nobuntu, a female a cappella group from Zimbabwe.
Jazz musician and composer Arturo Sandoval is on tap, as is the annual holiday concert. More performances include The Fifth Dimension, Martha Graham Dance Co., Mavis Staples, a Johnny Mercer tribute and Jazz at Lincoln Center. The season concludes with the Dorrance Dance Co., "Our Town" The Opera, and jazz drummer Jeff "Tain" Watts in concert with the Georgia State University Jazz Band.
The Rialto is a unique combination of the arts and education. What else sets the Rialto – and Atlanta – apart from other cities and their theaters?
As the center for arts and culture for Georgia State University (GSU), the Rialto is anchored within Georgia State as the performance home of GSU's School of Music. A portion of the programming is presented by and for Georgia State students, and the remaining programs are presented by visiting international artists. By providing world-class talent and performances to the Georgia State community – and the greater Atlanta community – the Rialto advances creativity and innovation and challenges the boundaries of imagination. We partner to expand the level of excellence with the Rialto Jazz for Kids middle school program, the topnotch GSU School of Music students and the world-class professionals who perform at the Rialto.
Can't get enough of Atlanta arts? Try combining art with history at Atlanta History Center. Visit Hammonds House to hear stories told through art by artists of African descent. Take in a contemporary play at Horizon Theatre Company. Travel a little north of the city to see a performance of the Atlanta Ballet.
Discover More
Get to know Atlanta, and discover the best things to do around the city.