Must Try Places With Food Near Piedmont Park for the Atlanta Jazz Festival
Published May 24, 2023
When attending the Atlanta Jazz Festival, you will need to fuel up before, during and after. Bring delicious bites to picnic at Piedmont Park or take a break and find good food nearby. Regardless of what your plan is, we have you covered with some great options to find delicious food for your Atlanta Jazz Festival adventure. 
In and Around the Park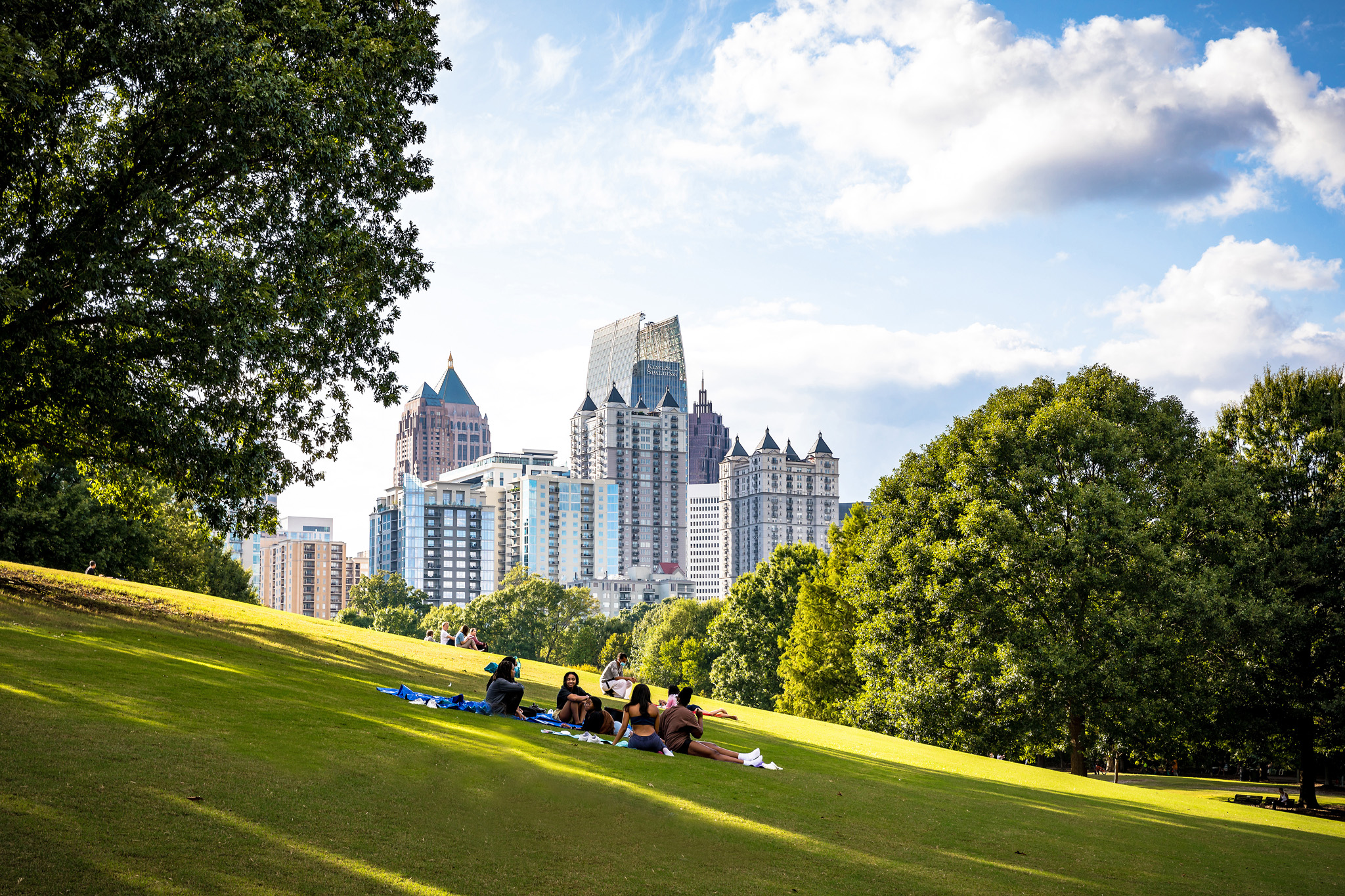 You can spend all day long at Piedmont Park, and you won't go hungry. Whether you want to sit down and eat or get some picnic bites, there are some great options inside Piedmont Park and just across the street.
Campagnolo Restaurant + Bar
One dining option just across from the park is Campagnolo Restaurant + Bar where you can enjoy Italian fare in a modern space with rustic accents. Make a reservation to escape for a few moments and enjoy a meal here, perhaps sitting on the lovely patio.
Where: 980 Piedmont Ave. NE
Flying Biscuit Cafe 
Craving breakfast at 8 p.m. in the middle of the Atlanta Jazz Festival? This place is for you. Don't shy away if there is a wait time — there usually is during peak hours — because it is worth it. You won't find grits and biscuits anywhere else that are quite like these, and you'll be happy that you fueled up at this very convenient breakfast-all-day restaurant.
Where: 1001 Piedmont Ave. NE
Mellow Mushroom 
The Midtown location of this beloved pizza joint is located a block from Piedmont Park. The pizzas are big, and the calzones are delicious. If you don't want to miss a beat at the festival, call ahead to order, pick up and take your food back to the park.
Where: 931 Monroe Drive NE
The Nook on Piedmont Park
Cross the street on the westside of the park and find yourself at this popular neighborhood bar with perfect park views. Open until 1 a.m. Thursday through Saturday, this is the place to wind down after a music-filled-day at Atlanta Jazz Festival. Don't miss out on the tater tots topped with everything and anything.
Where: 1144 Piedmont Ave. NE
Park Tavern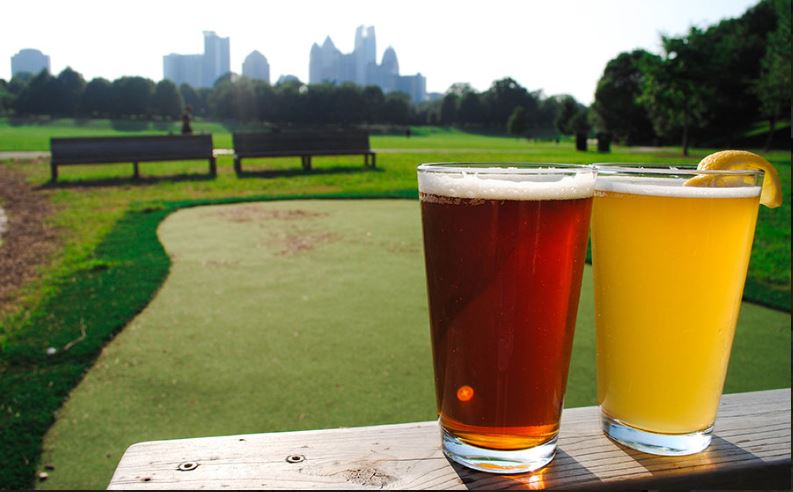 This stone house on the corner of 10th Street and Monroe Drive, right where Piedmont Park meets the Atlanta Beltline, is one of the most iconic places in the area. The eclectic restaurant bar is always at the center of it all, serving anything from burgers to sushi and plenty of park views.
Where: 500 Tenth St. NE
Sean's Harvest Market
Right across the street from the park, Sean's Harvest Market is a lifesaver on festival days. Opening at 8 a.m. Monday through Friday and 9 a.m. on weekends, breakfast and lunch sandwiches are served from the walk-up window. Don't miss out on the breakfast panini or the pulled pork and elotes breakfast burrito. The creativity of the food is also reflected in the various fruit smoothies and milk shakes. At Sean's Harvest Market, even the dogs and kids get food choices.
Where: 500 Amsterdam Ave. NE
Sean's Heart of the Park
Serving seasonal fresh food in the heart of Piedmont Park, Sean's Heart of the Park is a great option for refueling during the Atlanta Jazz Festival. Don't let the small kitchen fool you. The menu has a long list of options including breakfast, lunch, snacks and even dinner. Whether you just need a cup of joe and a pastry or a full-on meal with a sandwich, salad and a smoothie, Sean's Heart of the Park is there for you. Hours change seasonally, so check before you go, but during hot months it can be open until 8 p.m. Monday through Friday.
Where: 400 Park Drive
Willy's Mexican Grill
Find casual Mexican favorites at this taqueria inside Piedmont Park. No need to go too far to enjoy fabulous tacos, burritos and even popsicles from Atlanta's very own King of Pops.
Where: 1071 Piedmont Ave. NE
Woody's Cheesesteak
Since 1975, Woody's Cheesesteak has been a casual pit stop a block from Piedmont Park. With counter service and just a few tables, this is an ideal place to pick up some food to enjoy at the park during Atlanta Jazz Festival. Want to cool off? Sit outside and watch the cars go by in the heart of it all.
Where: 981 Monroe Drive NE
Zocalo 
Find strong margaritas and Mexican comfort food across the street from the park at Zocalo. Grab and go to enjoy at the park or take a break on the busy patio overlooking the buzzing streets of Midtown.
Where: 187 Tenth St. NE
A Ride or Walk Away
Go for a short walk or bike ride to grab some delicious bites near Piedmont Park. Jump on the Atlanta Beltline right on Monroe St. and 10th St and have access to many great restaurants and stores without the need to jump on your car.
Glide Pizza
Made-from-scratch pizza. Seriously, it's made from scratch all the way from the mozzarella to the sauce to the half-sourdough crust. Each slice is probably bigger than your face, and every ingredient is premium. That is the magic that happens when an Atlanta native lives off of Brooklyn pizza for a decade and then comes home to recreate those flavors along the Atlanta Beltline. Take a bike ride or a walk from Piedmont Park and grab your pie or a slice from the walk-up window then enjoy it during the Atlanta Jazz Festival.
Where: 659 Auburn Ave., Unit 506
Krog Street Market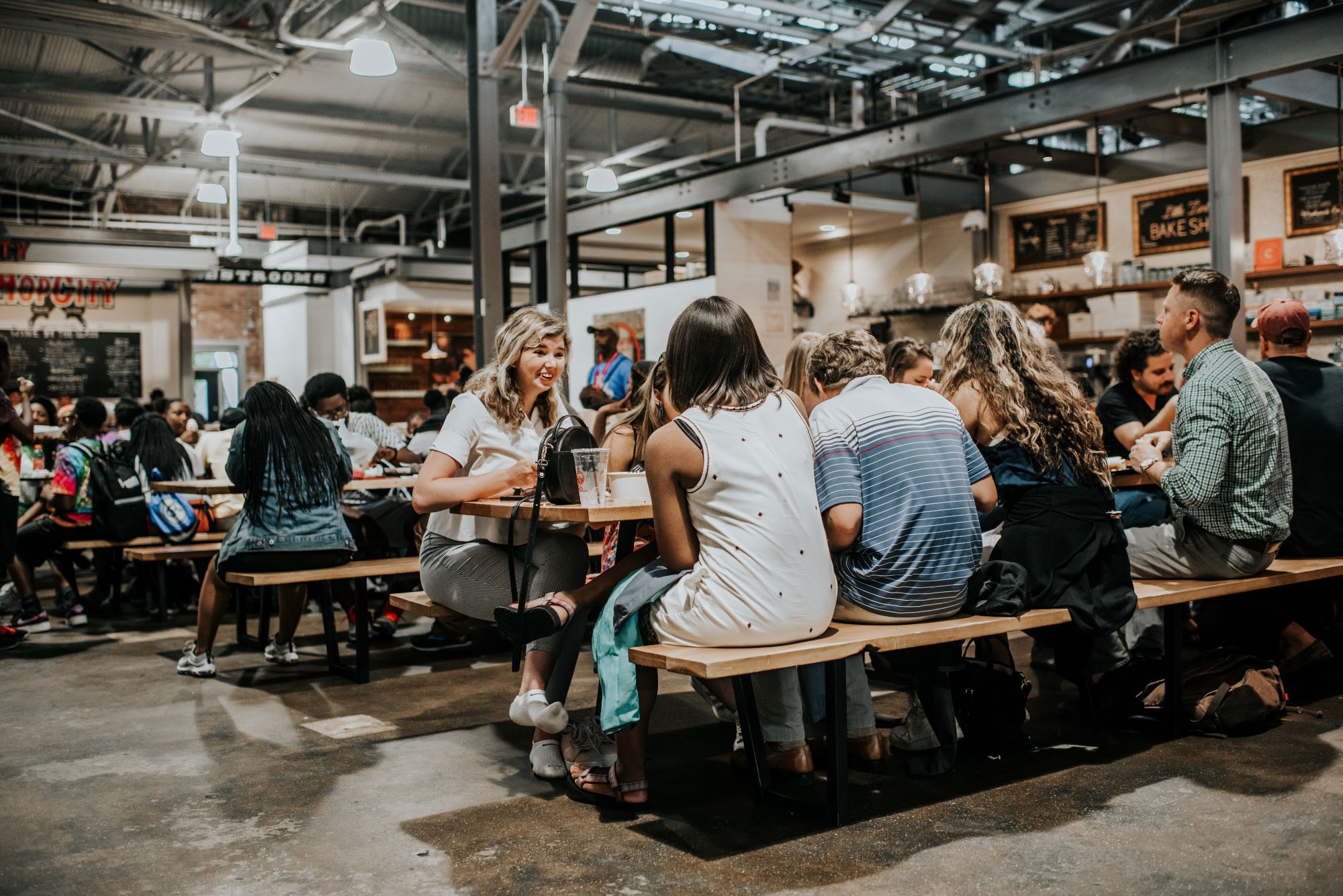 Take a two-mile walk or ride down the Atlanta Beltline on the Eastside Trail to Krog Street Market. The walk down is full of street art and green scenery, so it's no surprise that it's one of the most popular parts of the trail. At Krog Street Market you can pick up some burritos at Bell Street Burritos, get a pizza from Varuni Napoli and pick up some libations at Hop City Brews and Wine.
If what you need is a recharge before or after the Atlanta Jazz Festival, at Krog Street Market you can stay for a while and sip on local draft beers at Brewdogs and try some of Atlanta's favorite bites. You can't beat the enchiladas bathed in mole or salsa at Superica, the Cuban sandwich at Olé Cuban Kitchen, the infamous Spiedie sandwich at Ticoderonga Club or the roasted pork belly bao at Suzy Siu's Baos. There are endless options for every palate at Krog Street Market.
Where: 99 Krog St. NE
The Municipal Market
On your way to Piedmont Park, stop by the Municipal Market. It's just three miles south so you can even ride your bike or scooter down the Atlanta Beltline on the Eastside Trail. The market, also known as Sweet Auburn Curb Market, houses 30 local businesses, including purveyors of produce, meat, seafood and baked goods. Grab a Philly cheesesteak from Philly 'G' Steaks, Jamaican beef patties and curry chicken from Afrodish Restaurant, a po'boy from Tilapia Express or a wood-fired pizza from Pi's R Square. There are endless options for picnic food at The Municipal Market in Edgewood.
Where: 209 Edgewood Ave. SE
Politan Row at Colony Square 
Just steps away from Piedmont Park, Politan Row is a food hall where you can grab some delicious goodies to enjoy during your picnic at the Atlanta Jazz Festival or stop in to eat before or after any festival at Piedmont Park. Your picnic will be complete with global flavors from Tandoori Pizza & Wing Co., Federal Burger, Pretty Little Taco or Zaddy's. If you have time to sit and dine, but can't decide, the Tasting Table is the perfect experience. Make your reservations and try food from various restaurants across the food hall.
If you are looking for an experience later in the night after a fun day under the sun at Piedmont Park, head over to JoJo's Beloved for carefully crafted cocktails and sexy vibes.
Where: 1197 Peachtree St. NE, suite 150
Ponce City Market 
A few blocks from Piedmont Park is the incredible Ponce City Market with options for all to eat, cool off and refresh during the Atlanta Jazz Festival. Walk down through the Atlanta Beltline and grab empanadas from El Super Pan, a bucket of fried chicken from Hop's Chicken, a pizza from Pizza Jeans, doughnuts from Five Daughters Bakery or Korean corn dogs at Umbrella Bar. If you want to sit and charge up for a festival day, start out with the perfect breakfast at Pancake Social, a good cup of coffee at Spiller Park or a fresh juice and snack at La Rayia's Bodega. Ponce City Market is the perfect stop for a quick refuel on a hot summer festival day.
Where: 675 Ponce De Leon Ave. NE
A Drive Away
Plan ahead and stop by for great bites on your way to the Atlanta Jazz Festival at Piedmont Park. Regardless of which part of town you are coming from, there are great food markets that offer the picnic essentials you need.
Carver Neighborhood Market
With a commitment to providing quality and affordable local produce and bringing food justice to the community it serves, Carver Neighborhood Market in Southeast Atlanta stocks a range of grocery staples and local products with specials such as its Pick 5 for $19.99 where shoppers can pick any five items from a selection of more than 50 meat and vegetable options. Too busy to prepare a home-cooked meal? Carver Carryout posts two options daily using chef-inspired recipes, local produce and easy cooking for just $14.99.
Where: 1297 McDonough Blvd. SE
Jd's Summerhill Variety Deli
There's something for everyone at Jd's Summerhill Variety Deli. Located south of Downtown in the historic Summerhill neighborhood, this market and eatery offers fresh produce and groceries along with freshly prepared dishes for breakfast, lunch and dinner. Menu highlights include breakfast sandwiches, French toast, chicken wings and fingers, crispy fried catfish, Jamaican jerked chicken and Jd's righteous deluxe burger with fries.
Where: 559 Martin St. SE
Little's Food Store
Little's Food Store in Cabbagetown may be a small neighborhood grocery store, but it's big on variety. In addition to the staples, produce, fresh H&F bread, pastries, beer and wine, the in-store grill serves up made-to-order sliders and store-ground burgers, hot dogs, sandwiches and sides. Little's is open daily starting at 10 a.m.
Where: 198 Carroll St. SE
Lucy's Market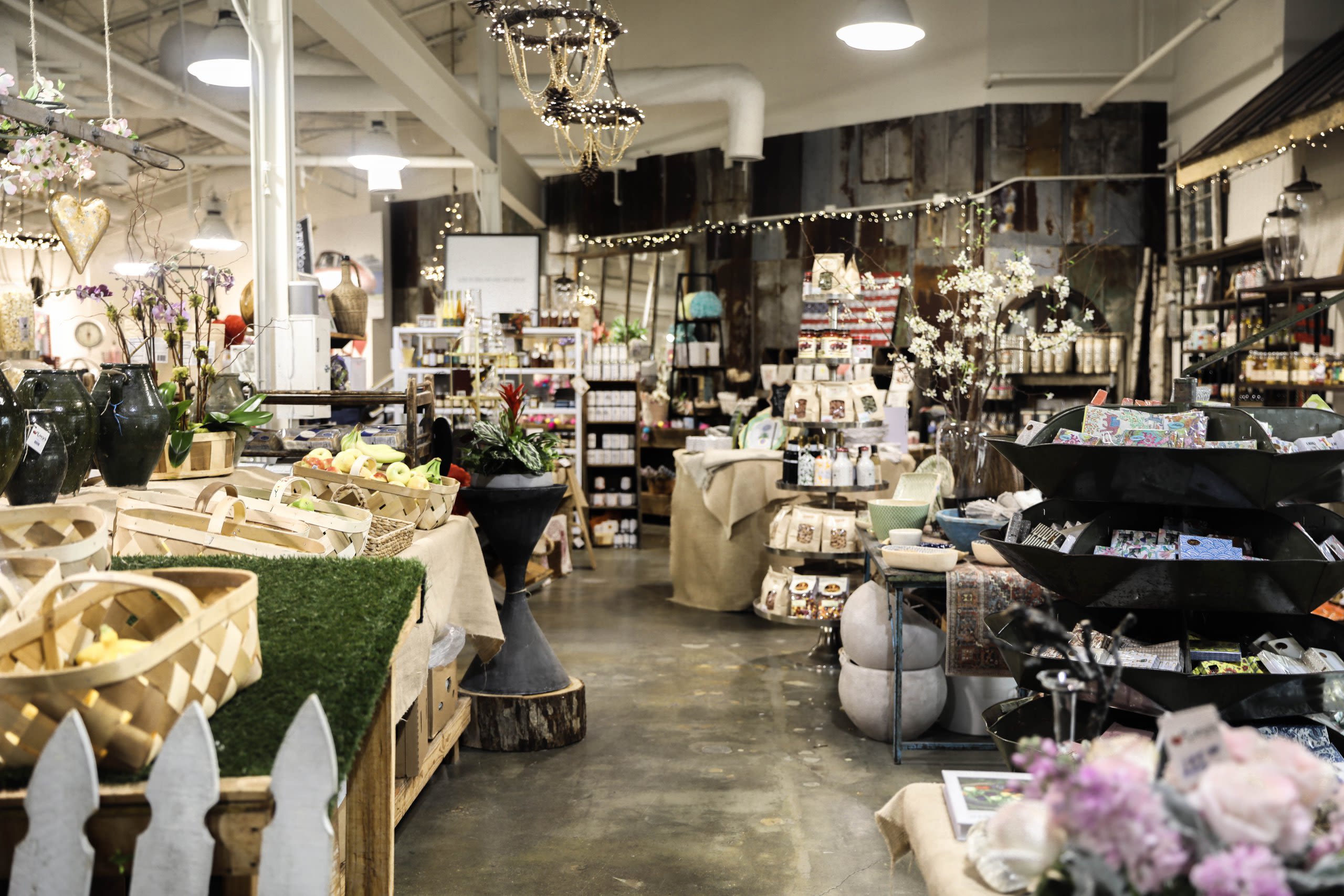 Offering high-quality prepared foods, locally sourced produce and delicious baked goods, Lucy's Market is a fantastic one-stop shop on your way to the Atlanta Jazz Festival. Find a great selection of wines from all over the world, which will pair perfectly with your picnic experience at Piedmont Park. And, if you are celebrating something special, pick up a beautiful flower arrangement and the perfect gift basket filled with quality products. Lucy's Market has been around since 2009 and has become a special part of Buckhead with many residents becoming regulars since Day One.
Where: 56 East Andrews Drive NW
Perrine's Wine Shop 
If you are going to enjoy some wine before or after the Atlanta Jazz Festival, check out Perrine's Wine Shop. With a location in Buckhead and another on the Westside, you have options to stop by and grab a bottle — or a case — of wine with choices from all over the world. Whether you are an expert in wine or just getting started, Perrine's is the perfect shop for you. The experts there will help you find that ideal taste and pairing. "Wine is simple; we are making it complicated," says owner Perrine Prieur Gallardo, who prides herself on making wine accessible for all.
Where: 1168 Howell Mill Road NW and 3112 East Shadowlawn Ave. NE
Westview Corner Grocery
Specializing in quality local, natural and organic products, Westview Corner Grocery has been serving Atlanta's Westview community since 2018. Product categories range from traditional groceries and personal care items to ice cream and gelato, pet items and a large selection of wine and craft beer. The Corner at Westview Corner Grocery serves fresh-brewed coffee, espresso-based drinks, pastries, acai bowls and more. Both the market and The Corner are open seven days a week.
Where: 1562 Ralph David Abernathy Blvd, SW
Check out the Atlanta Jazz Festival Insider Guide for all the details, and find out about other festivals at Piedmont Park on our calendar events.
Discover More
Get to know Atlanta, and discover the best things to do around the city.